Is there anything a white tee can't do?
Widely popularized by Hollywood icons such as James Dean and Marlon Brando, the white T-shirt is a universal menswear staple. This classic item can complement an outfit like no other garment. With summer fast approaching, the white tee is the perfect go-to piece to keep you cool during those hot, sunny days without compromising on style. However, not all white tees are created equal, and finding the right one is no easy task.
From V-neck, crewneck, and round necklines, to relaxed, boxy, and slim fits, the options are endless, making the quest for the perfect white T-shirt at times overwhelming. A plain white tee can make or break an outfit. It's all about finding the perfect texture, cut and fit — because, let's be honest, no one wants to look like Dem Franchize Boyz circa 2004.
As always, you can count on Highsnobiety's staff to guide you through the options available. Our team has rounded up the ultimate selection of the best white T-shirts available to buy right now.
So, without further ado, check out our selection below.
Hendrik Jürgens — Brand Manager, Berlin
Hanes Beefy-T T-Shirt
"Just one of the thickest, cheapest mass-produced heavyweight T-shirts out there, which I just recently discovered myself."
Alstyle 1301 T-Shirt
"A must when in LA, but hard to find these days. Same as the Hanes Beefy-T, great weight and cut. Ages well."
Jian DeLeon — Editorial Director, New York
ALYX x Visual Classic T-Shirt
"Matthew Williams' ALYX line is one of my favorite new labels. With ALYX Visual, Williams is continuing to explore sustainable manufacturing practices and deliver smart new takes on basic gear. ALYX tees run boxy, which I love. And there's a little "A" under the armpit, too, for a subtle branding hit. Texture-wise, these run a bit beefier than your run-of-the-mill tees, and come in three colors like black, white, and the perfect heather gray."
7-Eleven Japan T-Shirt
"I impulse-bought one of these tees during my first visit to Japan a few years ago. At ¥580 ($5.30) a piece, they're surprisingly affordable and come in a convenient little package. Made from Australian cotton, the fit is perfect, considering that I'm a Japanese XL. I later found out these were manufactured by GUNZE, which is essentially one of Japan's foremost manufacturers of underwear, sort of like Hanes. They also make excellent boxers that are just as cheap and readily available at 7-Eleven stores all over Japan. My favorite part is the lack of branding or even a tag, save for a tiny removable tag hidden behind the front of the shirt."
Chris Danforth — Footwear Editor, Berlin
Alexander Wang Slub Rayon Silk Low Necktee
"Light and breezy with the right amount of stretch and a comfortable, relaxed fit. These qualities make Alexander Wang's rayon T-shirt ideal for summer. The slightly slubby texture also gives a vintage feel that makes you feel like you've already owned this T-shirt for years."
UNIQLO Packaged Dry Neck T-Shirt
"I pretty much always buy these T-shirts in bulk. They're cheap and I can't fault the fit in any way. A lot of these T-shirts probably do fit great, but I would go so far as to describe this one as perfect. Plus there's no label scratching the back of your neck."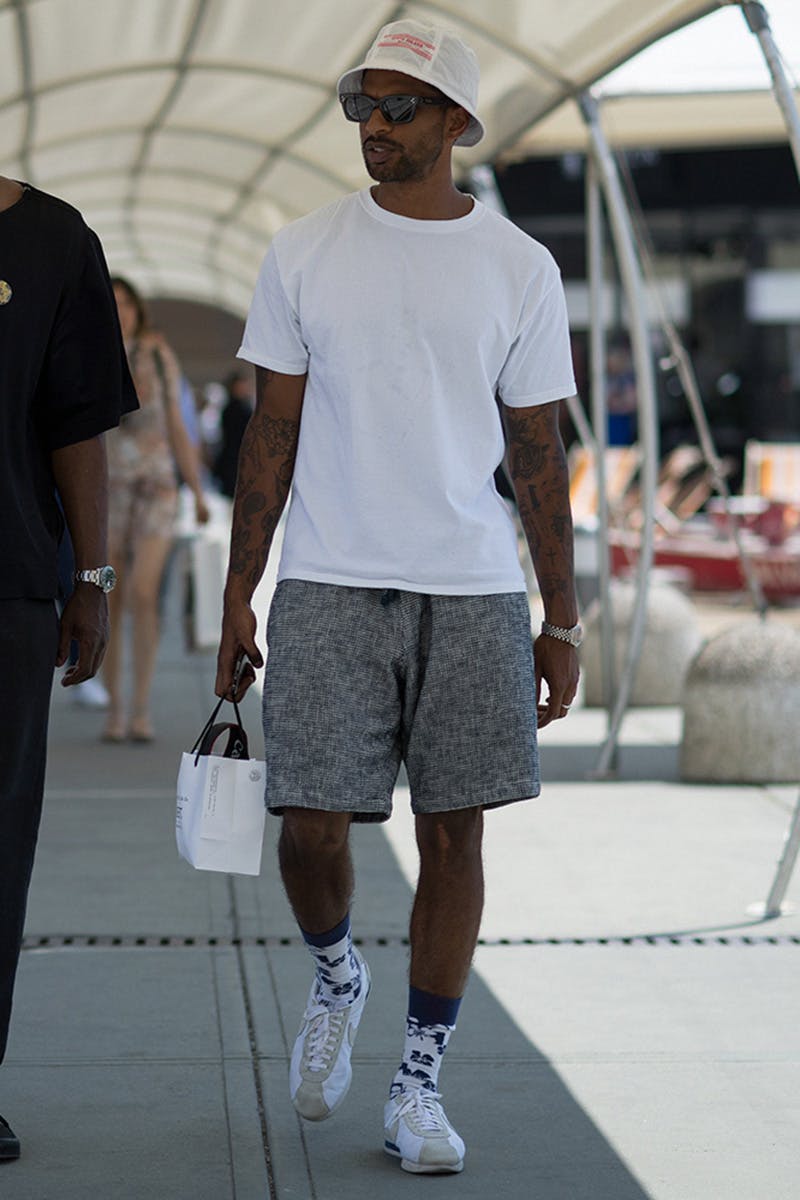 David Fischer — Founder & Publisher, Berlin
UNIQLO U Crewneck T-Shirt
"By far the best!"
Jeff Carvalho — Managing Director N.A., New York
3sixteen Heavyweight Pocket T-Shirt
"Another fantastic heavyweight T-shirt, designed in New York but made in San Francisco. A triple-needle coverstitch keeps their collars in perfect shape after many wears and washes. Like all great T-shirts, hang dry them rather than putting them in the dryer."
Lady White Co. T-Shirt
"It's a small Los Angeles-based maker that specializes in heavyweight jersey T-shirts and crewnecks. The fit is what makes the brand a winner, so much so that many have picked up the brand as their go-to basics line. They're an everyman kind of shirt company."
Balmain Distressed T-Shirt
"This must be on the list!"
Nigel Minani — Commerce Content Curator, Berlin
Carhartt WIP Pocket T-Shirt
"I've been a Carhartt enthusiast ever since I was 14, and that hasn't changed to this day. The white Pocket T-shirt is my all-time favorite T-shirt. It has just the right weight and cut for a rather small and skinny fella like me. The chest pocket with the logo is as iconic as an Air Max 1 to me."
Human Made T-Shirt
"Another one with a great cut for rather skinny and small fellas like me. Shout out to the Japanese! The premium feel, price point — considering it's Human Made — and the individual logos in the corner make this pack a must-cop when it comes to essential tees."
For more in shopping news, be sure to check out our favorite Supreme pieces still available via the brand's online store here.
Our designated shopping section features products that we love and want to share with you. Highsnobiety has affiliate marketing partnerships, which means we may receive a commission from your purchase.