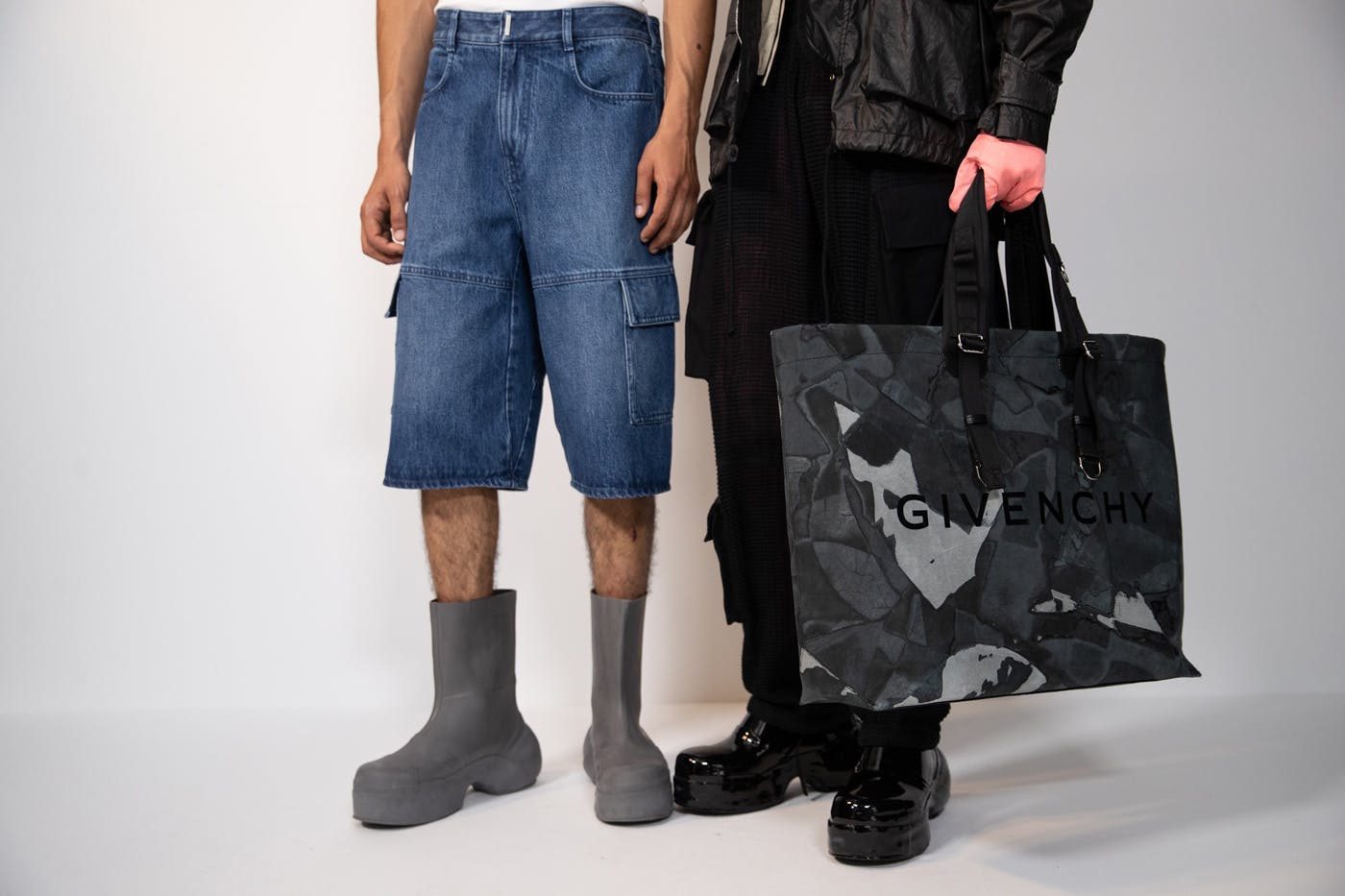 Jorts with cargo pockets, jorts with a matching blazer, jorts with a monogram print, jorts with a raw hem…. During last month's Spring/Summer 2023 menswear shows we couldn't get away from jorts (AKA jean shorts).
From Louis Vuitton to Martine Rose, it felt like every brand was putting its own spin on the once-ridiculed summer style.
It was only a few summers ago that this style of long and baggy denim shorts were found exclusively in highly-practical wardrobes of middle-aged suburban men, (and the odd old-school skater). But now, jorts have joined the likes of hiking sneakers, cardigans, and cargo pants in getting the dad-core treatment.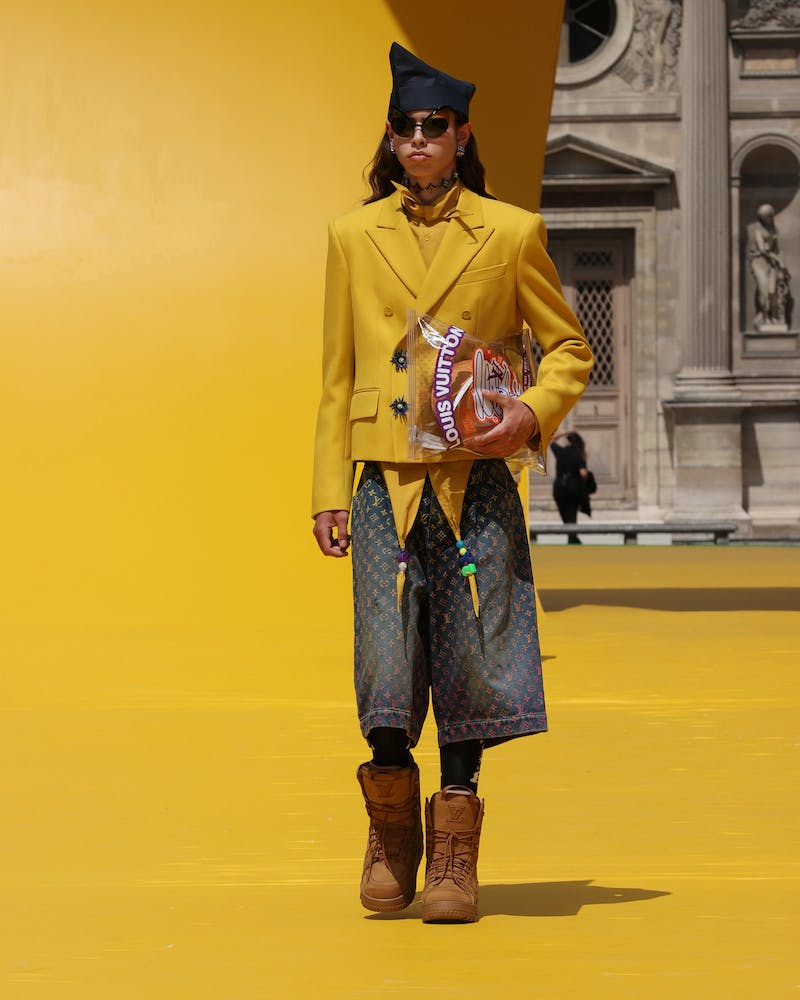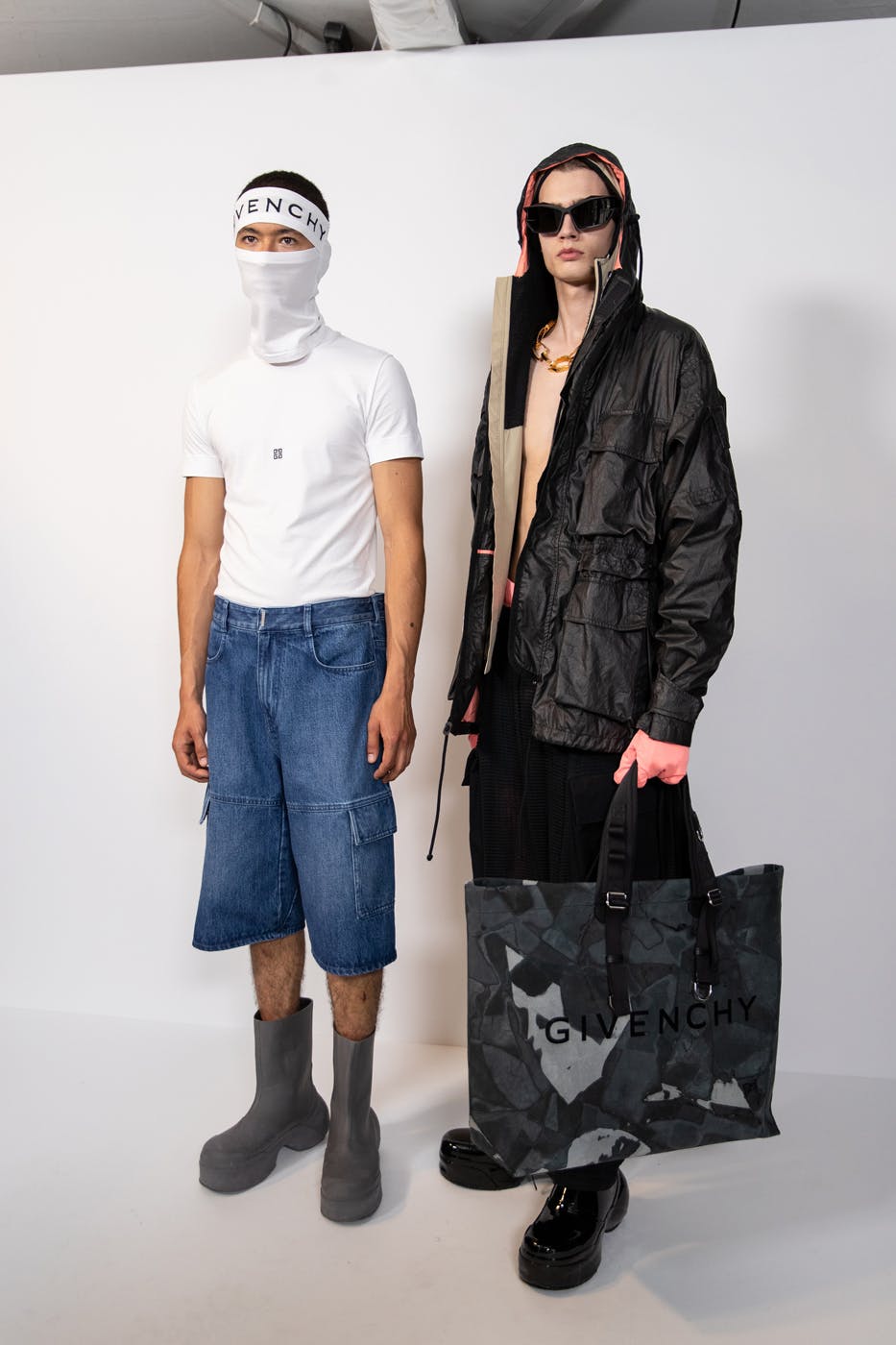 We've noticed that shorts are getting terrifyingly long this summer, even approaching 3/4 length territory, and it seems that a lot of blame rests at the door of jean shorts.
We really shouldn't be surprised though, the writing has been on the wall for the denim legwear. A$AP Rocky wore a pair to tease his Vans collaboration last summer, Justin Bieber has been using them as a summer alternative to his signature baggy jeans, and let's not forget the Hadid sisters rocking jorts over jeans all the way back in 2018. But it still feels so wrong seeing jorts luxury-fied en masse.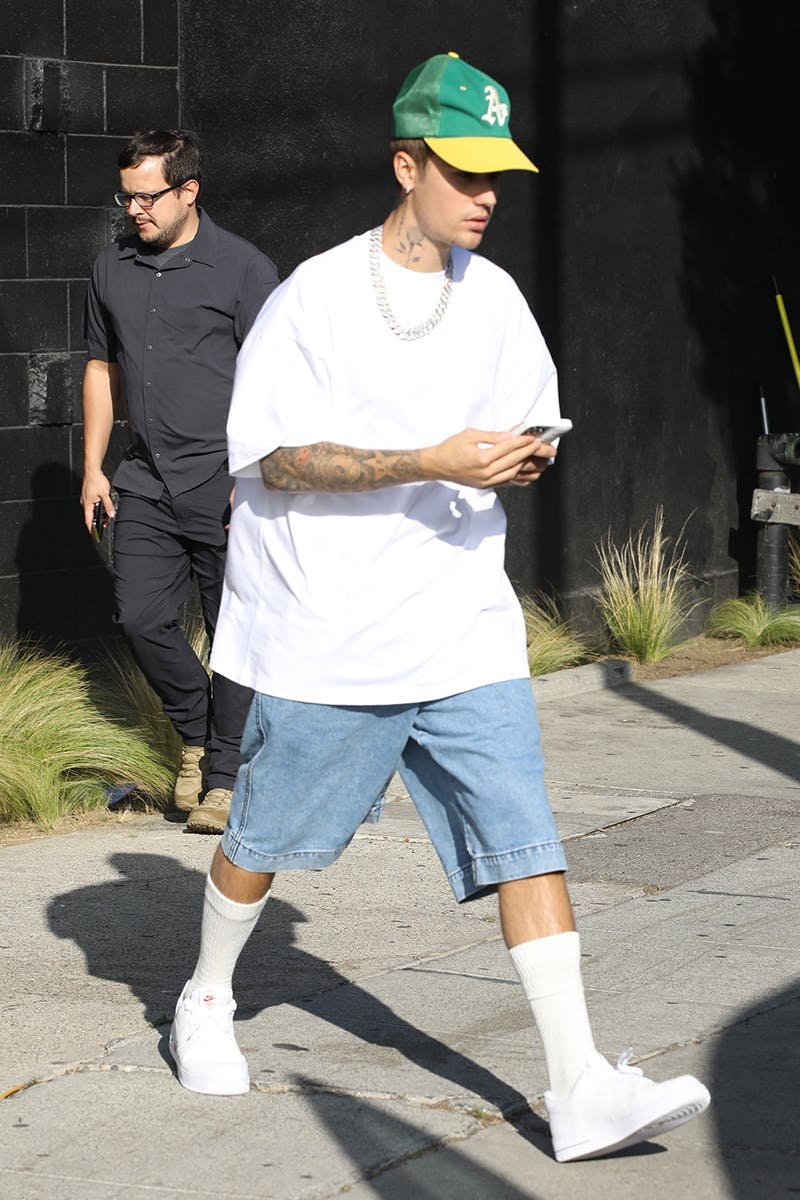 Seeing these long and baggy shorts on the runway and in the wardrobes of celebrities, I can't help but see John Cena in his wrestling prime.
"I chose denim because you don't blow the crotch in denim," Cena previously told James Corden about his signature legwear. "I tried cargo pants, and in front of the world a few times, here I am, trying to put my life on the line with the superstars that I have a match with, and everybody is just looking at my dick. So denim's a safe play."
Of course, we aren't expecting you to go out wrestling in your newest jorts, but he does make a good point about one of the big pros of the style — its toughness. Denim has its routes in workwear due to its durability and it means that any pair you buy now will likely stay in your wardrobe for years to come.
It's part of the reason why skateboarders adopted jean shorts, the subculture that the style is now almost synonymous with.
In the 80s and early 90s, jean shorts were popular on the east coast amongst skaters as hot summers made wearing pants nearly impossible. The scene hasn't always been open to the idea of shorts, with early skate magazines and video shoots even having a policy against them, partly because it meant legs were too exposed to gashes and partly because they were perceived as being uncool. Jean shorts proved to be one of the few exceptions, but they had to be baggy and reach below the knee to stop them from getting cut up.
That same style of shorts is now finding the limelight again, and skateboarding's pioneering role in streetwear no doubt has a part to play. But unlike in the late 20th century, this time around the shorts are finding themselves on the runway and in the wardrobes of celebrities.
While the pairs shown for SS23 won't be available until next summer, there's a huge array already on the market to choose from. Check out our favorite pairs of jorts available right now below, ranging from skateboarding labels to the Japanese denim experts Kapital.
Scroll down to find the best Jorts for summer 2022.
Loewe Paula's Ibiza Drawstring Denim Shorts
Loewe's collaborative line with Paula's Ibiza specializes in summer wares, taking inspiration from Paula's famous Ibiza boutique. So, when they are telling you to get a pair of jorts this summer, you should listen.
Carhartt Single Knee Short
Also coming in a washed-out purple, Carhartt's take on the jorts are perfect if you want to go stray out of the all-blue denim look.
WE11 DONE Denim Shorts
When your jorts are ending as far down the leg as this pair, that's when you're at peak early-2000s.
Ann Demeulemeester Simon Denim Shorts
While the light-wash blue pairs are the most popular denim shorts, it doesn't mean that they're the only option. This pair from Ann Demeulemeester is for the people who are always wearing all-black— even in the summer.
Acne Studios Denim Shorts
These denim shorts come with a matching denim belt — or, as I like to call it, a jort jelt.
Andersson Bell Dann Denim Shorts
Taking denim shorts back to their workwear roots, this pair will leave you more than enough pocket space.
Polar Skate Co. Big Boy Short
We couldn't make a selection of the best jean shorts without including a skateboarding label, and this pair by Polar Skate Co. gets a special shout-out because of its green-colored wash.
FIVE CM Two-Tone Denim Shorts
I can't imagine ever feeling restricted with a pair of these shorts on, they're about as baggy as it gets.
Marine Serre Crescent Moon Panelled Denim Shorts
You can add Marine Serre's crescent moon print on pretty much anything and it'll look good, but the French designer has taken things one step further with the paneling on these shorts.
Kapital Distressed Denim Shorts
Hailing from Japan's 'Denim Capital', there aren't many brands that do jeans like Kapital does. The label's skeleton motif gives this pair a bit of a grungey feel.
Levi's 469 Denim Short
The inventors of denim, you really can not go wrong with a pair of Levis. This pair is finished with a raw hem, so you could always cut up an old pair of Levis jeans to get a similar look.
Want to keep browsing? Head to the Highsnobiety Shop for more products that we love. Highsnobiety has affiliate marketing partnerships, which means we may receive a commission from your purchase.