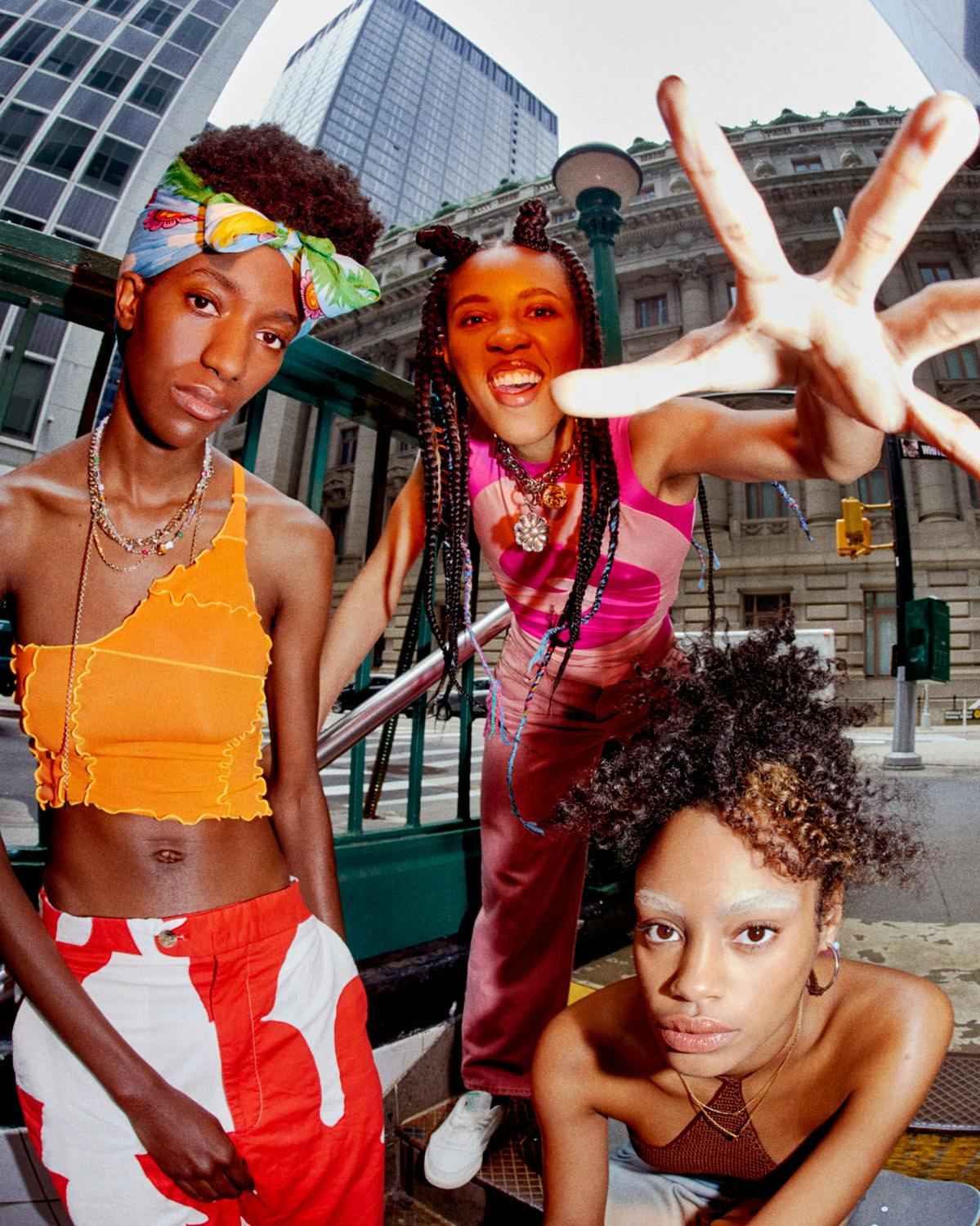 If you've been sleeping on HBO's 'Betty,' it's time to get into it. Blending a docu-realist's eye to this story of young women in New York's skate scene, it functions as gripping prestige TV and a powerful insight into the social mores dictating the community. For this FRONTPAGE interview, we caught up with the show's lead cast to discuss its burgeoning impact.
Betty captures the essence of what it means to be friends going through some shit on a day-to-day basis in New York City. In the HBO series' depiction of young women navigating the likes of sexuality, queer relationships, and racial profiling, show creator Crystal Moselle has painted a candid picture of what these young skateboarders endure. Initially conceived with her 2018 indie film Skate Kitchen, things changed when Moselle eavesdropped on a conversation between Rachelle Vinberg and Nina Moran (two members of an all-girl skate collective in the city) on the subway. Moselle decided to take the film and transform it into a show, leaving us with the re-conceptualized Betty.
Unbeknownst to most, the term 'betty' wasn't anything positive when it was first born — a 'betty' was a name given to attractive women who would hang around in skateparks and beaches during the '80s and early '90s. "People aren't going to remember it as that at all. They're going to remember it as, 'Oh yeah, that's that show with the girls that skate,' and they're not going to see it as what girls used to be called," Vinberg, who plays Camille, says about flipping the script on the derogatory term. "It's completely shifting it and creating a new meaning out of the word."
"We just decided to take these terms, flip them, and power ourselves with them," cast member Dede Lovelace adds in agreement, "and show other people how to empower themselves in whatever they're doing."
"I think it's so cool that we can inspire the younger generation to have that confidence in themselves," says castmate Ajani Russell about the impact of the show. Over several Zoom calls, Highsnobiety caught up with the series' main cast — Dede Lovelace, Moonbear, Ajani Russell, and Rachelle Vinberg (who unfortunately couldn't join our shoot in Manhattan) — about their personal skate stories, addressing queerness and racial disparity in the show, and the endless appeal of skate culture style.
When they first became interested in skating:
Dede Lovelace: My first introduction was in middle school. I went to middle school on South Street and Avenue A, and after school at 3:00 p.m., there were always boys skating in our recess playground area. I would see them after school all the time, and I really thought that it looked so fun. I asked my dad for a skateboard, but a lot of those boys were in their own world and mean, so I didn't try to learn how to do tricks until I met Nina [Moran] in high school.
Moonbear: When I was 12, I saw Tony Hawk on television. There was this channel, like some sports version of Nick, and he was on there on the ramps. I was like, "That looks so cool. I want to do skateboarding! I want to become a professional."
Rachelle Vinberg: I always thought it was really cool when I was younger. I have this cousin who's a year older than me, and we went to go visit him. He was skating around and I thought it was the coolest thing. He ended up giving me a board that I took home, and I kept doing it since then.
Ajani Russell: I started skateboarding when I was 17. I was in high school and my friend Nina would skate to school every day. I told her, "I think it's so cool that you skate." I had always wanted to skate; I bought a board when I was 12. I would push around by myself, but I never really took it seriously. I didn't believe in myself. Then, Nina said: "Oh, you want to skate? Say less." One day she called me and she said, "Where are you?" I told her, and she pulled up like 10 minutes later with a full setup. She said, "Well, now you can't say you can't skate." I've been skating ever since then.
The birth of Skate Kitchen:
Lovelace: Skate Kitchen came about very serendipitously. We were all skating together, and we were just like, "Let's document it." We made a page called "Skate Kitchen" because a friend at the time had watched videos of girls skateboarding on YouTube and there would be comments like, "Oh, shouldn't you be in the kitchen making a sandwich?" We took that back and it just became a thing, but we were just really trying to have fun and document our experiences, skateboarding together, supporting each other.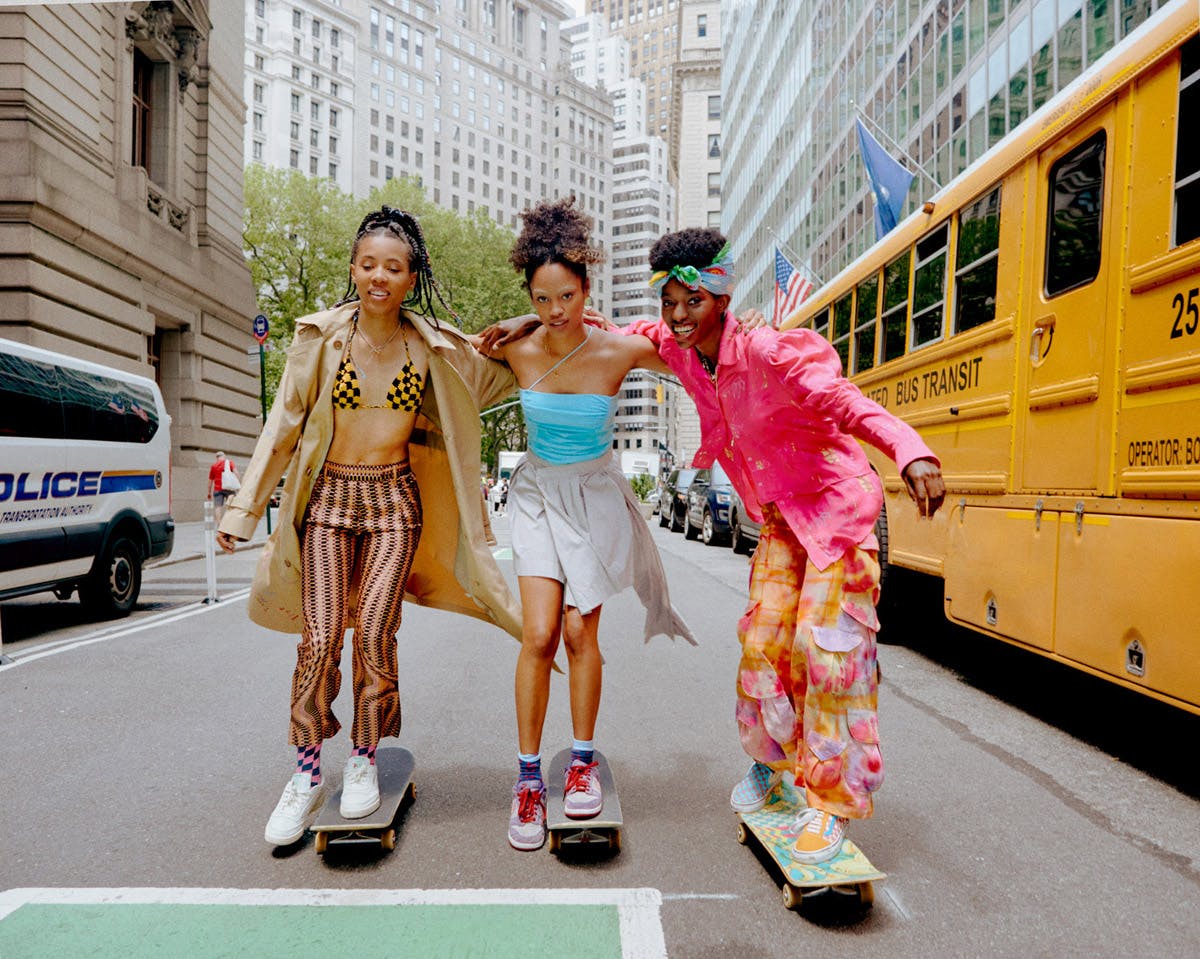 Highsnobiety / Arkan Zakharov / Dede wears Bra MEMORIAL DAY, Pants ARTIFACT NY, Coat COACH, Socks STYLIST'S OWN, Shoes MODEL'S OWN. Ajani wears Top THE OPEN PRODUCT, Skirt BARRAGAN. Moonbear wears Top and Pants COLLINA STRADA, Shoes MODEL'S OWN.
Their relationship with one another as castmates and friends:
Vinberg: We met at different times, all of us, but we met when we were basically teenagers. We were still kids, all on the same page and getting out of high school, not really knowing what we're doing with our lives. The only thing we knew is that we enjoyed skateboarding together. Now, we've all been through different things and we've grown apart, in the sense that we're different. We don't hang out as much as we used to because we're all doing different things, but we're still close. It's weird, because we're not as close physically all the time, but I feel we understand each other, and we accept each other for the differences.
Skate culture becoming mainstream:
Vinberg: It's so vast and there's so many parts to it and everybody has a different part in it. There's the street culture, California vert skating, pool skating — there's so much to it. Overall, it's just super inclusive; it accepts everybody, that's why people gravitate towards it. For people who feel like they can't fit into other groups, skateboarding is just open arms. Everybody's here, so you can be whatever you want to be. There's no rules here. The cool thing about skating is that it isn't a team sport. You're doing it on your own, but you can do it alongside people while they're also on their own. It's a weird mix.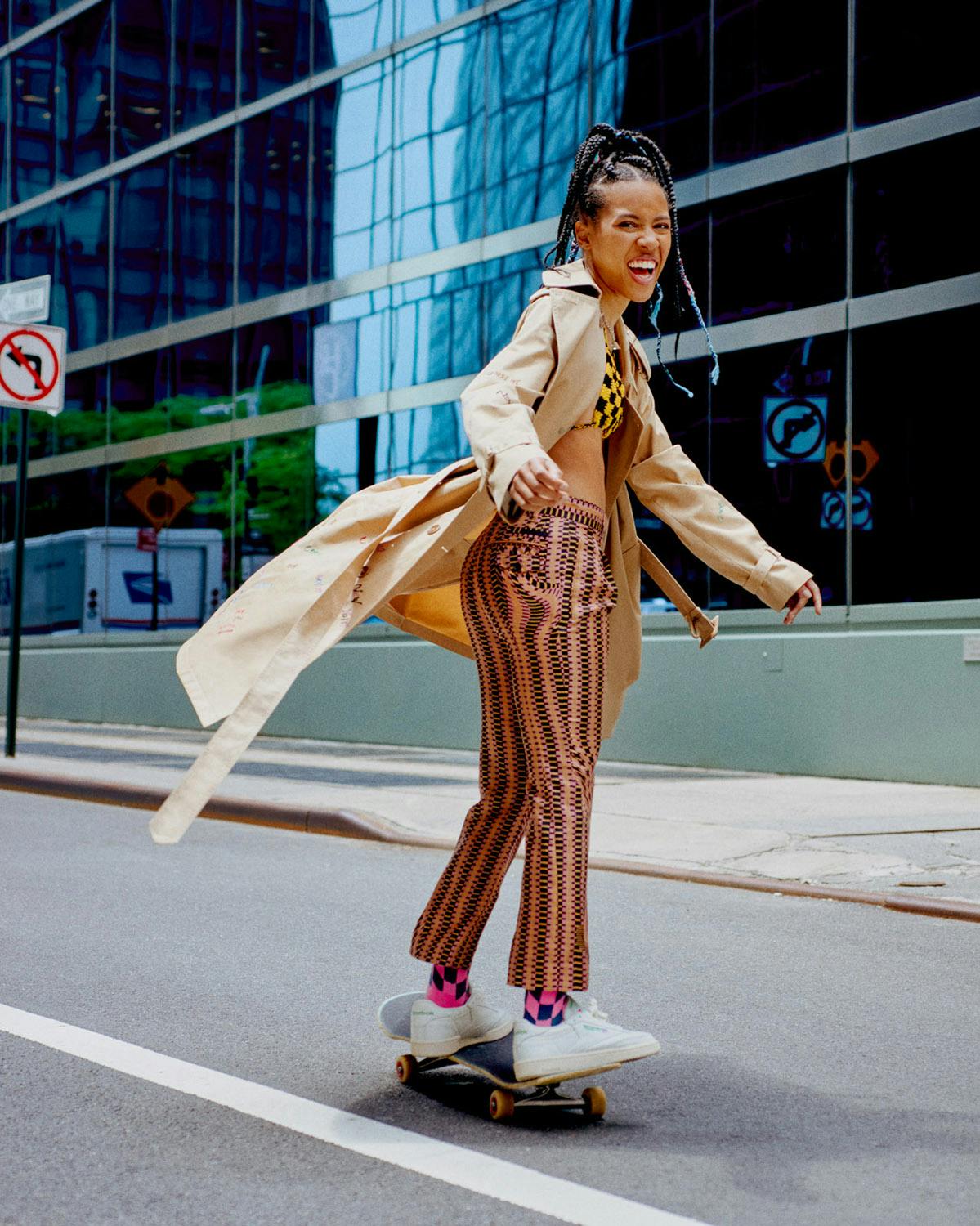 Style and skate culture:
Russell: What you wear is a form of expression. It's not just how you present yourself to the world. It's how you present yourself to yourself. Are you comfortable in what you're wearing? It can say a lot. In Betty, I work really closely with the stylist, and I'm like, "Indigo should wear this, this, this," and they'll go get it. Even the makeup and stuff, they'll be like, "Ajani, how do you want her makeup for today?" I'll say, "Give me pink eyebrows because that's how she feels today." It reflects her mood in skateboarding.
Queer representation in Betty:
Moonbear: I've gotten a lot of messages about how people have been more comfortable coming out with their sexuality to their parents [after watching the show]. It's pretty crazy to me, because I wasn't intending to do that, but that's just how it's been going. I think it's good because people are like, "There's more people like me and I don't have to be afraid to be myself." In this season you get more of the problematic side of being queer, in a relationship, and trying to figure things out as a Black queer person. As far as I know, before, there wasn't a lot of conversation around it, especially the particular relationship I have in season two. I don't know how much I'm supposed to reveal, but that's another layer of what hasn't been in the media a lot.
Highsnobiety / Arkan Zakharov / Top THE OPEN PRODUCT, Skirt BARRAGAN.
Addressing white privilege in Betty:
Lovelace: Gentrification was something I've experienced, and a lot of other friends experienced, especially growing up in Brooklyn. Bed-Stuy at one point had the highest population of Black residents in Brooklyn. Being able to speak about that and to have them actually put that into the script, it's super important. It means a lot to me that we're able to incorporate these real life experiences. It's allowing for the right conversations to happen and to understand these topics a little bit more thoroughly.
Addressing sexual assault in Betty:
Lovelace: It's a very sensitive topic. Unfortunately, one in every three women have had an unpleasant forceful encounter. It's something very real, but I don't think a lot of survivors necessarily want to talk about it. Some people do, but it can be very hard trying to articulate that. When I saw that they were incorporating that into the first season, I was like, "Whoa, wow! This is really heavy. This is super serious." I definitely wanted to handle it with care and really make sure that I was going about it respectfully, but also in a very truthful way.
I think the writers wanted to do that as well. We honestly had to go over that a few times, saying, "Is this something that would really happen? Maybe she wouldn't feel like that, so let's try it this way." We had to edit a few times to make sure that we weren't just talking about something to talk about it. It was a very meticulous process, but in the long run, it was so worth it, and I think it was handled well. We wanted to talk about something that was shared in the room, but also not go too overboard with it. At the end of the day, it was good to talk about it, because we are a show that takes from real life experiences.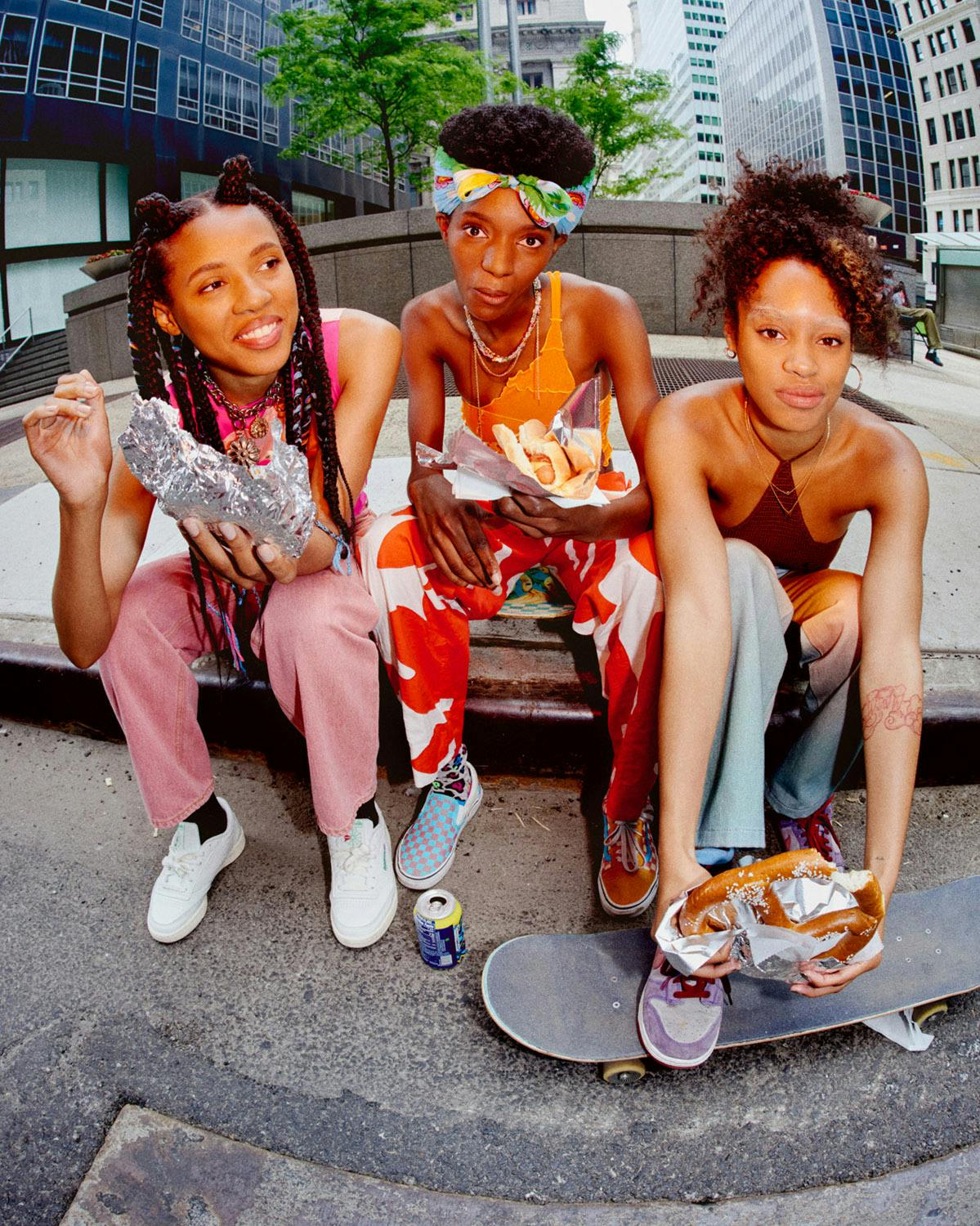 Filming intimate scenes:
Moonbear: I think of acting as kind of a therapy for me. I was able to exercise a different emotion or do things that I haven't done on a show before. It's an emotional and mental experience that I didn't have before. That was good for helping me develop as a person, because I can be closed off in certain situations, so to film intimate scenes in front of people was very different. It didn't feel overwhelming because we had an intimacy coach to help us through it. It was very relaxed and it was a closed set, so there weren't too many people who were watching it. I felt okay about it.
Telling their story through their own lens:
Russell: Skate Kitchen is made up of a bunch of different Black women and women of color. It's very important that it's us telling our own story rather than through the lens of someone else. It's a very collaborative experience writing the show, so it's not just the writers. It's not the story of a young Black group of people that is being told through the lens of a white male. We worked very closely in making sure things are accurate and portrayed in ways that align with our morals and ideals. As a Black woman, this type of representation is very important, because when I was growing up, I didn't see myself in media.
Now, I'm hoping that other young Black girls, women of color, Hispanic girls — I'm Afro-Latina as well — see that type of representation. I want to be that role model that I didn't have growing up, especially skateboarding; When I was growing up, the only role model I had in skateboarding was Reggie from Rocket Power. To be able to be that person in real life for somebody, to be felt, seen, and heard like you belong, that is very gratifying to me.