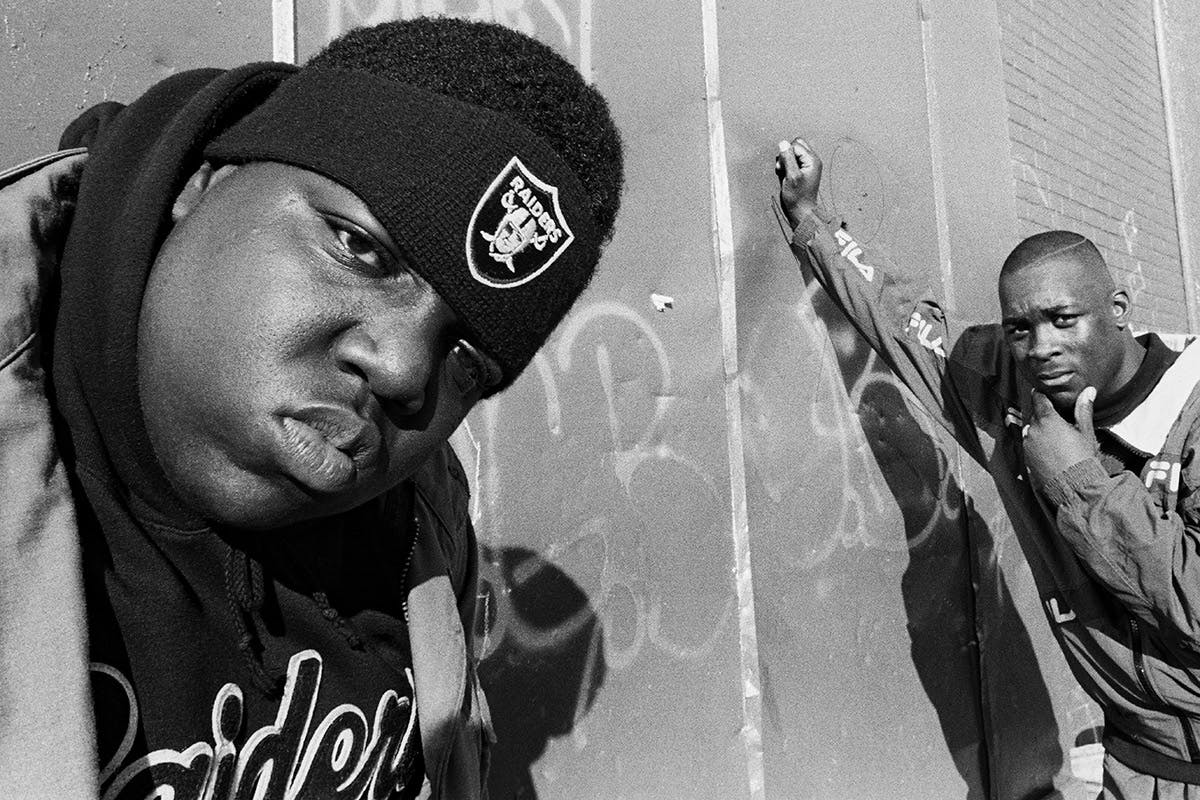 Netflix's new Notorious B.I.G. documentary I've Got a Story to Tell hit the platform this month, recounting the origin part of Biggie Smalls' story — an act so often overlooked in favor of the west coast feuds and, of course, his tragic death.
The documentary traces the roots of Christopher Wallace's career in music, from his Jamaican ancestry and the "braggadocio" style it laced his vocal style with to the pivotal influence of artists like Big Daddy Kane.
Filling in the blanks of the many films and books that have focused their lens on Biggie Smalls over the years, I've Got a Story to Tell reminds us of the New York artist's stunning raw talent. It does so via home and backstage footage, some of which was previously unseen even by his friends and family. What it also reminds us of is Biggie Smalls' one-of-a-kind looks.
It only takes around 15 minutes for the COOGI sweater, a standout yarn piece produced by a once under-the-radar knitwear manufacturer in Australia that became the embodiment of Biggie's style, to pop up in the doc. And that's far from the only iconic piece on show. There are the BAPE hoodies, the Timberland boots, the Raiders merch, and a sick black bomber Biggie wears while awkwardly addressing how his album "reeks of profanity" with his mum.
I've Got a Story to Tell brings home the fact that Wallace's enduring style is still just as relevant today. From pairing Versace shades with loud Versace shirts to the signature wool Kangol cap, Biggie's go-to wardrobe staples are still ever-present in stores today. And that says it all.
Fresh from viewing I've Got a Story to Tell, we picked out three of his B.I.G.'s biggest looks and where you can shop them.
Biggie Smalls was a style icon. Scroll if you still need proof.
Versace on Versace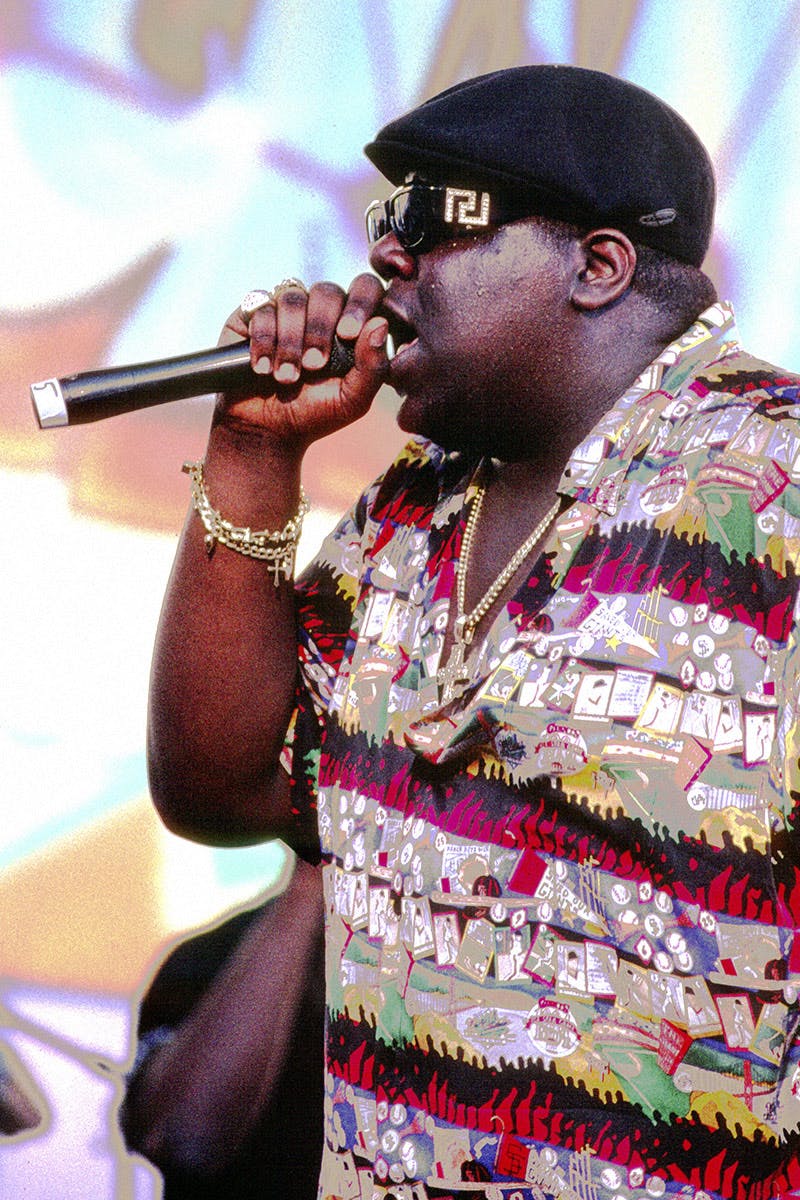 Biggie entered his teenage years in New York in the late 1980s. As I've Got a Story to Tell highlights, ostentatious brands like Gucci and Versace, and the declarations of wealth they issued, were everywhere at this time. This obviously had an impact on the young artist, who was rarely seen without a pair of Versace sunglasses during his success. The influence worked both ways, too. Versace still sells a model called the Medusa Biggie. We've picked out a similar pair below, as well as an unashamedly loud Versace shirt to pair them with, should you want to go B.I.G.
Kangol Flat Cap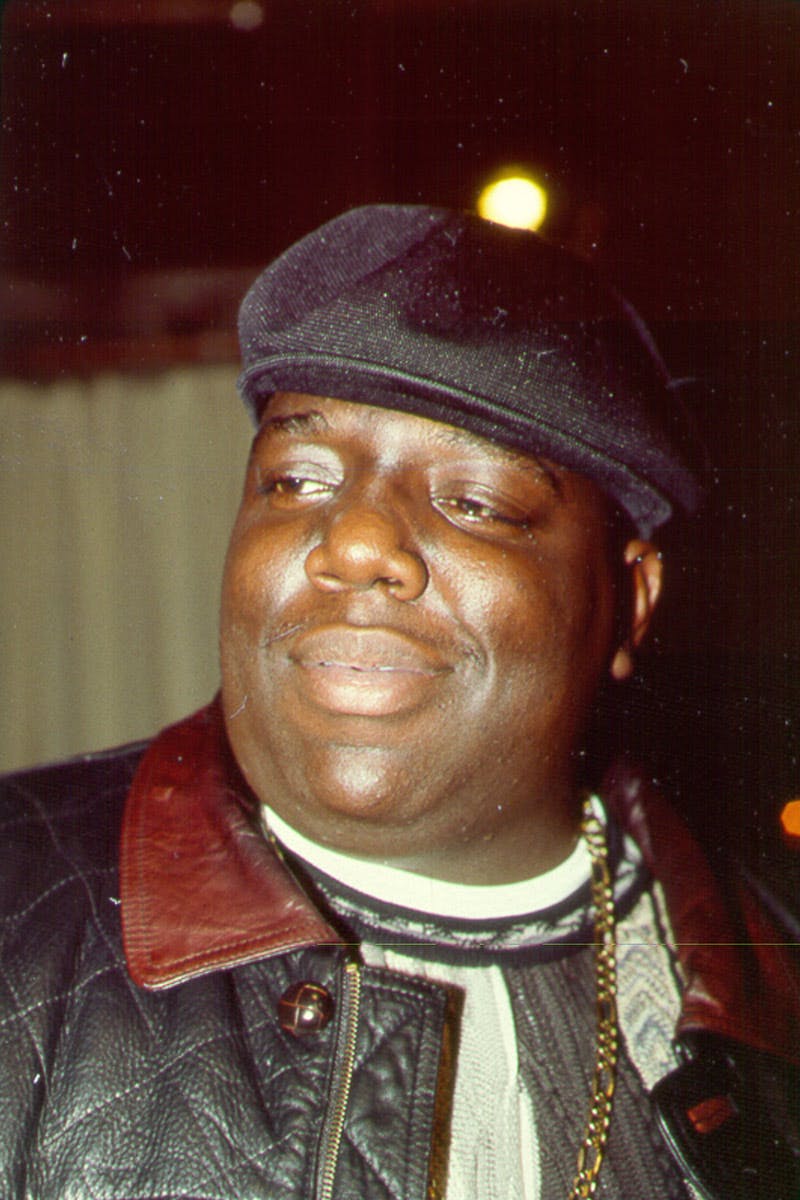 When it comes to Biggie's trademark looks, it's impossible to single one out. Up top, Biggie Smalls continued '80s hip hop's love for Kangol. He was rarely not seen sporting hats by the brand alongside his Versace shades, simultaneously making flat caps cool again.
Polo Turtlenecks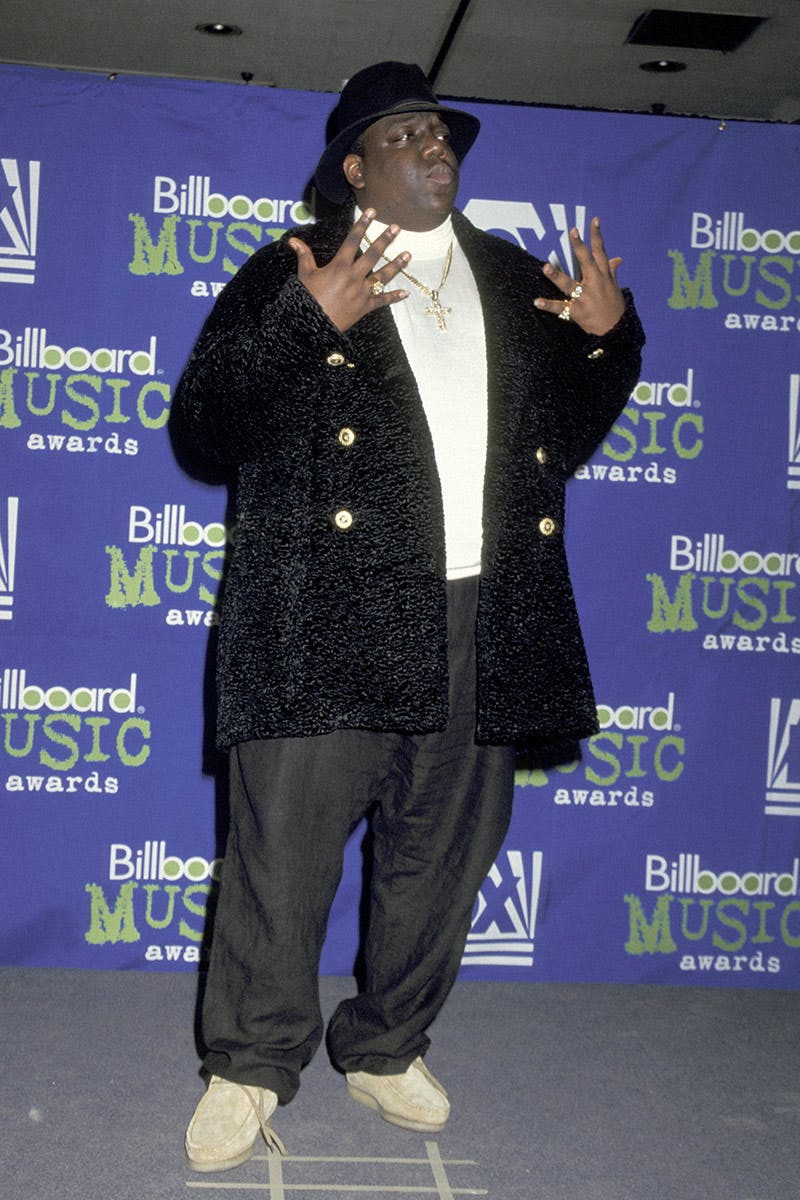 Biggie wasn't all about the ostentatious looks. Gold, diamond, and Versace still need those foundation pieces to style with, even if you're a hip hop icon. As well as serving a reminder of how much Biggie changed the course of hip hop, despite only making it to the age of 24, I've Got a Story to Tell shows us B.I.G. in minimal bombers, checked shirts, and, of course, his beloved polo turtlenecks. Works well with OTT jewelry and, boy, did Biggie love OTT jewelry.
Want to keep browsing? Head to the Highsnobiety Shop for more products that we love. Highsnobiety has affiliate marketing partnerships, which means we may receive a commission from your purchase.