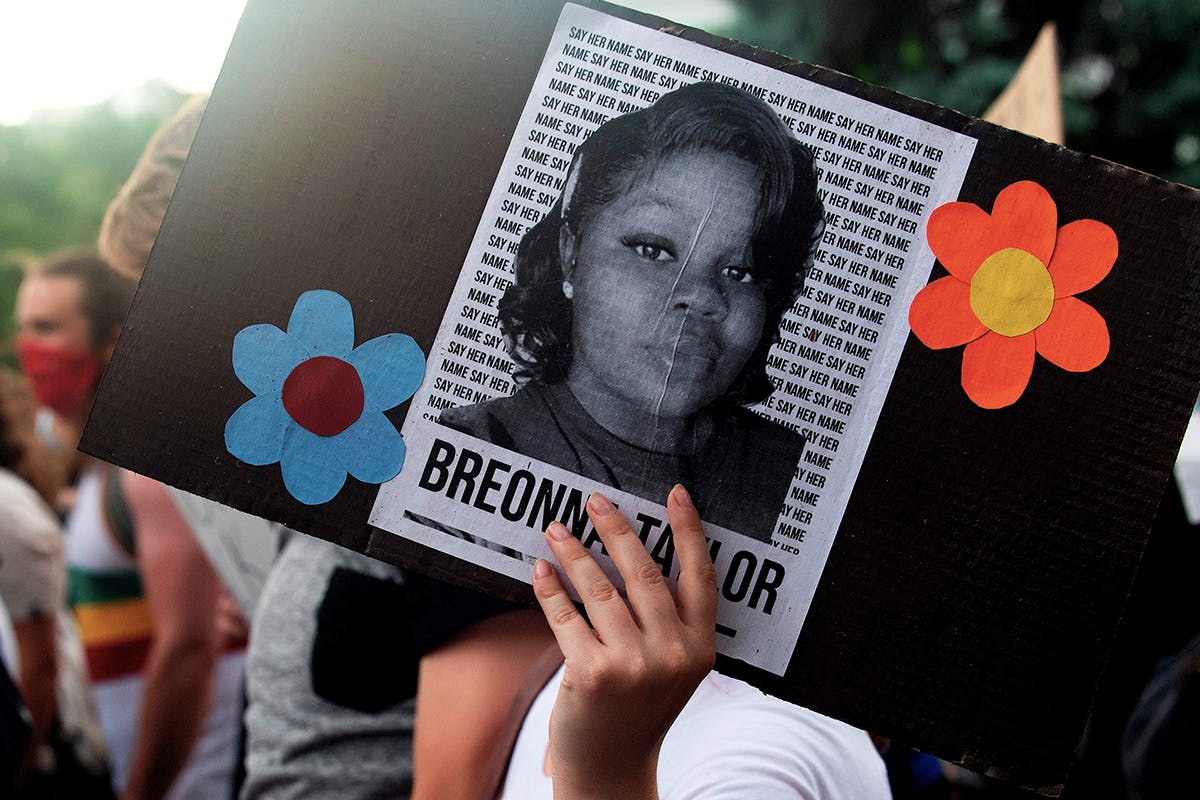 On March 13, Breonna Taylor was shot at least eight times after Louisville police used a battering ram to break into her apartment shortly after midnight. Today would have been her 27th birthday. The three officers involved in murdering the 26-year-old EMT (Emergency Medical Technician) have not been brought to justice.
The three officers were reportedly investigating two men who they believed were selling drugs out of a house. It was not Taylor's home; the house in question was not close to where she lived. Nevertheless, a judge granted the officers a "no-knock" warrant that allowed law enforcement to ram her front door open without knocking and to enter without identifying themselves, all while she slept in her bed.
Since protesters took to the streets across the US to demand justice for George Floyd, the four officers involved in his murder have been arrested. Meanwhile, the officers involved in Taylor's death have just been placed on administrative leave.
How to Demand Justice for Breonna Taylor
As part of the #BirthdayForBreonna campaign, figures such as writer Cate Young and celebrities including Megan Thee Stallion and Solange Knowles are asking people to apply pressure on Louisville authorities to charge Taylor's killers and recognize the use of the "no-knock warrant" as a civil rights violation.
To mark Taylor's birthday, Young and many others are asking people to send birthday cards to Kentucky attorney general Daniel Cameron to demand that he lay charges on the officers who ended her life. The address is below. Office of the Attorney General 700 Capital Avenue, Suite 118 Frankfort, Kentucky 40601-3449
Other actions include:
Signing the official petition calling for justice in Breonna Taylor's case
Donating directly to Breonna's family on GoFundMe
Sending an email directly to the Kentucky Attorney General, the Mayor, and the Governor. Use the template here (scroll down to Action Item 3 and hit the button)
Using the hashtags #SayHerName and #BirthdayForBreonna, flood social media platforms with remembrances for Breonna Taylor
Donating to the Louisville Community Bail Fund to help support the protesters who have been on the ground in Louisville fighting for Breonna
The campaign to bring justice to Taylor and her family is part of the ongoing #SayHerName movement. According to the Centers for Disease Control and Prevention, black women experience the highest level of homicides of any racial group, but their deaths are frequently left unsolved.