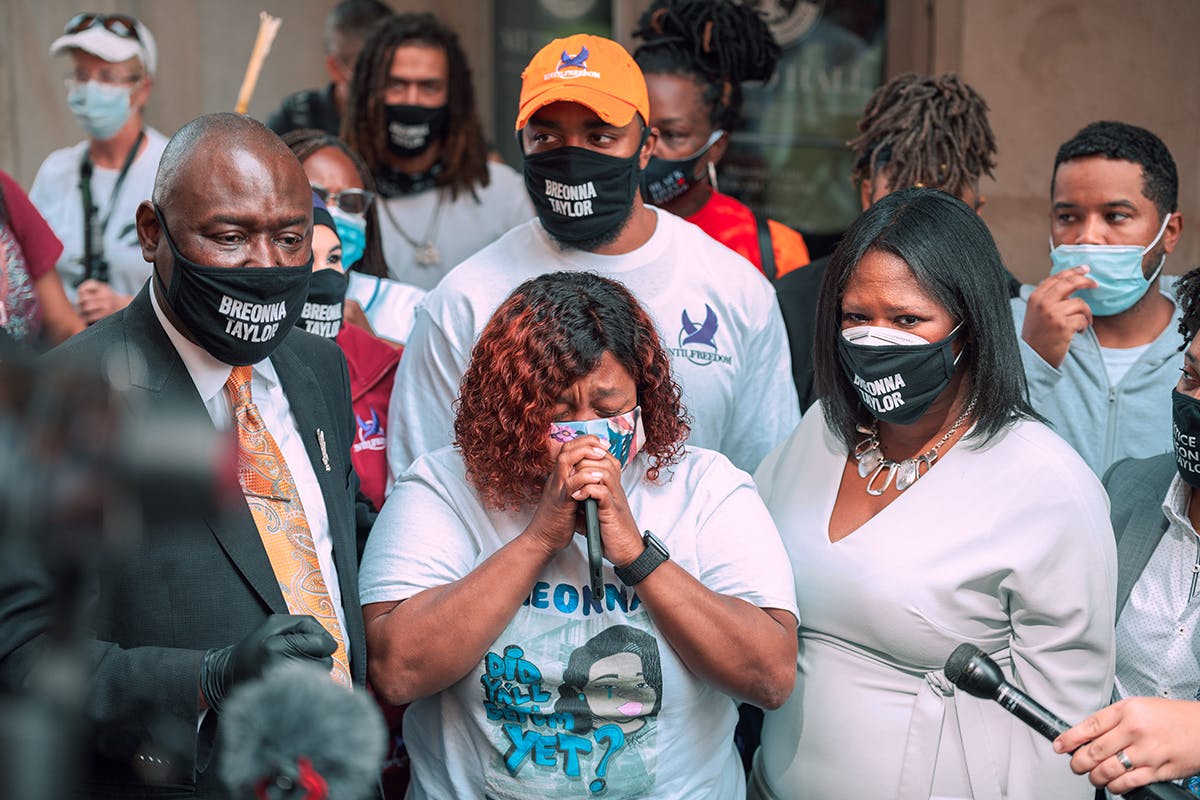 A grand juror in the Breonna Taylor case has spoken out, challenging the court's ruling that no officer would be directly charged with murder, saying that the jury was never offered homicide charges to consider against officers involved in Taylor's killing.
The anonymous grand juror spoke out after winning a court fight to speak publicly about the Breonna Taylor investigation. The juror took issue with Kentucky Attorney General Daniel Cameron's decision not to bring any murder charges against the officers who killed Taylor. When the grand jury asked questions about bringing murder charges against the officers, they were denied "because the prosecutors didn't feel they could make them stick," the grand juror said.
Instead, only one officer was charged in the case. A grand jury indicted Brett Hankison on three counts of wanton endangerment of the first degree, CNN reports. But what does that actually mean?
The charges filed against Hankison, a former Louisville police officer, are not directly related to Taylor's death. Rather, they're in relation to the apartment next door: Hankison's indictment is in regard to his firing blindly — he fired 10 rounds — through a door during what has been referred to as a no-knock raid. As some of his bullets went through Taylor's apartment and into next door, the three counts of wanton endangerment refer to her three neighbors.
Two other officers, Jon Mattingly and Myles Cosgrove, were on the scene with Hankison, although they were not charged with any crimes.
Was justice served in the Breonna Taylor case?
The short answer is no.
In a written statement, the anonymous grand juror revealed that the case deliberately eschewed murder charges against the officers on trial as the jury was never given a chance to weigh said charges.
When Attorney General Daniel Cameron announced the results of the grand jury investigation on September 23, he said prosecutors "walked the grand jury through every homicide offense." He also said "the grand jury agreed" that the officers who shot Taylor were justified in returning fire after they were shot at by Kenneth Walker, Taylor's boyfriend.
Cameron lied. According to the grand juror's statement the panel "didn't agree that certain actions were justified," and grand jurors "did not have homicide charges explained to them" at any point. When the grand jury asked questions about bringing other charges against the officers, they were told: "there would be none."
What is Wanton Endangerment?
To act "wantonly" is to act with awareness yet total disregard of substantial and unjustifiable risks that will or could occur as a consequence. That risk has to be so big that the person is conscious that their actions are a gross deviation from the lawful standard of conduct.
According to Kentucky Law, "a person is guilty of wanton endangerment in the first degree when, under circumstances manifesting extreme indifference to the value of human life, he wantonly engages in conduct which creates a substantial danger of death or serious physical injury to another person."
What is a Class D felony?
A Class D felony is generally considered a non-violent or victimless crime that doesn't involve physical violence towards another human. Particular examples of a Class D felony vary from state to state but typically include crimes like theft of a vehicle, shoplifting, possession of illegal drugs, and burglary of a commercial property.
A Class D felony and punishable with fines up to $10,000 and up to five years in prison (per count). In contrast, a Class A felony — a murder charge, for example — carries a maximum sentence of 50 years, or life, and a minimum sentence of 20 years.
Per the New York Times, Hankison's bail is set at $15,000.
Why not a murder charge?
The wanton endangerment charge, as the Washington Post points out, underscores the complexity of the case (not to mention the issue with qualified immunity and need for police reform).
Kentucky's Attorney General Daniel Cameron justified the officers' use of force during the incident, stating that Taylor's boyfriend fired at the officers first and thus stated their actions were in self-defense. Additionally, he said, "There is no conclusive evidence that any bullets fired from Detective Hankison's weapon struck Ms. Taylor."
To bring a second-degree murder charge, the grand jury would need sufficient evidence to find Hankison guilty of wantonly causing Taylor's death.
Cameron added, "I know that not everyone will be satisfied," he said of the grand jury decision. "Our job is to present the facts to the grand jury, and the grand jury then applies the facts ... If we simply act on outrage, there is no justice. Mob justice is not justice. Justice sought by violence is not justice. It just becomes revenge."
Cameron has been asked by demonstrators to step down following the case ruling, as activists continue to demand justice for Taylor, who was shot and killed by the three Louisville police officers on March 13.