The last brick in the wall that once separated streetwear and high fashion came down with a logo-laden mallet when Louis Vuitton, the biggest luxury brand in the world, rolled out an entire collaborative collection with none other than the deity of streetwear brands, Supreme. The yet-to-drop collection has inspired everything from shock, to awe, to total scorn among streetwear devotees and critics.
The Business of Fashion might have called Supreme "the Chanel of downtown New York", but Vogue called it 20-odd years ago in its March 1995 issue, with an unlikely piece authored by Mary Tannen in which she compared Chanel to Supreme.
The Vogue feature was published just one year after Supreme launched, at a time when the brand's Lafayette Street store was solely the reserve of skate urchins and a tight-knit coterie of infectiously cool downtown kids.
As author Mary Tannen noted in her story for Vogue, Supreme's approach to design wasn't really that far removed from the streetwise look of high fashion en masse at the time, as well as the fact that both brands command a cult following and a distinctive look to their sales associates. Surprised by these parallels? Don't be. Supreme's founding father, James Jebbia, has openly professed that he's heavily influenced by Chanel and its creative director.
"I'm influenced a lot by Chanel and by what Karl Lagerfeld has done," he told The New York Times. "Oftentimes we get asked, 'Why are you doing a fire extinguisher?' I'm like, 'Well, Chanel can.'"
In an ironic twist of fate, back in 1995, Vogue said that Chanel was more likely to offer products that are similar to Supreme's and not vice versa, and if we take a retrospective look at some of the two brands' statement accessories and novelty products over the past few years, it's fair to say there are a few overlaps.
Given that Supreme now holds court among skaters and fashion editors alike, it's hardly surprising that Jebbia has borrowed some cues from Karl Lagerfeld in a mission to take Supreme global. But perhaps Karl has been taking notes this whole time, too?
Keep reading to see eight times Chanel "out-Supremed" Supreme with a ridiculously useless (and painfully expensive) novelty product.
The Basketball
Both Supreme and Chanel have dropped a basketball, but who did it first? You might assume it would be Supreme, right? After all, the streetwear brand is an NYC institution and the b-ball scene in the city is historic. Well, you would be wrong. Chanel dropped its own basketball back in 2004. It was produced in a limited run, and it's now a hugely sought after item, fetching up to $1,500 when it does appear at auction. Supreme didn't drop its own ball in collaboration with Spalding until 2007, but you can expect resale prices to regularly rival that of Chanel's.
The Football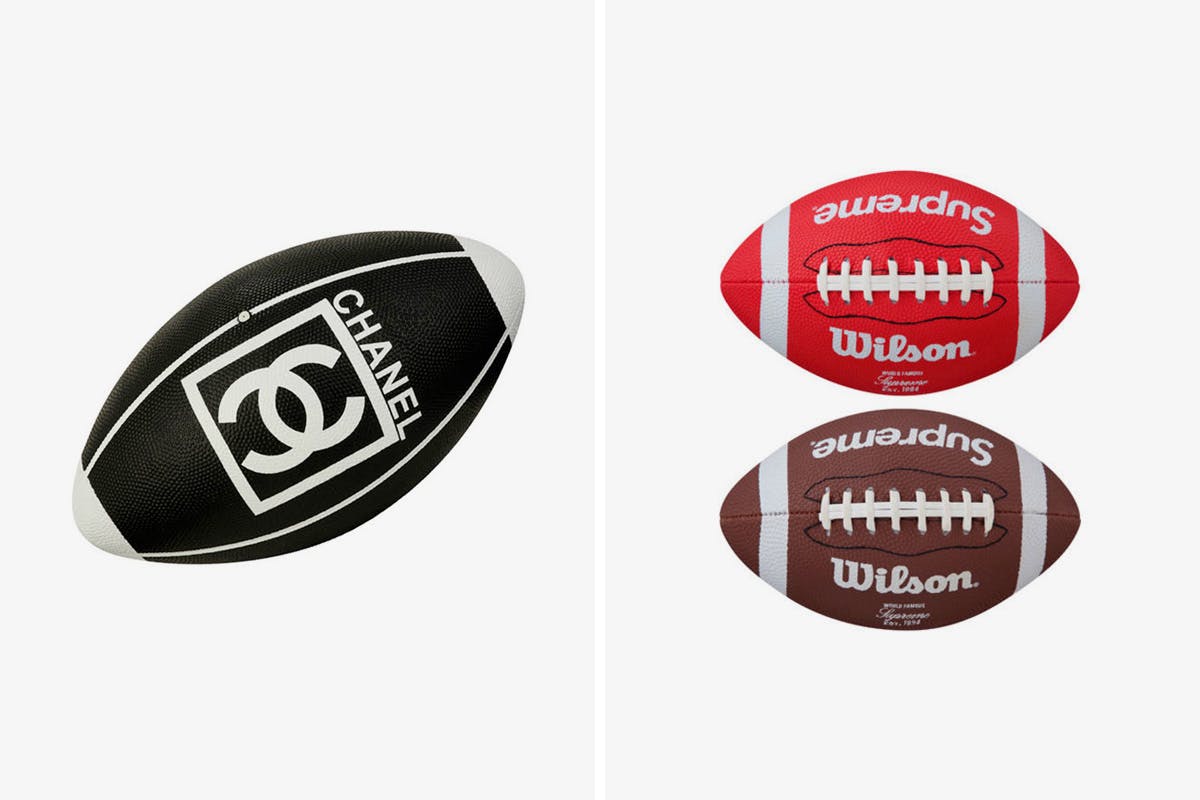 Chanel scored a touchdown with its own American football before Supreme was even on the field. The storied French fashion house released its very own luxe football way back in 2007, and it was faithfully made of sturdy rubber and featured the Chanel double-C monogram. Supreme didn't put out its own football until FW10, in collaboration with Wilson. Even then, it wasn't even a full-sized football, it was a mini football. Supreme's version dropped in two colorways, featuring both the Supreme and the Wilson logos.
The Bike
Luxe bicycles have long been a thing at the upper echelons of fashion. Hermes once dropped a $3,500 bike, but Chanel totally outdid its rival by dropping its own limited edition bike in 2008, which retailed for a staggering $17,000, with resale prices hitting $28,000 straight after its release. I'm having heart palpitations just imagining what kind of prices a mint-condition Chanel bike might fetch today.
So, who did it first? Well, this time, it was, in fact, Supreme who made a bike first, way back in 1998 and a solid ten years before Chanel pedaled into action.
The brand dropped just three dozen of its 24-inch cruiser bikes in 1998, handmade by Brooklyn Machine Works. Apparently one of which was purchased by Eric Clapton. Chanel's bike is gloriously decadent down to the details, and features quilted leather handles and a seat (made by the legendary Brooks), and even the bike pump is covered in Chanel's signature quilted leather.
Supreme has since totally outdone itself (and Chanel) and hit uncharted levels of ridiculousness when it recently dropped a mini bike in collaboration with Coleman (pictured above) for its latest SS17 collection. Your move, Karl.
The Surfboard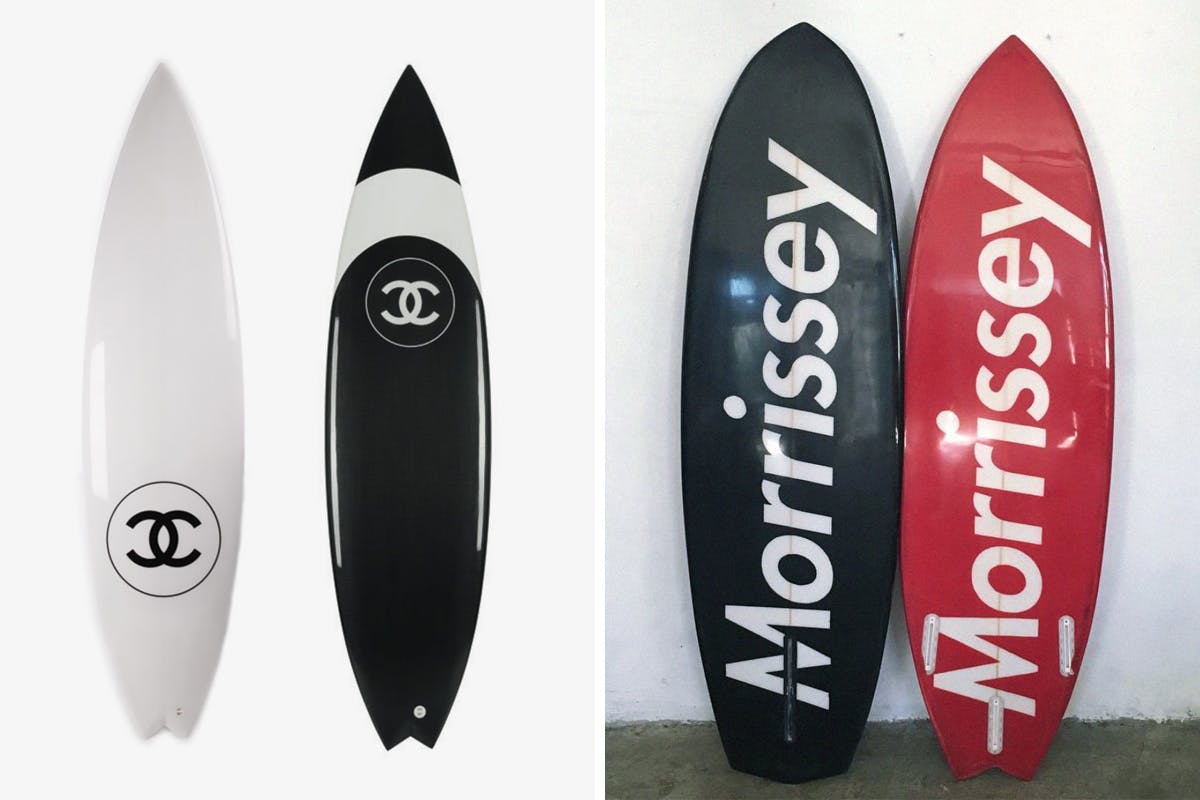 Remember that time when Supreme made a surfboard? Nope? That's because it hasn't happened (yet) but seeing that it isn't too far removed from Supreme's realm of ridiculous products, someone out there has managed to create their very own Supreme surfboard bootleg. The board pays homage to musician Morrissey, who posed for Supreme's Spring-Summer 2016 campaign (and regretted it) by re-mixing Supreme's iconic Barbra Kruger-inspired logo.
While Supreme might have missed that wave, Kaiser Karl doesn't miss a thing, ever. Surfboards have popped up occasionally in Chanel's repertoire, including past campaigns featuring Frankie Rayder and Mariacarla Boscono, on the runways and in a Chanel No.5 fragrance campaign starring Gisele Bündchen. In 2010, Chanel made its obscenely decadent surfboards available for purchase for a cool $4,000. Needless to say, they immediately sold out. Chanel's surfboards were shaped in monochrome carbon fiber, polyurethane, and fiberglass and were even delivered with a Chanel signature traveling case, of course.
The Ski Goggle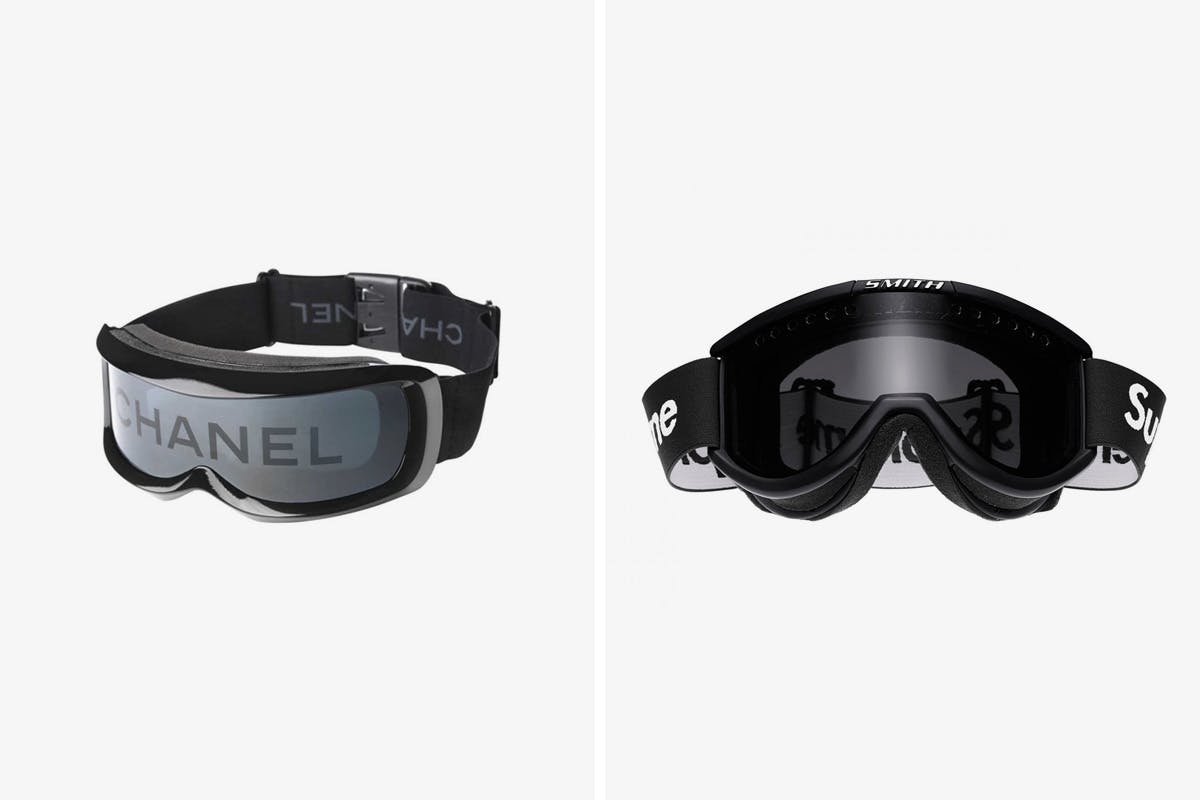 You've probably gleaned that the Supreme design team regularly consults the Chanel archive when concocting ideas for its highly entertaining line of painfully unnecessary lifestyle accessories. And for those who are requesting evidence, here's yet another example. Supreme dropped its first pair of bogo-adorned ski goggles made with Smith Optics for its FW15 collection. It wasn't all statement novelty though, the goggles sport plenty of technical features such as a dual-lens airflow and compression-molded face foam.
However, Chanel actually came through with its own mirrored logo ski goggles way before, in 2010. Given that the seasoned Chanel customer probably spends a lot of time on the slopes, I would hedge my bets that Chanel's goggles have seen a lot more snow (NYC slush storms don't count) than Supreme's.
The Baseball Cap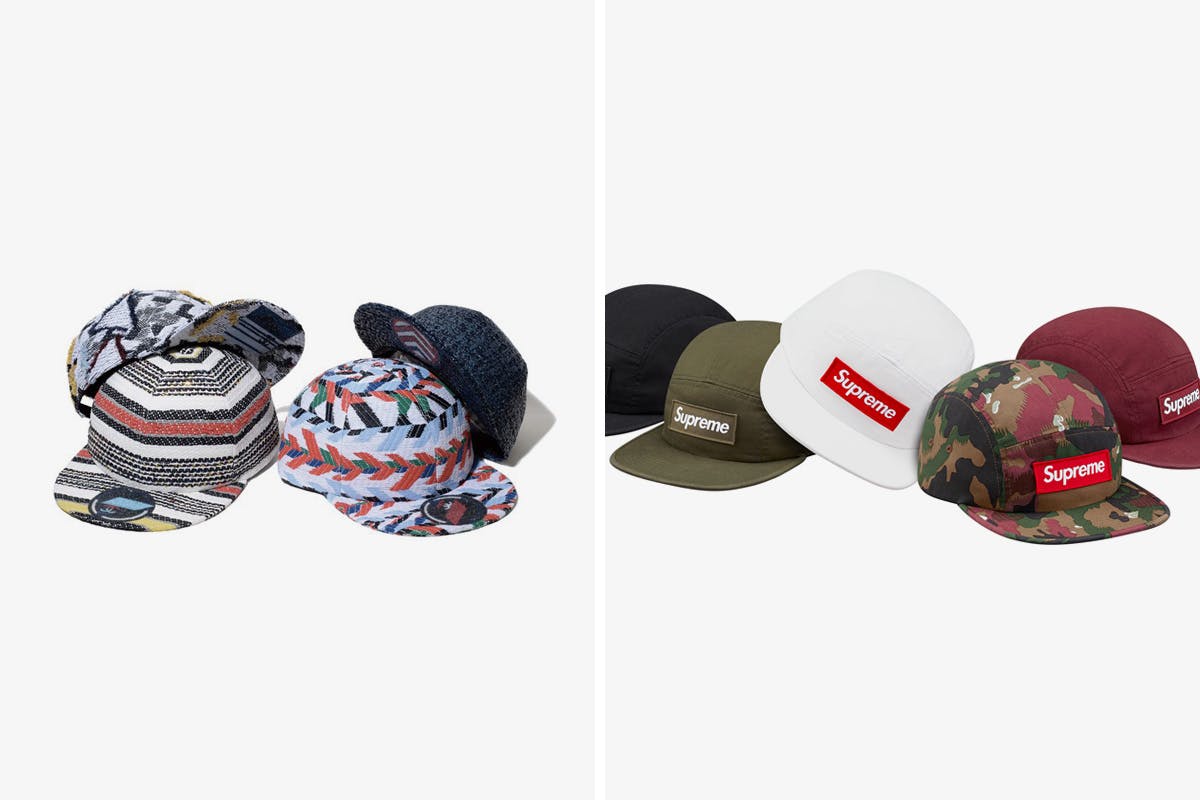 Ok, so Supreme did beat out Chanel here, but the fact that Chanel is producing baseball caps is really a sign of the times. Perhaps, 'ole Karl Lagerfeld has been taking notes from Supreme this whole time? There's no arguing that the baseball cap and the camp hat have long been a cornerstone of Supreme's product offering.
In fact, it would be near impossible to conjure Supreme's historic reverence without a Supreme cap stamped with its box-logo. In a new turn of events, Chanel indulged in Vogue's 1995 prophecy by offering its own disgracefully decadent baseball caps for its SS17 collection. Obviously, the Chanel cap is made from luxurious boucle tweed, complete with the brand's iconic double-C logo hardware and some immaculate inner stitching, and retails for a casual $2,100.
The Fire Extinguisher
Technically, Chanel has never actually released a fire extinguisher, so the one that Jebbia refers to in his New York Times interview to justify the drop of Supreme's very own was probably inspired by a sculpture by German artist Niclas Castello. Castello has been producing a series of "luxury" fire extinguishers since 2014, and apparently, Beyoncé and Jay-Z are among his collectors.
Supreme's own fire extinguisher made in tandem with Kidde Fire for its SS15 collection, is full-proof that Jebbia is keeping tabs on all Chanel paraphernalia, regardless of whether it was produced by the hand of Kaiser Karl or not. Castello isn't the only artist putting luxury stamps on obscure objects. Dutch artist Diddo produced a range of luxury gas masks featuring the logos of famous brands like Chanel, Gucci and Louis Vuitton in 2008. While Supreme hasn't dropped a gas mask per se, a customizer by the name of Freehand Profit did craft a bootleg one using elements from the brand's Nike SB collab.
Dice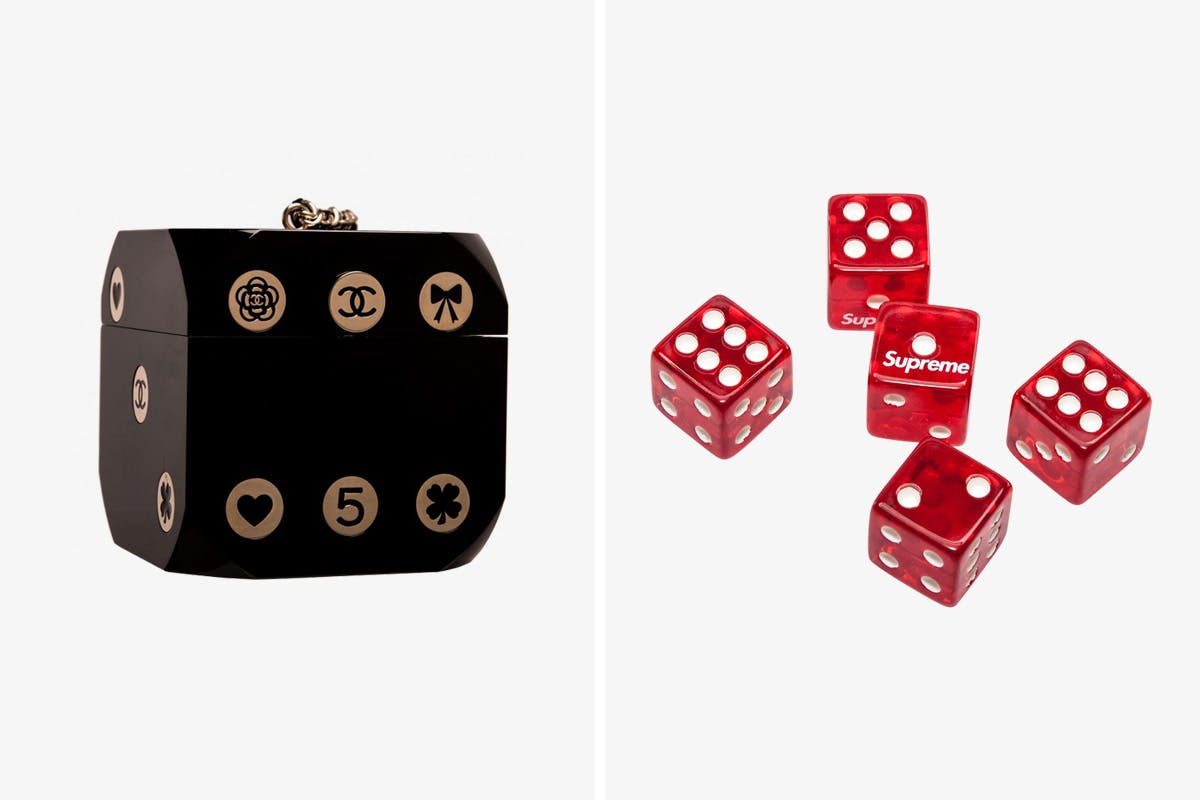 Supreme has a long, winding history of releasing utterly baseless accessories, from money guns to bricks, but from time to time, it does drop something lovingly practical — like a set of dice. Supreme's dice set dropped as part of its FW11 collection, and for any millennial whose iPhone is an extension of their limb, the brand's dice set was a nostalgic reminder of simpler times when board games exclusively ruled your very existence.
While Chanel hasn't dropped a dice set for the lavish lady who loves an impromptu Backgammon sesh, it did release a very limited edition "Dice" Casino Minaudiere Bag in 2016. The rare, collectible clutch is shaped like a single die and features lucky club and heart symbols, Chanel's CC logo and camellia charms in brass in a pattern consistent with the pattern found a dice. It currently retails for nearly $14,000.
So, Are Supreme and Chanel the Same Thing?
Even though Supreme is an infant compared to the French octogenarian, the lines dividing streetwear and luxury fashion have beyond blurred, and there's nobody at the top-tier of luxury fashion who can deny that Supreme is a bonafide fashion powerhouse today.
Supreme's prices might pale in comparison to Chanel's, but given the brand's resale culture and its resolutely limited drops, there's no doubt we'll continue to see prohibitively expensive Supreme pieces doing the rounds among its more accessible price points. Going to any Chanel store is a sensory experience, and it's the same for any Supreme location around the world.
Just as Chanel's double-C logo has long been its own distinctive visual cursor, the bogo defines Supreme and fans of both brands flock to literally anything adorned with these signatures (as demonstrated above), because what they represent is a larger culture. Given that Vogue first foresaw Supreme's potential to become a global success story back way back in 1995, as well as its parallels to that of Chanel, there's no doubt that Supreme has been plotting its rise since the very beginning.
Here's the 50 best (and most ridiculous) Supreme accessories of all time.