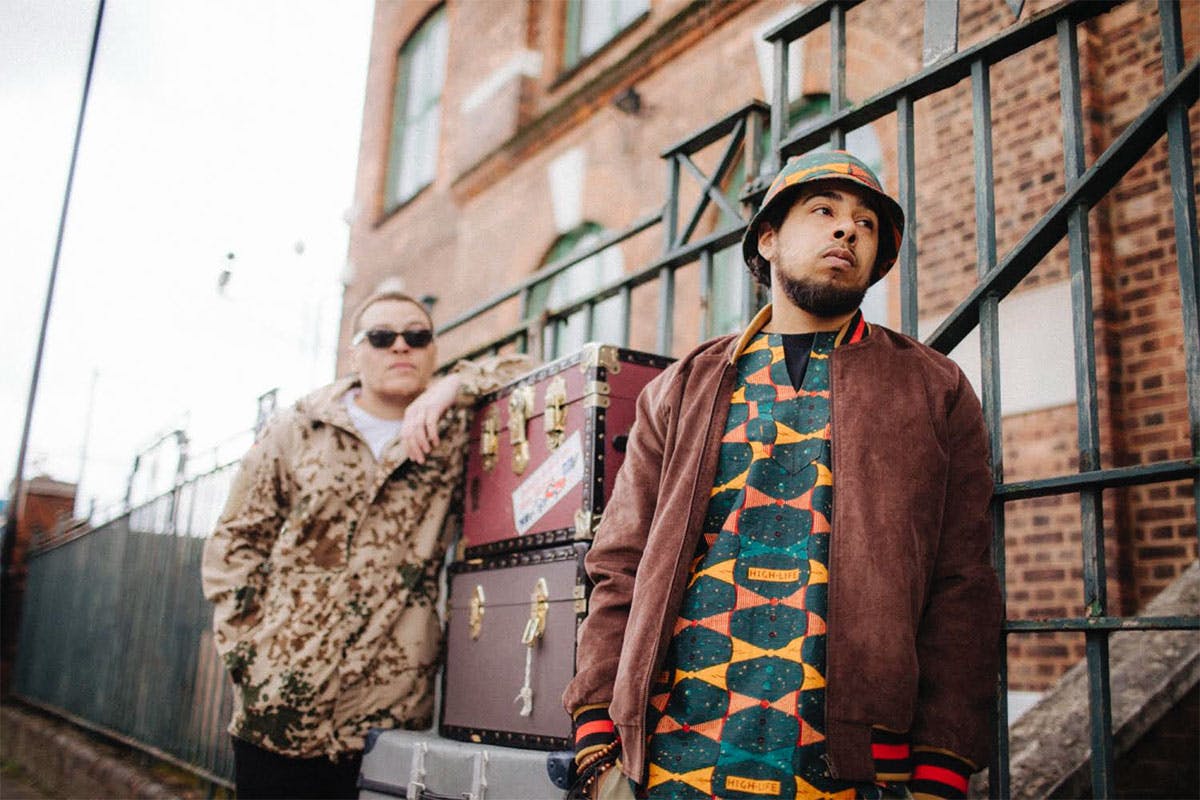 Under the Radar is Highsnobiety's celebration of upcoming talent. Each week, we're spotlighting a rising artist who is bringing something new to the world of music and is capturing our hearts and minds (and ears). This week, we're featuring Children of Zeus, a hip-hop duo from Manchester, UK, who until recently, were on the verge of quitting music altogether.
When it comes to 'making it' as an artist in the music game, things don't always progress as quickly as we're led to believe. It takes more than one night to make an overnight success, and perhaps no one knows this fact more intimately than Manchester's latest hotly-tipped export, Children of Zeus.
The northern UK musical powerhouse is known globally for the Madchester era of the '80s and '90s. At the time when The Happy Mondays, The Stone Roses and Oasis dominated charts and sold out shows all over the world - there was, and continues to be, a soulful side of Manchester that never got it's due diligence. Black communities in Moss Side and other inner-city areas were paying more attention to what was going on with hip-hop in Harlem than house in The Hacienda, and built up a thriving culture of house parties and pirate radio. Yet, while this hotbed for black music never went away, the public-facing narrative favored the pill-poppers and rock and roll stars. It seems only recently has the rest of the UK, and the world, become ready to pay attention. Rapper Bugzy Malone released his debut album B. Inspired this month to massive acclaim, and the precocious talent of Skepta-endorsed IAMDDB is wracking up YouTube views in the millions; representing Manny the world-over in front of ever-growing festival crowds.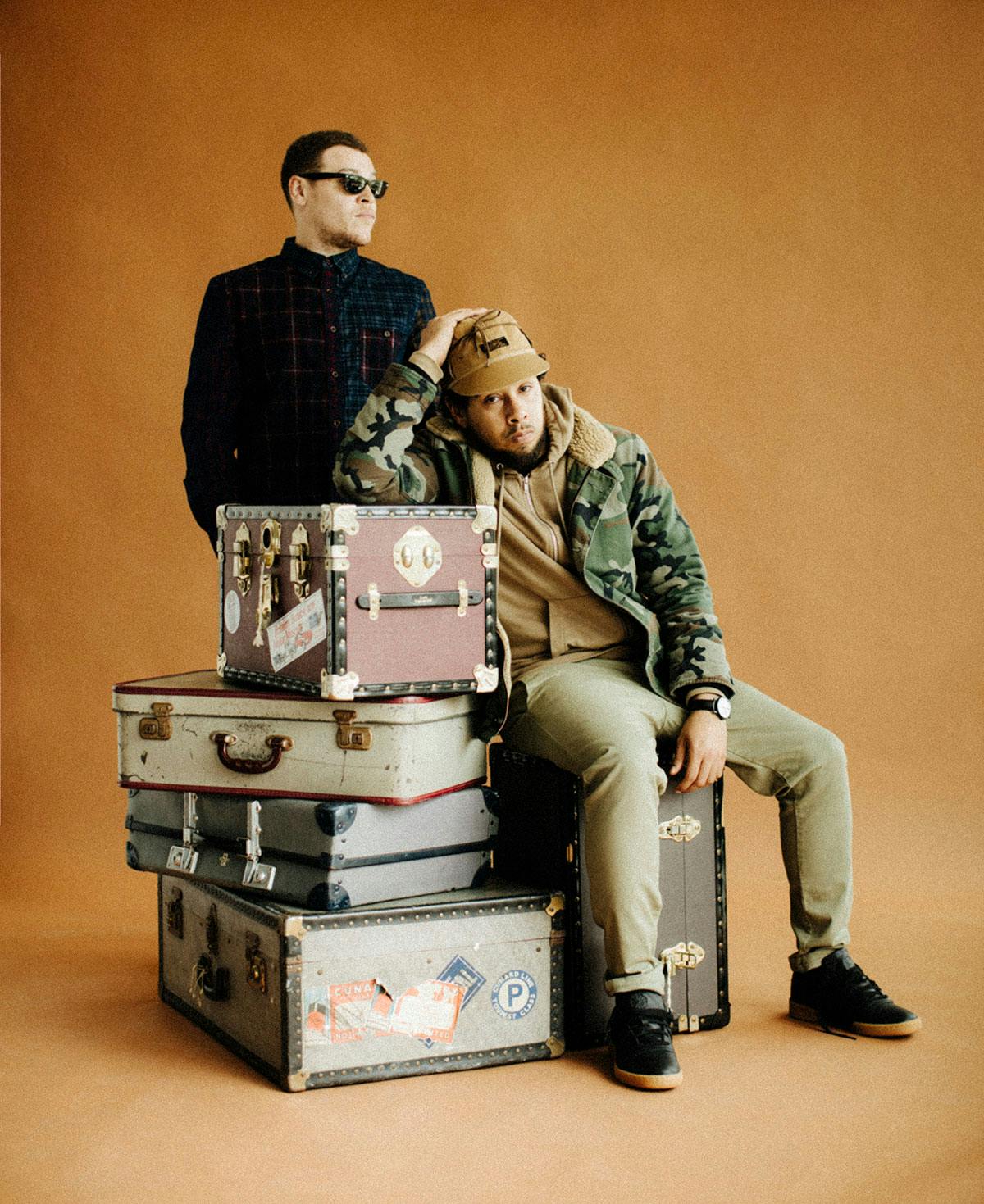 Manchester is a city with industry at its core, so it comes as no surprise that an ethos of hard work and commitment runs through it's creative heart. Tyler Daley and KonnyKon, the duo that make up Children of Zeus, are a true embodiment of this ideal. They met over a decade ago while touring separately with rap groups that never quite managed to break out of the healthy, but insular, UK hip-hop scene they were entrenched in.
Now, many years, many shows, and many overlooked mixtapes later, they're talking to Highsnobiety under the shade of a luxe terrace in a hotel bar in sunny Valencia, Spain. They're about to play an intimate, dockside set for Boiler Room and Ballantine's as part of their 'True Music' programming which, they say, recognises international emerging talent who 'refuse to compromise.' Selected for the authenticity of their sound, Children of Zeus' performance is to be beamed into palms and onto screens all over the world. Only months ago, this scenario would have been difficult for Tyler and Konny to imagine. "Up until November I had a different career, music had to just be a hobby," reflects Konny. "I was working in an office, and had been for 10 years. Doing what I had to do to eat and support myself, and just making music a couple of times a month at weekends."
"I just used to sell stuff," Tyler chimes in, contemplating his glass of ice water. Before the release of The Story So Far in 2017, it seemed all but too late for Konny and Tyler to make it in music, but luckily their love for the form never went away. "So much pressure is put on artists to get views, and clicks nowadays, but we've come from a place of being used to not getting much love online," says Tyler.
It took the two stepping out of their comfort zone in a close-knit UK rap community and releasing their sporadic collaborations, for them to finally find their audience. Inspired by a shared love of music dating back to their parents' record collections, Tyler began singing more than rapping, and Konny turned his hand to more bouncy, jazz-laden instrumentals. "Early '90s pirate radio: that typifies what we bonded over," recalls Tyler. "It was street soul, hip-hop, reggae, even jungle - and now all the music that has stemmed from that."
"Joining up with Tyler… The crowd changed," adds Konny. "I was looking out at crowds before and I didn't see anyone I related to, or a vibe that I wanted." He addresses exactly this on the opening track to their debut album, Travel Light rapping; "without T there's no females just tramps in big jeans."
As Children of Zeus, the pair have found fans in higher places with better-fitting attire. Their nostalgic rendition of Manchester street soul, amalgamated with jazz-steeped hip-hop, has been met with praise from the BBC Radio's iconoclastic Giles Peterson and UK dance music pioneer, Goldie, amongst a host of blogs and critics. The Story So Far is not an album, but more an abstract collection of tracks they had made together in the years leading up to their breakout single "Still Standing." Initially the project was never intended to see the light of day, but convinced by friends and family to put it out, it served as a perfect introduction to their sound, and a precursor to their debut from earlier this year. The timely release and warm reception reflects a change in attitude towards Manchester rap, and set them in good stead for a summer of festivals appearances and live shows. Konny reflects - "For years we struggled to get anyone to even except us with these accents in this type of music. But now that there's more of us, people are used to it, and people actually to hear it."
Children of Zeus' story far is not one of instant success. Instead it is a testament to self-belief and love for the craft. When asked what advice they would give to their teenage selves, at their first attempt of forging a music career, Konny responds: "Enjoy it, and don't compromise. A lot of people think you have to watch other people in order to learn how to do something, or how to make it. The internet has gotten rid of that. You can find your audience no matter what you make, just commit to doing that."
Be sure to revisit the previous edition of Under the Radar with LA's best-kept secret Sunni Colón.