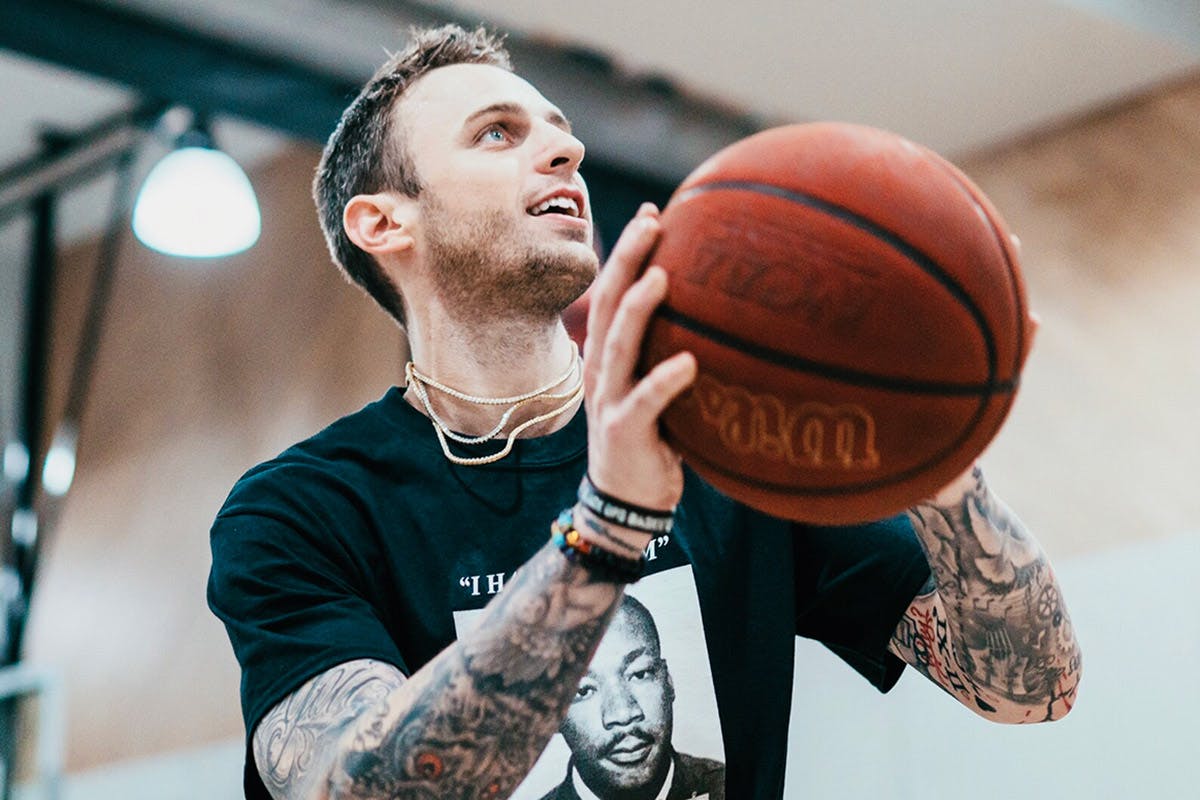 Three years ago, Chris Brickley was sleeping on the floor. It was after 1 a.m at Platinum Sound Recording Studios, a small space above the din of Times Square in New York City. Brickley was a neophyte basketball coach, hanging out at a recording session while the three guys from a pre-Culture Migos were passed out, too. "I fell asleep and Quavo, Offset, and Takeoff were sleeping in the corner on the floor," Brickley says. "Looking back at it, it's crazy to think how I was trying to come up."
Now, he watches from backstage as Migos — arguably the biggest group in hip-hop — perform alongside Drake at Madison Square Garden. It's a full-circle moment that reflects where Brickley is at now. "I'm super blessed," he says.
Brickley is indeed blessed. At 32 years old, he is the NBA's hottest trainer. His off-season workouts attract basketball's uppermost echelon. Carmelo Anthony, LeBron James, and James Harden are just a few of the titans to pass through his gym this summer — often pitted against one another in lively open runs. The training moments he shares with his 478,000 Instagram followers — such as a hoops session with Quavo and Travis Scott — go viral.
"He's the king of off-season," says New York Knicks center Enes Kanter. "Every NBA player wants to come work with him."
Away from the court, Brickley has carved a niche as an influencer at the intersection of fashion, music, and lifestyle. Every brand sends him its newest kicks. Rappers invite him to preview unreleased music. He even got scanned into the NBA 2K19 video game. Color Blind, his fashion side hustle, has been rocked by celebrities such as Justin Bieber, Khloe Kardashian, and Kevin Durant.
Brickley lives a life most of us dream about. He's knee-deep in lucrative offers and the celebrity that comes with being an influencer. But with visibility comes great expectations and even greater sacrifice. "It's a catch-22," he says. "I'm focusing all my energy on becoming the best in what I do, but it's tough."
I first meet Brickley at his gym at Life Time Athletic on 42nd Street in Manhattan. "Who are you?" asks the gatekeeper pointedly at the front desk. "We need to ask because everyone says they know Chris."
We head to his apartment in the adjacent Sky luxury complex, a stunning 71-story building with custom art by Yayoi Kusama and a gleaming Lasvit chandelier. Inside, Brickley's digs are more modest. Photos of a coquettish Marilyn Monroe hang under a flat-screen TV. Nearby is a leather-bound Bible. Sneakers (size 12) are strewn about. Brickley usually wears a pair once and gives them away. It's a bachelor pad. The fridge is bare, save a row of neatly lined energy drinks. The kitchen countertop is home to pizza boxes and a container of instant ramen.
"I always eat out," he smiles. He settles into a brown leather sectional sofa after changing into yellow Daniel Patrick parachute track pants, gray Color Blind T-shirt, and Balenciaga cap. Despite his 6-foot 4-inch frame, he has a disarming, boyish vibe. He speaks earnestly with a noticeable accent by way of growing up in Manchester, New Hampshire. He's likable, thoughtful, and asks a lot of questions. "I'm a regular person," he insists.
His humility belies his resume. At Trinity High School in Manchester, he was a top-100 basketball player and twice Athlete of the Year before playing for the University of Louisville. In 2011, at 25, he became the youngest Division 1 assistant coach in the NCAA after taking a job at Farleigh Dickinson University in Hackensack, New Jersey. Soon he was a player development coach at the New York Knicks, where he stayed for five years and his sessions with Anthony forged a lasting bond that has continued even after Melo's trades to Oklahoma and now the Houston Rockets.
"I respect his basketball IQ and how hard he works," says Anthony. "He always watched, learned, listened. He would sit there and just study and study and study. After the games, he would send me notes on how I did. Now, it's a friendship."
Last summer proved the tipping point for a post-Knicks Brickley when he started sharing his Black Ops Basketball workout sessions with a hooded Anthony on Instagram. The "Hoodie Melo" style phenomenon was born and everyone wanted to know the trainer driving the hood on.
"We have the best of the best," says Anthony of Black Ops. "Before we started, nobody was playing pickup basketball, and if they were, they didn't have the caliber of players we have." Trainers are usually relegated to life behind the scenes, but Brickley is front and center. A new Color Blind release reads "No one ever expected me to be here." It's fitting.
A few weeks later, the gym is in full-on adrenaline mode. It's the middle of pro runs and everyone wants in on a pickup game. Anthony, Harden, Kanter, Tim Hardaway Jr., Serge Ibaka, and others pound the court while Jadakiss' "We Gonna Make It" blares from a speaker. Friends, corporate types in suits, and onlookers watch from the bench. Five photographers are placed strategically around the court perimeter, snapping content for social media. The air is thick with competition and sweaty, masculine energy. Brickley stands with tatted arms akimbo, watching intensely.
It's pretty incredible to see players of this level in such an up-close and intimate space. Rapper YG stops by to play pickup with Harden and viral star Shiggy. It's surreal, but to Brickley, it's just another day. His training roster continues to swell and he's inundated with DMs, emails, and comments. He vacillates between two cell phones that go off like crazy. It comes from everywhere: Wall Street honchos offering to quit six-figure jobs to intern with him for free, curious tourists pressing their noses up against the gym windows, adoring fan mail from kids around the country.
"I care. I hate not responding to 200 people that message me, telling me these heartfelt things," Brickley laments, his blue eyes intensifying. "Like, that sucks." His everyman disposition leaves little room for boundaries. However, in many ways, it's his biggest asset. He cares about people, about what people think. Like a doting parent, he gets joy — and stresses the fuck out — when watching his players.
"I care so much about pleasing people, especially the people I work with," he says. That means hopping on a plane from New York to Los Angeles for sub-24 hour visits to see C.J. McCollum or showing up to the gym on nights, weekends, and holidays. Players reach out to talk about basketball or just life at all hours. "I genuinely in my heart want them to be happy. When there's players that aren't doing well, that puts a toll on me."
This is the part of the gig people don't see. The grind is never-ending. "With social media and the way our society is, you can look at somebody like that and misjudge him," Anthony says. "A lot of people don't know how hard he works."
Kanter adds, "He's actually a good dude. It's not a player-coach relationship. It's not about making money or being famous. When you go to him, he's like a friend."
Success is a double-edged sword. Before, making it was the singular obsession. What keeps Brickley up at night these days is the opportunity cost of chasing that dream. His schedule is grueling. A whiteboard on his living room floor is scrawled with the pros he wants to match up. There's always trepidation about who will show up and the pressure of upping the ante from the last run. Instagram is watching, of course, and there's the specter of competitors champing at the bit to replicate his training blueprint.
Color Blind, which started as a creative pastime, is now turning into something more. He wants the line, which promotes racial inclusivity, to become a streetwear mainstay. He keeps a lined notebook for ideas, future cuts. His pop-up event for New York Fashion Week attracts several NBA players, including J.R. Smith, who helped bring Brickley into the Knicks fold and has a collaboration with him, along with BMX athlete Nigel Sylvester, rapper Casanova, and celebrity jeweler Mr. Flawless, all of whom peruse shirts and hoodies emblazoned with Barack Obama and Nirvana's Kurt Cobain.
To be around Brickley is heady but dizzying. He doesn't eat as much as he should. One day, I see him down orange juice, a ginger shot, and a handful of snack mix. He has dealt with anxiety for the past two years. It's exacerbated when things are going well. Walking around the city at night helps quell his nerves. I recommend meditation. He says he'll try it. And sleep? Maybe four hours. Unsurprisingly, work bleeds into what should be his personal life. "I have no personal life at all," he says. "The players are my personal life."
He relies a lot on his father, whom he calls his best friend, to offer some semblance of normalcy. Brickley and his dad grew immensely close after his mother's suicide when he was 13. His relationship with the rest of his family is strained due to his schedule. This bothers him. "There's a lot of things people don't realize," Brickley says. "I have a big family and I'll go, like, a year or two without going home. It's really sad. Sometimes that makes me super emotional."
His "live-to-work" philosophy is exhausting and ultimately lonely. "Like, who do I have?" he asks.
But Brickley tries to avoid complaining. Basketball is as cathartic for him as it is consuming. "These players, they don't even know it," he says. "For them, training is their getaway from what's going on in their lives, at home. But, for me, teaching them helps. Both of us are getting away."
With the NBA season about to start, he's looking forward to reaping the rewards that give him the most joy. "The thing that makes me truly happy is when a guy I've worked out all summer is playing really good," he beams. "It's the dopest feeling in the world. That is true happiness."
So, for now, he's going to keep striking while the iron's white-hot. "My biggest fear in life is looking back and having regrets that I didn't work harder," he says. He pauses, catching himself. "But I am trying to live more in the moment."
Next up, here's why YEEZYs will never be the iPhone of sneakers.