The views and opinions expressed in this piece are those solely of the author and do not necessarily reflect the position of Highsnobiety as a whole.
In summer 2015, Kanye West dropped the sneaker that would change everything. The adidas Originals x YEEZY Boost 350 was first released in a "Turtle Dove" colorway and was the second silhouette the rapper had created with adidas. The Boost 750 high-tops had come earlier, but the cheaper 350 was the pinnacle of hype at the time of its release.
The "Kanye effect" is self-evident. Sneakerheads across the world committed their time and money, hellbent on copping a pair, exactly as they had done for West's previous limited drops with Louis Vuitton and Nike. In that sense, the 350 Boost was par for the course.
Given the link-up between West and adidas was still in its early stages at that point, the first production runs were kept small to avoid oversaturating the market. Millions of people around the world desperately wanted to get their hands on YEEZYs, but only 9,000 pairs existed for that first drop. The unlucky majority were left empty-handed, waiting for the next release to come around. The hype was very real from the outset.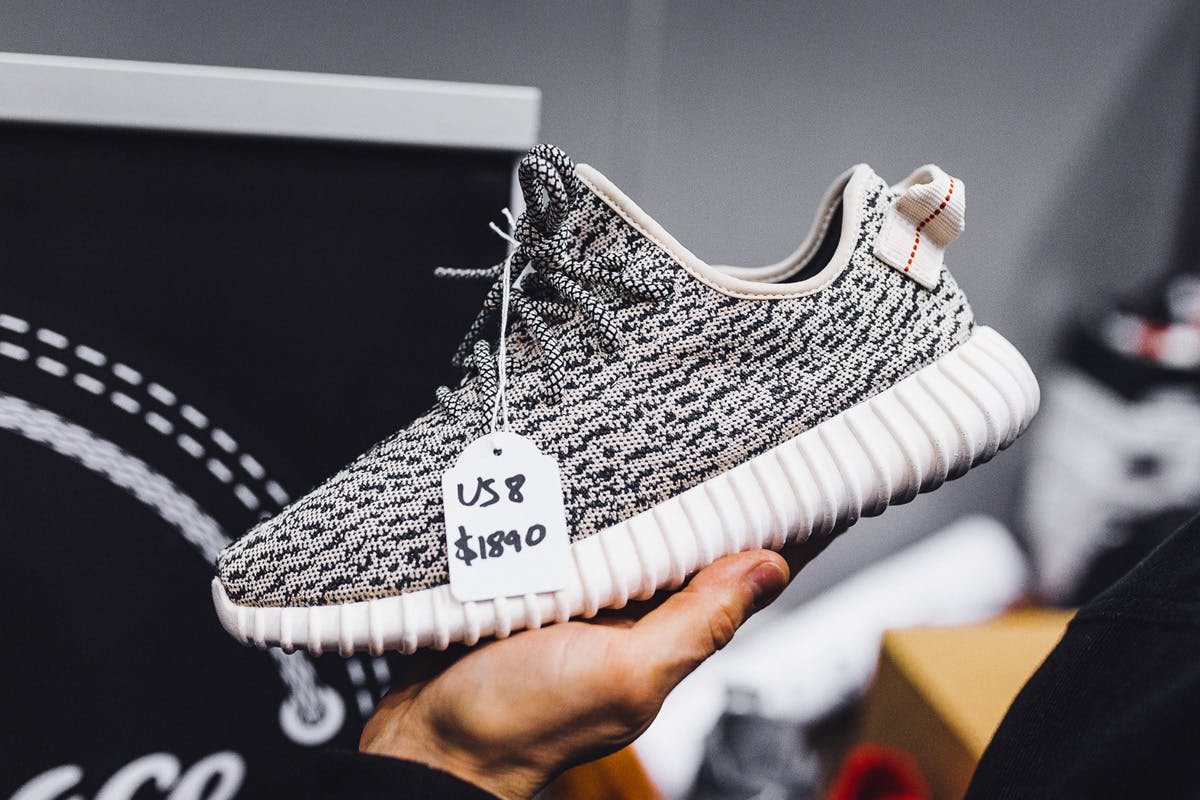 In February 2015, shortly after the rapper's debut with adidas, and with reports of kids in the street getting YEEZYs stolen off their feet, West said, "I want to apologize to all the kids and all the parents that can't get the shoes currently because there's only 9,000, and also, 'cause they're $350 and if they're out of anyone's price range."
He added, "I know you can run up on this 14-year-old kid and take his YEEZYs, but just be patient because we'll make more YEEZYs. Eventually, everybody who wants to get YEEZYs will get YEEZYs. adidas has promised me that, because there's so many kids that have wanted them that couldn't get them."
At the time, it didn't seem feasible that everyone could own a pair of the most hyped shoes on the market. West was setting an ambitious goal for himself that demanded a delicate balancing act between early adopters and the mass market. He recently reaffirmed his goal by tweeting about the "largest drop ever of the 350 V2 Triple White" on September 21.
If you believe what West has been saying, it seems like his intention has always been to transform the YEEZY brand into an industry-dominating force. But the path to success is no longer as simple as that — especially in streetwear. As Vivian Frank, founder of Facebook group Yeezy Talk Worldwide and someone who has followed the YEEZY craze since the start, reminds us, "Kanye wants to be at the top along with all the great legends in their industries like Walt Disney and Steve Jobs. He has explicitly said that a few times. But I only wear YEEZYs maybe two times per week, whereas I use my iPhone 150 times per day."
It's true that the dream of YEEZYs for everyone, the same approach pioneered by Henry Ford in the early 20th century and continued by the likes of Disney, Jobs and another hero of West's, Ralph Lauren, is something West could feasibly put into practice. The iPhone — whose new generation is releasing the same day as the Boost 350 V2 "Triple White" — is a best-in-class product with a price tag to match, yet has still sold more than 1.2 billion units worldwide.
The question is: is mass market availability what YEEZY fans really want?
These days the most potent, unquestionable currency in fashion is hype, most commonly generated by limited availability. In the second quarter of 2017, the Lyst Index — which measures the popularity and influence of brands — placed YEEZY at number two. A year later, YEEZY had dropped out of the top 10 completely.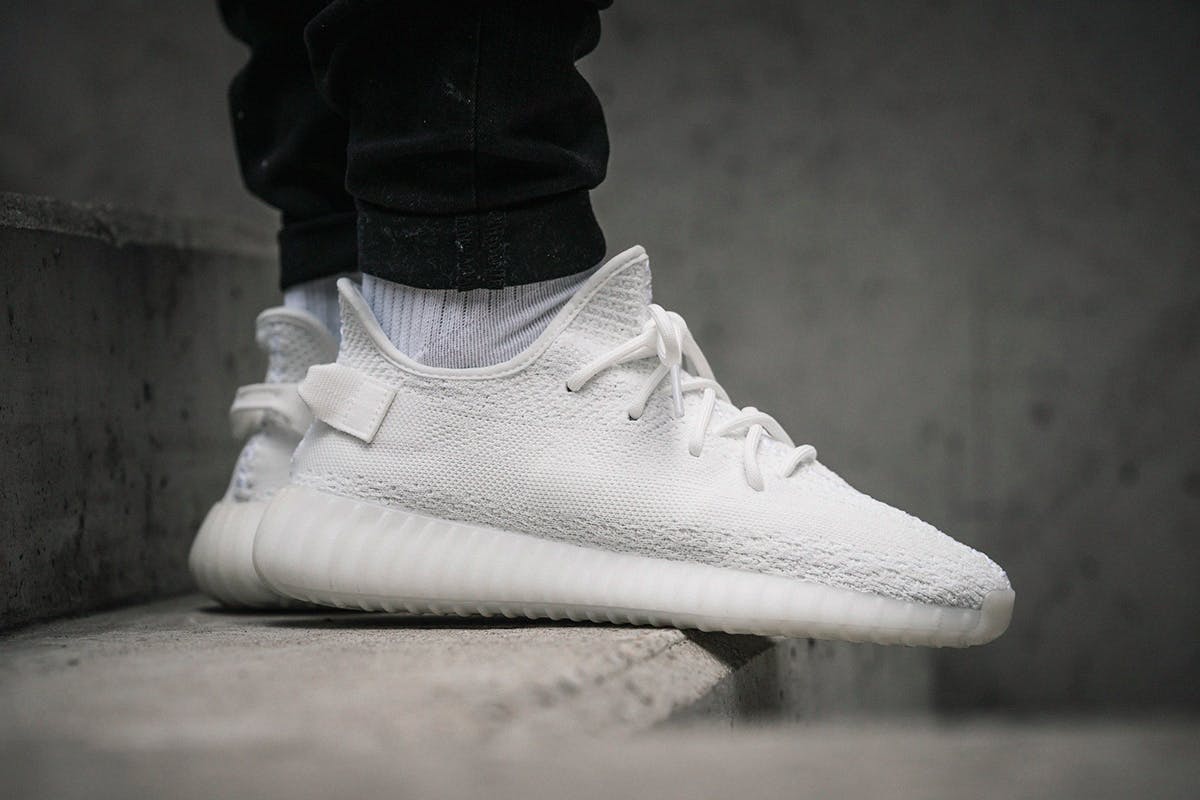 As each drop came around and quantities increased — in 2016, West told Harper's Bazaar that YEEZY was selling out 40,000 pairs of shoes in two minutes — the constant run of releases led to a kind of fatigue that was only lifted with the announcement of the Wave Runner and 500 silhouettes. The mission to put YEEZYs on everybody's feet was well and truly in motion, but this greater availability seems to be reaping few rewards in the more exacting circle of tastemakers that made West's footwear venture so huge in the first place.
As Oli, a YEEZY fan and casual reseller from the UK, tells me, "£170 (approximately $223) for a silhouette [you've seen so many times before] is pretty steep, especially considering these aren't luxury shoes."
He believes that the easier-to-cop new colorways have played a part in changing people's perception of the brand. "It's almost embarrassing to wear some of the newer YEEZYs in public, as mass production has driven them out of style," he says.
Those rare early pairs that did find their way into the hands of hardcore fans often wound up on resell outlets such as StockX and Flight Club. To this day, the success of each silhouette and colorway (and basically all sneakers these days) is measured by how much they sell for on these sites.
In data provided to Highsnobiety by StockX, we can see that the average resell price for the "Turtle Dove" YEEZY Boost 350 once stood at $2,081, its peak price, in July 2017. However, as rumors started to swirl that adidas and West would be restocking that style, statistics show the price has dropped substantially ever since. This month, the colorway's average price had decreased by more than $500 in a year.
But restock rumors often remain just that, rumors. Communities such as Yeezy Mafia often throw predictions out into the public domain, with a knock-on effect.
"If you check every time they post potential restocks, of which many haven't happened, you can see the prices drop," professional reseller Thomas Bonde of UNLIMITED CPH tells Highsnobiety. "We're talking 10-to-30 percent after the announcement. Their big following is obviously the main reason, but in the long run, if they keep [posting] alarming fake restocks, it'll kill most of the exclusivity of the previous YEEZY hype."
There are some more recent pairs that are barely creeping above cost price on the resell market.
"Today, YEEZY is still by far the dominant brand in terms of dollars, but that number is definitely lower than it used to be," says StockX CEO Josh Luber over the phone from the company's office in Detroit. He believes that the scarcity strategy the brand has been employing has started to hit a wall.
"Over 2018, the YEEZY releases have continued to come, but they've been a lot more sporadic and less calculated in terms of leveraging scarcity," Luber notes. "The entire resell sneaker market is all based on supply and demand. It's also about releasing product and driving hype and sell-outs, and that then has an impact on the secondary market. The fact the last YEEZY release is still sitting on shelves, never mind impacting resellers, is a testament to that."
StockX's figures show that supply meeting demand appears to be detrimental to a brand's value. But the killer, in YEEZY's case, seems to be the brand's decision to restock sought-after styles — a move that clearly has had a negative impact on the resell community. The best example, Luber claims, is the YEEZY Boost 350 V2 "Zebra."
"It was very limited when it first came out, the first one that looked noticeably different," Luber explains. "And so they were selling for about $1,500. It was a phenomenally hype shoe. But after the restock, the market value went down to $400 — and now that more people can get it, everybody who paid $1,500 feels like an idiot."
He's right. Another huge part of a brand's success is loyalty. As West opted for the more democratic notion of YEEZYs for everybody, he simultaneously pleased and pissed off a lot of people. Recycling old styles means those fans who think they've got rare sneakers on their feet, or who forked out resell prices before the restock, are being short-changed — nobody wants what everybody has.
"They're in an interesting place right now, where they have the opportunity to either slightly course-correct or go down a [different] path," says Luber of YEEZY's future. He credits Pharrell Williams' link-up with adidas, which balances regular releases you can cop straight off the shelf with almost totally unattainable styles, as striking the correct balance. "YEEZY is sitting on the line of starting to kill their brand," Luber adds.
West's desire to cater to everyone is still noble and perhaps he can make mass-market appeal cool again. Nevertheless, the feeling among many is that West's designs aren't Earth-shifting enough to keep the brand afloat without all of the extra baggage. So where exactly is YEEZY heading?
The industry of hyped sneakers operates under different rules than those of a tech industry where Apple rules, or a film and media industry where Disney dominates. Seeing a dozen iPhones in a subway car doesn't deter sales like it would if you saw 12 pairs of YEEZYs on the feet of those holding said phones. If West continues to amp up YEEZY production numbers and achieves his goal of making the shoes available to everyone, he'll surely be inviting more of the Roshe comparisons so many internet commenters love to make. More YEEZYs, less hype. Supply and demand.
But perhaps West will prove everyone wrong once again and prove that his co-sign alone is enough to keep his sneaker business at the top of the game even when the styles become easier to cop. The tumultuous history of YEEZY as a brand, however, could mean otherwise. Some things aren't about numbers, and in today's climate, YEEZY stands the best chance of thriving if it hones in on that scarcity model and figures out how to grow in other ways.
If West truly wants to maintain the hype around his brand, that probably means giving up his dream of putting YEEZY shoes on as many feet as possible. Because if YEEZYs were to become the iPhone of sneakers, they simply won't be YEEZYs anymore.
To stay updated on everything happening in the sneaker world, follow @Highsnobietysneakers on Instagram, check our sneaker release date calendar, and subscribe to our sneaker chatbot on Facebook to receive lightning quick updates to your inbox.