People make cities and cities make people. The speed and energy of fast urban life provokes new ways of living, new forms of being, opening new avenues of creativity and connectivity. But if you could glimpse this life in less than a minute, what would it look like?
With the help of Nike and the team behind the new LunarCharge, our new experimental film project asks five groups of people whose lives are defined by the fast, dynamic lifestyle of the city to collaborate and give us a unique insight into their world. What results is five fast, dynamic, abstract portraits of five global cities, the people who live within them, and the energy that flows through them.
First we hit London, shot as experienced through the eyes of model Romeo Hakem and DJ, model, and presenter, Snoochie Shy.
Originally hailing from Cape Town, Hakem now uses the British capital for his main creative base as he preps to launch his own line under his 'Naked Hustle' alter ego. His lived experience contrasts to (and is soundtracked by) Snoochie, former MTV and VEVO presenter who, when she's not anchoring Radar Radio's breakfast slot, is either DJing for major fashion and sportswear brands and their parties or switching it up from behind the deck to in front of the camera as a model.
We grabbed a minute with them during filming, shot last week in the British capital. Watch what they co-created with filmmaker Salim Adam, above, or read what makes them tick, below.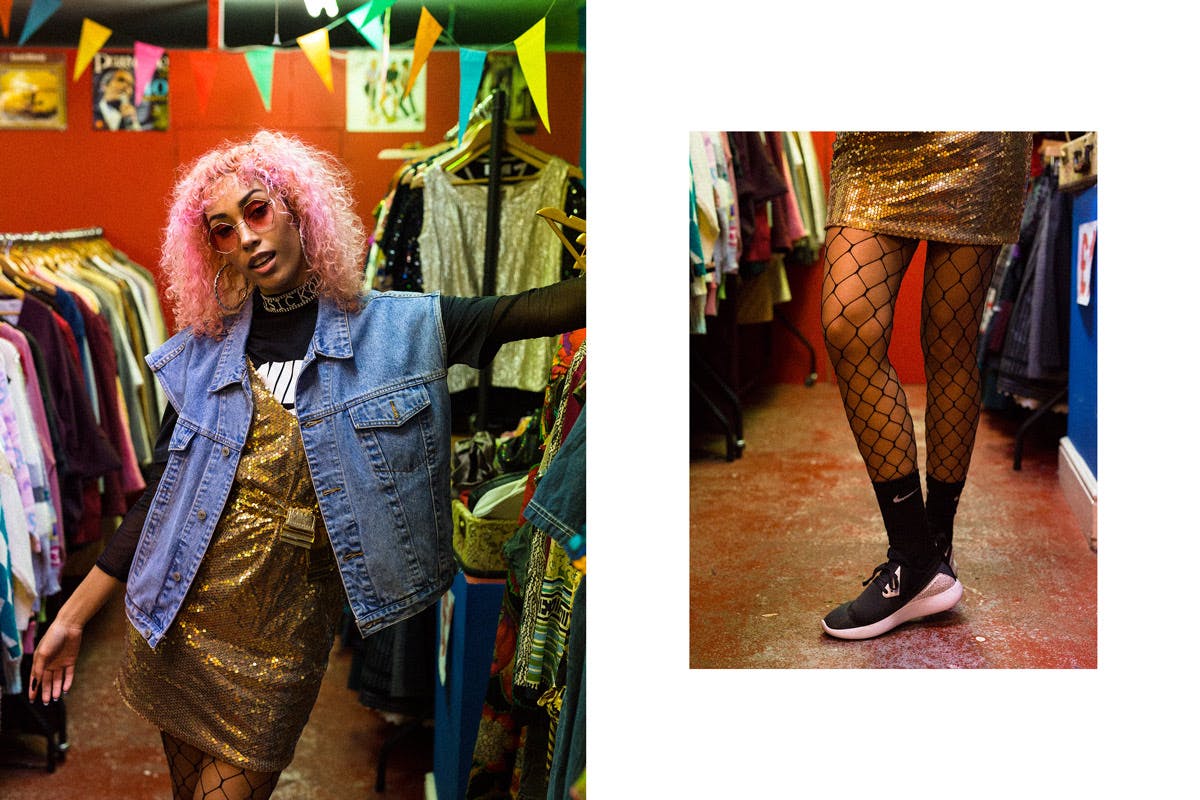 How has growing up in London influenced you and your aspirations? Have you ever desired living anywhere else?
Snoochie Shy: Growing up in London has been great because we live in such a multi-cultural society! I love London cos I'm inspired by its different cultures. Also, the fashion over here is insane – no one is afraid to express themselves how they want and I think there's something so cool and raw about that! I mean, I wouldn't want to live anywhere else as I'm such a London girl but I'd love to maybe stay in New York for a bit!
Why London and not somewhere else? What has it taught you? How does it inform what you do?
Romeo Hakem: London has taught me a lot, especially being able to adapt to four seasons within a day… Quite impressive.
What was the last piece of clothing you bought and why?
SS: I bought a sick black leather oversized biker jacket! It's my favorite purchase in a long while!
RH: Some EJDER merch...
So when you're not in front of the camera Romeo, what are you doing?
RH: Guess being me, showcasing the different dimensions of my jawline...
How did you start modeling? What happened? You've had an unusual path to where you are now…
RH: More so stumbled upon it, whilst accumulating different mediums within fashion and then I went from being behind the camera to being in front. But I wouldn't call myself a model, just handsome!
Who are the musicians and artists we should be looking out for?
SS: Capo Lee, YGG, Nico Lindsay, Lancey Fouxx, SteffLon Don and Rachel Foxx.
Part two of five in the experimental City Charged film series follows soon. In the meantime, cop the sneaker that pushed them through the day, Nike's new LunarCharge, at Nike.com.