Whereas a brand like Supreme will turn to the world of film and TV every once in a while — most notably with homages to films such as The Killer, Goodfellas, Taxi Driver, and Scarface — other brands have harnessed the power of pop culture nostalgia as their primary source of inspiration.
Such is the case with Dumbgood, the brainchild of Amelia Muqbel and Justin Deanda, two industry veterans who had years of e-commerce and licensing under their belts when they launched the brand in 2017. Dumbgood now counts officially licensed collaborations with pop culture juggernauts such as Cowboy Bebop, Kill Bill, and Seinfeld among its offerings.
You might assume only major brands get to dabble in Hollywood collaborations, but our analysis last month of how brands get their products into films revealed that the space is open to anyone willing to put in the work.
Take Disney as an example. The House of Mouse has a website for those wanting to inquire about a licensing opportunity. The site is laid out as an FAQ, from which you can navigate to a form to apply for use of Disney intellectual property (IP) under "Who do I contact to license television and motion picture content from the Disney and ABC libraries?" And if the form gets confusing, there is also a list of contacts for licensing different materials from various arms of the corporation.
Los Angeles-based attorney Jeff Gluck specializes in copyright infringement, usually involving major brands pilfering intellectual property from artists, and tells us that when it comes to licensing there is no set way of doing things.
"Generally speaking, there would be a negotiated sales royalty in the case of products being sold," Gluck explains. "There is also sometimes an upfront fee, or advance payment, which could be recoupable against sales. However, all of these points are completely negotiable and it is possible to structure these deals in a number of different ways. Length of term, production parameters, and design restrictions or rules are all very dependent on each different licensor.
"Usually, if it is a very strong property, like Marvel, for example, the licensor has leverage to dictate terms that would be favorable to them."
From the outset, Dumbgood's Muqbel and Deanda decided that pop culture shouldn't be reserved for occasional collaborations. "We were just like, 'Instead of just starting like other streetwear brands, why don't we start something where every single job is a licensed collab?'" Deanda says.
Admittedly, Deanda already had his foot in the door with the gatekeepers controlling many of these properties from his time in licensing. But while you'd naturally assume ownership simply lies with the studio that made a show or movie, licensing is a complex business.
Just because a studio signs off, it doesn't necessarily mean you can jump straight to making your collab. When Dumbgood made its Seinfeld collection, the brand also had to secure the permission of the actors whose likenesses were being used. Similarly, a brand might have to secure the permission of a director, or in other cases, if it's using a line of dialogue from a movie or show, that might involve getting the blessing of the writer.
"We're really big on saying everything we do is officially licensed, but the main thing about our brand is we really respect the IP holder and creator of the content," Deanda says. "There's just a lot of boxes that need to be checked to make sure official means official.
"It's really about defining your brand strategy and where your customer shops. Is it wholesale or direct to consumer or both? Define your sales channel and go into specifics. Detail the types of retailers and regions. You need to set realistic dates for your product release, taking approvals into account, and create a formalized retail calendar that shows how you will go to market. Communication is everything."
With all of these hoops to jump through, Dumbgood knows first hand that any brand looking to use other people's intellectual property should be prepared to hear the word "no" as much as "yes" from copyright holders. According to Deanda and Muqbel, the thing that can up the frequency of positive responses is having a clear understanding of what copyright holders want to achieve. After all, a clothing collection can breathe life into characters that evoke nostalgia but maybe haven't been introduced to a contemporary audience.
Muqbel points to Dumbgood's Goosebumps collection to illustrate that approach. The R.L. Stine children's horror novels probably aren't something people think about every day, but when you see T-shirts emblazoned with the covers of Ghost Beach, The Haunted Mask, and Night of the Living Dummy, it awakens a sense of nostalgia that is pleasing to Dumbgood, the wearer, and the owners of a franchise brought back to life by Hollywood in 2015.
"When you see it, you're like, 'Oh shit, I remember that! That was my favorite book,'" Muqbel says. "I think [with] that one, we really successfully hit the whole nostalgia thing that we tried to do."
When it comes to design, Dumbgood feels a less-is-more approach is often what the copyright holder is looking for. Still, Deanda and Muqbel try to walk the line between just slapping an image on a tee and adding a bit of their own creativity, partners allowing.
"Sometimes all you need to do is celebrate the characters that you've loved from the show," Muqbel says. "Just be really respectful of the brands and the people you're working with. In licensing, it's always about celebrating the title, and I think if you always keep that in mind — and hopefully if you do genuinely like the title that you're trying to sell — it makes work a lot easier."
Perhaps the greatest lesson to be gleaned from Dumbgood's success is its due diligence when it comes to the bottom line. While fashion brands rely heavily on marking up prices based on what it costs to produce an item, the use of copyrighted and trademarked materials comes at a price, meaning Deanda and Muqbel have to consider whether a partnership makes financial sense.
"The IP holder's going to get a portion of everything that we sell," Deanda says. "We do have to take that into consideration, and it's all worked into the model we use. It's really difficult to design an item and understand that you have an additional margin cost in there that maybe some other brands don't."
Any brand approaching a major IP holder should keep its expectations in check. A nightmare scenario is that a brand overestimates how many units it can move, the contracted period in which it can ship the merchandise expires, and the brand is left with surplus inventory it can no longer sell legally.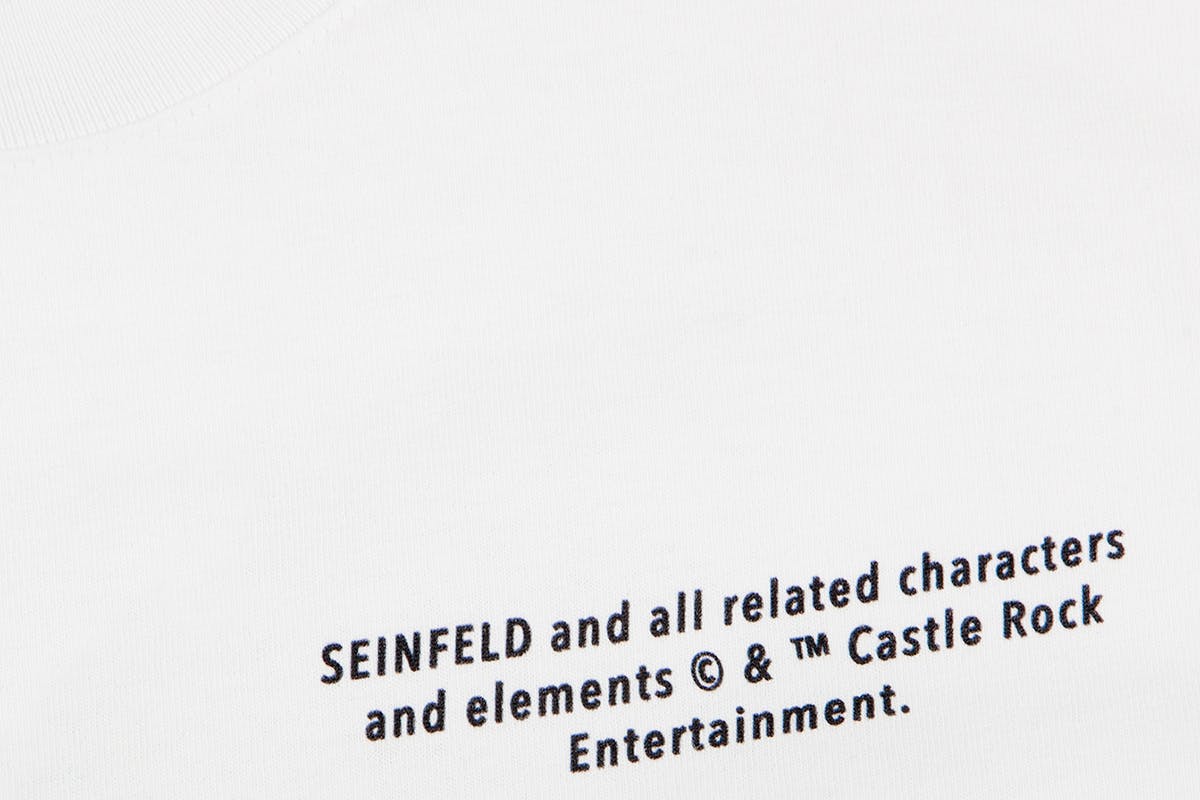 "You don't want to over-hype your selling power and under-deliver," says Deanda.
Although there is a finite number of movies and TV shows a brand would want to highlight, the Dumbgood team points out that it's really about finding "moments" rather than paying overarching tribute. For those seeking to launch an official collaboration with a show or movie, the trick is to identify those tiny, potential-laden pop culture morsels and present them in a way that makes sense with your brand.