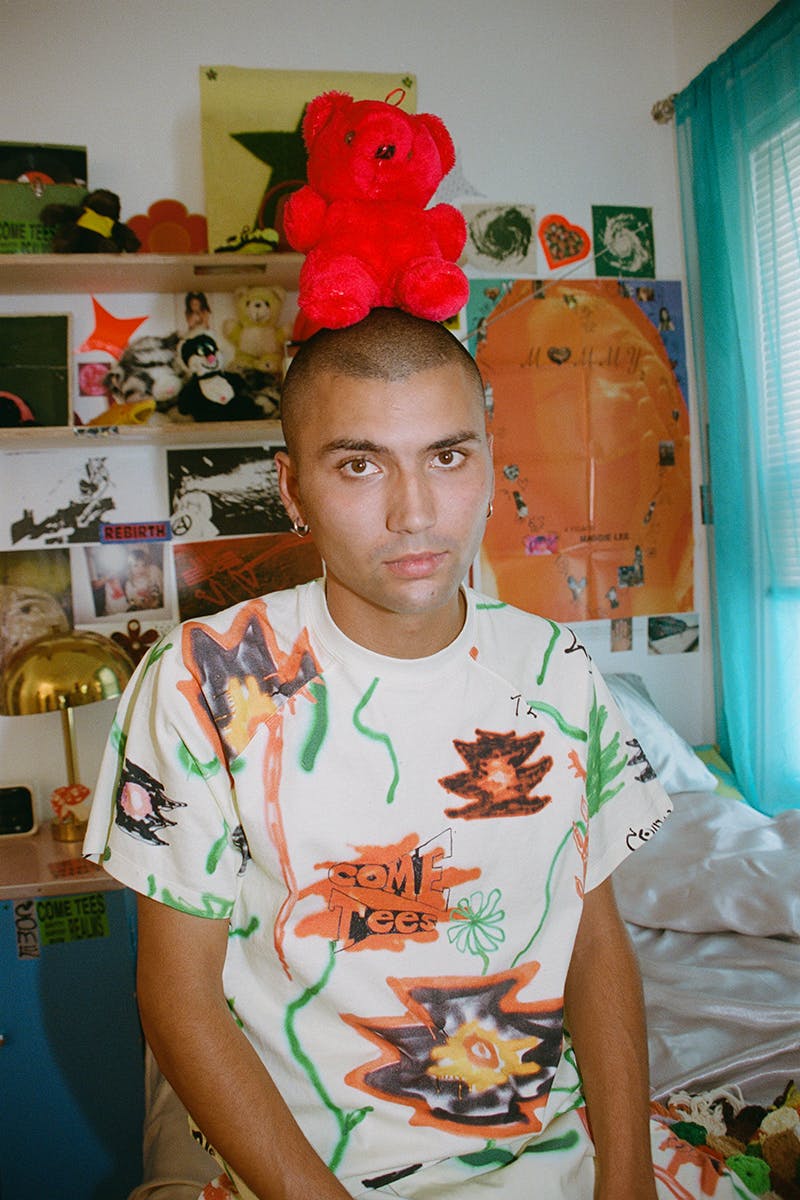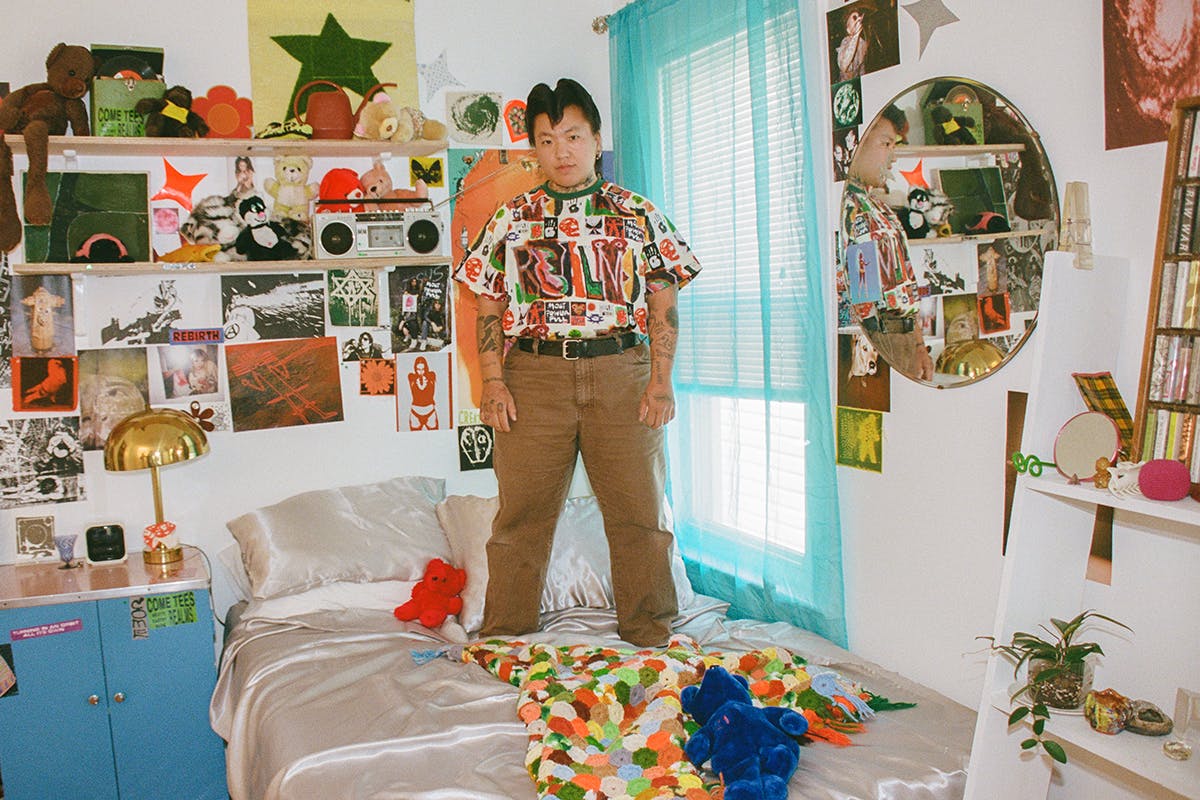 Sneaker collaborations are a dime a dozen these days and there are just as many that include seemingly throwaway apparel, the kinda stuff that looks like it was just tossed together to give people more things to spend money on. Not so with the collection that Sonya Sombreuil's Come Tees designed for Converse — in fact, the collaborative apparel is downright essential.
An artist by trade, Sombreuil has been operating Come Tees since about 2009 but it's really just a physical, wearable manifestation of her creative id.
Come Tees isn't even really definable as a mere clothing brand: Sombreuil uses it as an outlet to sell hand-painted T-shirts and sweaters, yes, but it's also a multimedia project that incorporates everything from her sculptural practice to pop-ups at the Jeffrey Deitch gallery. Sky's the limit.
So Sombreuil's partnership with Converse, Come Tees' biggest corporate partnership to date, isn't a value shift. It's simply an opportunity for Come Tees to explore expression on a new scale.
"The Come Tees world is expanding," Sombreuil explained to Highsnobiety. "I love the task of filtration, interpretation, and reimagining bigger brands through the specificity of the Come Tees vision. I'm excited to do much more."
And Converse was a worthy partner to help usher in Come Tees' brave new world, because it perfectly aligns with Sombreuil's personal tastes.
"I grew up wearing Chucks, classic black Chucks," Sombreuil continued. "My high school boyfriend once had a pair custom embroidered with song lyrics for me. I wore them until the soles were detached."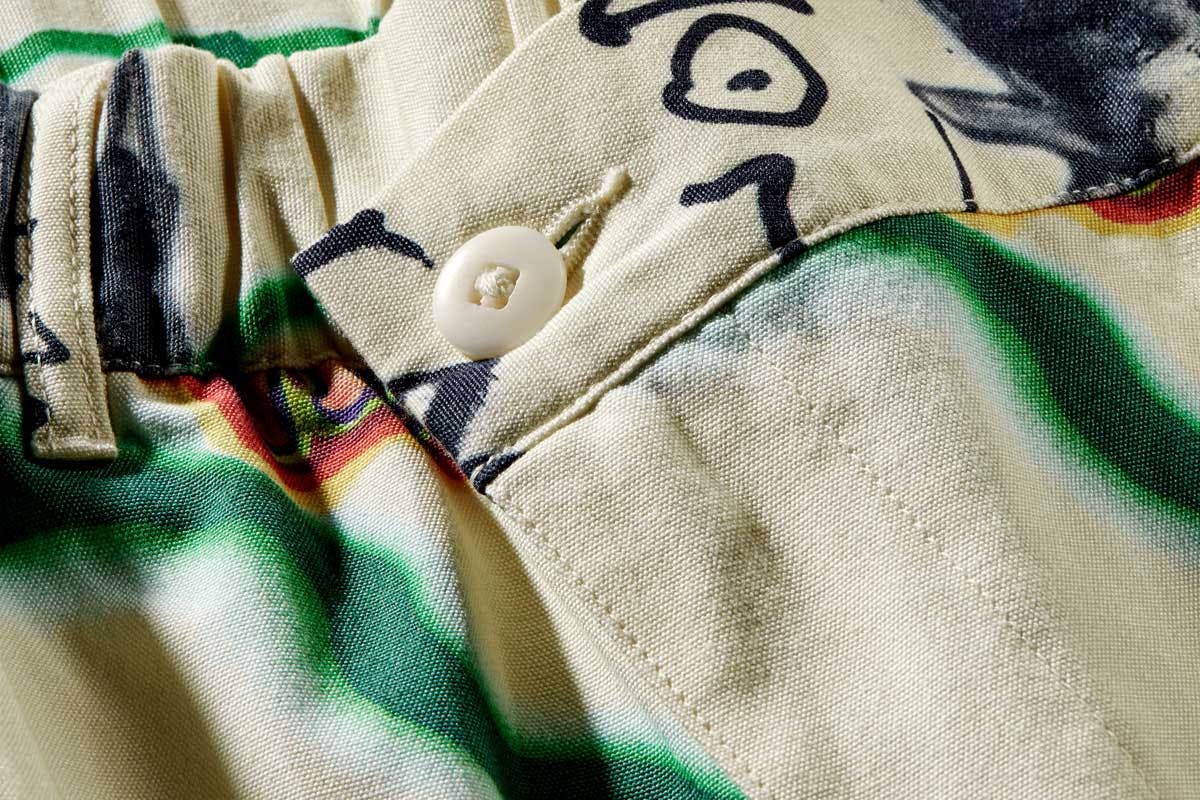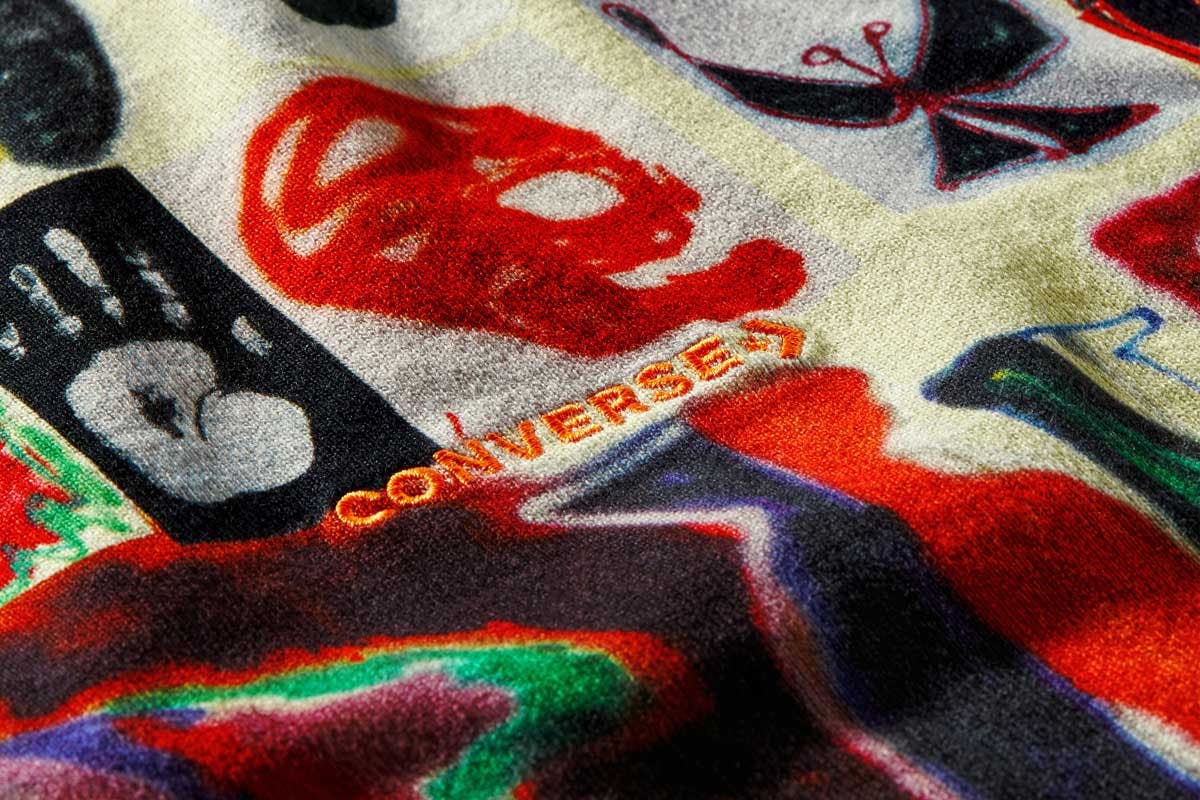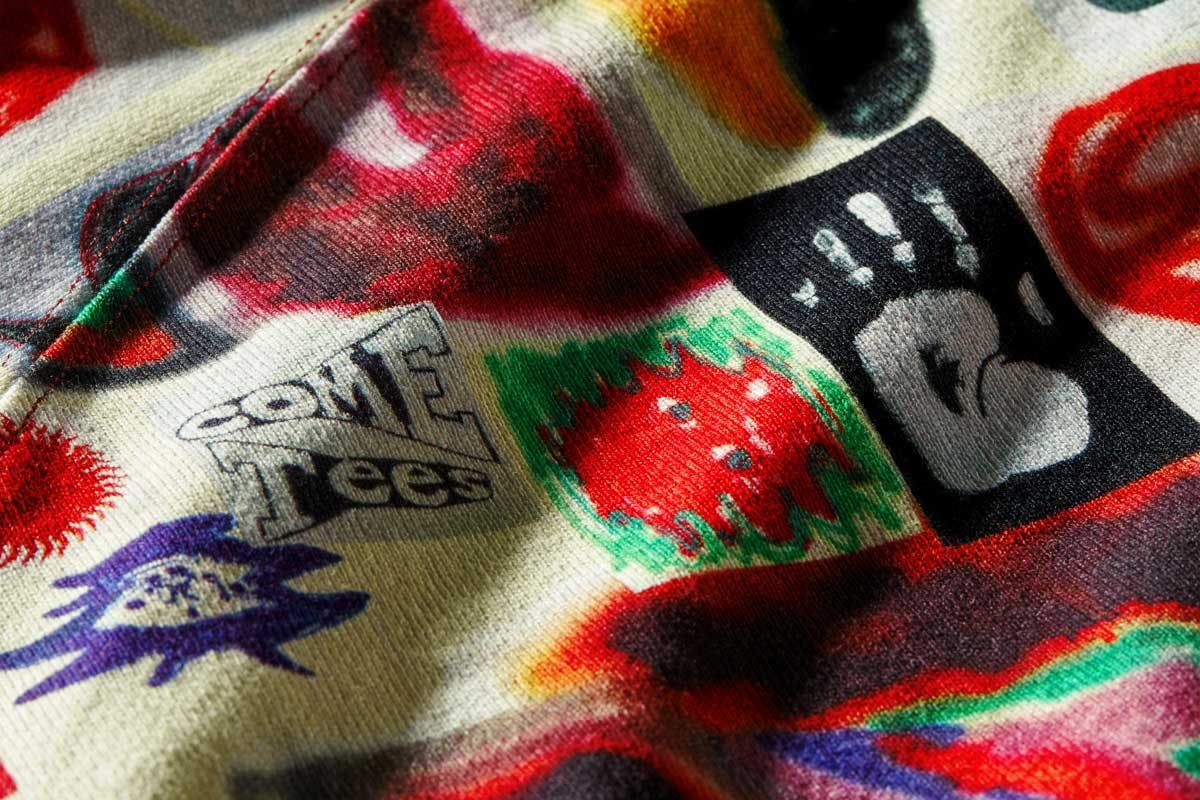 "I have a lot of nostalgia for the culture of wearing shoes until they break down, the beauty and energy of that. Chucks wear it so well."
"Another great memory," recalled Sombreuil. "Once, walking into a thrift store in like 2004, my big brother (who is a master thrifter) told me he wanted to find a pair of size nine high top Chuck Taylors. I rolled my eyes because this seemed like an impossibility to find the size, color, and style of the shoe you want in an era where Chuck Taylors reigned supreme. He walked out of the store with a black, high-top, size nine, mint pair of deadstock Chucks (the second pair ever made, which I think were from 1972), but ironically unwearable because they were too rare and valuable."
As you can tell, a conversation with Sombreuil could be a trip down memory lane or a far-reaching reconsideration of the cosmos. Or, just a quick catch-up. But when she gets excited about something, like she did with this Converse collection, the chatting comes easy.
That energy translated naturally into the actual Come Tees x Converse output, which encompasses a bespoke Chuck Taylor and several easy Converse Shapes garments perfectly aligned with Come Tees toss-it-on-and-go ethos.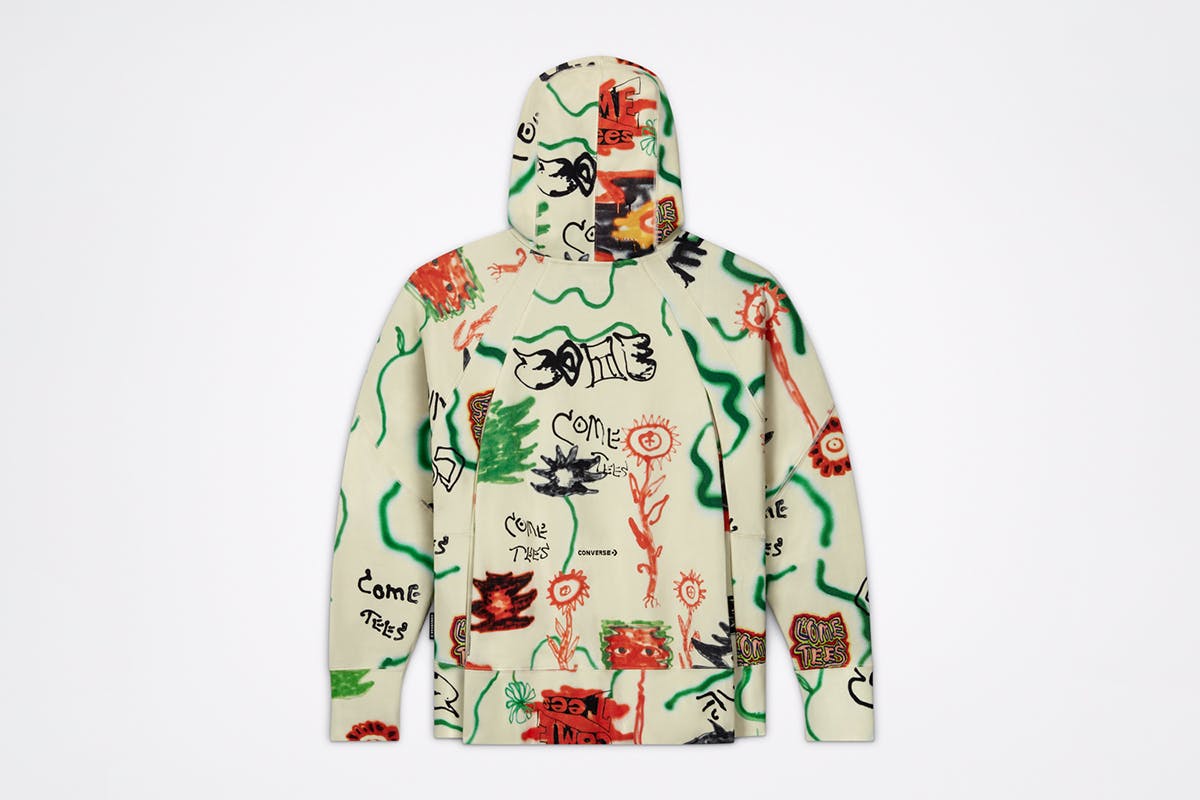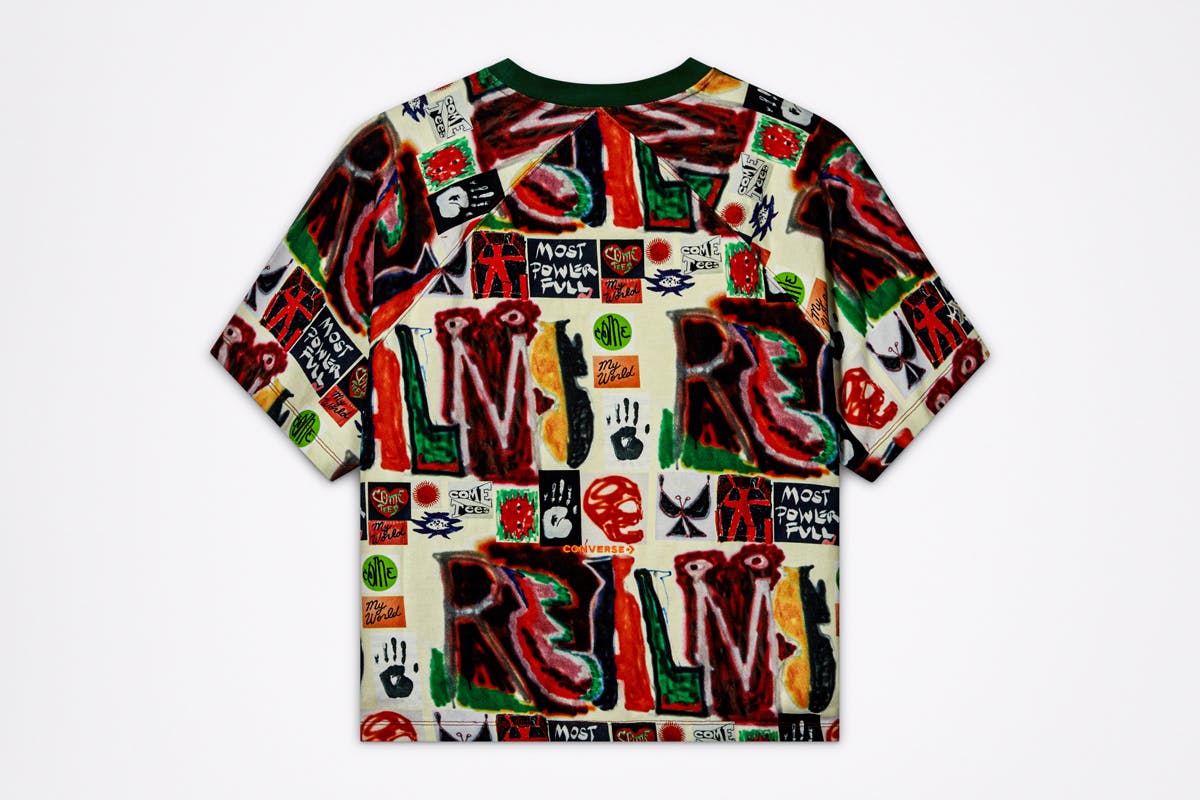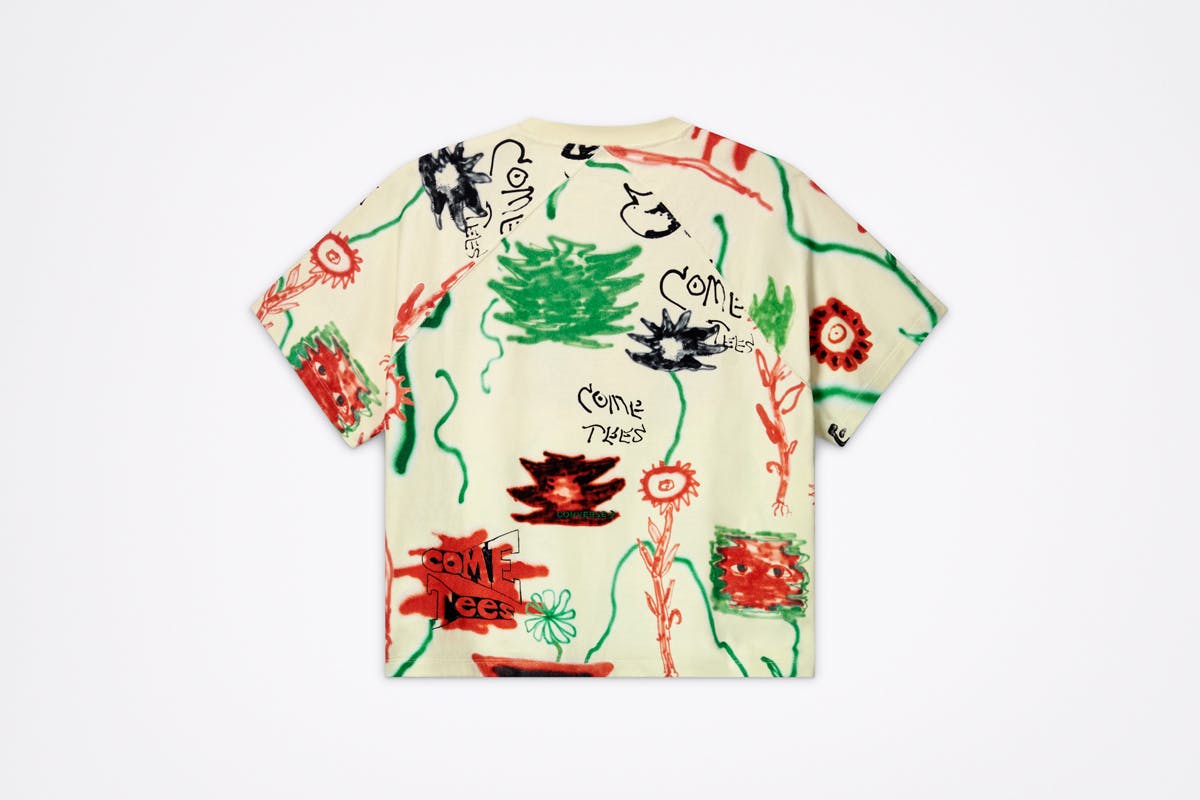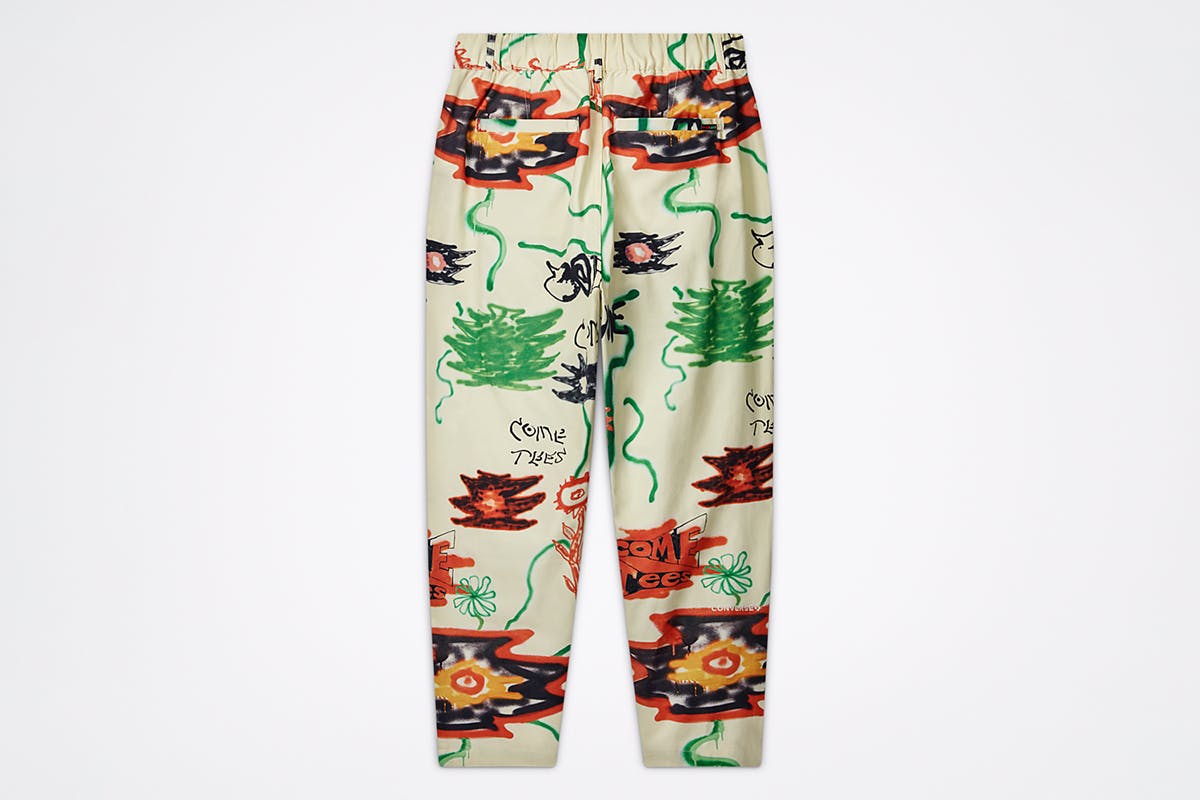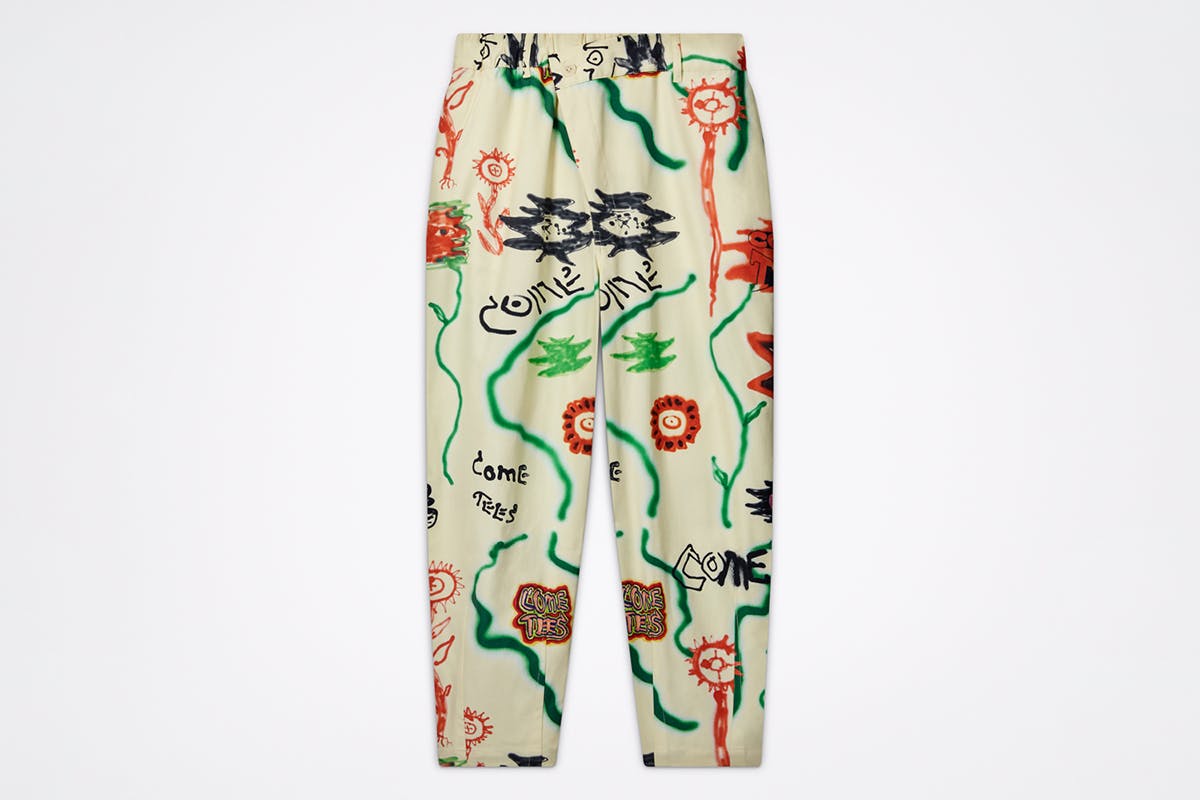 The hook is that all the goods are splashed with digital translations of Sombreuil's effervescent artwork — like Sombreuil herself, the results are fun, vivid, in a class all their own.
Work with Converse "was really fun," said Sombeuil. "Converse is a big company and therefore contains multitudes. As a small brand, it was really empowering to work with such a skilled team who could make technical things happen I would never dreamt up."
It was key that Sombreuil developed garments from the Converse Shapes collection, the sportswear brand's genderfluid collection.
"I embrace the efforts of big companies like Converse to approach their audience differently, without binaries or assumptions," Sombreuil said of the Shapes line.
Come Tees' foundation is organically built in tenets like inclusivity, so it was crucial that Sombreuil's designs could fit as many unique bodies as possible.
"It was a good fit for those reasons. I always feel we should operate in a world where anyone can wear anything. "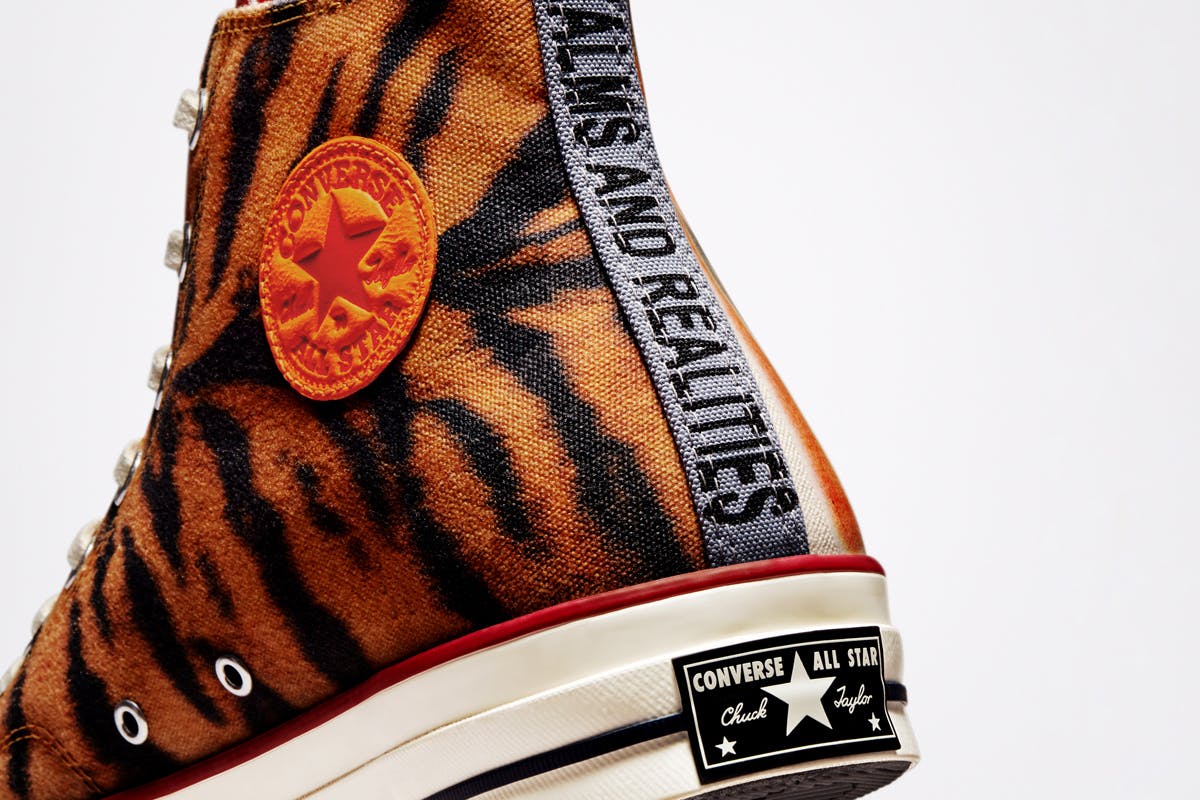 Of course, the lynchpin of the entire affair is that special pair of Chucks, inherently wearable but so wonderfully warped by delirious color that they're no longer mere daily drivers.
"To me, Converse and the Chuck Taylor, in particular, are symbolically linked with rebel status, subculture, and at the same time a kind of adolescent innocence, to which I feel we can all relate," said Sombreuil. "There's something universal about Converse [that's] very much linked to a passage of time in my life."
"I don't limit it to this, but there is something essentially teenage and, in that sense, very pure about the brand."