Highsnobiety / Nolis Anderson
Chicago has a rich history of creatives whose works have shaped culture the world over. And we're not just talking about Kanye West and Virgil Abloh. The city gave birth to house music, The Oprah Winfrey Show, and played an important role in Barack Obama's career arc, just to drop a few examples. It's no surprise, then, that today's young Chicago artists are inspired and inspire us.
One of whom is graphic designer Crystal Zapata, who had the opportunity to work with Virgil Abloh during an exhibit at the Museum of Contemporary Art Chicago. We spoke to the artist about that experience, her take on Chicago's creative scene, her advice for young artists, and more. And, in celebration of adidas' Superstar's 50th anniversary, we also had her self-style the shoot.
How did you get your start as an artist?
I went to college for graphic design and I've always been interested in a lot of different things. I started exploring different disciplines while in school and became interested in – not only graphic design but – photography, making objects, screen printing, and all of these different mediums that I could use. Once I graduated from school, I started working at a graphic design studio called Normal.
I've been there for about three and a half years, and while working there full time developed a freelance practice outside of that, which became pretty rigorous. I started working with different musicians in town. That led to a lot of work with friends and just having the space to work on different things that I'm interested in, which perhaps I didn't have the space for in my 9-to-5. And, yeah, here we are.
Did you find that it was difficult to have a 5-to-9 outside of your 9-to-5?
Yeah, I'm still doing it. I think it's been about two years since I've been taking it pretty seriously. And I recently made the decision to leave, because it's gotten too out of hand.
That's every creative's dream. To get to the point where their side hustle becomes their full-time job. What's your advice for making that happen while juggling it all?
I think just spending time on things that you actually care about outside of work cultivates this sincere approach to a practice. And I think that people really respond to that. I would just say to keep going and open yourself up to opportunities that come through; reach out to people who you admire. I think that's a really good way of talking about it. But I also think that work-life balance is so important, and to have leisure time is really important in terms of maintaining your creative and professional life.
That's great advice. Going back to your work, how would you describe it to someone who's not familiar with it?
I'm really interested in material, and perhaps challenging the medium of graphic design and what we understand that to be. I think graphic design is such a broad discipline. It covers everything from typography in a commercial to typography on the train map to what I do, which is a little bit more experimental.
For example, somebody asked me to make a flyer for a party happening on April 20th of last year, and I decided that I would just make a really simple, clean typographic image and then print it onto rolling paper, and then scan it back into the computer. And that was the poster. That was really exciting for me because it was really just about this simple idea of presenting something that people use all the time (rolling paper), that people are familiar with in this way that they haven't seen before. So, playing with the idea of graphic design.
Also, investigating sustainable materials has become both an interest and priority. I've become extremely conscious of my use of materials and production of waste. I really want to make an effort to try and implement these ideas into the work that I do with others as a graphic designer. For example, when someone reaches out to me to design a T-shirt for their band, I want to explore sustainable alternatives for producing those shirts rather than using new blanks from a factory. I am also prioritizing the use of recycled paper for printed pieces. I have a lot of ideas that I'm hoping to have the time to explore further in the coming months, and am so excited to have more conversations around small solutions.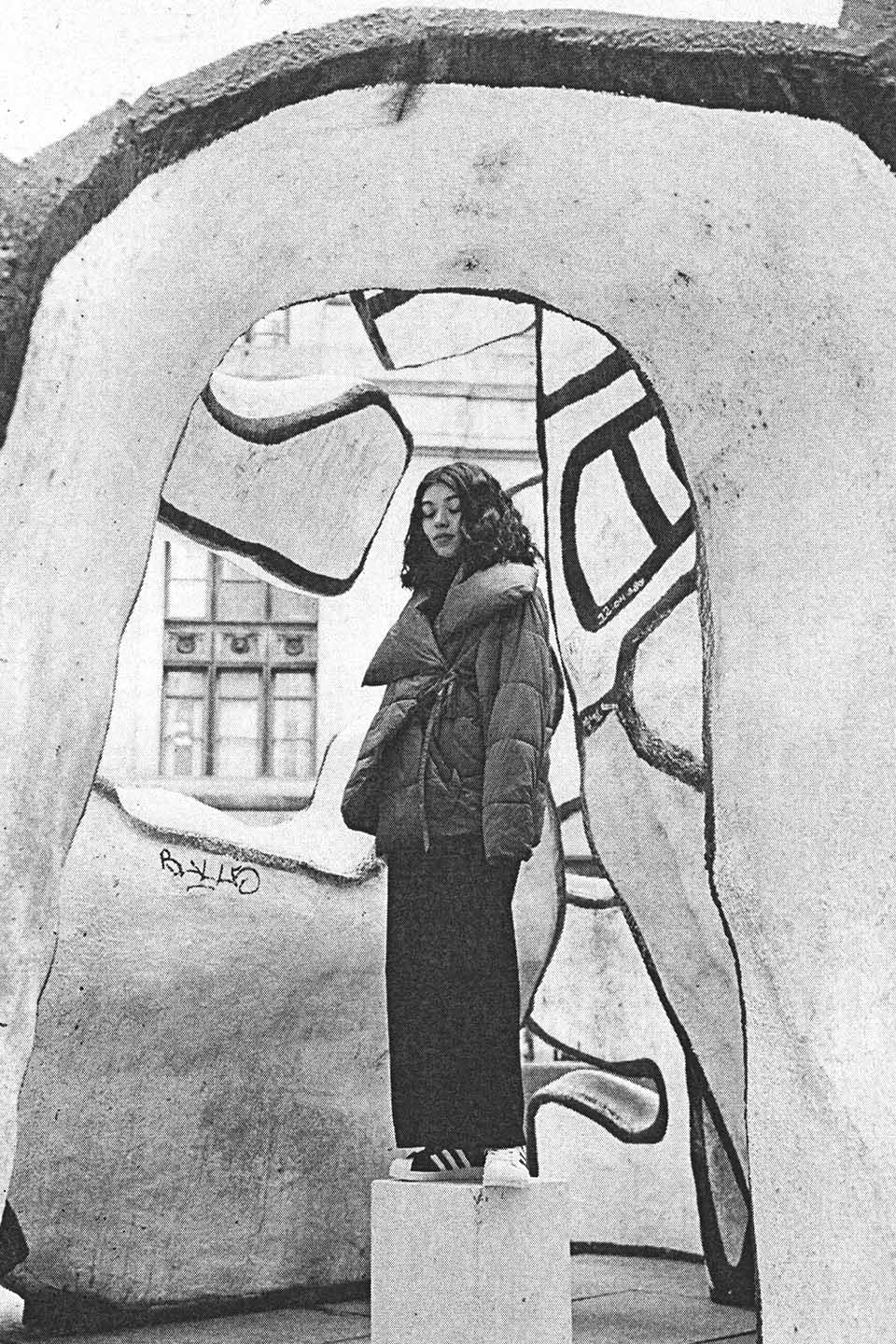 Recently, you worked with Virgil for the Museum of Contemporary Art Chicago. Can you talk to me a little bit about that?
The graphic design firm that I worked for, Normal, started doing some work with the Museum of Contemporary Art. They hired us to do the invitation to Virgil's gala, for the opening of his exhibition. And the museum told us that he wanted the dinner to be in the parking garage, which I really loved. I loved the idea of having a dinner in this dark concrete space that isn't normally used for social functions or intimate gatherings. It's this very temporary space that people interact with.
And I was immediately like, "We have to choose a parking ticket as an invitation." I thought that a parking garage ticket would be the most concise and funny way to invite people to this really luxurious dinner. And so we, of course, explored a lot of different directions. And whenever I work on something for somebody, especially an artist, I always like to try and get in their head a little bit. I listened to a lot of talks that Virgil had given, just to try and understand the motivation behind his work. The parking ticket ended up being the invitation. Yeah, that worked out.
Let's talk about Chicago. How would you describe the creative scene there right now?
I feel like Chicago has such a special community of artists. Working here right now, it's really crazy to me, especially in terms of the music community. There are so many people who are coming out of Chicago and just killing it. It's pretty inspiring to be here right now. But I think that it sets itself apart because people really are relating to one another. The impression that I've gotten from other cities is that there's more of a sense of competition. People want to be the best. In Chicago, people really just show up for each other and want everyone else to do well. I think there's a real sense of community. Just being able to show up to the show and be confident that you'll see 20 people you know. Then going to a specific bar, and knowing that you have friends there and you can show up by yourself and you'll be surrounded by people you respect and love. So I think that Chicago is really defined by the people more than anything else.
Would you say Chicago is a good market for artists? Can artists make a comfortable living there?
Absolutely, yeah. I think that one of the biggest differences between Chicago and other cities is that it is feasible to live here and have space to make things. I think there's a scarcity of space in New York, and it's harder to sustain yourself if you're struggling. And in Chicago, it feels like that's just more of a realistic thing. If you're an artist and wanting to have the space to make art, it's a lot more doable.
I'm curious about the adidas Superstar, because we had you style them in this shoot to celebrate its 50th anniversary – what are your thoughts on them and how do you see people wearing them in Chicago?
I think that the Superstars are ubiquitous. I see so many different types of people wearing them, and I think that's a really beautiful thing. Just making a shoe that can be worn by everyone. You don't necessarily have to have a specific style or be a part of a specific community of people. It's just a really great everyday shoe. It's comfortable, I can wear it to work, I can wear it to the bar, I can wear it anywhere. It feels very natural to me.
What advice do you have for young artists?
I think to find the motivation to make things is a really important piece of advice. I make things every day, and I think that it's a really rewarding way of operating. Flip around, observe. It's important to be aware of things that are happening around you, and things that are happening within your community. It's really important to physically go to art openings and to the museum and to shows. Because I feel like I've gone places where I wasn't necessarily expecting to feel moved, but I find the motivation to go. Throw yourself out there and get to know people who are interested in the same things as you.