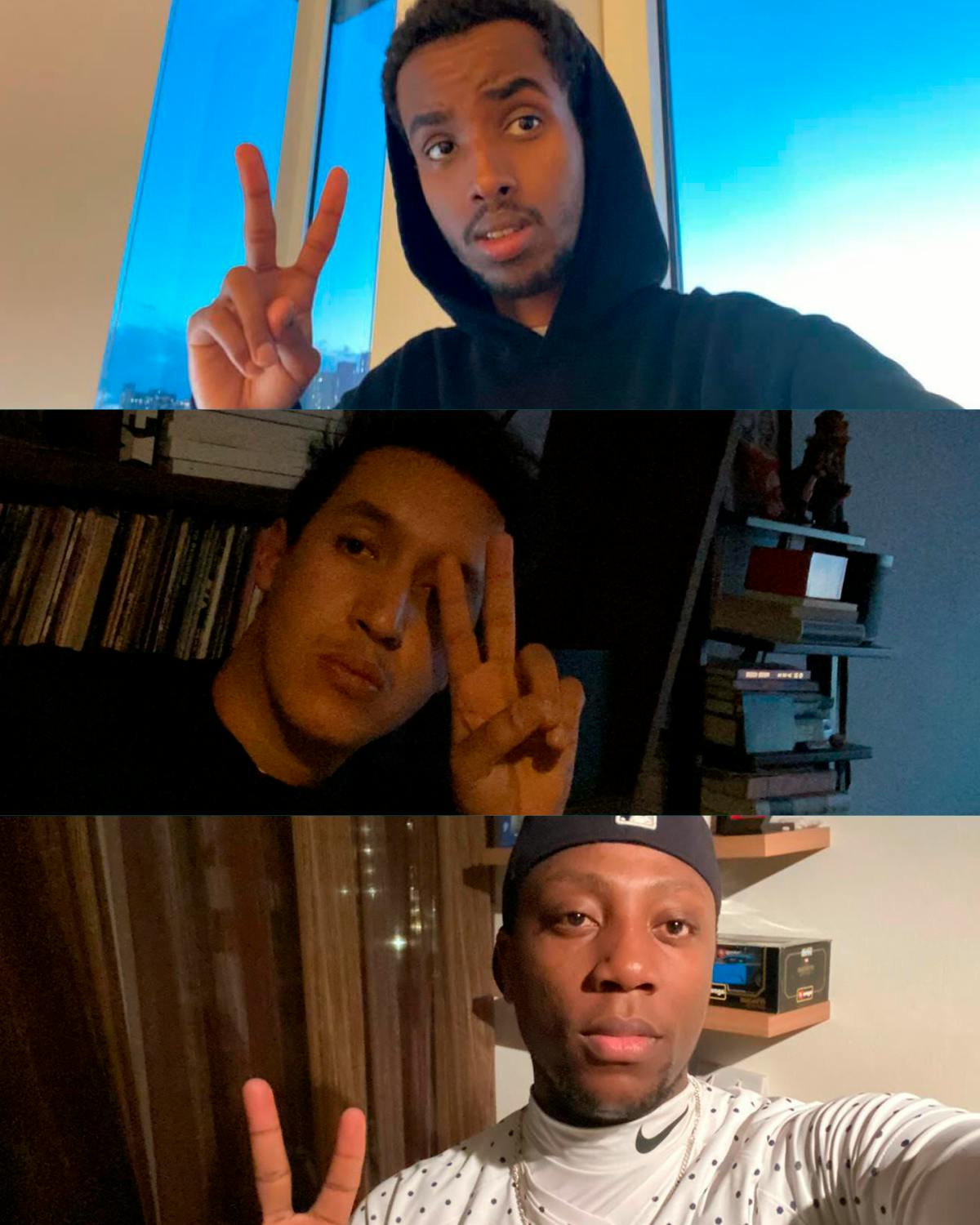 Hussein Suleiman, Abderr Trabsini, and Jefferson Osei are the trio behind Daily Paper, the Amsterdam-born brand that started as a publication and became a movement of its own. With plans to make their US debut with a New York flagship store put on pause due to Covid-19 (4:23), they've had no choice but to up their e-commerce game considerably.
Luckily that's something that comes natural to this crew — after all, Daily Paper started as a lifestyle blog before it became a full-on clothing label. It's something they're excited to return to with their UNITE hub (14:17), a place where they put everything from music playlists, staff profiles, and give a deeper look at the seasonal inspirations for each collection.
The following interview has been edited and condensed.
Jian DeLeon: What's going on guys? Where are you calling in from?
Jefferson Osei:: Amsterdam.
Hussein Suleiman: I'm in New York. I'm leaving New York tomorrow to go back to Amsterdam.
JD: What's the situation in Amsterdam like under lockdown?
JO: Yeah. At the moment we are on a semi-lockdown.
JO: The government has a different approach towards the whole situation. People are still allowed to go outside, but you're not allowed to mingle and commute in large groups. You're still allowed to do your grocery shopping, get your essential needs, and you can play sports. More or less, all the restaurants, bars, clubs, cinemas, and entertainment areas are closed. But it's a way different approach compared to the rest of the world.  At first people were looking at the Netherlands like: "Yo, people are underestimating this whole situation." But I think the government did quite a good job to relieve the pressure on the healthcare system and to keep the population calm instead of panicking.
HS: All events are now canceled till September 1st, so my 2020 is officially over.
JD: Obviously this whole situation has put a damper on your plans to open up in New York, right?
HS: Yeah, we were just about to open. We had the date set for April 2nd, and then on the 15th we got news that coronavirus was getting very serious here in New York, and that the government made the choice of actually banning all flights from Europe — and we can't open up without the squad being here — so we had to postpone. We still don't know when we're going to open, I guess whenever we feel like it's the correct time.
JD: What's the travel situation and social climate around the rest of Europe?
JO: Compared to other countries, people aren't quite as calm. At the beginning they were panicking, buying a lot of groceries and stuff. But I actually adapted to the lifestyle and I'm quite positive. We all just have to be patient and see how everything goes from here.
Abderr Trabsini:  In other countries in Europe — for example — Italy, Spain and France, those governments made drastic measures. So a lot of people were hoarding groceries, and people were stressed and getting very uncomfortable. In the Netherlands it's a more toned down approach. You get the feeling that they have this thing under control.
HS: In Russia, you need a QR code. You have to walk with it outside, and the cops will scan your QR code to know why you're outside. From a personal perspective, I think it's good that actually the world stopped. Considering the way we've been treating the world, I think when this is over, the world's going to change in a good way.
JD: You've also done some great collabs with the community, like  the Jiggy Boyz collab that sold out so fast. How did that happen?
HS: The wave cap and T-shirts  sold out in an hour!  In 2018 we did a London pop-up store, and that's the moment we met. We've been making this collab since a year ago. People were really excited about i, because we kept teasing as for months. We made a friends-and family jacket, and also we dropped it at the right time. The response was great.
AT: Actually we weren't planning to do an online release for this one. Kida is from Lagos, Nigeria. And we actually wanted to release it there. There's this festival called Homecoming, and it was supposed to be in the second week of April. We were going to go to Nigeria to do a pop-up, but as you know, our travel has been canceled. We were forced to do an online release, but we didn't release everything at once. We only released one colorway of the collection, because we still have hope that we can still do an in-store release sometime soon.
JD: You'e created a lot of great content on the UNITE hub. Of course, Daily Paper's visual presence on Instagram and other social media is unmatched, so what made you guys want to create this new digital space?
AT: The UNITE hub is an extended platform of  Daily Paper. As everybody may not know, Daily Paper used to be a blog, and we were covering our lifestyle as a collective from Amsterdam. We've always had these plans to find a way to return to this kind of blog platform, but we didn't find the right tone of voice or had the time to work on it. It was something we already had planned for a while, but we felt like now we could actually introduce it and interact with our community in a more informal way. We have something called "Behind the Shield," where we introduce our community to everything that's happening around shoots, our models, the artists that we interact with, people in our network, and  our colleagues that work for the brand. We hope to do more with it.
Stay tuned for new episodes of Vibe Check every Tuesday and Thursday.