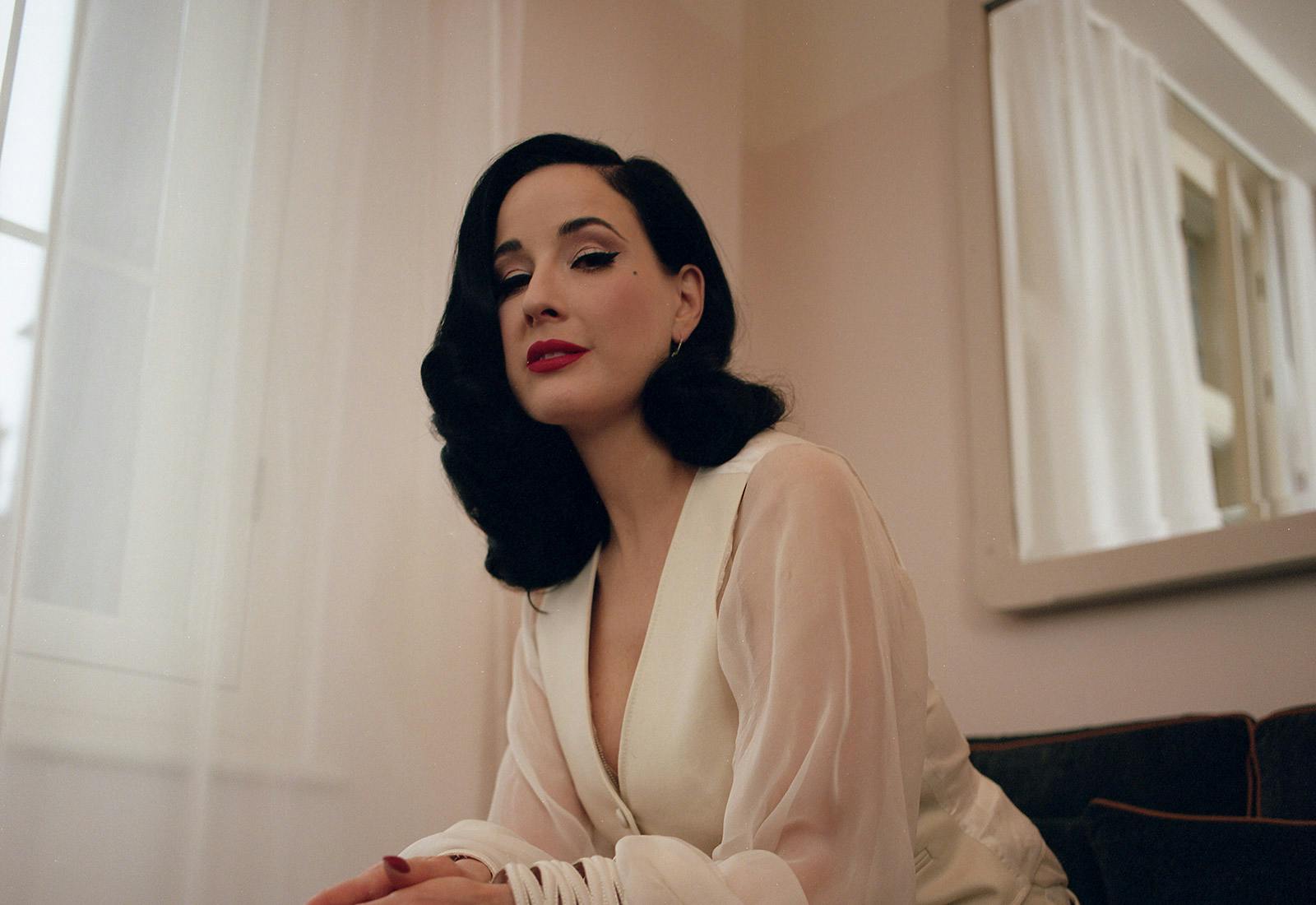 Perched on the sofa in her hotel room of the Berlin branch of swanky members club Soho House, Dita Von Teese is telling me that she is not a singer and not a songwriter. "I didn't want to ever come out and say, 'Oh this thing that I did, I wrote these songs'," she explains, "I would be mortified to speak that way about music myself because I don't know anything about music." Despite this disclaimer, we're here to talk about the unexpected, self-titled debut album that Dita has made with French composer Sébastien Tellier.
Dita Von Teese was born Heather Renée Sweet (which tbf is almost as great a name as Dita Von Teese) in West Branch, Michigan, to a machinist father and manicurist mother in 1972. Classically trained as a ballet dancer - until at 15 she realized she'd never be a great ballerina - Dita's passion for vintage lingerie, obsession with glamor and the Golden Age of Cinema, led her in another direction. The natural blonde would come to transform herself into the dark haired and porcelain-skinned, world renowned haute provocateur slash burlesque performer we know and love today. Her mainstream break came when she graced the cover of Playboy in 2002 and her seven year relationship with shock rocker Marilyn Manson (including marriage and subsequent divorce) would not only bolster her Morticia Addams credentials (this is a compliment), but propel her and her talent to new heights of notoriety. Dita is now the head of her own burlesque empire: an author, designer, performer and now, singer.
Her self-titled debut is an homage to the Serge Gainsbourg school of songwriting, a record that sees the Queen of Burlesque turn chanteuse, as a kind of modern day Brigitte Bardot. The album features ten alluring, sensual, and seductive tracks of softly-delivered talk-singing with a distinctly French feel. Imagine if Replicant Rachael from Blade Runner was French and recorded an album and you're well on your way.
Dita and Tellier first met in 2005 at legendary Paris cabaret club The Crazy Horse. Dita became a fan after a former French boyfriend turned her onto Tellier's music. So when she was putting together the guestlist for her Crazy Horse show, she made sure to invite Tellier along. The pair met briefly after the show and that seemed like the end of it. Then, out of nowhere, she received an email from Tellier's manager saying that he'd written a whole record for her to sing on. "I remember answering, 'But you know I don't really sing, right? I'm not a singer!'" Dita exclaims, "I gave him the full disclaimer and he said, 'No, it's not that kind of record.'"
Tellier made demo tracks, singing the melodies himself for Dita to learn before she came to the studio to record (Dita declined to write lyrics herself because she wanted to make a "proper Sébastien Tellier record"). "I kept thinking, is everyone going to jump out and say 'we're just joking, we thought it'd be funny to make fun of you and try to see if you can sing and you can't!'" she half-jokes. Sounding natural was a priority, which seems at odds with the artifice of her other work, but Dita explains, "I didn't want to go in there and act like I could sing or pretend I could sing. I've watched people do that before and it's excruciating. It's a little bit like watching someone trying to be sexy, it's kind of uncomfortable."
At one point in our interview, Dita details a dream in which she's faking working in an office, it's pure anarchy with paper flying everywhere, comparing it to Alice in Wonderland playing croquet with flamingos and they're all over the place. Later, I wonder if there's a connection between the dream and venturing out of her comfort zone into a new creative field - a connection that has set a touch of imposter syndrome running wild through Dita's subconscious. But she is adamant that she didn't focus on becoming a burlesque star to just move on and do something else.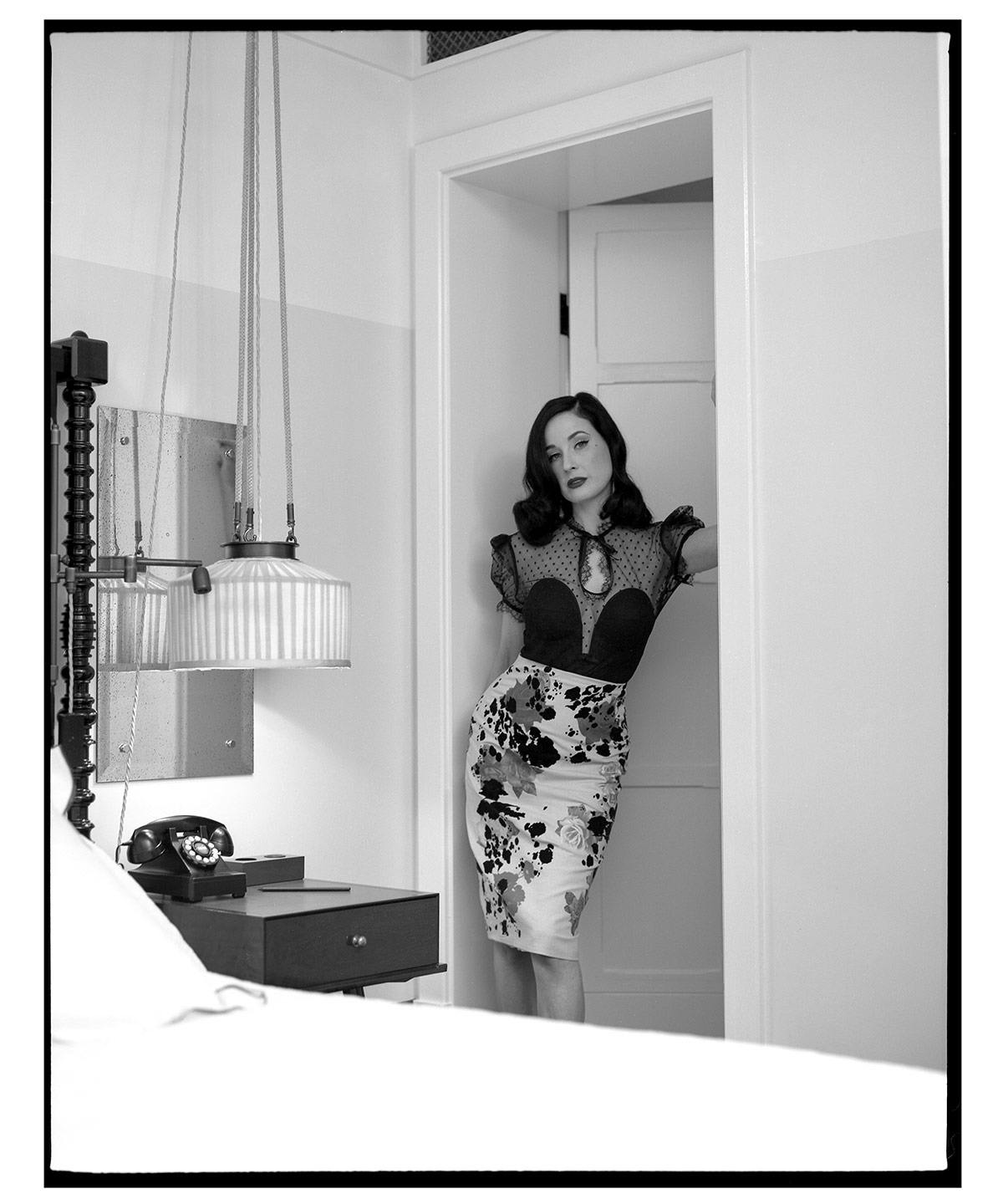 "I remember really well when I got a degree of mainstream fame, my manager at the time was like, 'Oh now we can get you into acting' and I was like 'why?' I didn't do all this as a stepping stone to something else. I did this because I wanted to be the world's greatest burlesque star since Gypsy Rose Lee," Dita insists. "I don't think anyone made this record to try and make a gazillion dollars, it was definitely something that was an artistic endeavour and something fun to do."
Talk turns to self-doubt and the art of being humble about your talents. To illustrate her point, Dita shares a story about being at Amy Winehouse's house, "She was sitting on the floor with a jug of sake and she said, 'Can I sing some songs for you?' and I said 'okay!' Like yeah, duh, please yes! She started playing and singing and she stopped and said, 'Oh wait, I totally fucked that up, can I start over?' I feel like some of my favorite artists have and have had self-doubt. At the same token I've also been to Prince's house and Prince puts on his own music and video footage and we all danced in front of the screen playing his own music."
The glam icon's admirers not only include Winehouse and Prince but South African hip-hop outfit Die Antwoord. For her first foray into music back in 2016, Dita showed up alongside Ninja and Yolandi (Dita describes then both as "quite elegant") on their track "Gucci Coochie" to utter the hook: "Yeah, I know, she's so hot right now, But look out for that one, She'll fuck up your whole life with that little Gucci coochie."
"Ninja came over and we recorded it first on his phone and he took it away and kept sending me things. Then I went into the studio and recorded it properly. He was a great teacher. What I loved, even with that experience, is that I remember Ninja would be like, 'I need you to sing it like you were on heroin.' Not that I've ever done heroin, but that was a good analogy and I guess I understood that because I think the same thing about striptease - you've got to do it really slow like you're on drugs."
Currently, Dita lives in Los Angeles in a 1920s Tudor Revival house with her badass, Insta-famous Devonshire Rex cat Aleister. She's a self-confessed "aesthetic control freak," who flips vintage cars because they always bring her pleasure in retaining their value. Dita just sold her '56 Mercury Phaeton and her mechanic is "finessing" the red Woodill '50s convertible she acquired in its place. "I do drive in a modern car because it's very difficult to drive around LA in a vintage car," she says disappointingly, "People really are angry about their lives, they don't really want to see me driving around in a '50s car on a Tuesday afternoon, they don't like it."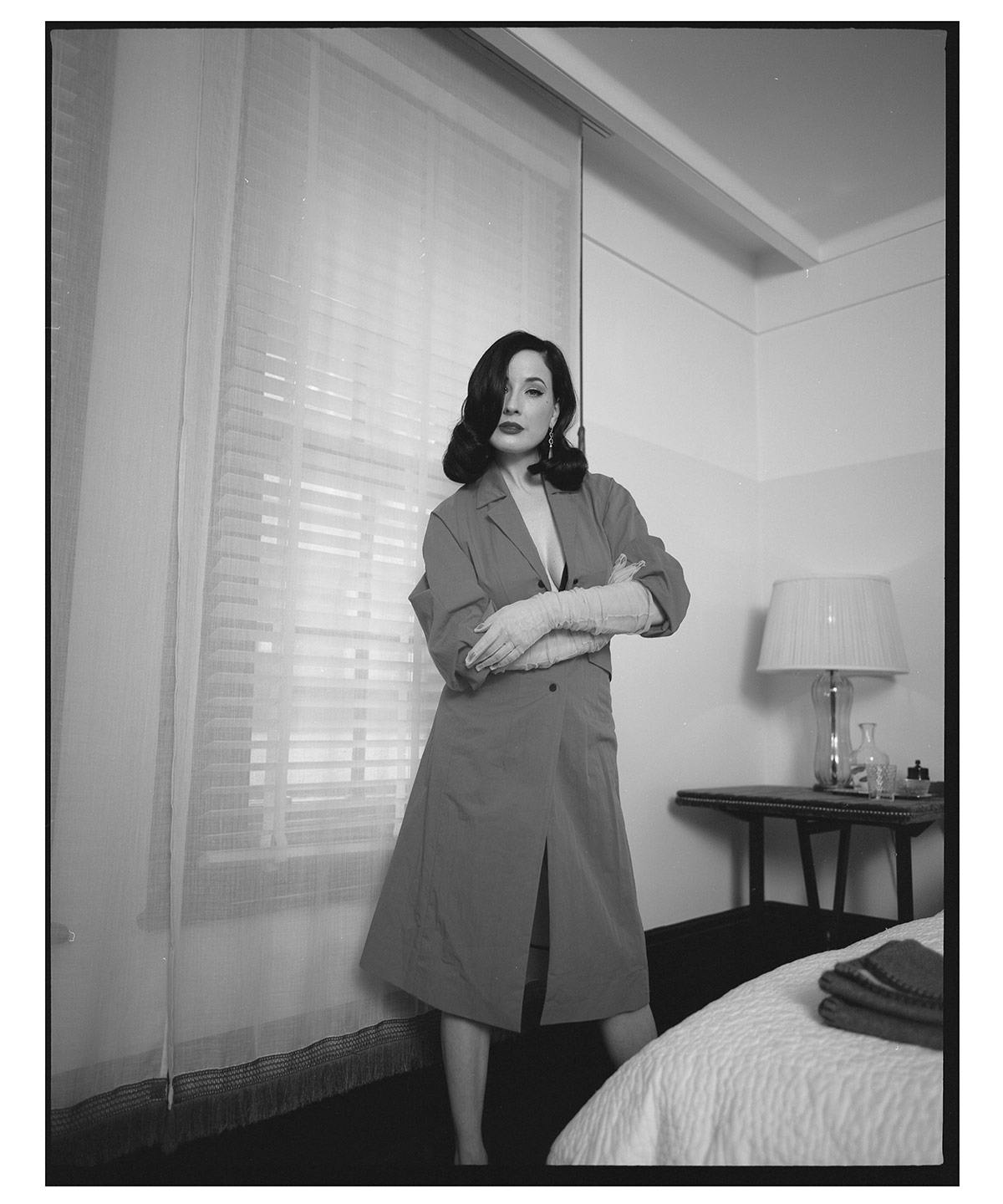 Burlesque might be a throwback pastime from a century ago, but in its new millennial form, it's an unlikely feminist movement. Most of Dita's fans are female and LGBTQ identifying and she's her own boss, making her own rules. As someone who has a passion for the Golden Era of Hollywood, how does Dita feel about it's rotten underbelly currently being exposed by the #metoo movement?
"We've been talking about the term 'casting couch' since the beginning of the movie industry but we didn't know it was as dark as it was," Dita says, explaining that Weinstein was an open secret that everyone talked about without really knowing the true depth of the problem. "This isn't about getting a woman into bed, this is about exerting power and degrading someone," she makes clear, before comparing it to big game hunting. "It's the same reason somebody wants to go to Africa to shoot a lion. It's not about food. A lot of this #metoo stuff comes from men of power who are looking for that next level game to play."
There's a track on the album titled "Bird of Prey," where Tellier flips that image and imagines Dita as a predator, "Flying above the world, hunting the tiny men on its surface with her eagle eye." It's a fitting image for a flawlessly glamorous performer who, at 45, is still very much in demand and in control. What would Dita do if she did ever hang up her nipple tassels?
"In my fantasy retirement, I'm still designing my lingerie collection, I'm building my beauty brand, I'm writing more books and I'm directing a show filled with all my intellectual property that I've built up over the years. I'm teaching a beautiful boy to do my Martini glass act, I'm teaching a girl to do my carousel act, I'm directing a show filled with all of my life's work in it and I get to sit back and watch."
'Dita von Teese' is out everywhere on Friday, February 16.