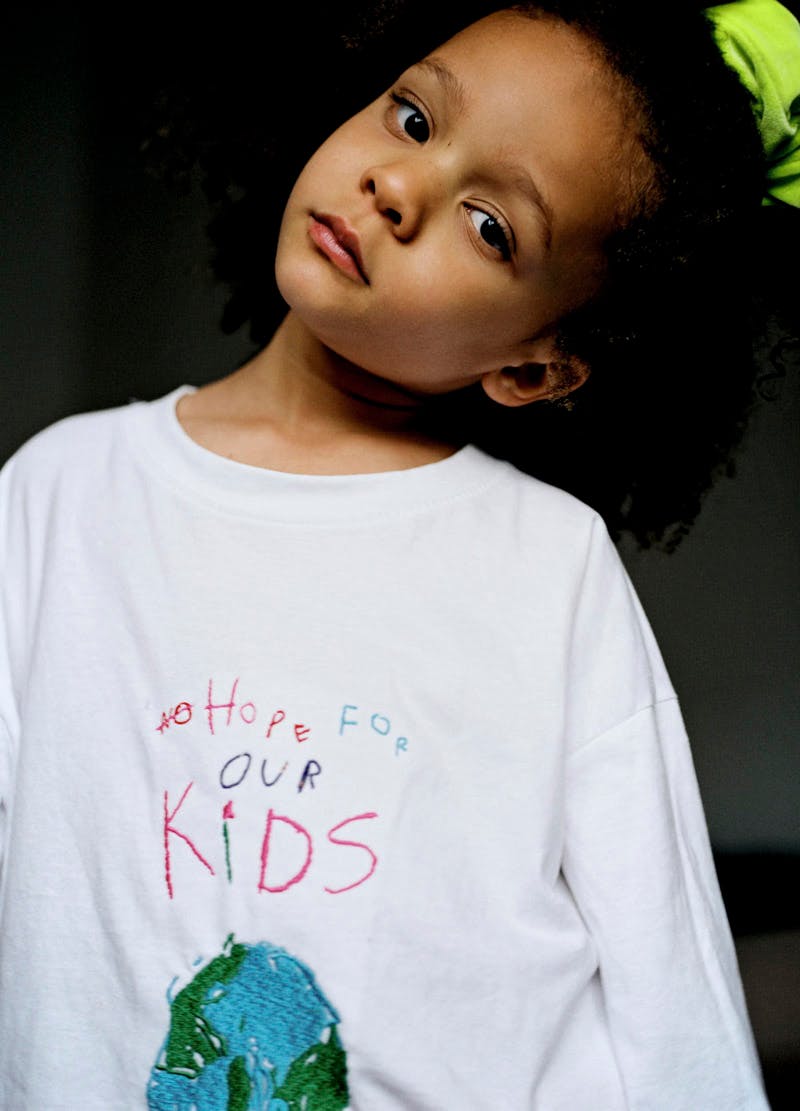 We're experiencing a climate crisis far beyond our comprehension. Earlier this week, the BBC reported that the next 18 months will be critical in dealing with the global warming crisis, among other environmental challenges. That's far sooner than the 2030 deadline for cutting carbon dioxide emissions offered by the Intergovernmental Panel on Climate Change last year.
The fashion industry has a big role to play. According to the Global Fashion Agenda and The Boston Consulting Group, 73 percent of the world's clothing ends up in landfills, yet the industry is projected to grow 81 percent by 2030, putting more strain on the planet.
Instead of promotional marketing language, facts like these are what appear in the Instagram captions of new label DURA. The brand's Danish co-founders Peter Dupont and Frank Hilmer believe this is a way of educating the next generation of shoppers in a digestible way. Dupont, a London-based model often seen on the runways of Dior, 1017 ALYX 9SM, and A-COLD-WALL*, has a background in geography and climate science, while Hilmer works in digital marketing in Denmark.
It was Lulu Kennedy, founder of London nonprofit Fashion East (which supported designers Kim Jones, Craig Green, and Jonathan Anderson early in their careers), who urged Dupont to leverage his influential fashion network to push his message.
So far, DURA's first T-shirt, made using upcycled fabrics and featuring an image and "No Hope for Our Kids" slogan drawn by Kennedy's five-year-old daughter Rainbow, has been worn by fashion editors, designers, and models at the most recent Paris Fashion Week.
"Rainbow represents the first generation which may not have a future," says Dupont. "We urgently wanted to give her a voice and help unite a community that is fighting for the survival of our planet."
The brand's clothes are produced on demand, with zero waste, while revenue is reinvested into developing green solutions and supporting environmental organizations. For every tee sold, more than 100 square meters of natural habitat is secured as an official sponsor of the World Land Trust and the Buy an Acre program, Dupont tells Highsnobiety, adding that the tees are made in India under certified fair working conditions.
DURA's first collection is available for preorder today until August 26, with the first editions arriving at the end of September. Ahead of the release, Highsnobiety caught up with Dupont to discuss the project.
What's DURA's main objective?
We want to create a platform where we can pair genius fabrics with strong creativity to push a message we find urgent and important. Fashion and pop culture has a strong impact on people, so we're using the brand to raise our voice.
What comes next for DURA when action needs to be taken?
Consciousness is always the first step. Then comes action. Almost everyone knows that climate change is a problem. We're just trying to get people to understand the scale. If we don't do something, our kids won't have a future. A part of the project is around donating money to organizations working against the climate crisis. Supporting the people who are already on the front line is a big part of our plan. We have big plans around building a more sustainable fashion industry, too, but we're [tackling] the lower-hanging fruits first.
Why take action now?
Frank and I have been close since elementary school. Collaborating on this project has been a natural extension of our friendship. We both have a background in NGO politics, and in organizing demonstrations, concerts, and much more. We were born in 1995 into a generation globally threatened by the ongoing climate crisis. We've been left with no choice but to act.
Are there wider ambitions beyond fashion for the brand?
Fashion is our focus but we don't limit ourselves. We have some projects down the pipeline that work with different sectors. But the next projects will focus on clothing.
What does a sustainable fashion world look like? What drastic changes need to be made?
There is a lot that needs to change. We need to end fast fashion. Our overproduction and overconsumption is insane. Too much clothing is produced but never sold, used once then discarded, and produced under circumstances and with an environmental impact that isn't acceptable. People will always want nice clothes, use them to express themselves, but the industry behind it needs a big shakeup.
The drastic change we are talking about extends far beyond the fashion industry. In the Western world, we still use more money on upkeeping the fossil fuel industry than green energy. We need to change this and keep fossils in the ground, change the way we produce our food, change our logistic systems and a lot of our production and consumer patterns. Basically change everything within our system, and if this isn't possible, we need to change the system. It may seem like a lot, but it's quite simple. If we don't do this, there is no hope for our kids.