A red heart sprouts from a skull's forehead. A handful of green leaves shoot from its sides. A scroll in three parts declares that "Love Kills Slowly." And when you get close you realize that the image is covered in tiny, color-matched rhinestones. The whole thing sits at the center of a black T-shirt unmarked but for the big, looping script scrawled across the sternum that says: Ed Hardy.
Do you remember it?
Although Ed Hardy has been sent to the dustbin of history (and for a long time was considered the most unfashionable thing you could wear), what it accomplished as a mega-brand is more relevant than anything on a runway today.
For example, this fall, the first piece to come out of Riccardo Tisci's new Burberry was a logo tee featuring founder Thomas Burberry's monogram, available for a single day via Instagram. This is simply an offshoot of the Ed Hardy thesis and the idea behind the "luxury T-shirt": that a brand can be reduced to a T-shirt that celebrates, well, the brand itself. This is fashion crystallized to its essence and injected into the main vein. The luxury tee of today, the one that can't help but take itself too seriously, is a descendant of this bawdier mid-aughts logomania.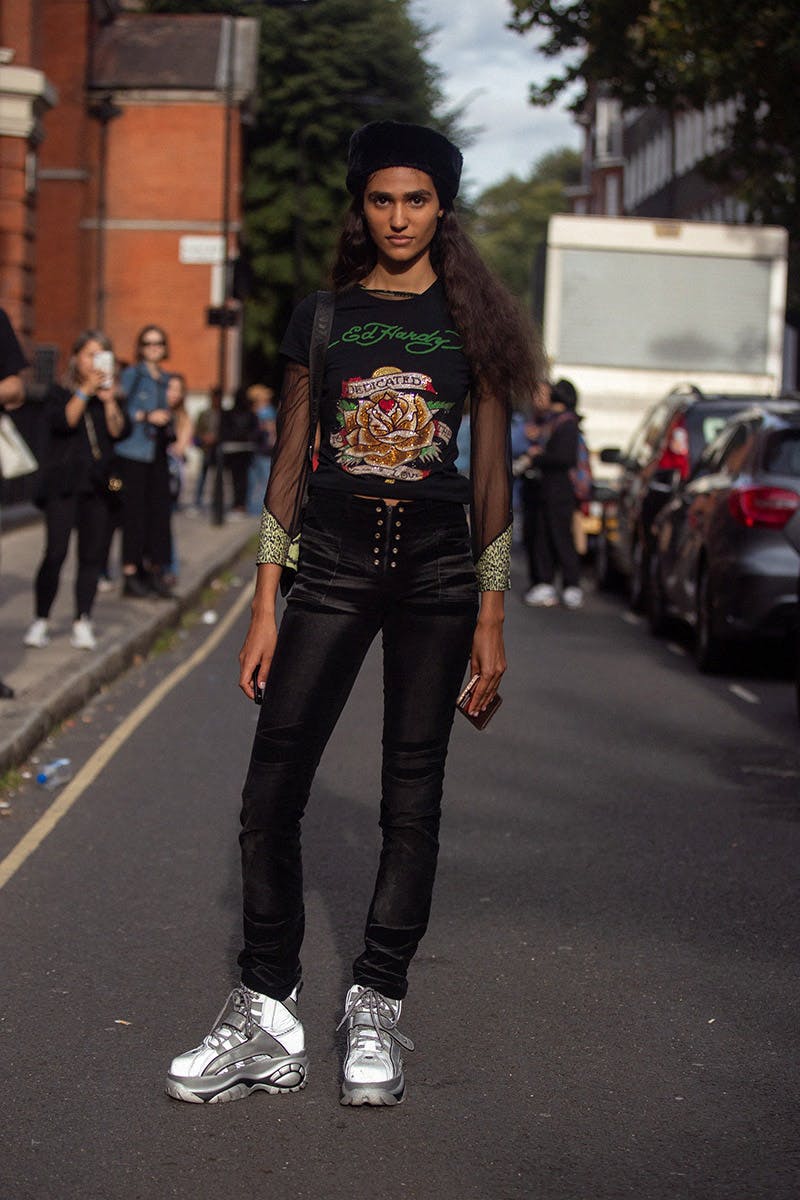 Aesthetics are beyond the point here. If your shirt says it all, you don't have to.
Three years after his death, the cultural legacy of Christian Audigier, the man behind Von Dutch and Ed Hardy, is thick and shiny like his hair gel. He proposed that fashion in the new millennium be (relatively) attainable. In making logo-drenched tees and perforated caps covetable, Audigier fashioned fresh markers of luxury. The logo—brash and outsized—became our hero.
It's hard not to pay attention to a thing so sure of itself. The loudest person in the room usually scores at least a few devotees. To add to this, Audigier, in his aggressive and shameless bid for celebrity acolytes, originated the early psychology of influencer marketing. Get people with platforms to wear your wares, and ride the exponentially multiplying attention they get to your own ends.
It all worked really, really well.
Who was he though?
Audigier was born in late 1950s Avignon, a French city most known for the seven popes who decamped there in the 14th century. For a boy obsessed with the Rolling Stones, the sexual lick of their guitar riffs loud in his ears, it's hard to imagine there being much appeal to the sandstone-colored city. Perhaps it was that youthful dissonance and the cover of the Stones' 1971 Sticky Fingers (and Glenn O'Brien's blue jean-bundled bulge) that inspired his first known denim designs.
By 14, he had dropped out of school and was working at a shop called Jean Machine, and it was all in motion. Young Audigier moved between different brands, putting in time at Diesel and Fiorucci among others, before heading west. It was in America after all where his obsession, jeans, had been born.
In a 2009 GQ interview, Devin Friedman spent some time with Audigier in his natural environs: private jets, Las Vegas casinos, and in rooms surrounded by people paid to adulate Audigier. The insight is invaluable.
"I was thinking I make this into Levi's," Audigier says, "I was dreaming all my life of America, of the blue jean, of Marlon Brando. And the trucker hat."
In 2002, Audigier was at the Magic trade show in Las Vegas when he was hired to design a line of denim with the newly licensed work of Kenny "Von Dutch" Howard. (That Howard was a known racist stopped no one.) Audigier told Friedman that Britney birthed the hat craze. That he chased her down on Melrose to give her one and that she was wearing it when she split from Justin Timberlake. "They was on People magazine, both of them, with the page cracking, you know. Was her with the cap Von Dutch, was him with the cap Von Dutch," Audigier said.
I remember when in 2003, unable to afford the hats myself, I dragged my mom to a flea market in suburban New Jersey where they sold knockoffs. The one I bought was hideous. Literally shit-colored, distressed pleather. It made me so happy. I wore it out maybe once but I'd stand at the mirror satisfied at my brush with fame and fashion.
When Kylie Jenner wore one in 2016, in a moment of mid-aughts revival, the Von Dutch script atop her head winked heartily. Once panned by the fashion establishment as the unfortunate byproduct of tabloid celebrity culture, the hat would return riding the locks of another darling the fashion establishment first reviled only to reticently accept and then revere.
Even if you were too young to notice the profusion of ventilated hats atop celebrity heads, there's probably a memory, repressed by now, of Ashton Kutcher in a Von Dutch trucker hat. It's a reminder of a time when we were obsessed with maximalism and its favorite word: bling.
Like most of the particularities of Audigier's life, the story of how he came to find Ed Hardy changes depending on the audience. There are several different accounts of how Audigier first saw the work of SoCal tattooer and student of Sailor Jerry Collins, Don Ed Hardy. Some revel in the serendipity of the discovery, others in the opposite: Audigier's ability to spot the next big thing and do whatever he needed to make it his. What Friedman says is that these distinctions don't matter.
I agree.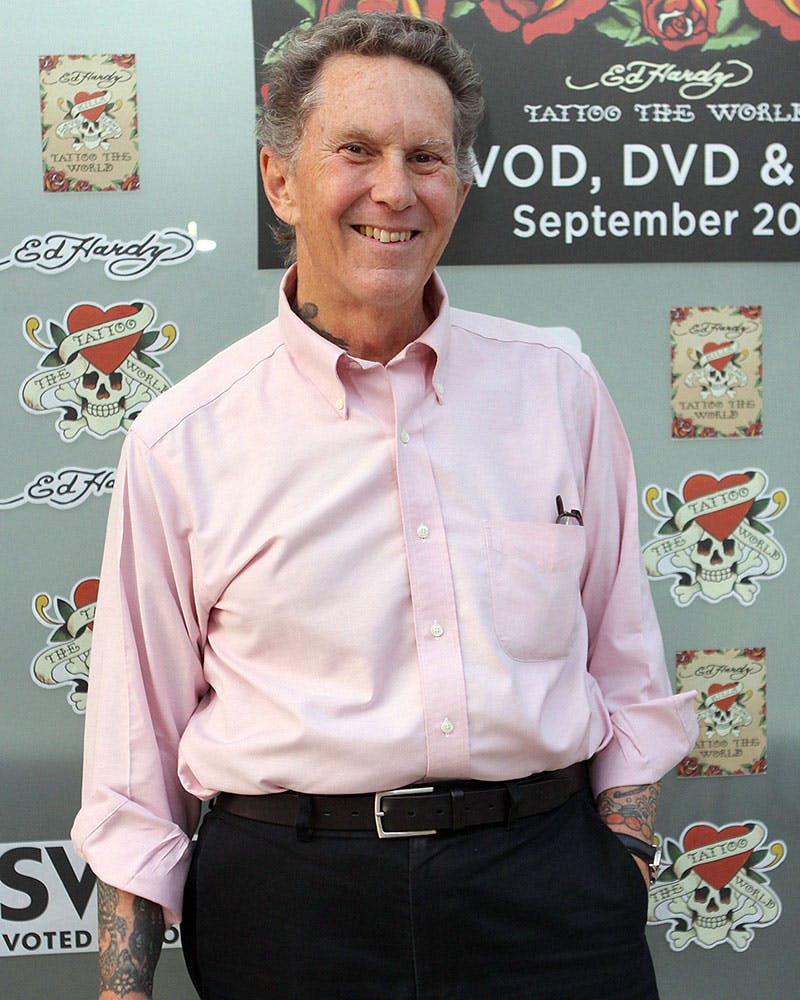 The most likely sounding of the scenarios is one a San Francisco newspaper offered in a profile of the real Ed Hardy. Hardy had already sold some licensing rights to Ku USA, when Audigier saw them and asked to market the tattoo-covered clothing. Hardy hadn't heard of Audigier. One Google search and Hardy learned, "This guy is at ground zero of everything that's wrong with contemporary civilization. However, if he wants to make a lot of money with my art, and it's not going to be overtly negative, then what the hell."
"A lot of money" turned out to be an understatement.
The T-shirts with the tattoos perfected the logic behind a lot of contemporary streetwear: you can join the club if you buy the T-shirt. You can be the kind of person who has tattoos without actually enduring the pain of getting one, or more painful yet, the regret of a tattoo you can't pull off.
As we entered this decade, however, the excesses of Ed recessed into an indigo-draped age of heritage, an old wave heralded anew. Soon men would look like Shiba Inus dressed in their trad best for a day on a Wes Anderson set. There was no room for Hardy in those hardtop suitcases.
Luckily for Audigier, when you die in fashion you never really die. You live forever as an idea that will be retrofitted just as you begin to be forgotten. In the age of Vetements, the sparkly mega-branding of Ed Hardy is now the invisible reference on almost any moodboard.