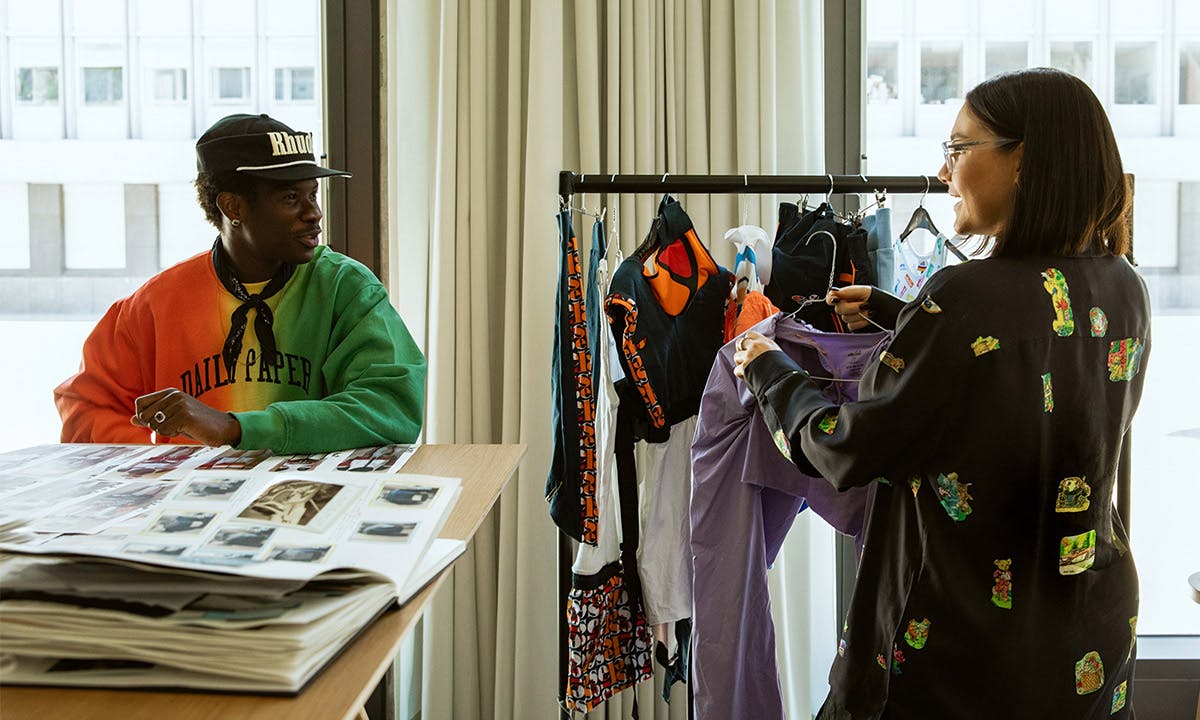 When ellesse announced its new upcycling program, Tailors, not only did it return to its craft-like heritage, but it opened up its global platform to aspiring design talent.
Three young creatives, Nomin Zezegmaa, Grégory Assad, and Kemi Gbadebo, were given the opportunity to rework old ellesse garments, adding their cultural aesthetic and stylistic touch to a capsule collection inspired by the brand's deep tailoring roots.
With Tailors spurring the amalgamation of fresh, modern perspectives with deadstock ellesse fabric, the project pushes for a more environmentally friendly approach to fashion, whilst simultaneously offering the three up-and-coming creatives the inclusive space they deserve to showcase their work.
After creating their collections, the three talents faced a judging panel of contemporary fashion insiders - creative director, Olive Duran, stylist Lawrence Adu, and Highsnobiety's very own market editor, Rhianna Matthews. Besides dissecting the collections, the judges reviewed the talents' sketchbooks and notes, making sure not to miss any detail or conceptual framework, and finally deciding on their favorite collection.
The winning collection comes from designer Nomin Zezegmaa, who will be given the opportunity to work with ellesse on her garments for the brand's SS22 range - an honor that many young creatives dream of in an industry that is so cut-throat and hard to permeate.
We caught up with the judges at Highsnobiety HQ post judging to find out more about their personal style, what impressed them about the three talents, and why an initiative like Tailors is so crucial in the current fashion climate.
How would you describe your own aesthetic?
Rhianna: I'd say relaxed, experimental, and conscious. I'm trying to consume less and invest in pieces that I'll wear for the future, rather than for short-term gratification.
Olive: This question is so hard! My aesthetic changes day by day. Today I'd say energetic, fun, and sexy.
Lawrence: I would say my art focuses on seeing the beauty in ugliness and destructive structures.
Why do you think it is important that there is a consistently high level of representation culturally in the fashion world - like ellesse is doing?
Rhianna: Making sure the fashion world is a place with no limitations and amplifying cultures from across the globe is essential. Representing this through storytelling and design brings visibility to these people, products, and stories - everyone deserves to have a platform to be heard and seen. The industry is tough, but initiatives like Tailors open up huge doors for people and put the ball firmly in their court. It's on those already in the circle to open it up for those that want to be in it.
Olive: Where do I start? We need to collectively and actively contribute to an industry where everyone feels included and valued. Although this topic is far from over, if those with the most power can look outside their comfort zones and start listening, we should be able to get there soon. When I first heard of Tailors I was so excited that a brand like ellesse was providing a platform for young designers who may not necessarily be so insta-hyped."
Lawrence: ​​Fashion cuts across all cultures and people from different backgrounds, but it is a big bias if the stories of the individuals working in the industry aren't included. Tailors is changing this. Young designers are often less recognized but they are the new generation with innovative ideas and charisma.
What did you enjoy about being part of the judging process?
Rhianna: It embeds into me how important it is to encourage and represent the youth. It's amazing to see how much heart and energy they put into their work. From Tailors I learnt that it's not at all about the amount of product, experience or equipment you have, it's about how you use your imagination, how clear your message is, and your focus on the final outcome which matters the most.
Olive: Lawrie and I are two of the few black stylists in Berlin, so being part of this initiative made me so happy. Seeing the whole process from these designers was super fun, it's always interesting to see how they lead up to the finale.                                             
Lawrence: I saw everything I was expecting on this project. There were diverse styles from the three designers that were presented, and it was a great experience seeing how each of them represented their work through their sketch pads.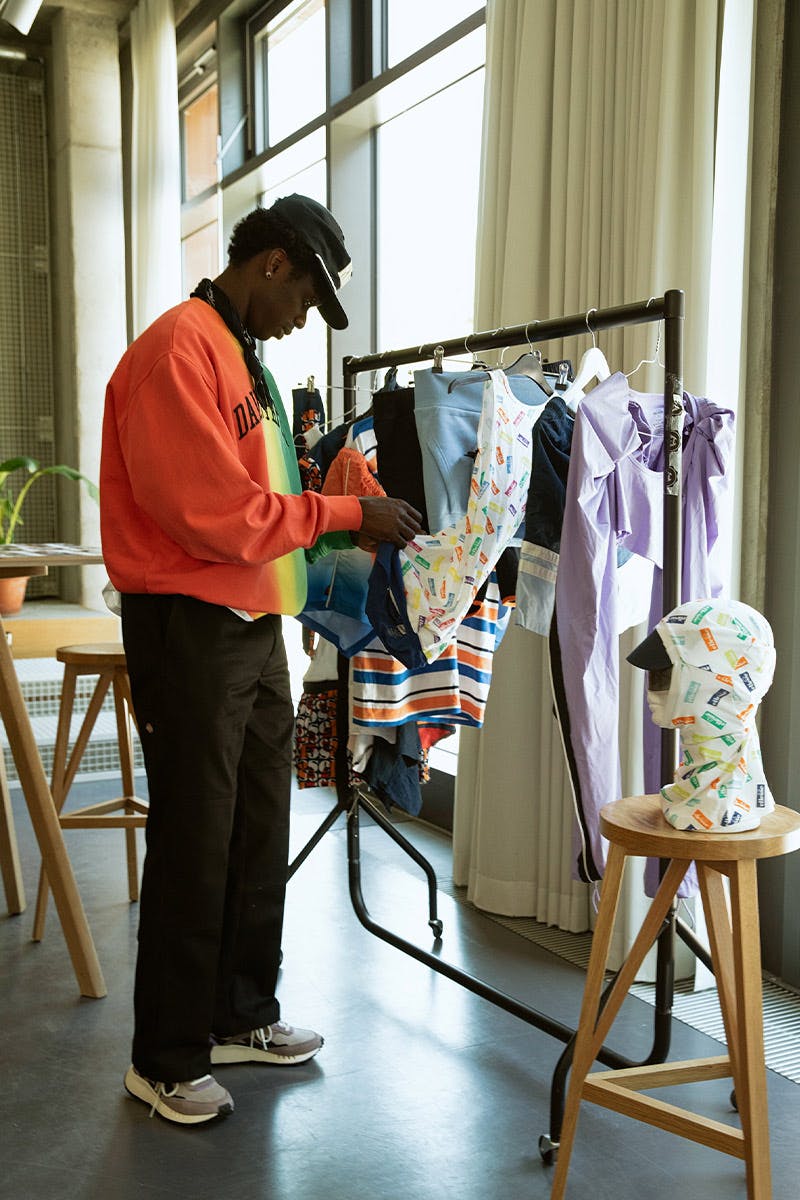 Can you comment on the three designers' works and tell us what stood out for you most?
Rhianna: When we see a designer coming through with something totally different and exciting, even more so if its environmentally conscious - that's where the magic happens.
Kemi did an amazing job with the design and execution of her products. The outcome is something I can already imagine being in the ellesse store and doing well commercially. She kept the overall sought-after female shapes with a very sport-focused feel.
Grégory had a great looking concept and his workbooks were extremely well presented, something you would expect to see from a professional. However, it would have been a good idea to focus on producing fewer products, leaving more time for perfecting the execution.
Nomin really went crazy on her piece. Even though only presenting one product, the detail, execution, and overall outcome really show she has a strong vision and wants to produce something with real substance and strength, thinking far out of the box. She really made the piece look high-fashion, rather than sportswear. This elevation of sportswear into something more luxurious is impressive considering the time and materials she was given.
Olive: Nomin got me. It's very clear she was doing her thing the whole way. I was so insanely impressed. Everything from her heritage where she grabs her inspiration from to the fact that she had a lot less time than the other competitors, honestly she just blew me away. Her look was strong, fashionable, very well constructed and honestly I just really want to own that entire look!
Lawrence: I loved the organization and the presentation of Grégory's work, it really teased the collection. The pieces felt or looked unfinished, which I believe is a form of art.
Kemi's work is super convincing due to its preciseness. They're the kind of pieces that I won't think twice about when purchasing. The collection wasn't new to me compared to current fashion trends, but the uniqueness of the design and signature of the designer was well demonstrated.
Nomin's work carries the same exact weight as her voice. The collection was strong, appealing, and very futuristic. The short timeframe in which she managed to produce her pieces was very impressive. Also, I loved the fact that her collection remained true to her heritage - it's one of a kind.
What is one piece of advice you would give to young creatives who are trying to make their way in the fashion world?
Rhianna: Always give whatever you're doing your best shot. It only takes one person to see something in you that can really change the direction of your career. In whatever you're doing, come through with the best you can give, go the extra mile, and only work on what feels true to you.
Olive: Find your vision and stay true to yourself. Try not to rush, things will come in due time. Oh and be nice, the fashion industry can be mean, but that needs to change.
Lawrence: The best advice I can give is to always share the advice you received that brought you one step closer to your dream.