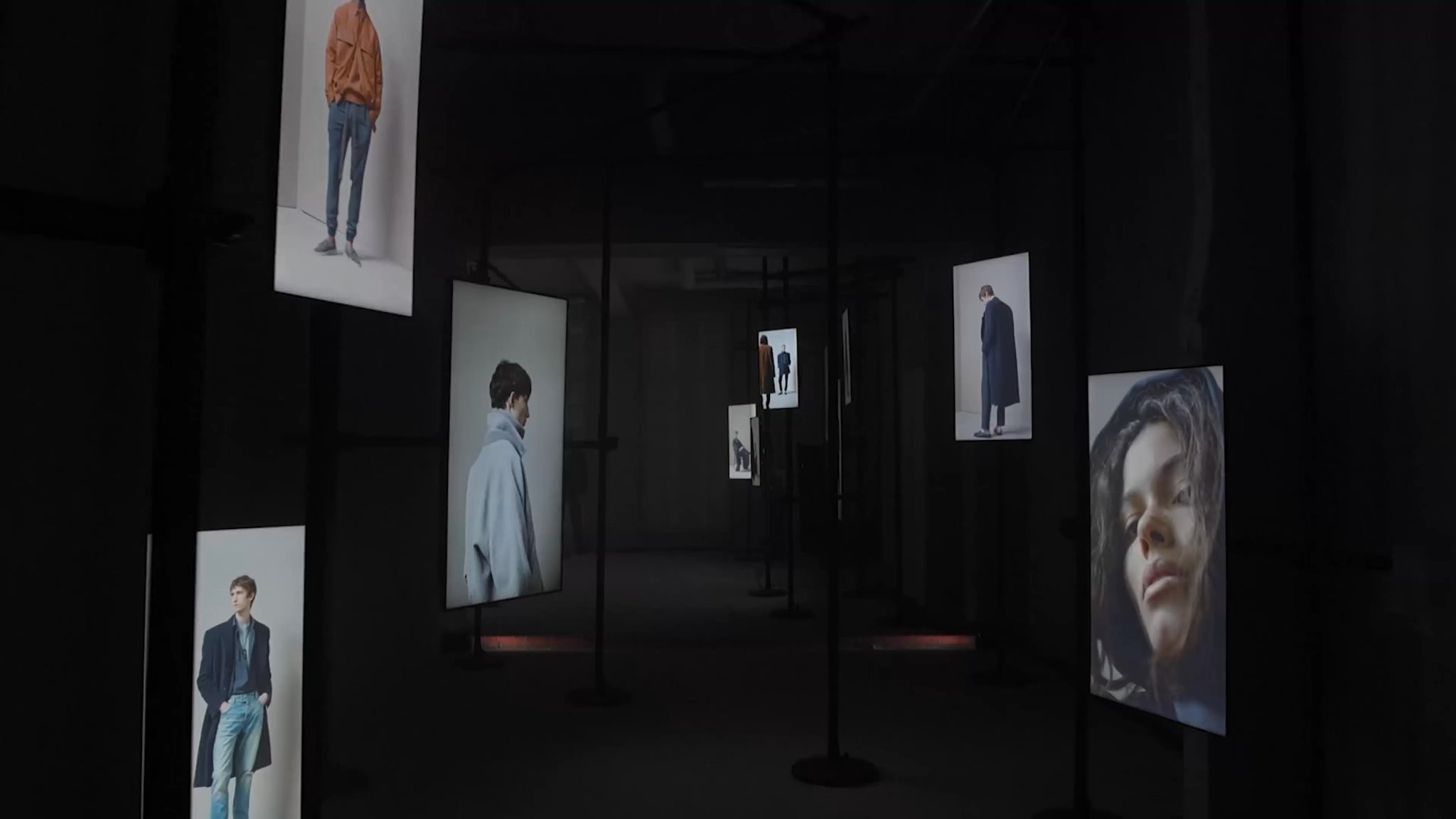 Ermenegildo Zegna is famous for its precise, Italian tailoring. Fear of God is known for relaxed, Californian luxury. The two couldn't be more worlds apart, yet they came together in a brilliant collaboration that fused the genius of both brands to create an entirely new hybrid: Fear of God Exclusively for Ermenegildo Zegna.
The new collection debuted at Paris Fashion Week, at the Hôtel de Coulanges in the Marais. Alessandro Sartori, artistic director of Ermenegildo Zegna, and Jerry Lorenzo, founder of Fear of God, greeted guests on Monday afternoon as they perused the collection, on mannequins and campaign photos projected throughout the space. Hoodies and T-shirts met their match with tailored blazers, and oversized car coats. Elongated woven belts were cross-tied and dangled like sweatpant drawstrings. The collection looks irresistibly wearable, draping comfortably off the body as much as it smartly accentuates an acute, masculine figure: the look for someone who wants to appear fashionable without looking like he spent too much time thinking about it.
Read on for our interview with both Sartori and Lorenzo about their collaboration.
The best collaborations are often from two partners that are totally opposite. Zegna and Fear of God come from completely different worlds. What do you think are the main differences and similarities between the two brands? Alessandro Sartori: I always admired Jerry's works, even before meeting him, and when we met through a friend, it was a very special moment for me because we started the conversation, which was not based on personal interest or on a specific brief. We just wanted to explore possibilities and new ideas for menswear and this is what we did.
Jerry Lorenzo: I think that the difference is obvious on an aesthetic level from far away. But the souls of the brands are the same. And when we sat together, we knew that immediately, and we also had a desire to create a new language that would require the best of both worlds. And I knew that in order for me to continue carrying along my audience and help him mature with his wardrobe, and Allie having a desire to give a little bit more freedom to his customer—we could together come up with a new solution: a collection that told a new story that was independently not necessarily good for either brand, but what was best for the customer. And I think we've always thought of customer needs and we saw this big hole in the market that, in order for it to be tapped, kinda needed us to come together.
With the collaboration, you're able to reach new people outside of the core brand. Who do you imagine your new customer to be?
JL:I think it's a mix of both of our current customers. And I think we are also tapping someone that maybe is not buying Zegna, maybe isn't buying Fear of God and wants to get into tailoring, wants to be a little bit more sophisticated with the way they present themselves, but haven't found a way to be elegant and free at the same time. Sometimes elegance requires a little stiffness, and through this collaboration we tried to loosen that stiffness up a little bit through fabrics, fit, silhouette, proportion. So I think that it's a new customer.
AS: If you think about the tailoring rules written around in the market, it's something that was written a long time ago. We all know what's the perfect double-breasted, what is the perfect coat, what's the perfect raincoat and those pieces are in our memory from a very long time ago. We can see pictures from our father and grandfather and they were still there.
Can you describe your collaboration process?
AS: It was very organic and very new and fresh. What I like about Jerry's way and method is that he's working for the best collection, independently of a specific season. He's trying to produce the best ideas and the best creativity. And we were having a conversation from day one, because we've never been driven by a marketing brief or SKUs or numbers. We were just trying to propose together the best creativity with a lot of energy.
JL: Exactly. There was never a marketing or a business brief. It's like: sit down in a room and come up with what you believe is the new formula for menswear and 2020. That took a lot of back and forth. Even the times that we disagreed were probably the best times because they created the best opportunities for us to find a solution and rethink why is that tension there? I'm not a classic designer that's coming with a book of sketches. I'm more coming with the whole story. And he's able to see through that story and understand where both of us can fit in there. And I think we started off thinking that, "Fear of God has a young point of view and Zegna has the resources and the technicalities" but we really have similar point of views. And we also have similar technical way of approaching things. And we brought more than what would appear to be the obvious gifts to the table.
Highsnobiety / Mathieu Vilasco, Highsnobiety / Mathieu Vilasco
Alessandro, you use the phrase 'laid back luxury' in describing Fear of God. What does that mean for you?
AS: I have always been attracted by what Jerry was doing. And as we said, even before meeting him, I like that feel of American luxury or sportswear with the American luxury feel where he was able to mix his attitude and his point of view with sophisticated silhouettes, materials and color palettes. It's not common for sports wear to use beautiful melange fabrics, to use beautiful sophisticated colors like candle or off-white. And so that attracted me a lot.
Jerry, Zegna is a very traditional luxury brand. How do you think streetwear has shaped luxury? And what did your brand bring to Zegna that was new to its archive and tradition?
JL: I feel like we tried to honor Zegna the best way that we knew how and what we wanted to bring was just a level of freedom. Freedom in the way that the clothes fit, freedom in the way that the individual feels when wearing the clothes and tailoring has had an uptight stigma to it. And when your suit fits a certain way, it can be a little intimidating. And so we wanted to allow our guy to dress up, and allow Zegna's man to dress up in a way that's not necessarily intimidating, that's just as sophisticated, but that he's comfortable in it and then the people around him are just as comfortable. We use the words relaxed and easiness and sophisticated and elegant and effortless. And it's not only for the person that's wearing the pieces, but it's for the people that he's interacting with. And how does that energy move from him to those that he's communicating and hanging around with.
Highsnobiety / Mathieu Vilasco, Highsnobiety / Mathieu Vilasco
What do you think is the future of luxury menswear?
JL: I think we're standing in the middle of what the future of luxury menswear is. We've always said [Fear of God] is American luxury, which is freedom. Freedom of choice and the freedom to dress up in the way that you want to. Freedom to put on a suit and maybe it's not a black tie, but it's a back zip mock neck shirt or something. And I think we're just trying to bring freedom to this realm and comfort and independence.
AS: Luxury is not the cost of the product, but the number of hours and mostly the learning curve that an artisan needs in order to produce and convey that quality. As far as with styling, I do think that luxury is about a freer approach to blend the garments together in order to be your own silhouette at the level of personality you are able to express. It's like projecting yourself at your best and being able to fix a new image of yourself. If you're able to touch that image, I think you enter a very luxurious world.