This piece appears as part of BERLIN, BERLIN — a week-long virtual celebration of creativity in the city Highsnobiety calls home. See the full series here, and shop our BERLIN, BERLIN merch here. 
A smile is a complicated expression. It is meant to convey happiness. It signals that all is well. But a smile is also a mask; an IRL emoji easily plastered on to hide a person's inner turmoil. And for the artist Evgen Čopi Gorišek, it is a source of endless inspiration. "People smile but inside they are really sad or unhappy or angry, and they're hiding it," he says of the symbol that has become the signature of his oeuvre. "Most people in our society, and even I am like this sometimes, find it hard to tell the truth. That is why I keep using the smile."
Even the most glancing scroll through his Instagram feed makes clear how easily a smile can transform context, how it can twist and warp. Gorišek paintings depict all manner of people. Deeply tanned women lounging poolside in bathing suits or posing for photos in their best dresses and jewels. Boxers and bodybuilders with sweat-slicked, glistening skin flexing and raising their arms in triumph or, in one particularly ironic painting, being punched in the face during a boxing match. In every scene, while their bodies showcase realistically painted muscles and clothes, their faces are smudged and blurred. Two dotted eyes atop a V-shaped nose atop Gorišek's now-signature smile. On the women, he adds a hint of pink on the cheeks and eyes and colors their blank smiles with an almost violent slash of red. On the men, blushed cheeks give the illusion of these proportionally strange figures coming in from the cold; pink racing to their cheeks via the tip of his airbrush.
Their smiles feel at once both ominous and deeply hilarious. They have an edge that invites theorizing, especially when seen on Instagram, our one true kingdom of fake smiles and plastic people. Filtered into the news feed, Gorišek's perpetually smiling characters are wedged between apocalyptic news blips, brain-numbing memes, and perfectly posed photos of influencers that took a few dozen tries to look natural. In our erratic cultural climate of hot takes and miniscule attention spans, it's easy to look at Gorišek's paintings and see them as some commentary on social media's plasticity, but that's not his intention. His paintings are borne of pure admiration. Not just for the absurd and eccentric characters he encounters on and off the internet, but also for the artists he's encountered since discovering the wonder of the art world in the small, seaside town of Piran, Slovenia.
It was here, in the small town of a few thousand people, that Gorišek first developed an interest in making art after an adolescence spent immersed in sports. "I never thought about art before. I liked to draw and stuff but it was not like some people [who have been] making art since they can remember," he recalls of this early period. It was a friendly art teacher encouraging his talent in elementary school who nudged him to pursue art, but it was a gaggle of pop art heavyweights seen at an exhibition — Andy Warhol, Basquiat, and Roy Lichtenstein among them — that ultimately pushed Gorišek to create art.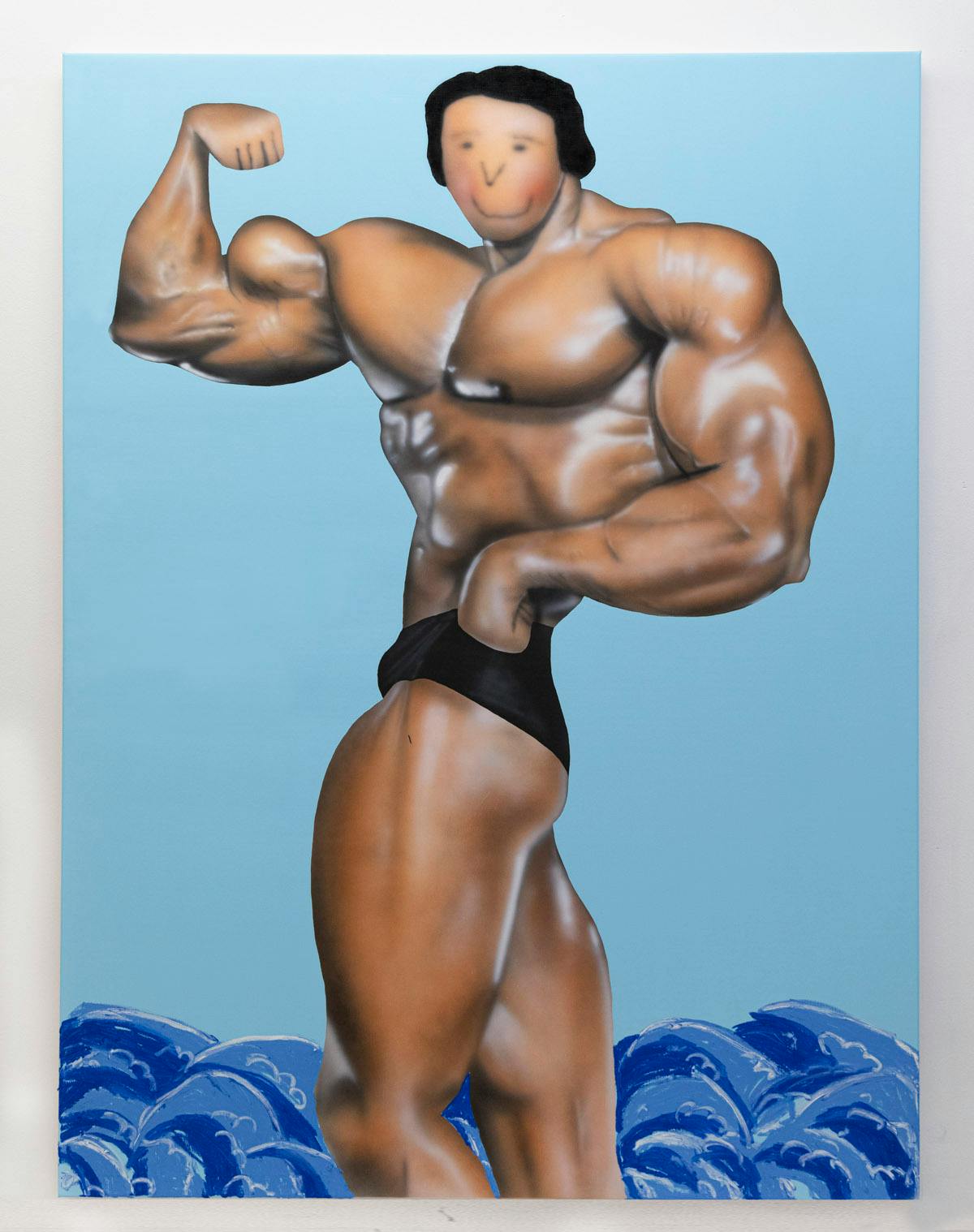 "I was 17 at that time. I liked art before but that was the point where I said, 'Ah, I want to be an artist when I grow up.'" His early works were unrecognizable from his current pieces, now hanging in galleries around the world. These early years were an experimental phase of pinballing between artistic inspirations to see what fit. First, his works leaned heavily towards Basquiat's signature style until he caught a viewing of the Bansky documentary, Exit Through the Gift Shop, which saw him pivot towards street art and graffiti. After a five-year stint in Slovenia's capital city, Ljubljana, Gorišek finally shook free from the artistic limits of Slovenia's tiny art scene — at last finding both salvation and inspiration in Berlin's thriving one.
Like most of artistically-minded transplants roaming the streets of the German capital, Gorišek began his Berlin journey by chance. In late 2018, the artist visited the city and met an artist who encouraged him to make the move and offered a studio space in the city. "Just like that, I immediately decided [to move]. I came back home, I worked to save some money, and then I moved [in 2019]. I came to Berlin without a single project." Within months, he'd picked up an airbrush kit and got to work, quickly drawing inspiration from the work of Japanese artist Madsaki's dripping, graffiti-tagged faces for his own, now-signature smiley-faced paintings.
With these early months of his life in Berlin acting as a testing site for his work, it was the COVID-19 pandemic — and Instagram — that helped usher him into a new phase of his artistic career. Since 2020, this new phase has seen his artistic reputation explode across the art world. He has participated in group and solo shows in Milan, Amsterdam, Valencia, New York, Miami, Berlin, Seoul, and Capri. He has made fans of everyone from Takashi Murakami to Virgil Abloh, who posed for a photo of Gorišek's "The secret to success" painting with Johann König during the König Galerie's The Artist is Online exhibition. He's booked for exhibitions through 2023, including his first Asian solo show this January at Seoul's Gana Art gallery where he'll be turning a newfound love for chairs (yes, chairs) into paintings that'll surely sell out, because all of his work sells out. As he explains with disbelief, before the shows he's in even open to the public, every painting sells.
It's an inspiring success story for the young artist from the small Slovenian town — and one that's occurred almost entirely during the COVID-19 pandemic — but don't expect Gorišek to pivot into a raging, egotistical artist any time soon. When the topic of his rapid success is raised, his demeanor is that of someone who's won the lottery or been nominated for an award. He is just happy to be here and as our conversation wound down, it seemed as if this was the story of an appreciative, small town boy whose hard work paid off, but this blinding optimism wasn't always there. Only a few years ago, Gorišek's story seemed destined for a different, much darker, path. During his five-year stint in Ljubljana, his entire world turned upside down after his father died of cancer. "For four years, I had a really bad period in my life," he explained. "I had a big problem with drinking and drugs and all of that. It pushed me to a level where I almost died in a hospital." It's an admission that doesn't square with the artist's demeanor, but just like a smile's ability to plaster over deeper emotions, it's fitting that Gorišek's optimism masks a more complicated person.
It was an incredibly dark period for the artist, but nearly three years after finding himself in the hospital, he has built himself back up and found the silver lining in the storm cloud. "After I lost my father, I looked a bit differently at everything. I cherish small things much more," he says, pensive for only a moment before breaking into a smile.  "I think this hospital thing gave me another opportunity, and it was also the last warning for me and for my body. I'm happy that this happened, even though it was really painful. It just changed everything."