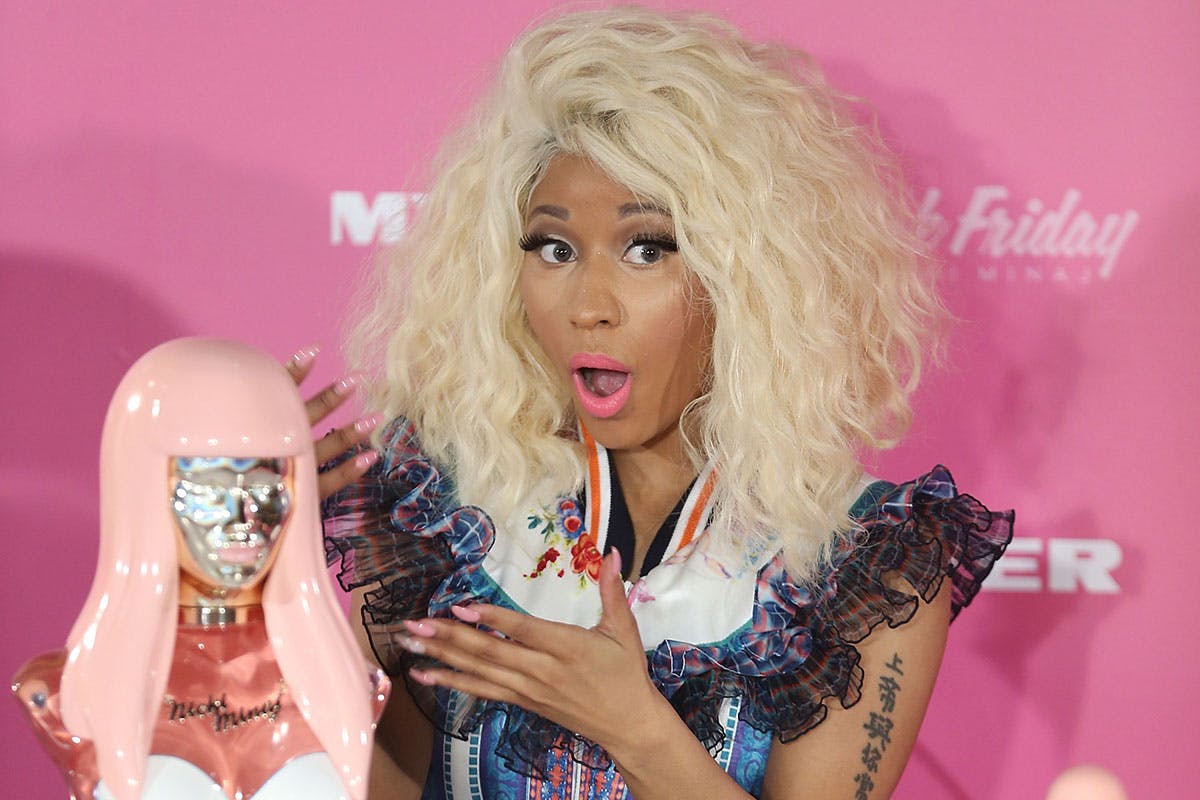 This year, Lady Gaga hoped to follow in Rihanna's Fenty Beauty-ful footsteps with the debut of Haus Laboratories, her makeup brand that believes "beauty is how you see yourself". She joins other celebrities in the personality-steered beauty game, like the Jenner-Kardashian-Wests, Tracee Ellis Ross, and even Millie Bobby Brown.
But skincare and makeup aren't the first beauty forays for Mother Monster and Captain Navy. Gaga and RiRi rolled the dice on personality-driven fragrances, too, alongside dozens of other celebrities (primarily musicians) in the past two decades. It's a trend that seems impossible in hindsight—who actually bought these things?—and yet, everyone from Britney Spears and Daddy Yankee to Gwen Stefani and Jesse McCartney bottled their essence.
During the 2000s, celebrities were required to market themselves through the art of commerce. Social media didn't exist so their brand extended to merchandise, their influence rising through the ranks with the sale of commercial products. All apparel aside, the top tier of artists knew that they had to use other channels to attract their fans and secure their attention for a lifetime — so naturally they turned to scents. The celebrity fragrance is a tradition that still lives on today, and Twitter standom might explain how these fragrances existed as long as they did.
Swifties, Barbs, Beyhivers, and KatyCats will buy up anything their respective queen offers up. It's like selling concert tickets without having to go on tour, and it gives fans an intimate, department-store-caliber whiff of how Justin Bieber wished his fans smelled. Fenty Beauty, now owned by LVMH, is going to be around forever, and Haus Laboratories seems promising enough. On the heels of Gaga's latest business venture, let us look back at the one-off scents that both singers launched earlier this millennium, along with 26 other artists' olfactive ventures that will have you shouting "Eau de no she didn't!"
Glow - Jennifer Lopez (2002)
Glow by J.Lo was ahead of the curve, launching in 2002 and preceding 28 other scents by the multi-hyphenate. You'll recall that this was Bennifer-era J.Lo, but Glow outlasted that torrid romance. I'm fairly certain you can still find it at Kohl's or TJ Maxx along with Gigli on DVD.
XPose - Christina Aguilera (2004)
Halfway between Stripped and Back to Basics, Xtina launched the four-scent XPose collection in 2004. It was the first of her 17-strong fragrance assortment, all of which look like that eye-sore leg lamp in A Christmas Story.
Curious - Britney Spears (2004)
Are you even a millennial if you don't remember this iconic spray-pump fragrance and the equally iconic commercial? It's only barely better than 2010's Radiance "no thanks" campaign. (So long, curiosity!)
Harajuku Lovers - Gwen Stefani (2005-2014)
Gwen really ran the Harajuku train as far as it could go, launching this "super-kawaii" lineup of 28 scents between 2008 and 2014. The bottles represent the alt-pop icon and her four backup dancers, Love, Angel, Music, and of course, Baby. That she kept this up 10 years after the L-A-M-B album dropped is worth a million e-Props.
Unforgivable - Sean John a.k.a. P. Diddy (2006)
SEX, POWER, HONESTY, EMOTION, SEDUCTION, PASSION... UNFORGIVABLE. These are the words then-monikered Sean John associated with his Unforgivable cologne—which would spin off into six other sexy, powerful, honest, emotional, seductive, and passionate scents, including two for women.
With Love - Hilary Duff (2006)
Hilary released With Love alongside a single of the same name. The music video featured Kellan Lutz (remember him?) and a cameo from the fragrance itself which drops in at the 1:06 mark. The scent featured a curious assortment of ingredients like fruity mangosteen and woody cocobolo, which are sadly not the names of any characters in CATS.
M - Mariah Carey (2007)
The Greatest Singer and Songwriter of All Time launched some 14 fragrances between 2007 and 2013, and M was her debut. I've written some 1400 articles about fragrance, and this is the first time I'm citing one as having prominent notes of… marshmallow. Not to mention, paired with incense and patchouli. You wouldn't guess as much from the butterfly-topped bottle, but you might guess as much from never-dull Mimi.
Black Star - Avril Lavigne (2009)
"Be your own star," Avril says in her Black Star commercial. It's a lesson she probably learned from a certain sk8r boi, then bottled up for profit.
Apple Bottoms - Nelly (2009)
It wasn't enough to launch an entire denim line dedicated to fruit-like derrieres; six years after founding Apple Bottoms Jeans, Nelly went ahead and introduced a fragrance of the same name. The top notes of the fragrance include, above all else, apples, and the bottom notes are musk, amber, and sandalwood. (Petition to rename this to Apple Tops or Amber Bottoms?)
Someday - Justin Bieber (2009)
As the campaign would lead you to believe, spraying this on your neck was like getting a hickey from the Biebs himself. The heart-shaped flower cap was in full bloom, too, like Justin's love for his devoted Beliebers.
Rihanna — Reb'l Fleur (2010)
Rihanna has launched numerous fragrances, including a 2018 rerelease of her original fragrance, Reb'l Fleur. The seductive campaign for the original scent served up some "S&M" kink and "What's My Name" coyness, with RiRi's Loud-era red hair on full display. Clearly she can push a product because this has been the only year in the past decade that Rihanna hasn't released a new scent.
Lady GaGa — Fame (2012)
When interviewed about the production of her jet-black "Fame" potion, Lady Gaga told CNN that she "wanted it to smell slutty." Elaborating on the concept, she explained how "I have an interesting mind, but I want to smell like a slut, to be honest." She previously described Fame as a mating call that channeled the cycles of desire, and even launched it with a 9-minute director's-cut commercial. When CNN asked Gaga if she deemed herself a "savvy business woman," she replied with "Well, I guess we'll find out." Mother Monster seems to have birthed a star with Haus Laboratories, so guess we'll all find out soon.
Adam Levine - Adam Levine (2013)
In 2011, the Maroon 5 frontman once tweeted his dismay toward the celebrity-fragrance trend in. "I also would like to put an official ban on celebrity fragrances," he wrote. "Punishable by death from this point forward." Fast-forward two years later to the launch of his eponymous line, during which he clarified that he just didn't believe most celebrities were connected to the scents that they created. He described his own line as "very basic... the anti celebrity fragrance... whether you're writing a song or wearing a shirt or walking down the street, whatever you're doing, it kinda feels good to feel like you're doing it in a different way." Reader, your interpretation of that is as good as mine because when is Levine ever wearing a shirt?
Usher - Usher (2007-2018)
"Who am I? Confidence. She is my one desire," Usher says while introducing his line of scents for women and men. It's the same seductive imagery we saw with Sean John, which must have played well in the mid-to-late aughts. And if you (still) got it bad for Usher Raymond, please know that he dropped two new scents in 2018, Usher Femme and Usher Homme.
Dynamite - Daddy Yankee (2008)
You might be one of the biggest musicians on the planet, but that doesn't mean you should emblazon your eponymous fragrance with Copperplate Gothic font. Daddy Yankee did it a second time, when he launched his women's scent, DYnamite, in 2010. Aye dios, Daddy!
Fairy Dust - Paris Hilton (2008)
As famous singer Paris Hilton famously sang, "stars are blind." But, as we all know, the blind have a sharper sense of smell, ultimately demanding a truly flawless fragrance. In 2008, Hilton blessed the world with Fairy Dust. At this point, who isn't wondering what she hasn't done?
Heat - Beyoncé (2010)
The first of Queen Bey's nine Heat spells—plus four other fragrances between 2010 and 2017—this line famously launched with a cover of Peggy Lee's "Fever." "Catch the fever," Beyoncé teases into camera as she catwalks away into the red ether. Oh, how her brand has evolved.
Purr - Katy Perry (2010)
Kitty puns are catnip for Katy—her kitten is named Kitty Purry, her fans are Katy Cats—and so it was only appropriate for to launch her perfume line with Purr and Meow. Needless to say, Katy was really feline herself with these two scents...
Wanted - Jesse McCartney (2011)
This bottle was shaped like a teardrop, but was the size of a NERF football. While I'm not sure who actually "wanted" it, Jesse's doe-y eyes could sell water to the ocean. (I'll buy four!) It's a fragrance to complement your beautiful soul.
Wonderstruck - Taylor Swift (2011)
Get a glimpse of Old Taylor (RIP) as she hawks Wonderstruck, the first of her five fragrances. It came in a glittery purple egg with a gilded lid, dripping with charms—looks like there's a bird, an empty birdcage, and some sort of twinkling star? Color me charmed, and dare I say, wonderstruck.
Elixir - Shakira (2012)
Of the 32 fragrances launched by Shakira, including six this year, Elixir is the most iconic in that it was "inspired by her most sensual and exotic moves." The product description claims that it is "a powerful blend of all her dreams that will take you on a journey into a hypnotic world wrapped in desire and Shakira's most powerful femininity." Copywriters everywhere are shaking!
Minajesty - Nicki Minaj (2013)
Full transparency, I owned all of these fragrances at some point because the Nicky-shaped bottles were instantly iconic. "Believe in your queendom," she preached to us when the perfume launched. I'm not certain she really believed in this entire effort, since, admittedly, the scents kind of smelled like a Barbie foot. (I threw them all away some years later, and regret it to this day.)
Our Moment - One Direction (2013)
1D would have been silly to not launch a teen-girl fragrance at the height of their super stardom. This thing sold like gangbusters, unlike most of their solo albums. (Which, for the record, are all excellent albums.)
Gold - JAY-Z (2013)
Gold, a fragrance for men, was promoted with a naked woman bathing under the steady flow of gold paint. All this with a gilded cap showcasing the words "SUCCESS, POWER, CONFIDENCE, COURAGE, STRENGTH and PRIDE." Can you guess the forward-most note? If you thought it was "sex runoff," you're wrong. It is, in fact, "blueberry."
Pitbull - Pitbull (2013)
I have accidentally memorized the lyrics to at least 15 Pitbull songs, and yet I never knew that the same man launched three his-and-hers fragrance sets between 2013-2017 until recently. It all started with Pitbull Man and Pitbull Woman, which to me sounds like a DC Comics crime-barking power couple.
GIRL - Pharrell (2014)
Pharrell launched GIRL in collaboration with Comme des Garçons in tandem with his album of the same name. In the launch video for Sephora, he claimed that men and women like the scent "because it smells good." I'm inclined to believe him, though I regret that I will never know.
Adrenaline - Enrique Iglesias (2014)
Imagine going home with a guy and seeing that he has a bright red bottle with "ENRIQUE IGLESIAS" written loudly across its broad side. You would marry that man, right? (At the very least, it gives you common ground with Anna Kournikova.) It definitely smells like sex.
Sweet Like Candy - Ariana Grande (2016)
Ari is still in the fragrance game, having launched her seventh scent, "Thank U, Next" earlier this year. That can only mean that everyone has forgiven her for Sweet Like Candy, a sugar-rush scent explosion unleashed in 2016. The top notes in that one were whipped cream and marshmallow which only prove that she's coming for Mariah's gig again!