Scrolling through the vast galleries of images from fashion week, it's easy to forget that you're looking at just one part of a fully immersive sensory experience. This holds true now more than ever given the whole traveling circus taking place digitally, but it has always been the case. There is no collection of photographs, no matter how many hundreds of near-identical runway shots they might feature, which can accurately render the sights, sounds, scents, and tactile touches that have been painstakingly assembled by the show's architects.
The biggest loss, most often, is the sonic worldbuilding; something which, even on video, can so rarely be captured in all its details and perfectly-timed minutiae. These are landscapes designed to be lived, experienced — so much more than just a pleasant accompaniment to the clothes. It's no coincidence that some of the most renowned musicians and composers have turned their hand to soundtracking fashion presentations: the challenge of creating something that is not only perfectly attuned to another artist's vision, but which is also so finely balanced as to never detract from it — setting the mood, the scene, the ambience, without ever settings itself up as the star — must surely be an intoxicating kind of challenge.
It's a siren-call for visionary artists: Beck for Dior Homme in 2005, James Murphy for Ermenegildo Zegna in 2014, Ryuichi Sakamoto for Yohji Yamamoto in 1994, Colin Greenwood for Dries Van Noten in 2014, SOPHIE for Louis Vuitton in 2019, Oneohtrix Point Never for KENZO in 2016 (KENZO have an incredible track record on this).
Yet, while it is as extensive as it is impressive, like any good list there are spaces for those yet to come; perfect pairings of style and sound not yet come to fruition. Here are five we're putting into the universe in the hopes that it may one day come to pass.
Helena Hauff for Jil Sander
This might seem obvious to anyone who saw the German techno producer walking the Jil Sander runway in January 2021, but this is a match made in stripped-back, excoriating heaven. Hauff, like the house's namesake and its current co-creative heads — Lucie and Luke Meier, previously of OAMC — understands the virtue of a less-is-more approach when it comes to creativity.
If you've ever seen Hauff play live, you'll know how her talent thrives on a careful balance of making a little feel like a lot and a lot seem like very little: her style is effortless, yet the effect is harsh, pummeling, ecstatic, and infectious. Hauff's music is minimal and stripped-back, with just the right amount of darkness. It's a shimmering blade of music exploring new possibilities with a strictly-analog set-up that seems to bend to the pure force of her sonic will.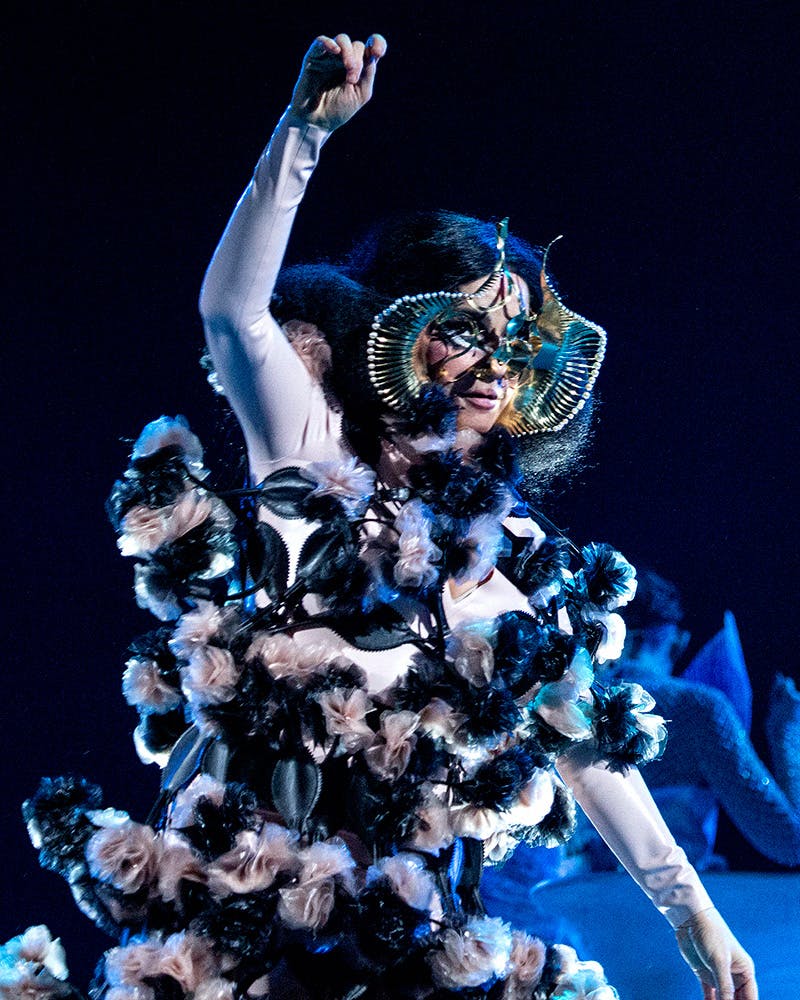 Björk for Gucci
Alessandro Michele and Iceland's most famous daughter have a history. The Gucci creative director designed the dress worn by Björk in her 2017 video for "The Gate," from the album Utopia. The dress reportedly took 550 hours to make, which is exactly the kind of near-impossible devotion to detail that also sets Björk apart from, well, more or less everyone else.
Björk has a varied and fascinating discography, oscillating wildly between oddball pop and outright electronic invention — making music that comes close to pure creation, or the kind of music the universe might make if you asked it to drop everything else it's got going on and have a go. These are the same sensibilities that underpin the Gucci philosophy.
And they both have a great sense of humor.
The Weeknd for Maison Margiela
At first glance, Abel Tesfaye and Maison Margiela may not seem like the most likely pairing. One, after all, is arguably the biggest male pop star in the world, the other is an iconoclastic designer, famous for his staunch commitment to reclusiveness almost as much as for his iconic, avant-garde designs.
Still, it wasn't always the way: before Starboy, and long before After Hours, The Weeknd was an enigma. His melancholy brand of darkwave R&B spoke for itself, his face often quite literally shrouded in darkness or wholly absent from album covers or press shots.
The brooding, sensual tracks that made-up earlier works like Trilogy and Kiss Land make for a perfect accompaniment to Margiela's own brand of reimagined, reconstructed and just-a-little-off-center design. Both have an uncanny, blink-and-you'll-miss-it quality, setting them apart from their peers. In many ways, The Weeknd is to pop and R&B what Margiela is to fashion. Even if we all know what Abel Tesfaye looks like these days.
Arca for Rick Owens
Back in 2020, Alejandra Ghersi was photographed for Garage magazine — in suitably dramatic style — wearing shoes by Rick Owens. Alone, it's not enough to match the two as creative partners, but the genre-destroying Venezuelan artist and the sartorially misanthropic American designer have considerably more in common than just some footwear.
Ghersi's early career as a sonic enfant terrible saw her producing and songwriting for Kanye West just a year after the release of her debut EP, following that with a production and songwriting credit for every song on FKA Twigs' EP2 the same year. The glitchy, industrial, often punishing takes on avant-pop and hip-hop which dominate her earlier work — particularly 2015's Mutant — conspire in league with the more classical, operatic sensibilities that came to the fore on 2017's self-titled release.
It's these twin pillars that make the perfect pairing for Owens' apocalyptic, cyberpunk visions — the smoke and fog and concrete from which the designer builds his worlds, juxtaposing decay with the glamour of high fashion, a natural home for Ghersi's music.
Salem for Prada
There has always been something slightly infernal about Prada; some sense of majestic, creeping dread that permeates its collections. It's always present — more so some years than others, of course — in its shades, its silhouettes, its quasi-vampiric sense of operatic camp. Unsurprisingly, with Gary Oldman (Dracula himself) on the runway, Fall/Winter 2012 comes to mind immediately as the most powerful example. But regardless of the season, it's always there; lurking inevitably in the background, touching everything with its shadowy fingers.
Who better, then, than Salem? With a name that immediately conjures a vision not just of the witch trials themselves, but of bleak occultism — of dark magic in a forest of bare trees blackened by winter and stripped by the wind — the Midwestern duo are more than capable of matching the Italian house's heretical sense of poise.
The wall-of-sound intensity on their most recent album, Fires In Heaven (their first in 10 years), is a testament to the band's technical and creative progress in that time — layer upon layer of detail, built into an all-encompassing force, as dangerous as it is beautiful. A demonic ball of sorts.
The chopped and screwed Rihanna hook on the album's closer, too, points not only to a wry sense of humor but also to a place within pop culture. Doesn't that seem like something Raf Simons would appreciate?
BONUS DREAM: Britney Spears for Chanel
Chanel likes to think of itself as classy. People who wear Chanel like to imagine they're classy – somehow immediately more classically French; like a long, thin cigarette will appear at their lips just by virtue of those entwined Cs decorating their body.
The truth about Chanel, though, is that it's kind of tacky. And it should be more willing to embrace that, admitting that the brand often has more in common with the Paris Las Vegas Hotel & Casino, and its obnoxiously-lit replica of the Eiffel Tower, than it does with the actual City of Lights.
Who better to bring all that out than Britney? In an alternate timeline – or an optimistic future – in which she is set free from the injustice of her conservatorship and set loose upon the world, Britney Spears could make even the most reserved among us happily embrace a level of camp and theatricality we've never dared explore.
Based on their recent couture presentation, Chanel is half way there. They just need a little bit of Britney in their lives to get them the rest of the way.