The following was initially published as an exclusive insights newsletter from our editor-in-chief. Sign up to it below for weekly industry analysis, commentary, and more.
This past week, as Joe Biden announced the imminent vaccination of the adult population of the United States, I began keeping an eye out for shimmers of what the post-coronavirus cultural moment is going to look like. In my cocktail party conversations — conducted without cocktails, and over video conference — the consensus has always been that the moment after Covid would resemble the unbridled debauchery of the roaring '20s, citing parallels with the fervor that followed Spanish influenza.
I've always held a great deal of skepticism toward this refrain. For one, history is never that easy to predict. But also, polling we've done on our audience shows a much more monastic sensibility brewing amongst cloistered young luxury consumers: one where the buy-for-life, anti-logo minimalism of the post-recession early 2010s seems more likely to return than an explosion of Gatsby-esque excess.
But don't take my word for it. Let's see what the world is telling us.
Make-Out Marketing
People say that it takes something happening three times for it to become a pattern, but when it comes to nearly identical ad campaigns by prominent creative directors, two in one week is good enough to feel like something is in the air.
Such was the case a couple weeks ago when Y/Project founder Glenn Martens released his first major campaign as the creative director of Diesel, a series of images of couples ferociously french kissing. The photographs seemed to simultaneously appeal to the energy of peak-'90s Diesel as well as the pent-up sexuality of a pandemic-era generation. Just a week later, Simon Porte Jacquemus threw his hat in the ring by dropping a campaign for his SS21 collection that also featured couples making out in his clothing.
No one is ripping anyone off here. Clearly, both men sat in ateliers, probably in different parts of Paris, having the same Zoom conference small talk we have all been having about how the current state of seclusion is bound to soon erupt into a volcano of carnal indulgence. And if it's fashion's job to predict the near future and fulfill our fantasies, then the season of make-out marketing was bound to happen sooner or later.
The Sandal Index
Speaking of the 1920s, in that very decade the economist George Taylor introduced the concept of the "Hemline Index," which in short outlined the idea that the fashionable hemline length of skirts at a given moment corresponded directly with the strength of the stock market. If prices soared, so did hems into miniskirt regions. If things dipped, so did dresses down to ankle-length modesty.
Almost 100 years later, I began pondering that our society might now be attuned to a Sandal Index: As the global condition has strayed further into unhinged terrain, our collective impulse to bear all when it comes to footwear has grown. Was it the fact that the #WFH lifestyle made normal shoes overly formal? Probably. Was it the slow destigmatization of wearing socks with sandals? Likely as well. But larger cultural forces seem to be at play.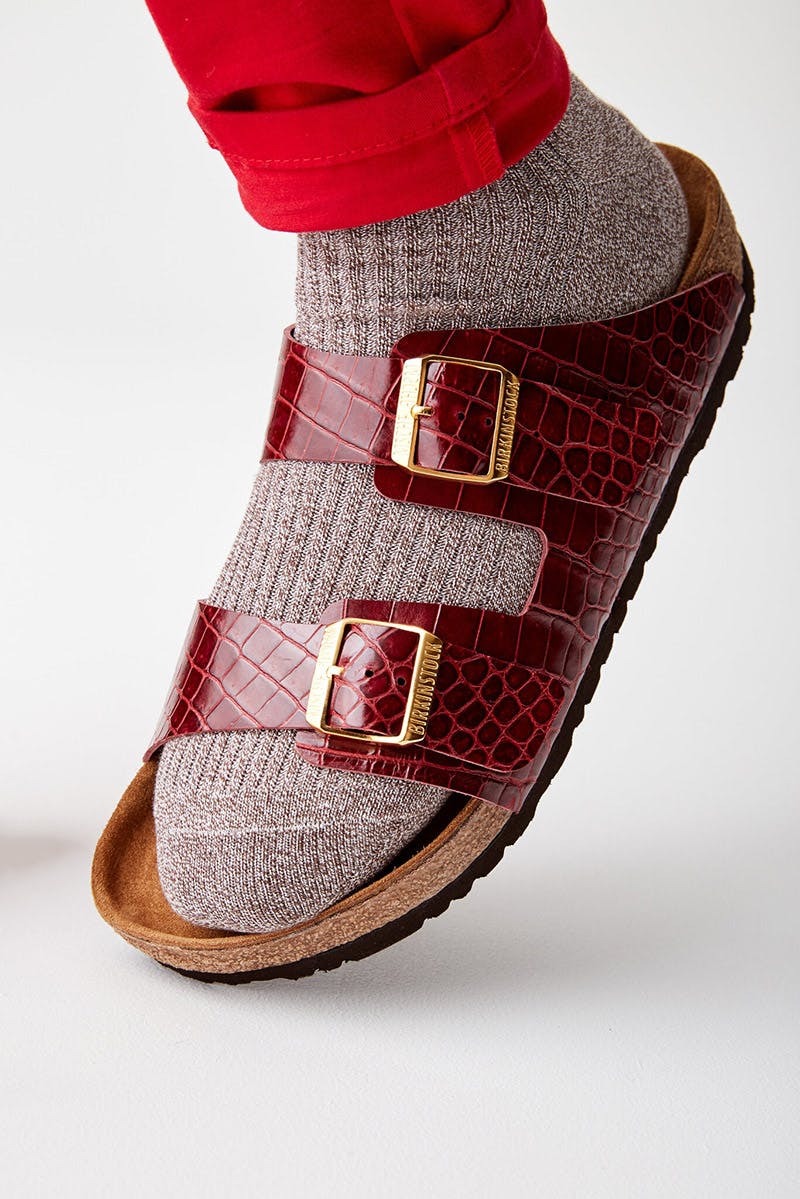 In the age of the sandal's meteoric rise, the Birkenstock is like Icarus flying toward the sun. Three weeks ago, the German brand was the subject of a viral spoof by the mysterious merchandising pirates MSCHF, who recreated pairs of its classic Arizona sandals using leather cut from Hermès Birkin bags. The aptly named "Birkinstock" captured our imagination because it pointed to a very real truth: since its origins as the signature footwear of crunchy camp counselors, Birkenstock had already slid its way firmly into the realm of luxury. Just a couple weeks later, things came full circle when backers behind LVMH — the platonic ideal of luxury conglomerates — purchased a majority stake in Birkenstock, who released a statement announcing yet "another record year" in sales.
To borrow some terminology from our Culture Culture Culture report with BCG, Birkenstock is a highly "credible" brand, which despite being older than the United States of America, resonates with youth culture on the grounds of staying true to itself. After elbowing its way into the fashion conversation by playing the collab game with the likes of Rick Owens and 032c, the company's chief executive (clearly feeling himself) recently recalled the logic behind his decision to turn down a collaboration offer from Supreme. "There's no benefit for us except prostitution," he told Cathy Horyn. "Because [a Supreme collab] is just prostitution."
Yet despite this tenacious authenticity, I still wonder how Birkenstock will weather the pendulum swing of the Sandal Index. Will a Biden presidency and a return to the workplace relegate Birks back into the REI crowd? Or will things just never be the same again?
Five Notes on Zabarification
As a native New Yorker and avid merch connoisseur, I had realized that it was impossible for me to keep silent on New York Magazine's recent issue on the explosion of positivity toward New York City's wealth of local landmarks and their merchandise:
I tip my cap to Stella Bugbee and Emilia Petrarca for covering this topic with great care, with every kibitzing local in the Tri-State Area watching, waiting to pounce if even a single poppy seed was out of place.
If you want to supplement your reading with a really good roundup of New York hardware store T-shirts, cleverly titled "The Hardest Shirts in New York," buy yourself a copy of our November 2020 magazine.
There's something that lands uncomfortably to me about "Zizmorcore" — and the collective nostalgia we now have about seeing an ad about acne removal on a packed subway. If I were to describe this discomfort with another local reference, I would call it Zarbarification: the glorification of the seemingly banal in search of shared references and an attachment to the familiar. A schmear is a schmear is a schmear, no matter how you slice it, but the familiar orange logo of Zarbars turns it into a religious experience that can be worn and shared.
Our collective obsession with the local, the provincial, and the familiar is not a trend — but rather the value system of a new age. One with a growing boredom toward the online and an awareness of how air travel destroys the planet.