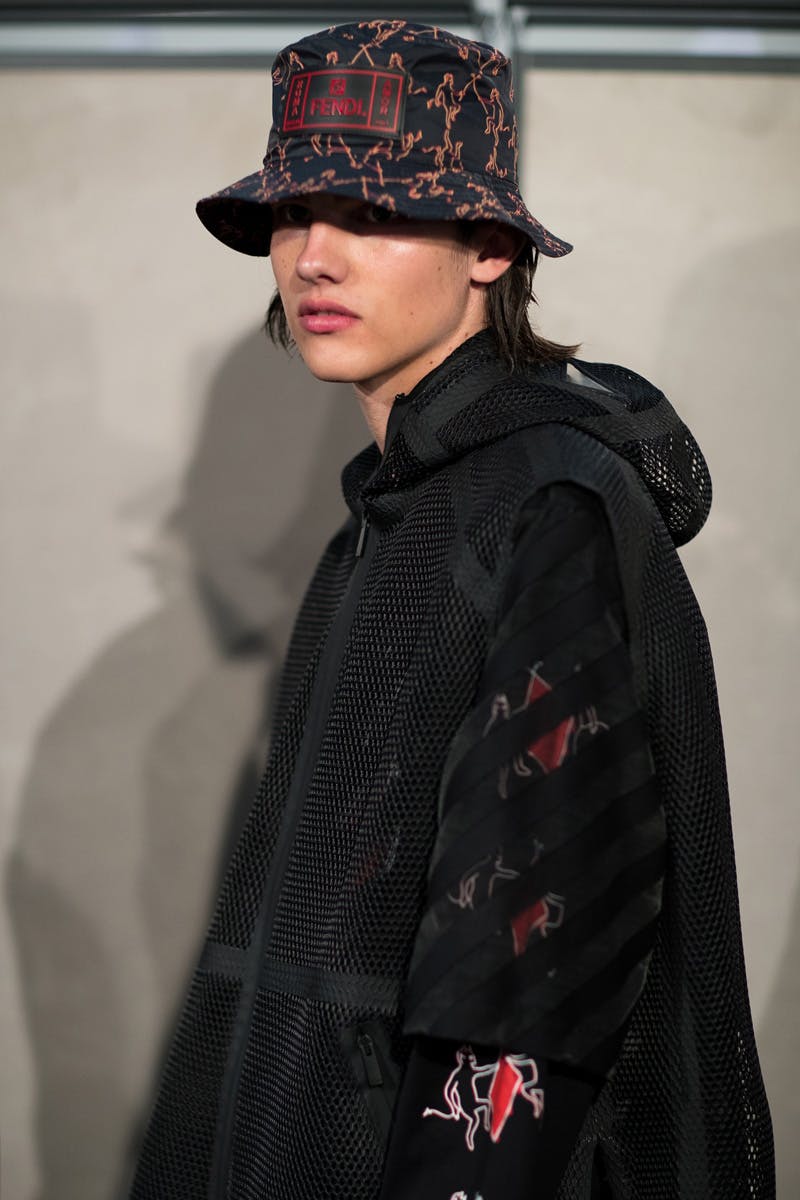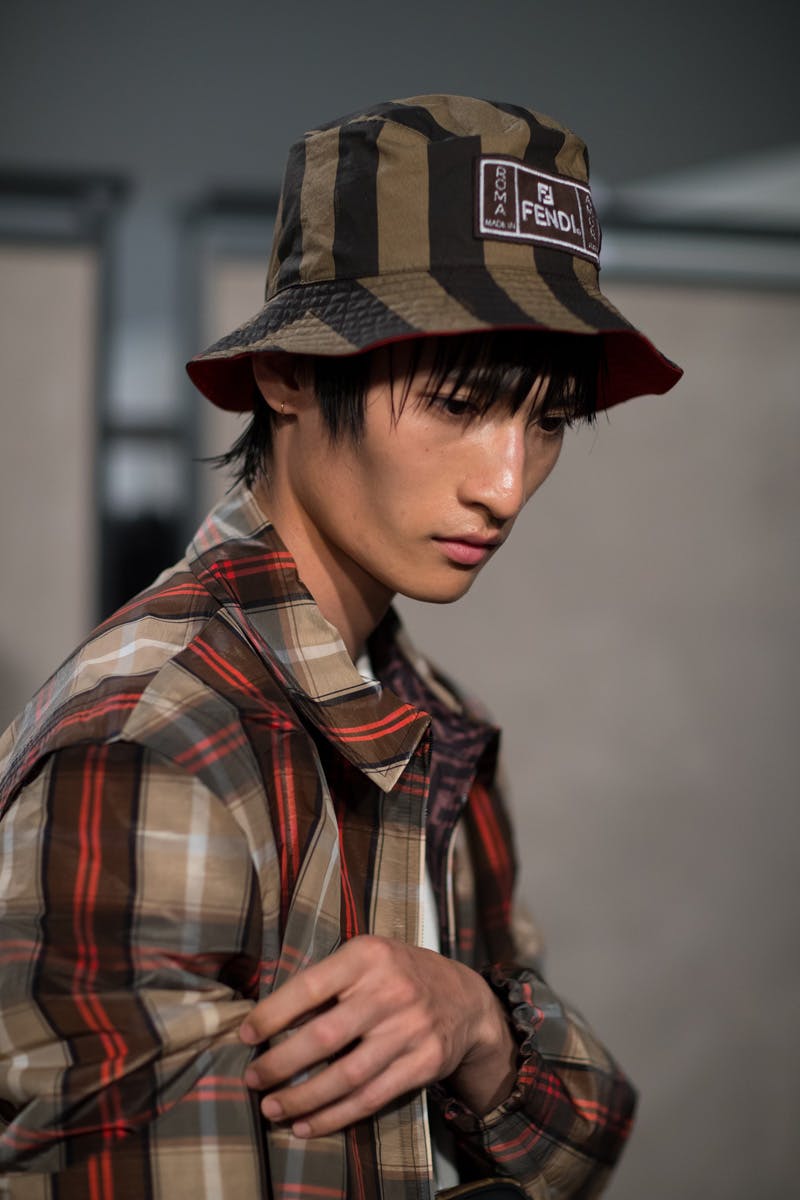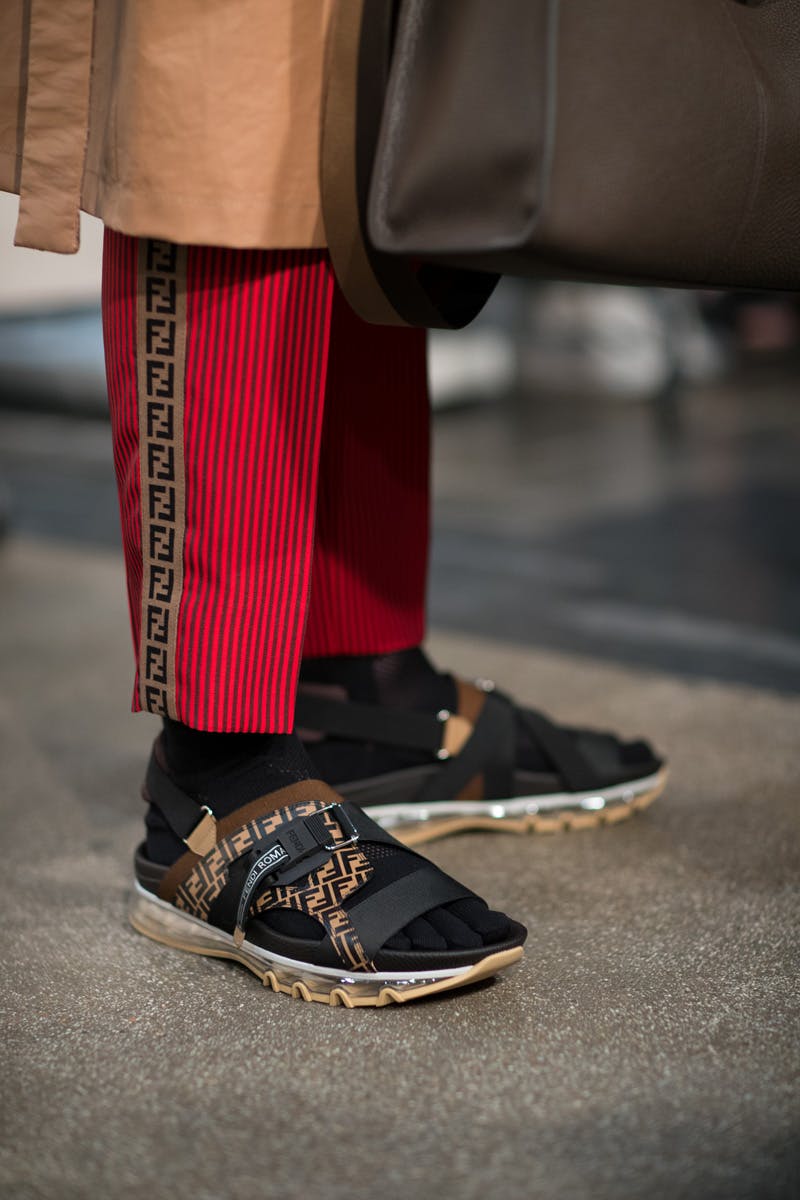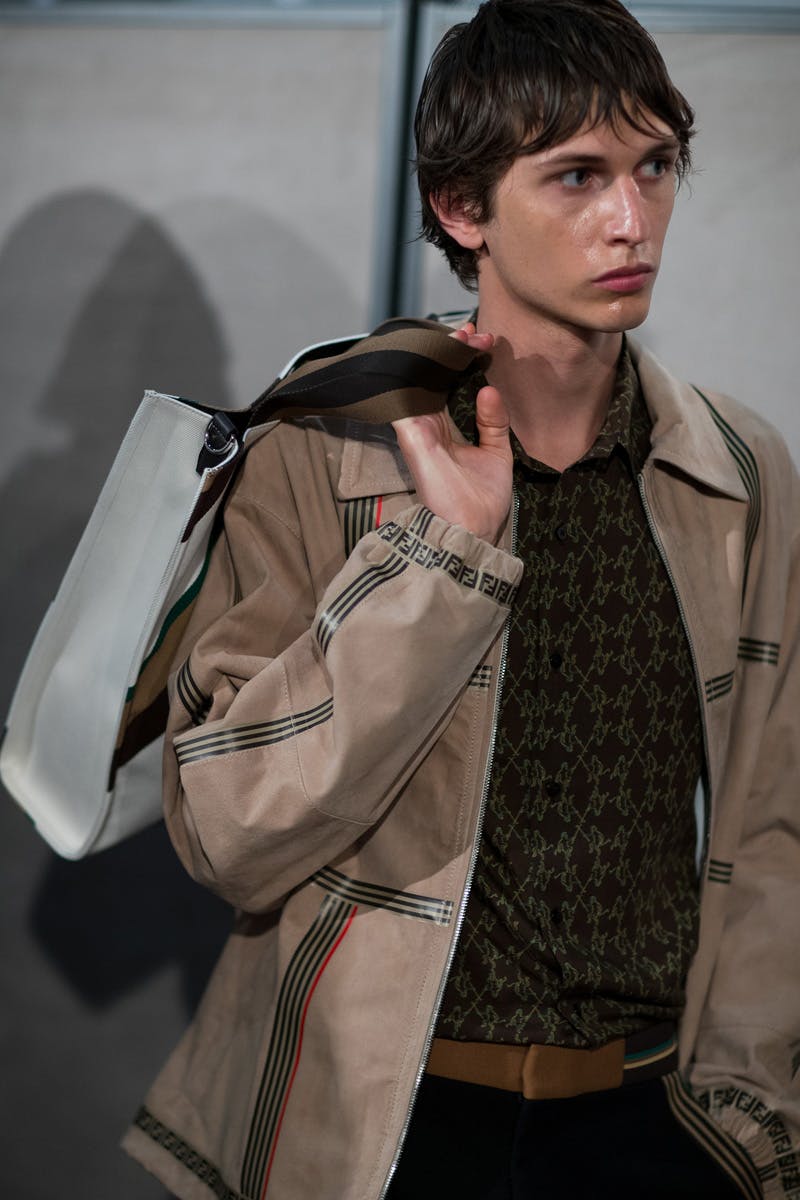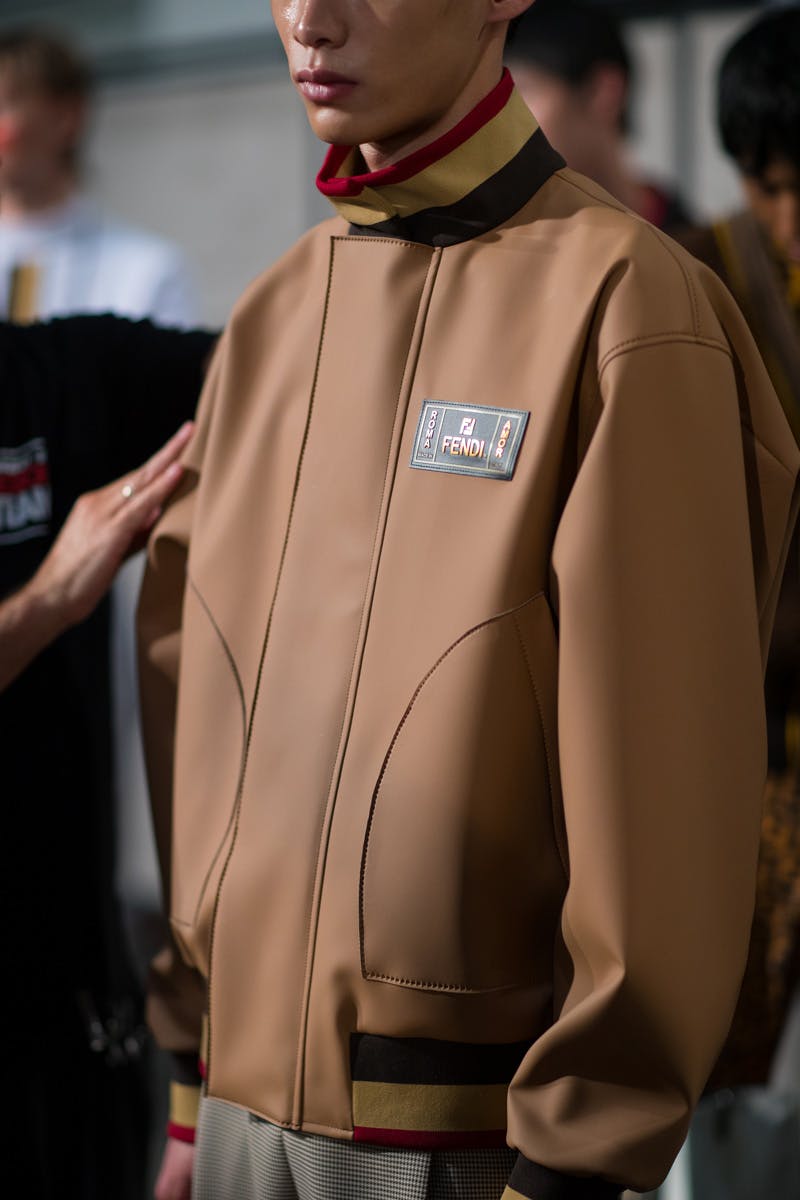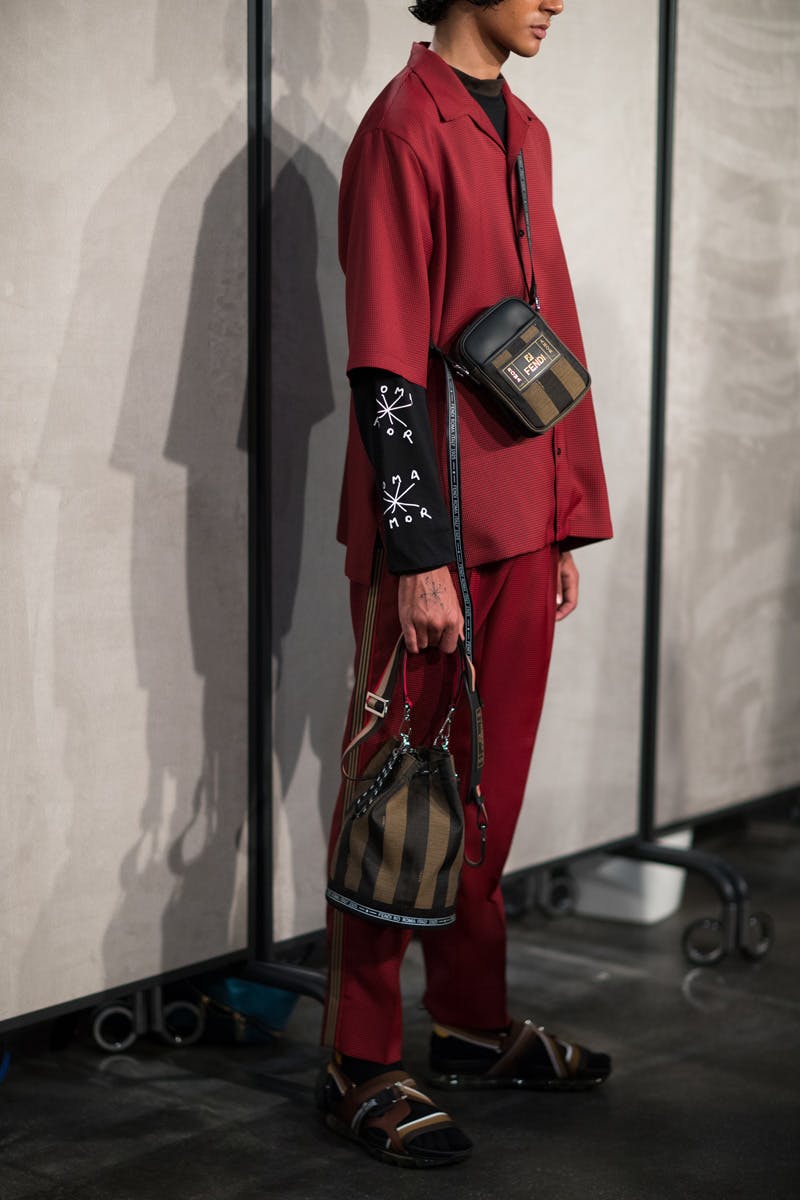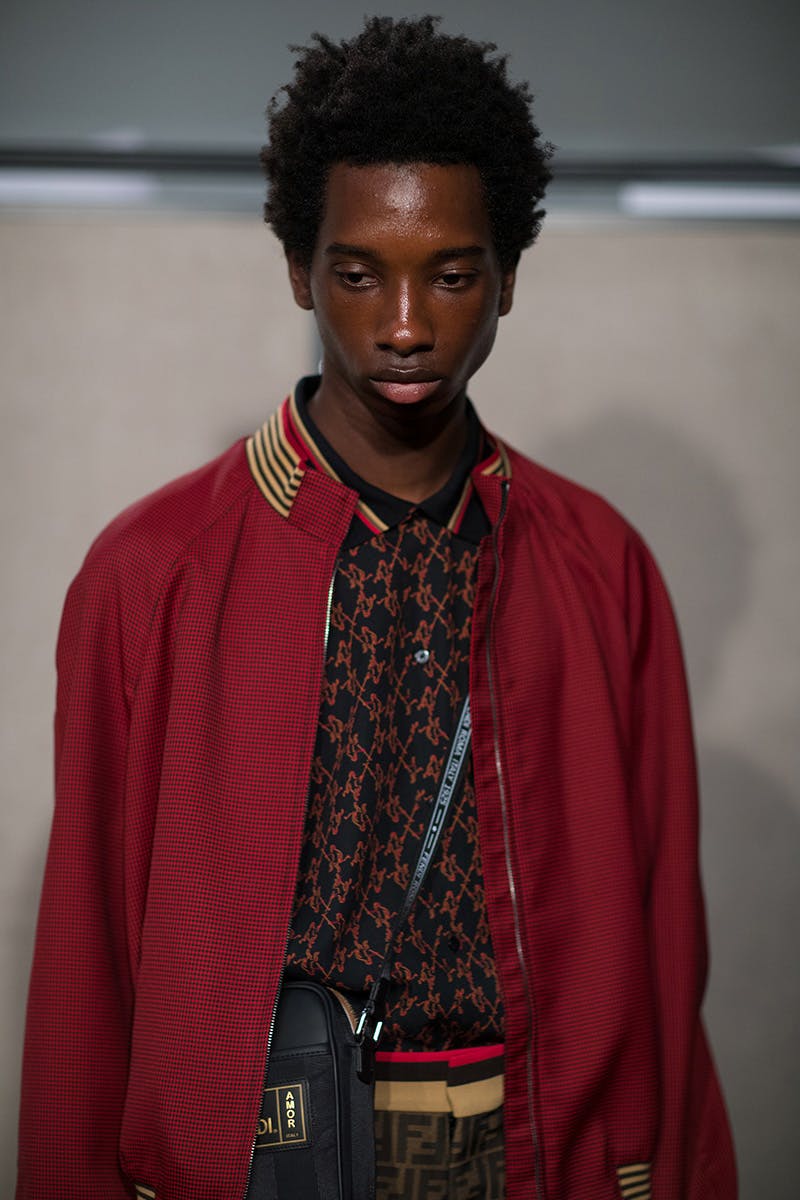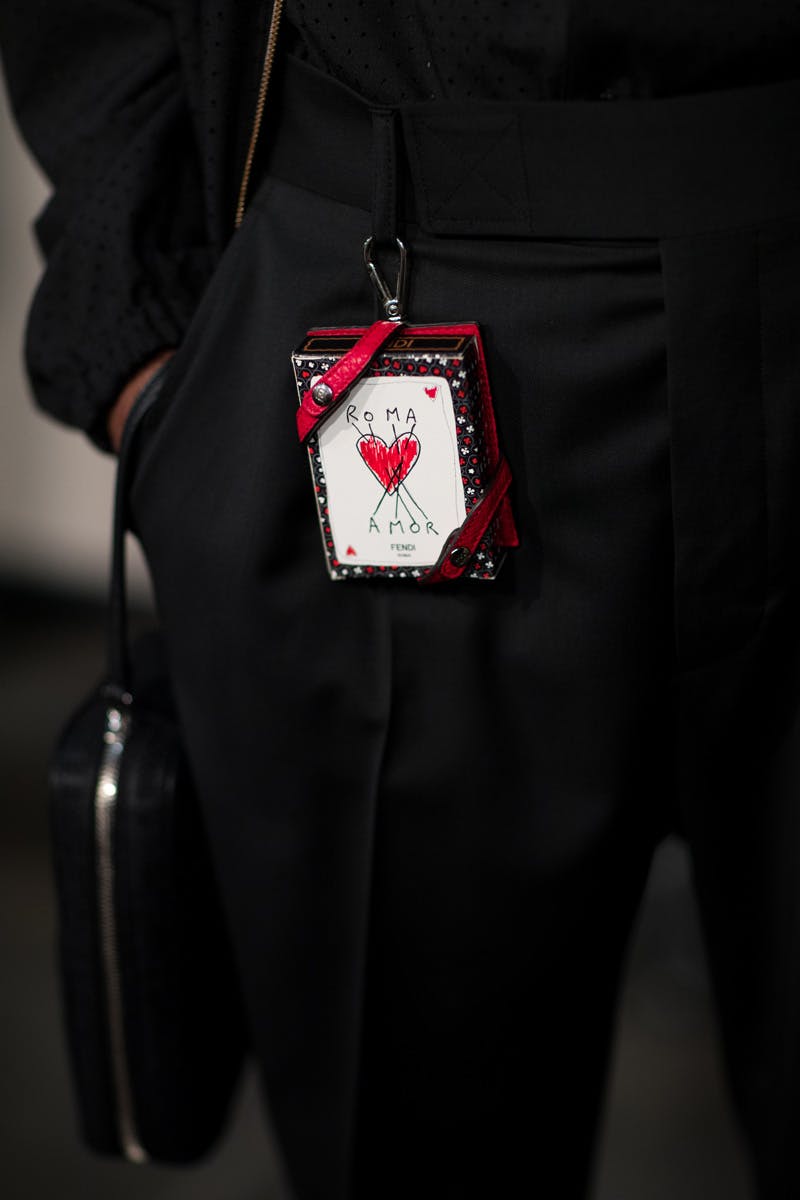 "Fendi is always about duality. Past and future, modernity and tradition" commented Fendi's Silvia Venturini Fendi.
Fendi's SS19 collection saw the luxury Italian fashion house play around with anagrams (FENDI became 'FIEND', and 'ROMA' was rearranged into 'AMOR'), and a collaboration with Nico Vascellari as guest artist. The result was a collection, boasting over 50 different looks, that connected the house's heritage with the current zeitgeist by embracing the differences between traditional luxe fashion and contemporary trends.
The show opened with a tyranny of black/red looks, heavily influenced by streetwear staples of loose pants and bucket hats. The theme of contrast, introduced by the clashing color palette, was to be explored in more detail throughout the collection.
"I was thinking about contrast, and differences, good and bad and how they can meet together. I was merging things that I wouldn't normally put together" said Fendi. She pointed out that this contrast also extended to her challenging choice of fabrics. The anoraks, typically made of nylon or weather-proof materials, were made from paper, making them foldable, and according to Mrs. Fendi, still very durable.
In the same vein as last season, which saw a collaboration with artist @Hey_Reilly, Fendi teamed up with Nico Vascellari for this collection. Vascellari is a performance artist and sculptor whose mythological illustrations could be seen as prints on long-sleeve shirts as well as decorating the show space in neon red lighting. According to Fendi, Vascellari is the epitome of duality — "He embodies this kind of man who is like a demon on stage, but a complete sweetheart when you see him with his children."
Stand out pieces from the collection include finely-meshed jackets and shirts, which offer a completely new texture for Spring/Summer outerwear and propose some interesting ideas for semi-visible layering underneath. Again, as Mrs. Fendi reminds us, this collection is all about thinking with opposites in mind — "the dark fabrics are perforated, so light comes in through the darkness".
Compared to FW18 (a collection that leaned in to the hype of logomania), this season's use of branding is more subtle. However, the iconic Fendi monogram could still be seen printed on pants, hats and accessories, albeit not as loud as we've seen before.
Fendi reminded us the importance of finding joy in one's work, especially in an industry as demanding as fashion. "You have to, otherwise you get depressed." Individually-toed socks had the FENDI/FIEND spelled out across them which, no doubt, were designed to be worn with the athletic-looking sandals that also made their debut on the runway.
Prints depicted Karl Lagerfeld (Fendi's creative director for womenswear) rendered as a joker, Sivlia Venturini Fendi as a queen, and the Fendi monster itself was illustrated as king. These references to playing cards and characters also related back to the red/black theme at the beginning of the show. "In life you always have to play some sort of role" mused Fendi.
SS19, with its luxurious fabrics and finely-cut shirts, will certainly appeal to the classic Fendi customer, but is likely to also ensnare some new fans from streetwear circles with its ironic graphics, bold style details and choice use of wordplay.
"Rome is a city of contrasts, with sinners and saints that have co-existed to make the history of the city. As a Roman brand that is nearly 100 years old, these juxtapositions are a part of Fendi's DNA."