In our latest video series with Braun, we present seven style experts from seven dynamic cities, each with a unique voice and perspective on fashion. With years of industry experience, their networks are vast, and they each introduce us to three inspiring men from different age and professional groups who represent their city's style.
Braun is encouraging individuals to let their style out; its new shaver range lets men define their grooming look, and the brand is inspiring them to do the same with their personal style. Together with Braun we've selected fashion insiders to share their knowledge and help people achieve their style goals.
After meeting Mathieu Vilasco in Paris, we met London-based photographer Jonathan Daniel Pryce, better known as GarconJon. Pryce has found his niche in menswear specializing in fashion photography and portraiture. Before introducing us to three inspiring London fashion representatives, we got the chance to ask GarconJon about his career and thoughts on personal style. Read the interview below and check out the video at the top of the page.
Talk us through your interest in photography?
It began when I was so young that I've seen in images for as long as I can remember. My parents had a lot of photography books, and as a child, I would go into the cupboard and look through them. It's interesting to think how that has impacted the way I view images now. My mom used to do photography semi-professionally as well and seeing her developing film or in the dark room means photography has always been a part of my life.
I love meeting and engaging with people, finding out their story. That's a big part of photography, you get to approach people in a unique way and the camera is like a passport into their life. People open up in ways that wouldn't be possible without the camera.
Can you remember a time a subject really impacted you? What did you take away from shooting them?
The responses are the best thing about shooting real people on the street. Models are used to being photographed and it isn't exciting to them. Real people will say they didn't know they could look good in a photograph or they've never seen a picture that reflects the way they see themselves. Someone I shot for my 100 Beards project in Greenwich contacted me after showing the photograph to his mom who was close to passing away, when he showed her the photograph it was the last time she smiled at him. Hearing stories like that is so beautiful.
Why London and not somewhere else?
I grew up in the Scottish countryside, Glasgow was the closest city and also the biggest city in Scotland. I remember going there as a teenager and thinking it was huge; I'm really happy it's where I first discovered urban life.
When developing my career I knew I couldn't stay there because there's little money and there are few clients. I visited London as often as possible to get to know people and become familiar; things were changing quickly and it was an exciting time to be in East London. When I moved I hit the ground running, it's still a really exciting place to be; there's so much energy. It's also so well connected to the rest of the world. I'm grateful that I'm from Scotland, it's such a close second home; it has so much green space and it's lovely to visit, breath clean air and enjoy the open space, it really recalibrates the brain.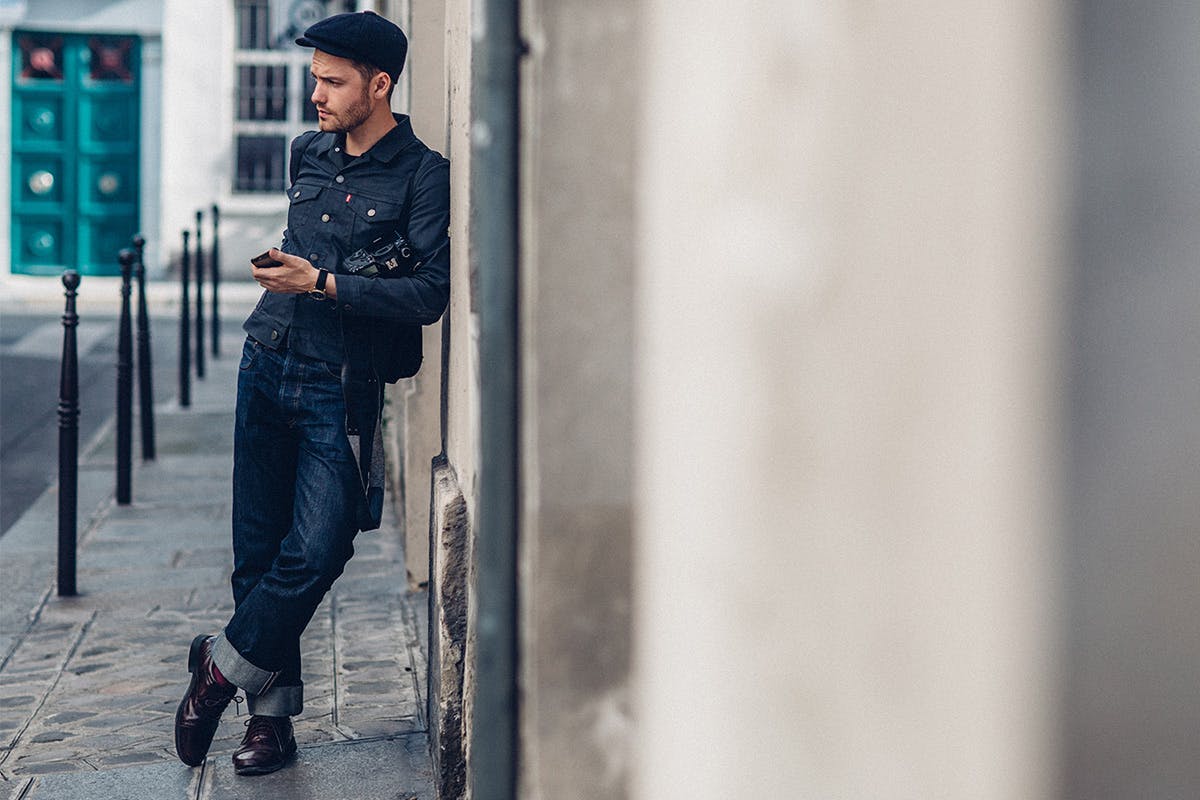 How does London influence your personal style?
Style is about being true to yourself; it's an authentic part of your personality represented in the way you dress or carry yourself. London's weather influences my style, it's an overcast place and so you need to dress appropriately. I dress very practically, and that goes hand in hand with my job; I go face to face with the elements, and I think people would describe my style as typically British.
Braun typically takes a functionalist approach to design, how do your style choices balance function and form?
Balancing function and form is important to the way I dress because everything is about being functional as a photographer but I also want to look good. For example, I need hardy denim that's not going to tear when shooting on my knees. I really love '30s and '40s workwear, it feels true; people wore clothes appropriate for the job they did and with obvious practicality.
What's your most treasured item of clothing?
A ring that my great grandfather used to wear, it's lovely to have a piece of my family history held close to me at all times.
The Undergrad
Name: Mikko Puttonen Age: 22 Profession: Fashion blogger and photographer
Mikko's style is classic with a contemporary twist. He wears mostly black, white and gray but enjoys adding pops of color.
The Young Professional
Name: Eshan Kali Age: 28 Profession: Model and menswear blogger
Eshan's style is versatile, he easily transitions from wearing contemporary sportswear to dressing like a modern Dandy. A good pair of shoes and the right hat are essential whatever the look.
The Executive
Name: Richard Jeal Age: 37 Profession: Founder of Form&Thread
Richard's look is casual, understated and clean. He favors classic brands that don't pander to seasonal trends and reflect his overall dress sense. "London fashion has always been very experimental, but simplicity and minimalism are becoming more prominent now. I'd say I represented an element of that," he explained.