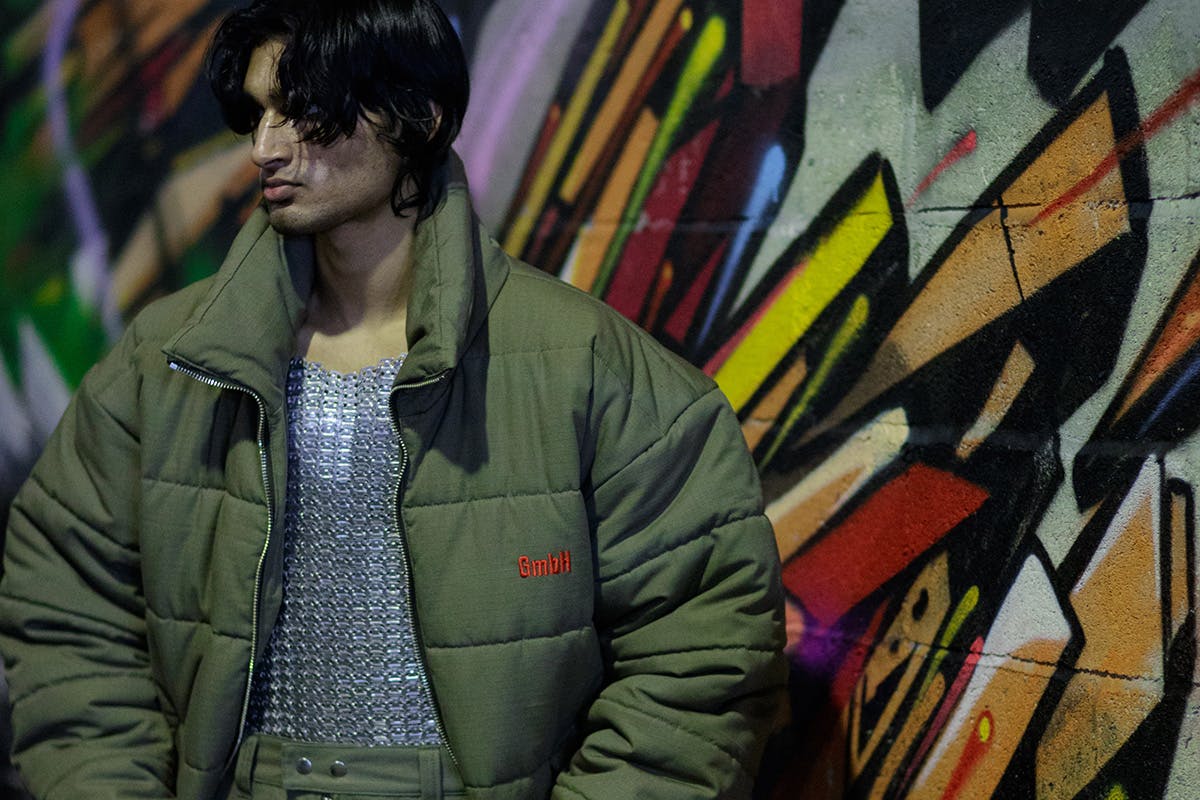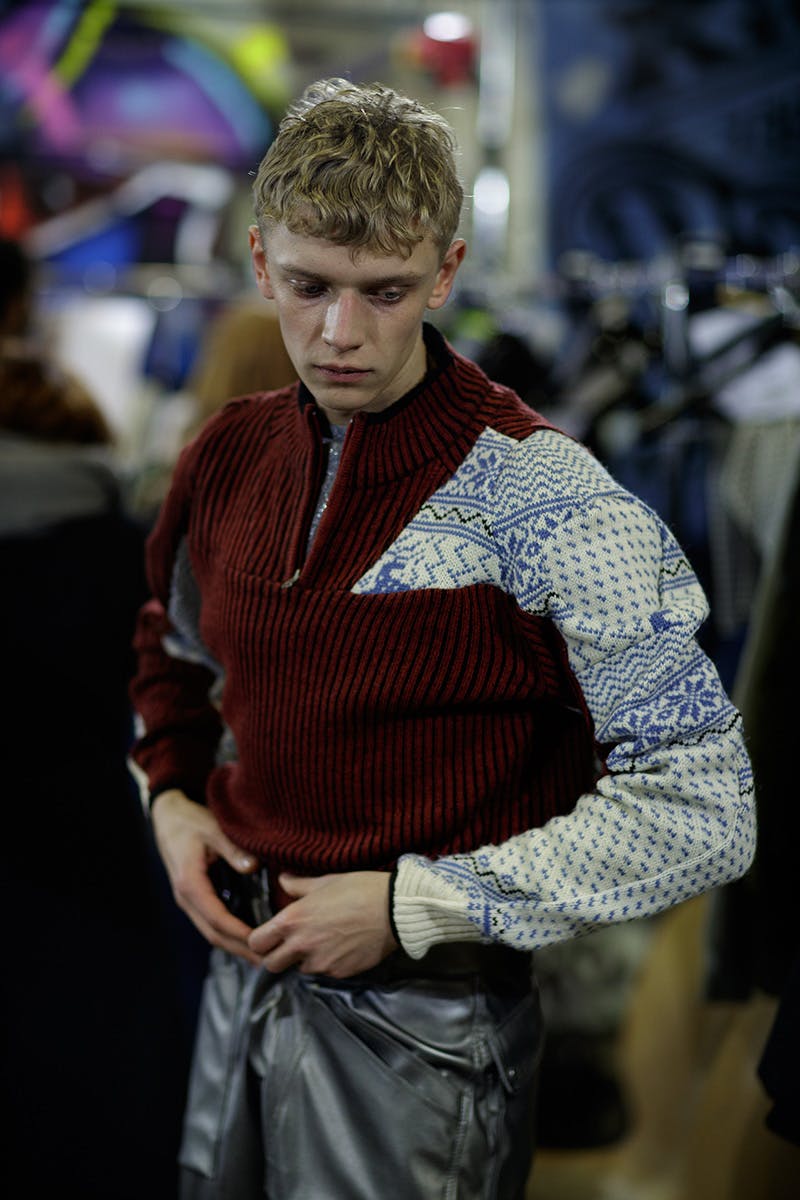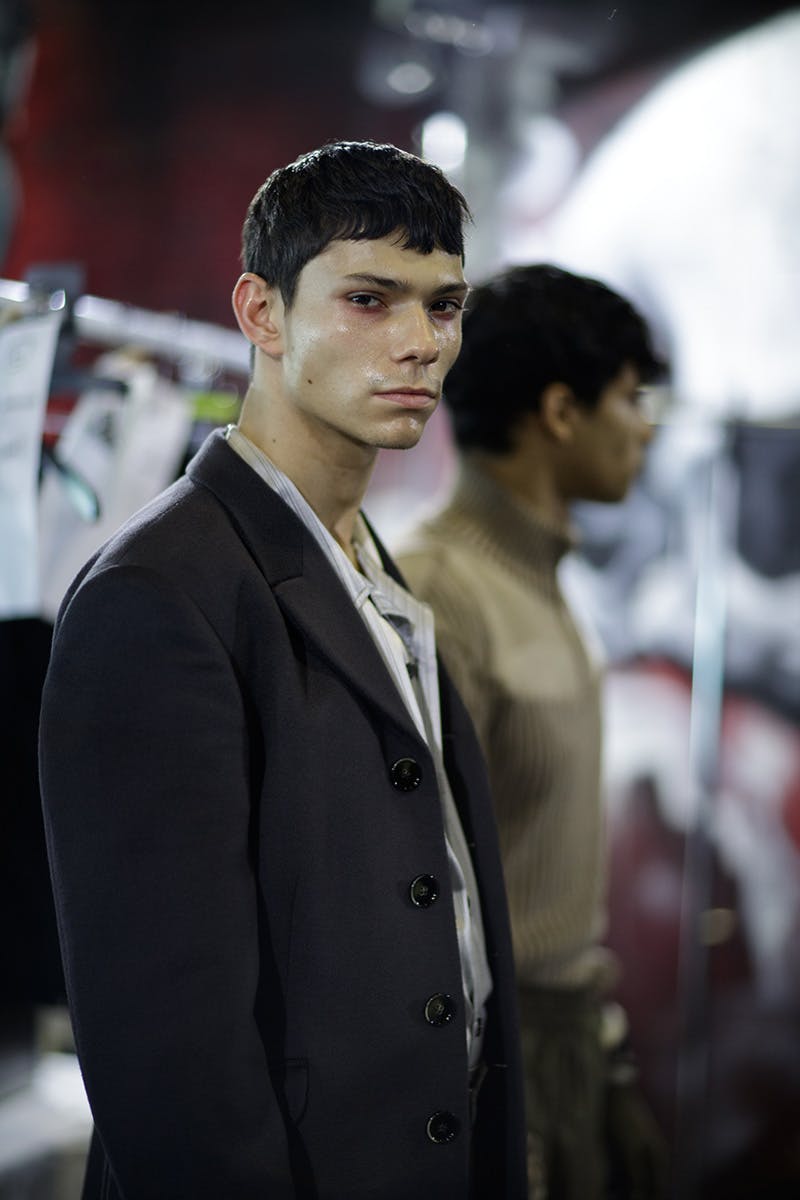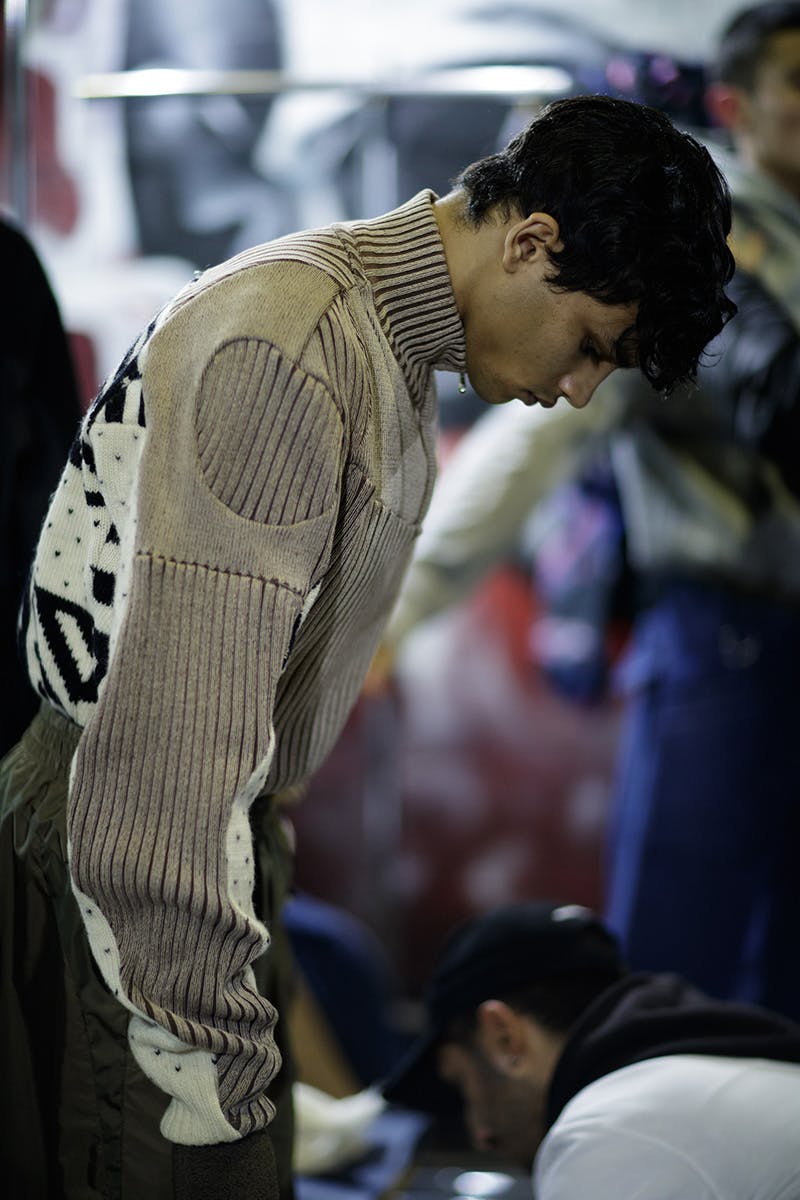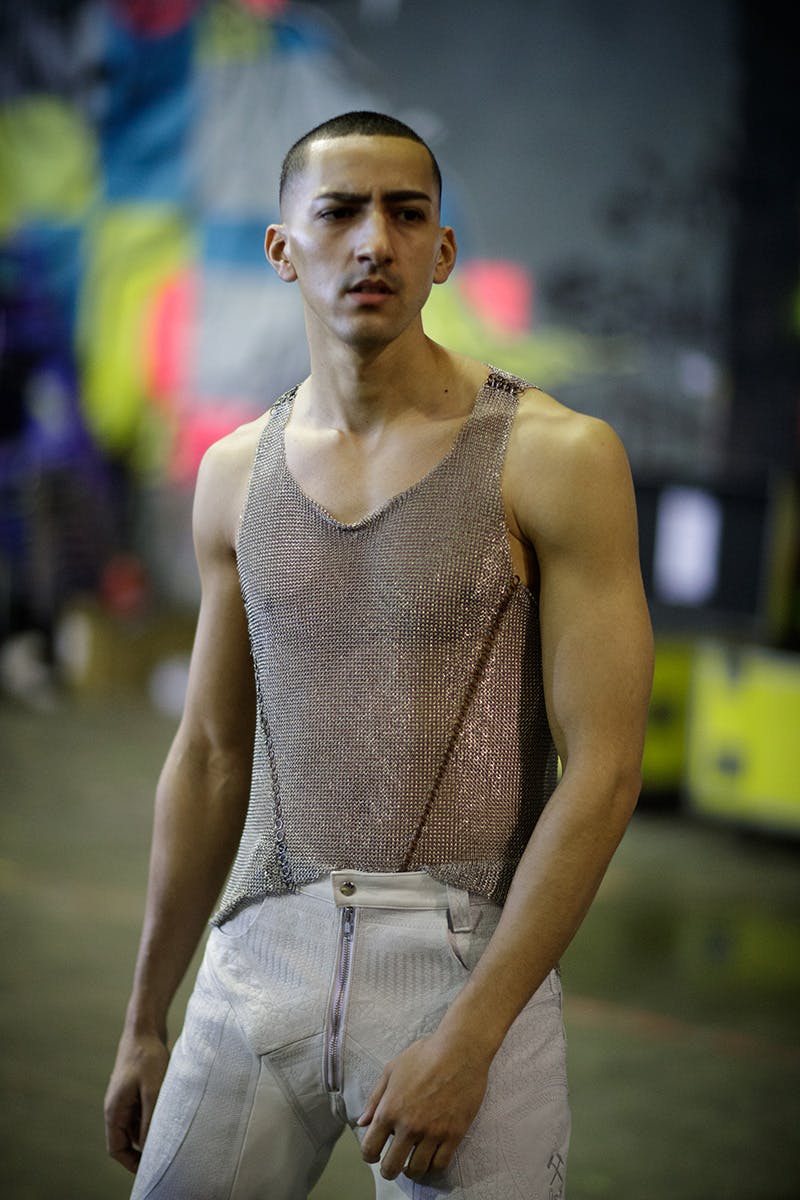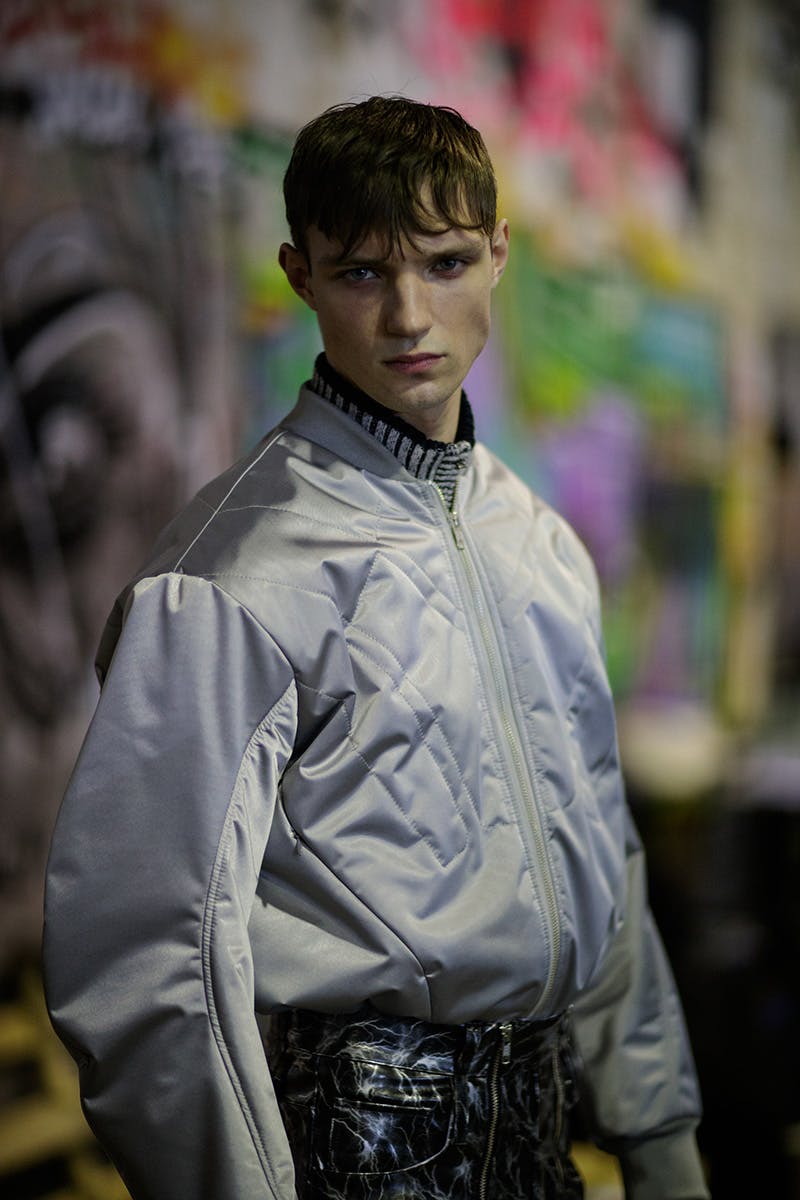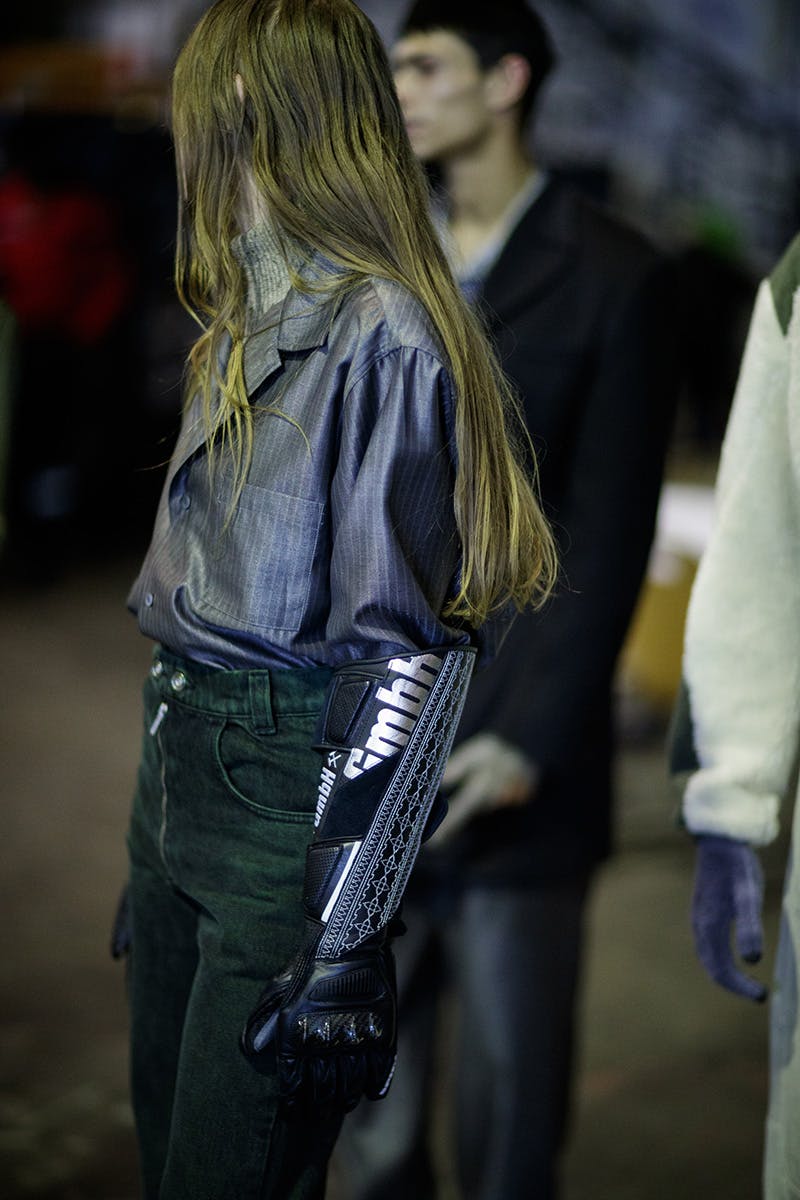 "It's very protective of the body. It's like chain mail, it's an armor," commented GmbH designers Serhat Isik and Benjamin Alexander Huseby after their show on a freezing, windswept railway yard on the outskirts of Paris. Isik and Huseby, born of immigrant families in Germany and now based in Berlin, were thinking of their upbringing when they piled layers of heavy-duty, protective clothing into their FW18 show. "It's the dominant feeling growing up as 'the other.' You always have to convince people of your power, your strength and confidence."
For GmbH, strength and confidence came from their silhouette — heavy on the legs and shoulders, but sexed-up with a tight waist. It came from the fabrics they used — heavy-duty leather, PVC and nordic knits — and from the garments themselves. Motorcross gear, Turkish wrestling trousers and padded-out hoodies were all part of their FW18 wardrobe, which even included modern fabrications of chain mail, albeit done in "a clubby way."
Backstage, Isik and Huseby mused about the dark state of the world, the struggle of migrant families and the aspirations of people searching for a better life. Isik described how the collection's suiting also harked back to the brand's migrant roots, when their first-generation parents and grandparents would aspire to out-dress their European neighbors. "It's about proving your beauty," he said.
When GmbH burst onto the scene a few seasons ago, it was easy for the fashion press to hype them up as a collective of fashion-ravers. It's an obvious comparison, given Berlin's reputation for hedonism, and the parallels running between GmbH's clothing and the uniform of the city's party kids, but there's a much more poignant narrative underneath the PVC pants and skin-tight tops.
Despite the show's soundtrack, location and aesthetic, perhaps the most uneasy part of GmbH FW18 was the invite itself. The brand mocked up a German court order — the sort of thing you open only to find yourself staring down the barrel of criminal charges. "We started thinking of the time we're living in. It feels like a modern dark ages."