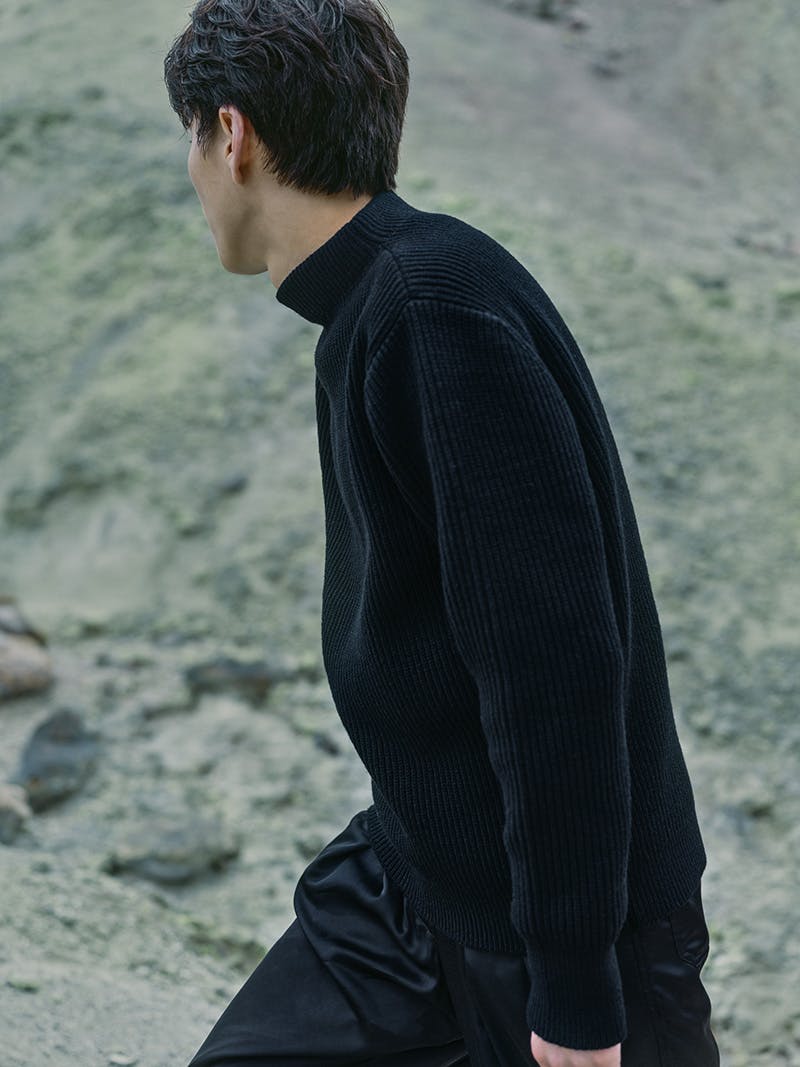 It was last year when The North Face's Japanese distributor Goldwin teamed up with biotech start-up Spiber for a conceptual capsule of 50 Moon Parkas that were developed using synthetic spider silk. Now, the pair are back at it.
The Sweater is the world's first sweater to be knitted with wool and an innovative fabric produced through microbial fermentation. Or, in layman's terms, it's a sweater that — with the help of mysterious technology — is partly composed of a petrochemical and animal product-free fabric. It's grown in a factory, but not necessarily synthetic. Rather, it's a byproduct of microbes, and a world first.
Goldwin describes the Brewed Protein found in The Sweater as "a biopolymer whose plant-based microbial fermentation process makes it well-positioned to deliver significant contributions to animal — and plastic-free initiatives — in a range of fields and industries." The research and development came about as they bid to mimic natural spider silk properties (did you know a pencil-thick spider's silk thread is capable of stopping a Boeing-747 in full flight?)
Goldwin and Spiber say The Sweater is a milestone moment in their shared mission to bring innovative, biobased and biodegradable solutions to the wider market. It's their hope that such projects could eventually lead to the industry using fewer nasty materials such as polyester, nylon, and other synthetics.
It's all welcome, admirable stuff but in no way a silver bullet for fashion's sustainability issues which remain more deep-rooted.
"Mankind has continued to evolve the sweater via the use of technology and knowledge throughout history and it is now essential winter wear," says Takao Watanabe, Goldwin's Head of Development.
"The sweater has remained loved by many and its design has also remained largely unchanged since the original sweater first came into existence. The reason why it has played such a big role in the cultures and histories of people all over the world is due to the diverse and versatile animal fibers and the sweater knits that use these to their full potential. The Sweater was devised while probing the origins of the supposed original form of these sweaters and what of this will persist into the future."
The Sweater has been produced in highly limited countries. It is priced at $800 and can only be purchased upon being chosen from an online lottery system. People from 11 countries (Japan, US, Germany, Denmark, France, Italy, Portugal, Spain, UK, Sweden, and the Netherlands) may enter, with winners selected at random on November 30. You can find out more here.