Highsnobiety / Edward Chiu
This story is taken from Issue 17 of Highsnobiety magazine. You can buy the new issue here.
Italian shoemaker Guidi melds centuries of artisanal tradition with a modern-minded approach and aesthetic. That's why the footwear company has become a go-to for the fashion world's extremely well-heeled cognoscenti season after season.
Pescia, Italy is a small, picturesque town tucked away amid the rolling, sunburned Tuscan hills, with their neat tomato gardens and cypress trees that look like benevolent sentinels. It brings to mind a rustic idyll that any tourist might dream up: family-owned restaurants in old stucco buildings serving mind-blowing pasta, medieval walled towns, small farms littering the countryside — a seductively simple alternative to frenetic city life.
Tuscany certainly does have all that, but it's also home to some of the best artisans in fashion today and especially famous for its leather-working expertise. One of the companies to have thrived here in Pescia is Guidi, a leather tannery that has been making its own shoes since 2004. In the years since the company introduced its washed, soft-looking footwear and accessories, Guidi has become a staple for fashion's avant-garde. Go to any independent boutique catering to those customers who wouldn't be caught dead in a department store, whether it's Atelier in New York, L'Eclaireur in Paris, or Anchoret in Beijing, and you're bound to find Guidi among its selection.
The company's full name is Guidi 1896 S.r.l. The "1896" represents the year it started tanning leather. Today, it's still a family business, run by Ruggero Guidi, whom everyone refers to simply as "Mr. Guidi." The tannery has supplied leather to fashion houses such as Prada, Maison Margiela, and Rick Owens, and has always thrived in its leather-making capacity. But Mr. Guidi also made a hobby of collecting old worker's shoes and hiking boots. He was fascinated by the historical aspect of the shoemaking process, the craftsmanship it required, its handmade nature. At some point he had the idea to recreate the shoes, to give them new life and a new home. He began his experiments around 2003, showing them to Alessia Righi Amante, who at the time had just quit working for the cult label Carpe Diem, one of Guidi's clients, and was running a small showroom in Paris. Mr. Guidi, who was into making the shoes but not really into selling them, asked Righi Amante to help him out.
"I liked the shoes, but they looked too new, like something people would wear to church on Sunday," says Righi Amante during our conversation at the Guidi offices in Pescia. We're sitting in a room in which the painstakingly restored medieval frescos on the ceiling are lit by ultra-modern Flos lighting. A sign commemorating a 1531 visit by the Pope leaves no doubt as to the history of the place. It all seems a little surreal yet somehow fitting.
Back when Righi Amante worked for the brand, Carpe Diem was all about distressing, washing, burying, and doing whatever else to its garments to make them look worn-in. Righi Amante advised Mr. Guidi to throw the shoes into one of the tanning drums, which can also be filled with water. The shoes came out wonderfully distressed, although damaged in places. Nevertheless, the discerning buyers at luxury boutiques such as Maxfield and L'Eclaireur loved the way they looked and insisted on stocking them. That gave Righi Amante another idea: to dye the shoes in the drums instead of just washing them. By then, Mr. Guidi had asked her to come onboard to take care of sales full-time. By 2007, Amante was presenting Guidi at a dedicated showroom in Paris.
The secret sauce of the Guidi aesthetic is a method known as "object-dyeing." It makes the shoes look and feel soft, and it renders the entire shoe the same color. This is subtle but important. Look at most shoes carefully and you'll see a color mismatch between the upper and the sole. This is because the upper and the soles are usually made at different facilities before the shoe is put together, and the leather is already dyed. By contrast, at the assembly stage, all Guidi shoes are either the natural brown of oil-tanned leather or the lighter, off-white tone of vegetable-tanned leather. Each pair is dyed after assembly as a fully formed object — hence the term "object-dyeing." This process allows the company to work on an unprecedented array of colors without losing its aesthetic signature.
"I liked the shoes, but they looked too new, like something people would wear to church on Sunday."

Righi Amante
Besides dyeing, Guidi's main trade secret, like with every shoemaker, is its lasts — the molds that give each shoe model its particular shape. The Guidi shoemaking process is hyperlocal. Each pair of footwear starts out at the company's main facility, where the raw hides go through the tanning process in vast spinning drums. The hides are then moved to a footwear factory a 10-minute drive away, where they're turned into shoes. After that, the assembled footwear is returned to the tannery to be dyed.
Guidi doesn't own its footwear-making factory but is its only client. The factory is owned by Paolo Rugiati, and like many Italian businesses, it's been in his family for several generations. His father and Mr. Guidi's father were friends. Before Guidi, his company made hiking and mountaineering boots.
"These kinds of traditional, regular shoes are hard to make in Italy now because of competition from places like China and Vietnam," Rugiati says. "All the low- and medium-level factories in Italy have closed and we've lost many jobs. So now we concentrate on making high-end products."
In his early 50s, Rugiati is fit and unassumingly dressed. He prefers fishing to fashion, and when asked if he thinks Guidi shoes look strange, he laughs affirmatively. On the floor of his two-room factory, Rugiati performs the most intricate step in the shoemaking process, cutting the shoe uppers by hand.
"Cutting is my favorite part of the process," says Rugiati, who started learning the shoemaking process from his father when he was 15 years old. "You really have to know how each type of leather behaves."
I watch as he places a tanned horse skin on a cutting table, puts the paper pattern on top of it, and with several assured motions, cuts out the entire one-piece upper with a special knife. It takes him about 30 seconds. He uses the rest of the skin to cut the lining. After that, the components pass through about a dozen pairs of hands, each artisan participating in several steps, some working entirely by hand and others machine-assisted. I watch as they hammer, sand, mold, glue, and stitch, their hands defined by years of shoemaking work, the two-dimensional piece of leather slowly becoming a three-dimensional boot. The process of constructing a pair of Guidi's PL2 front-zip boot takes about two hours.
"Cutting is my favorite part of the process. You really have to know how each type of leather behaves."

Rugiati
Guidi uses a Goodyear welt, a method by which the shoe upper is joined to the sole via an additional strip of material (the welt) using heat-activated glue and industrial-strength stitching. A cavity between the insole and outsole is filled with cork, with the net effect being a waterproof sole. When properly cared for, the shoes can last for decades, and the process of stitching the sole to the welt rather than directly into the upper makes Goodyear-welted soles easier to replace.
Another subtle but important detail that gives a Guidi shoe its particular look is the stacked leather heel, one of only a few components Guidi outsources to a specialist. The heel is made of thick pieces of leather stacked together and then glued and nailed through. To cut corners, many shoemakers have done away with this traditional process, or use plastic or pressed leather scraps instead of real leather — think IKEA making furniture out of plywood rather than real wood.
Highsnobiety / Edward Chiu
Once the boots are assembled, the last step is to carefully sand down the raw outer edges of the sole and strip away any glue spots. Now they're ready to go back to the tannery.
Guidi is something of an accidental unicorn among artisanal brands. Shoemaking started out as a passion project, but it now surpasses the tannery part of the business. And while the rise of streetwear has many such brands on the defensive, Guidi is doing extremely well. It's one of the few companies that has stayed true to its aesthetic principles, refusing to bow to trends.
A significant part of Guidi's growth is due to its popularity in China. It's difficult to explain quite why Guidi rather than some other artisanal brand has achieved cult status among Chinese consumers.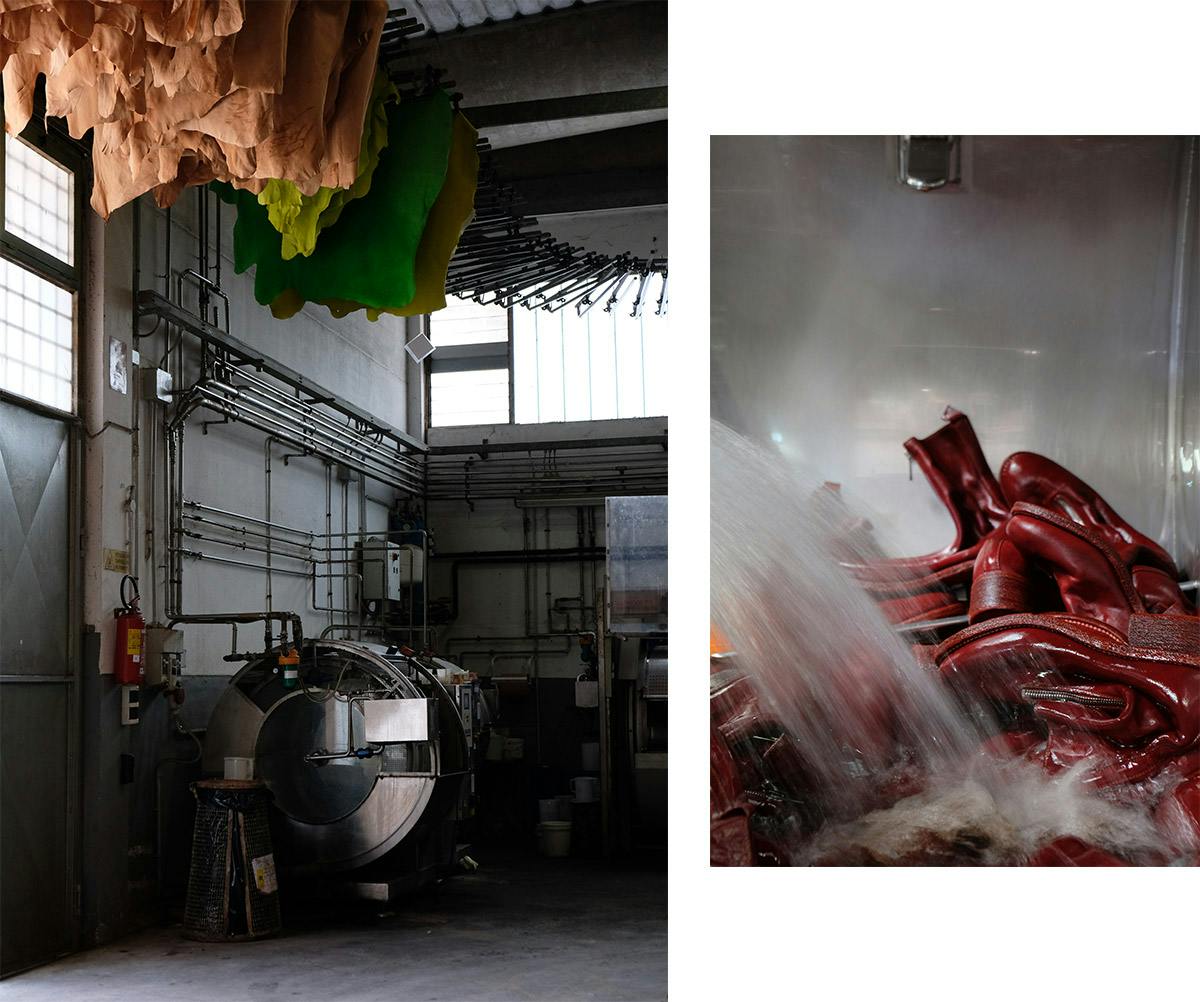 "At some point, several years ago, Chinese movie stars and musicians started wearing Guidi, as they were becoming more conscious of the fashion avant-garde," says Lu Han, owner of Atelier New York, which currently stocks 1,500 pairs of Guidi footwear. "Before, Chinese celebrities were into your usual Chanel and Dior, but now they're becoming more discerning, and their fans are following their lead." Han points out other factors that have contributed to Guidi's popularity, such as the brand's use of horse leather — a novelty to Chinese customers — the unconventional look of its shoes, and the shoes' relative comfort.
Pita Cheng, owner of Hong Kong boutique INK, concurs: "We were the first to carry Guidi in China in 2010 and our first order was just nine pairs of men's shoes. But around 2013, more and more female customers started asking for it, including famous Chinese tastemakers." INK has ordered 2,500 pairs of Guidi footwear for Fall/Winter 2018 to satisfy in-store demand.
Guidi's relative scarcity has spawned a healthy resale business in China and an entire industry of fake products. Each pair of authentic Guidi shoes now comes with a QR code that confirms the product's origins via authentication platform Certilogo. But success is both welcome and a worry for the brand.
"I'm glad people are buying our shoes, but I hope they buy them for the right reasons," says Righi Amante, who is concerned about the average customer treating Guidi merely as another fashion product to be consumed and discarded according to trends. "We want them to know about the artisanal process, about the craftsmanship."
In its first years as a shoemaker, most of Guidi's market for footwear was men, who gravitated to its understated, lived-in style. Today, however, the demographics have flipped. Around 80 percent of Guidi customers are now women, which helps to answer one question I had for Righi Amante: Why is Guidi in no rush to make sneakers when sneakers comprise the lion's share of the men's footwear market?
"I'm glad people are buying our shoes, but I hope they buy them for the right reasons. We want them to know about the artisanal process, about the craftsmanship."

Righi Amante
"It's not a statement," Righi Amante answers. "It's just that we're adamant about keeping the artisanal way of production, so we haven't found a way to make sneakers the way we want. A collaboration of some sort would make more sense."
The freshly constructed shoes are now back at the tannery. The tannery itself is a large one-story building. All the shoes are dyed in a machine that looks like a huge, stripped-out washing machine whose drum has been rotated 90 degrees. The dyeing is done by a single operator, Mr. Giacomo, who also mixes all the colors, tests them, and comes up with new ones. Only one color can be applied at a time. I watch as Mr. Giacomo fills the drum with water, pours in the premixed dye, and lets the drum spin for a while. One by one, he drops in 25 pairs of PL2s. The dyeing process takes approximately 40 minutes. If the dye doesn't take correctly, the boots go back for another 40-minute session. The process — the color-mixing in particular — is a mix of art and science.
"Black is the hardest color to get right," Mr. Giacomo says. "And different leather types take the dye differently."
As the boots are dyed, that crisp, new-leather smell you get when you open a box of Guidi shoes permeates the air. Stacks upon stacks of raw hides and tanned skins fill the vast floor. In another drum, crocodile leather is being tanned.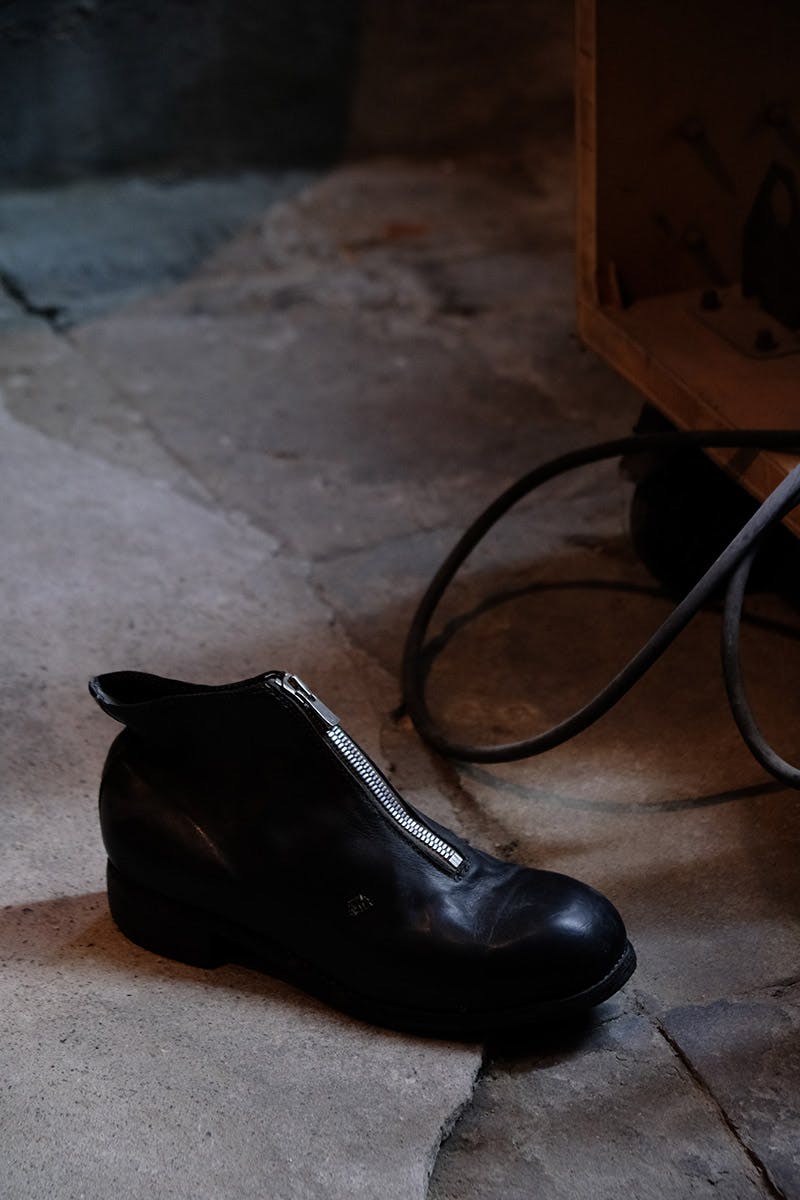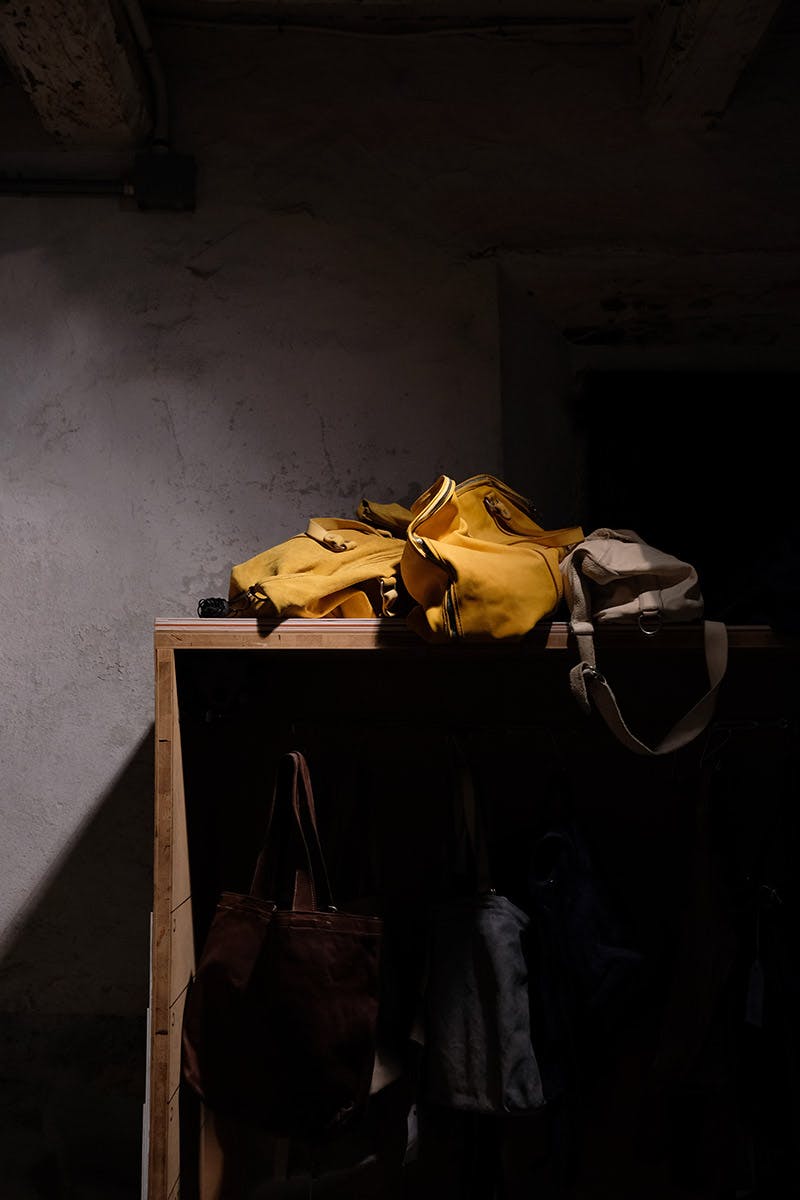 Highsnobiety / Edward Chiu
"Usually, crocodile is tanned only with chrome, which makes it shiny," says Guidi communications manager Michele La Verde. "I think we're the only company that tans crocodile leather with a mix of tan and chrome, giving the leather a matte effect."
After the shoes are dyed, they go to an adjacent building for drying, quality control, packing, and shipping. When I enter, hundreds of pairs of shoes are drying — black, white, dark red, and a stunning hue that's either grayish blue or bluish gray. Several workers are busy stuffing the shoes with paper before hanging them to dry. On average, it takes a week for a shoe to air-dry. They're then moved to another station for examination and packing according to store orders.
Besides overseeing sales, Righi Amante is charged with developing the creative side of the brand. Guidi eschews traditional marketing. Its Instagram account is @guidi_community, where other people's Guidi pictures are reposted, emphasizing the customers' connection to the brand rather than tailoring its marketing message through self-styled imagery. Through its "Art for Art's Sake" program, Guidi has also supported a number of young artists.
At the time of my visit, Righi Amante is in the middle of preparing the new installation for Guidi's Paris showroom, taking me to a metalworking shop to see its progress. Her idea is to make a small "bamboo" grove made from blackened steel. Pieces of footwear from Guidi's extensive archive are to be impaled on each stem.
A month and a half later, Righi Amante's vision comes to fruition at Guidi's showroom in Paris' 11th arrondissement, a healthy distance away from Le Marais, where most fashion showrooms are. A former carton-making facility, the building is tucked away on a small street, across from the imposing Church of Saint Joseph des Nations. In the approximately eight years since I first visited the showroom, I've seen it grow from a small corner location on Rue de Thorigny to what is now a huge L-shaped room plus courtyard, with catered lunches served in a dedicated kitchen.
The steel bamboo grove greets me as I walk in, impressive in its metallic glory. Inside, rows of shoes and boots in different colors are placed on metal shelves sheathed in Guidi leather. There are also dozens of styles of bags, from fanny packs to large weekenders, and leather, silver, and black diamond jewelry, a new development. The place is bustling with appointments for buyers from around the world.
After years of experimentation with dyeing, Guidi leather has moved away from traditional black. There is now a Guidi rainbow of sorts, with the brand seeking to develop a new color for every season. Sometimes Guidi surprises store owners with a limited edition, such as the recent metallic olive camouflage PL1 boot. The boot is limited to 300 pairs, each painted by hand, which is the only way to achieve the desired camouflage effect.
Guidi is old-school in that it doesn't operate its own stores, not even online. The brand subscribes to the traditional wholesale model, preferring to build lasting relationships with carefully selected boutiques around the world, of which there are now 130.
Guidi's dedication to these traditional business and manufacturing processes hardly seems like a viable recipe for success in the modern era. And yet, Guidi doesn't just endure — it flourishes. Mr. Guidi and his team have made traditional manufacturing modern, carving out a niche for people who care about how things are made. Guidi consumers understand the aesthetic premise and underlying quality each shoe represents. A Guidi shoe is made using the best available materials and techniques, but it's not a dressy shoe a banker wears to the office, or a lawyer to a wedding. Nor is it the rustic kind of boot that appeals to would-be cowboys or vintage workwear enthusiasts. Rather, it occupies a context of its own making, inviting the wearer to add their own signature to the shoes through further wear. Despite their high price point, Guidi shoes don't scream luxury — quite the opposite; they present an understatement bordering on disdain. And that's exactly their appeal.
Highsnobiety magazine Issue 17 is available now from our online store and at select premium stockists and boutiques worldwide.