Gunna has been one of the key architects of Atlanta's rap ascension in recent years. In many ways, his southern cadence and flamboyant style epitomize the ATL, it's also what has earned him the title "Drip God." But with his new album, Gunna's ready to show a whole new side to himself: Wunna.
Born Sergio Giavanni Kitchens, Gunna has managed to climb to rap's upper echelons in just over four years. As part of Young Thug's YSL Records, he's cultivated his rockstar persona through his Drip series of mixtapes and eventually his debut album, becoming one of the most sought after feature artists in hip-hop in the process. But Gunna's vision is far greater than that.
Enter Wunna. "Wunna is the other side of me that I don't really be showing," Gunna tells us. This time around he's giving fans more than just new music, he's bringing an experience. "I want people to know that I really took my time and I really put heart into this album. I made more than an album, I made a series with it. Even with the cover, the videos, with the merch and everything, it goes together. I want people to understand that I'm a real artist."
Gunna's optimistic that this album is something we've never heard or seen from him before. Ahead of its release on May 22, we called up the rapper out of quarantine and had him break down each song on Wunna. Here's what he had to say.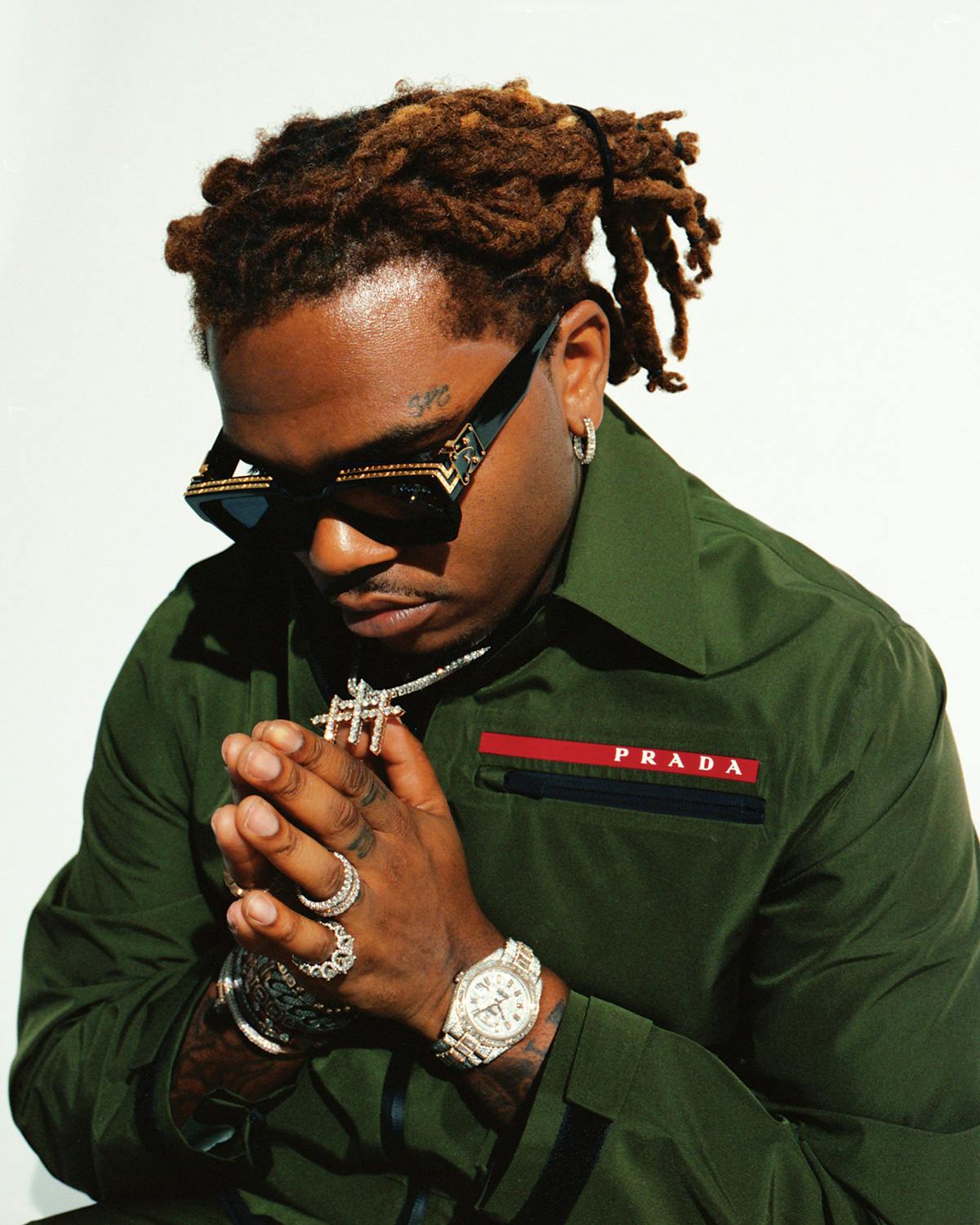 "Argentina"
"Argentina" is me opening up and telling you about this story that happened in California. Me and Weezy were driving, at the red light we seen some girls in another car. They was in like a Benz truck. Shit, we was hollering at them. We couldn't talk too much because the light turned green, we told them to follow us. They end up following us to the studio. It was two of them from Argentina, then the other two was from Cali. I made a song about it. I do that a lot, take life situations and put them in music or try to make a song about it.
"Gimmick"
I made that in Jamaica. I did maybe half of the album in Jamaica. I was out there about three weeks. I wanted to go somewhere and record an album. I wanted to go somewhere I didn't know exactly. Jamaica came into play because of me living in Atlanta, the flight was so close. It's like a two and a half hour flight. I had never been. I linked two houses out there, one house was for the women and the other house was for just the family, the bros.
"Money on the Way"
"Money on the Way" is lifestyle music. Me talking about shit that we doing. I believe the song might've just come from me being on the phone. Like, my manager might've told me a deal is coming or something I'm going to get paid for. It's just like money's on the way, you know what I'm saying?
"Feigning"
I think that vibe just came from me being in Atlanta. This studio I was recording in, it's like by Future's studio, so he be pulling up, some of his homies that's my homies be pulling up. I think that's how I came up with the hook.
"The Dollaz on My Head" (feat. Young Thug)
We did that song in LA. Me and Thug really work well together, it was easy. This song was easy. I think the topic came from somebody saying they was going to put some money on my head or something like that. That's where the "Dollaz on My Head" came from. That was the whole topic because that was the first time I heard it. I was like [singing] "I keep dollaz on my head" and shit.
"Addys" (feat. South Side Nechie)
I did that in Atlanta, too. It features Nechie, that's my childhood friend. We grew up together, I've known him for like 25 years. That song's special to me because he on it. We're building right now. I feel like it's just the beginning. We got more to come.
"Sky Box"
I did "Sky Box" in Jamaica. With the video, I didn't really come up with the concept, but I know I wanted to have a hot balloon. I wanted to be in the sky in a box. That's where I came up with that hot balloon thing. Shit, we made it work, me and Spike Jordan.
"Wunna"
It's a fun song to me. I was having fun when I made the song. That's really what that was, just vibing, having fun. When I did the song, I didn't know my album was going to be called Wunna, but with the video, it goes with the whole theme of my album. Wunna is my alter ego. It's another person that I'm introducing the world to. Gunna is more chill, just the drip god. I don't really do too much. You really just see me doing more just clothes and music. Wunna, I feel he's more spontaneous. I feel like that's the other side of me that I don't really be showing. That's still me. Shit, I feel like that's where it all came from.
"BlindFold" (feat. Lil Baby)
"BlindFold," shit, I did that song in LA, sent it to Lil Baby. We just shot the video for it. I directed the video. I feel like that's going to be one of the songs that's going to go on our list of hits, me and Baby.
"Rockstar"
"Rockstar" is exactly what it sounds like. I felt like a rockstar making that song. I felt more like a rockstar doing the video. If you got that rockstar in you, you're going to feel like a rockstar when you listen to that song. When I started to feel like a rockstar? By my shows, by my fans. I got all kinds of fans of different races, and they all rage and they all turnt, and they want to have fun to my music. I like that, seeing that on stage, I feel like a rockstar. I want to throw water, want to goddamn interact with that crowd. I want to jump out there, I want them to feel me. I want them to feel that energy. That's where that rockstar come in at. "Rockstar" is going to be one of my biggest performances and songs.
"Met Gala"
I felt like I was going to the Met Gala, like I was being dressed to go to the Met Gala doing that song. The flow is everything, I feel like that flow is a Gunna signature, a sound that's coming. When people hear that song, they're going to think about sold out shows, they're going to think about that vibe. I wanted to give to them because that's what they like. You want to give them something that they like and you want to give them different shit too.
"Nasty Girl / On Camera"
"Nasty Girl / On Camera" is actually two songs that I merged together. It's basically self-explanatory listening to the song, traveling all over the world running into nasty girls. That's what I had been doing at that time in my life. I was traveling, doing shows, and running into all different types of women. Some of them fast, some of them slow. It was just how I felt at that time, and I just put it out.
With "On Camera," it's so legendary because I actually got it on footage how I made the song. I was recording the video with a VCR camera. It was just natural, really just having fun and I ain't know I was going to come up with a song. We made a video out of it and it's legendary. I got a lot of visuals for Wunna. I want people to sit with this album and really digest, so with all the videos and the content, you'll understand it more.
"Cooler Than a Bitch" (feat. Roddy Ricch)
"Cooler Than a Bitch" is a vibe... I feel like people are really going to like that song. Not just because it's me and Roddy Ricch, but I feel like it's that Atlanta Gunna. Then, I got Roddy on that Atlanta vibe, people are going to feel that. It's not his main flow, his fans are going to really love his flow on there, it's different. We did that song in LA. I was going through songs that I just did and I wanted him to listen to them and vibe on them. He was like, "Man, I want to jump on this one," and he jumped on it. He jumped on literally like, three, four songs though that day, but this one just stood out. When I talked to him, he wanted to put this song out, too. I agreed.
"I'm On Some"
I made that in Jamaica. "I'm On Some" is me just in my vibe. That's that drip music where you're going to just nod and vibe with what I'm saying. It's not like no club banger or nothing, but it's a good song. I just felt like I had to put it on there because it's not so fast. It's not uppity, trying to make it a hit. Some songs become hits by you not trying to make them a hit.
"Don't Play Around"
I made that in LA. My boy, Nipsey Hussle's best friend, he was in the studio with me. We been tight for a while, I feel like he inspired the song from just being around and us reflecting on shit we've been doing and how we've been rocking since Nip died. "Don't Play Around" and the next songs that follow are realer and calmer, where you can understand more and I'm telling you about life and things that are deeper.
"Do Better"
"Do Better" came from an experience. I was in LA and I was taking out this girl I talked to. I was just really trying to speak to her, telling her how I want to see her do better.
"Far" (feat. Young Thug)
This is one of my favorites, because it's so pure. I don't feel like people really heard me like that from the larger fan base. I got day-one fans who know me from all the phases of my career. They give me that vibe, that phase vibe. But I ain't going through a phase no more. It's like I done made it far now.