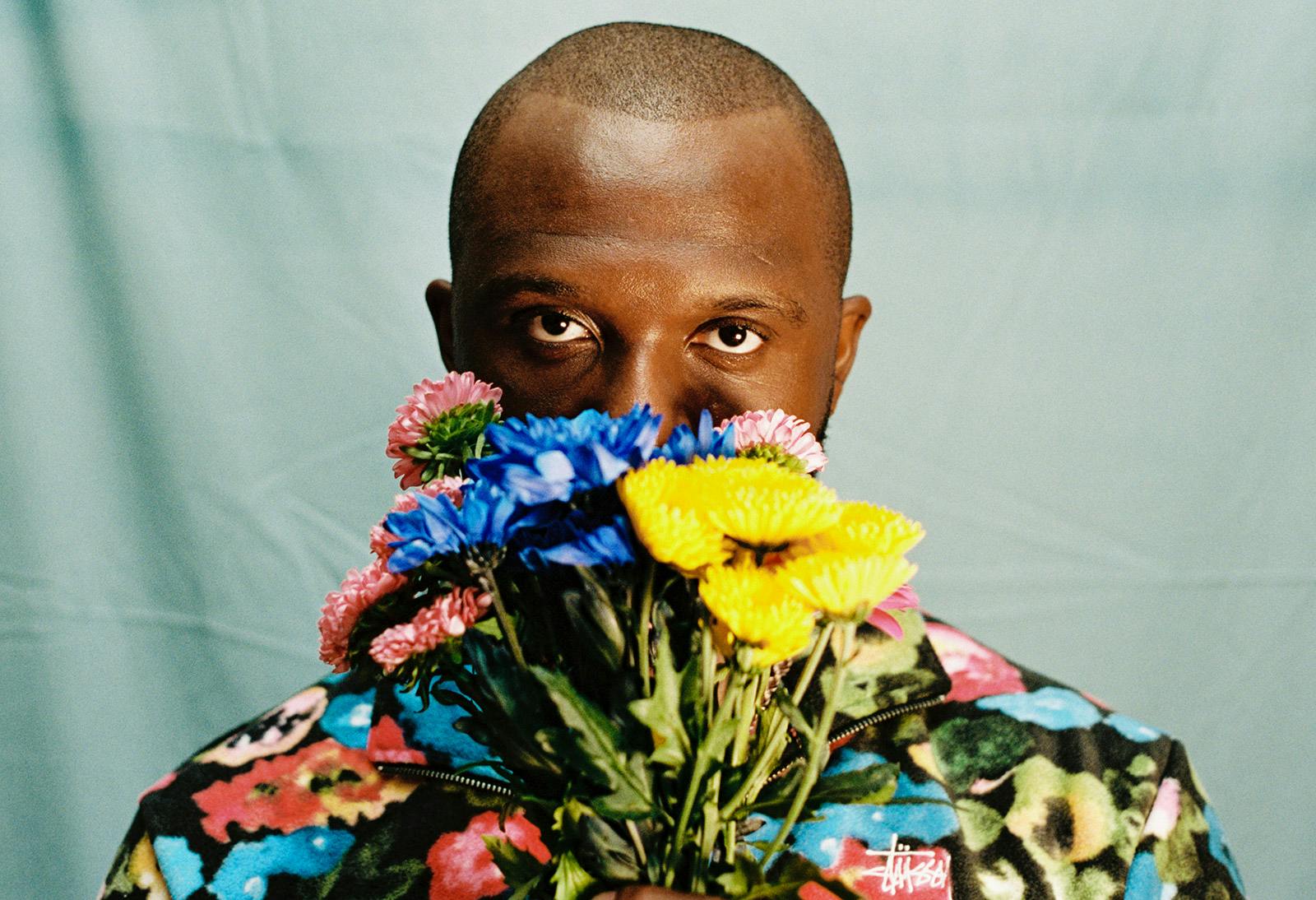 Highsnobiety / Will Beach
Ahead of the London edition of Highsnobiety Soundsystem, with our friends at Mantra, we sat down with one of the most exciting artists emerging from the UK's recent rap renaissance. Head here for more info. 
It's beginning to drizzle on the concrete streets of Dalston, East London, but Headie One is providing a splash of color to the dreary landscape. With a bunch of flowers in hand, wearing a bright yellow Off-White tracksuit, he poses patiently in front of a garage door.
It's around 4pm, the end of the school day, and kids in grey blazers begin to trickle out onto the nearby road. One kid, riding a red bike with a bottle of soda and a packet of crisps peeking out of his jacket pocket, catches a glimpse of the colorful figure in the alleyway and begins back pedalling, doing a double take while he decides whether to believe his eyes or not. What's one of his favorite rappers doing posted up in his estate taking pictures?
Rather than pulling out his phone to broadcast the scene he's stumbled upon, the youngster conspicuously moves closer so as not to arouse suspicion from those on the main street. He respectfully begins making enquiries about the shoot. Who is everyone? What are the various roles involved in producing the shoot? He's curious about the role of a stylist, or what a journalist does, and how all of the personnel involved feed into the career of an artist like Headie One.
When asked about his favorite song from Headie's rapidly growing catalogue, he struggles, pausing for a second before listing a handful of tracks from his latest mixtape Music X Road, including "Interlude: 100 Bottles" and "Both," before declaring Headie and regular collaborator Rv, "The hardest duo I listen to." The rain begins to get a little heavier and the team begins moving back towards the studio for shelter. The kid fist bumps Headie and thanks everyone for letting him stick around and observe. Then he peddles off, still no camera phone in sight
Moments like this are sobering for Headie One. It's been a rapid rise over the past couple of years, and he rarely gets the time to appreciate how far he's come.
Hailing from Tottenham's Broadwater Farm Estate, Headie is generally associated with the UK's increasingly controversial take on Chicago's Drill sound; an immensely popular local genre that often gets used as a scapegoat by politicians and the media for systematic problems with violence and crime in inner-city London.
The 24-year-old spent his teenage years in and out of jail, before putting his focus into music. Since he was last incarcerated in 2014 he's released four solo mixtapes, as well as three collaborative tapes with fellow North Londoner Rv. The tapes have enjoyed a scale of success: from underground hits like "Golden Boot" and "Know Better" (the latter's producer, 808 Melo, would go on to produce Brooklyn rapper Pop Smoke's global hit "Welcome To the Party") to UK Chart prominence with the Dave-assisted "18Hunna." New mixtape Music X Road landed at number 5 on the UK albums chart, and this summer saw him play sets at Glastonbury, Leeds & Reading, and Wireless festivals as well as shutting down Paris Men's Fashion Week with collaborator and fellow North Londoner Skepta.
Released in August of this year, Music X Road is Headie's most thoughtful body of work to date. It chronicles the latest chapter of his come-up as a musician set against the challenges that come with transitioning from the streets. It showcases his most versatile set of songs, with a focus on conceptualization and storytelling dictating the project's eclectic and varied production choices. It took a year to complete, in contrast to his latest collaboration with Rv, Drillers X Trappers II, which was recorded over a week long period and released back in March. That project, he says, came easy to him, and captured the pair in their element. Music X Road on the other hand, needed space and time to create. It required real life experiences and personal growth.
Drill's realism has meant that many of its creators are somewhat introverted characters who are used to evading attention (Headie's own self-censoring "Shh" ad-lib blanks out details in his lyrics that can't be shared with the public), more likely to have their faces covered ski-masks rather than posing for photos in the latest high end fashion. It's perhaps for this reason that the scene is yet to have a definitive star. By his own admission, Headie hates having his picture taken and is still getting used to interviews, but he understands their role towards his broader goal.
Headie One is on the path to emerge from the UK drill scene as its first household name, and he wants to bring his whole estate with him.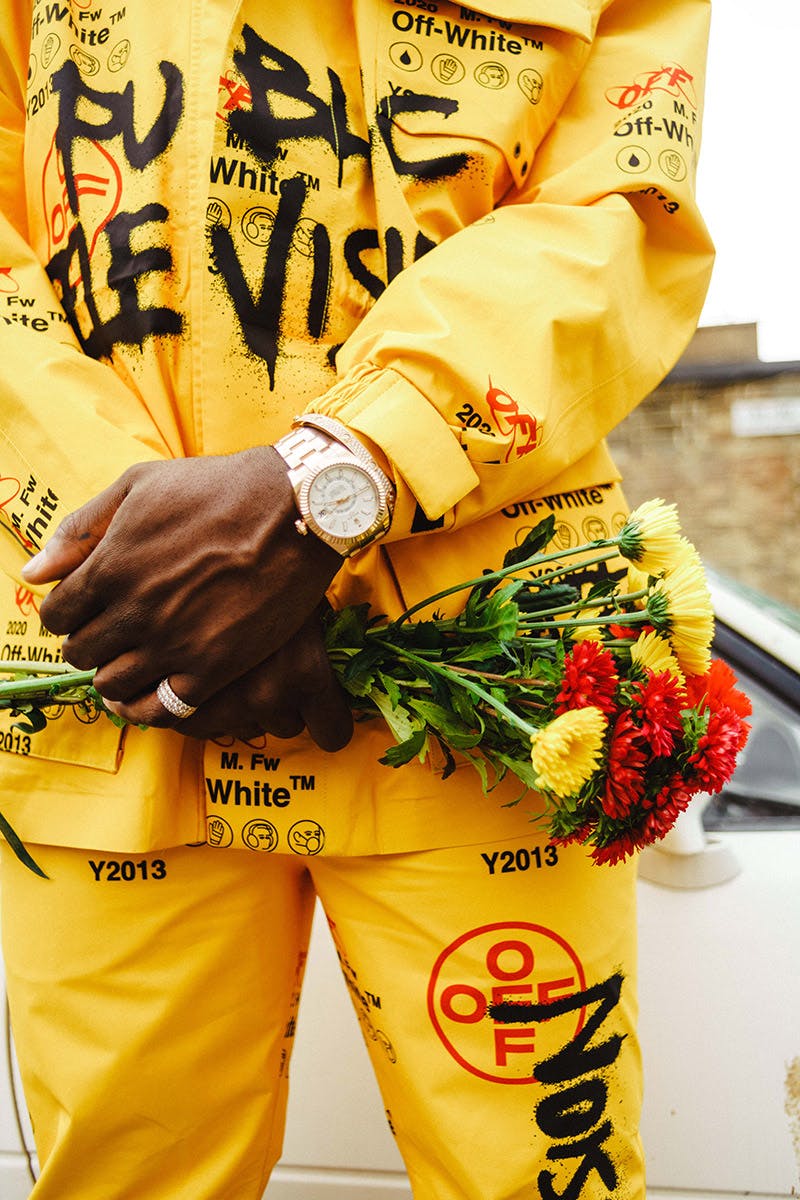 Who do you make music for?
I make music for the people, myself, for everyone man. I like to feel like I want everyone to listen and take what they can out of it. I like to put the whole truth out there, so you can learn from my music in different ways. Whether its a positive or negative message, I just feel like it's important for people to just understand and take it in. That's what I aim to do.
Is it ever surprising when you're performing, seeing some of the different types of people that your music is resonating with?
Definitely. I've been in the weirdest scenarios. I've been in Sweden and someone in their 50s is telling me that they listen to me. That's what makes me know that what I'm aiming to do is working.
What do you think it is about your music that connects to people who's backgrounds are so far removed from yours?
I think whether people like it or not, you can just tell it's the truth. I don't sugar coat nothing, I don't tell no lies. I just say it how it is really, and what's been going on, no matter how bittersweet it is. It's not always bitter, I say the good stuff as well. I think everyone can relate, whether it's what they're imagining or what they're actually going through. So I feel like that's why people can connect to it, because it's reality.
'Music X Road' feels like the most sonically diverse tape you've released so far - was that intended?
Not really. I wanted to put different views and different perspectives, and like you said different emotions, across. So I wanted to get the right production and the right features to match that. So I think that happened naturally. I didn't actually think I want to do something different [sonically], I just wanted to tell a story through every part of the music. I think that's why it came together like that.
Do you think when you go into the studio with producers they think you want a certain kind of sound?
Yes.
And what are you actually looking for?
Anything. Most of the producers I get in with they just try and play me a drill beat. And I just laugh and tell them, 'You can take that off. Just play what you have, across all genres.' I think they expect me to come in and want to just do a drill song. But I tell them I've got an open mind. I will do a drill song if it's making sense. I'll do anything if it's making sense. They're surprised if I come in and like one of their beats that they weren't expecting me to like. It just depends on my mood and the way I'm feeling.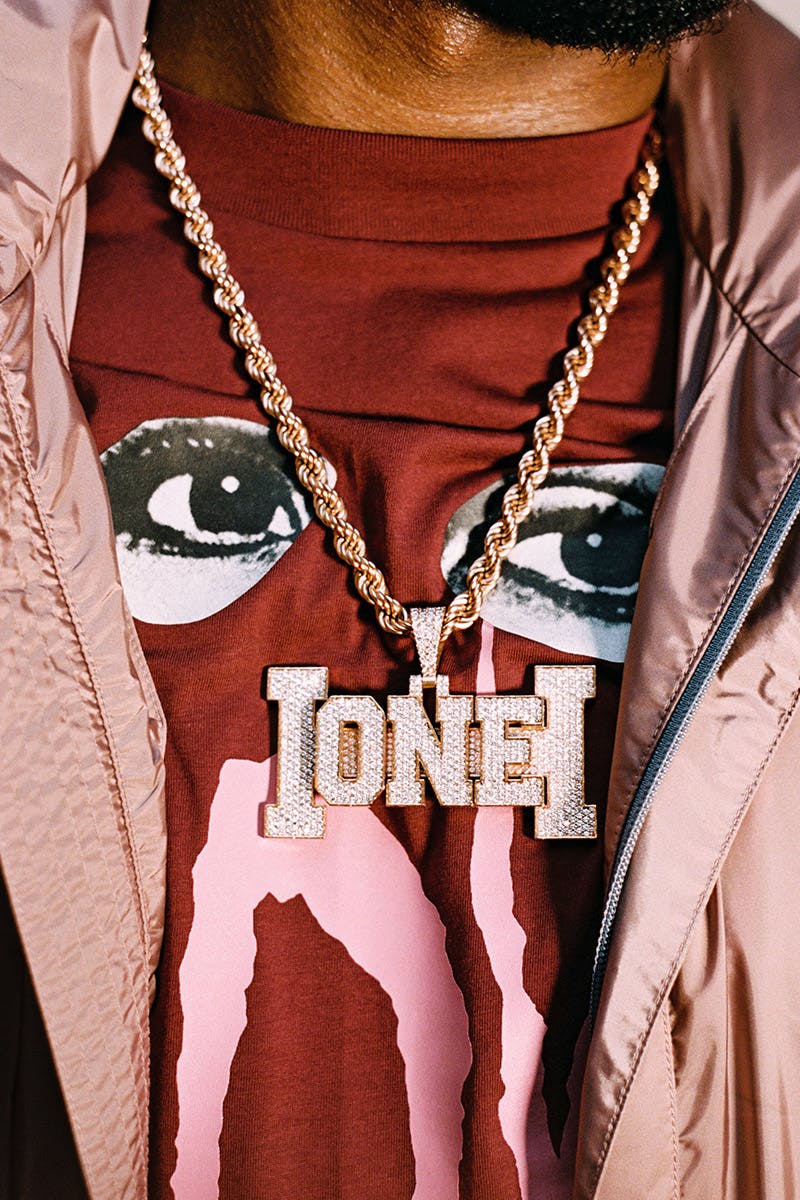 How does it feel in situations like outside earlier, when we met that kid who was really motivated by your music?
It's different. It makes you just remember. Sometimes you get in some little bubble just floating around. The days go fast and you get used to stuff. But those kind of things actually makes you remember what's going on. When you've got such a busy schedule - one day you're flying, the next day you're performing, the next day you're recording - you're just going with the flow. But obviously those little moments make you remember what it was like before, and bring you back to reality. It just makes you remember the come up.
Was there anyone that you'd have had a similar reaction to growing up?
Not really you know. When I was growing up you wouldn't come across famous rappers and that. The UK's kind of changing because when I was growing up you was confined to one little estate. You wouldn't see no rappers just walking past, or doing a photoshoot on the side of the road. That would never happen.
What made you look past the estate and see the other opportunities that could be available to you?
When I actually started getting out of there. Obviously for the wrong reasons. So when I got taken away from home and I got taken up to Scotland and I got taken to all these places far away, and I was taken away from the people I'm used to seeing, it kind of made me have a look at things from the outside in. And that made me know it was a bigger world out there. Because people don't know about our little world. It's almost like a universe within a universe.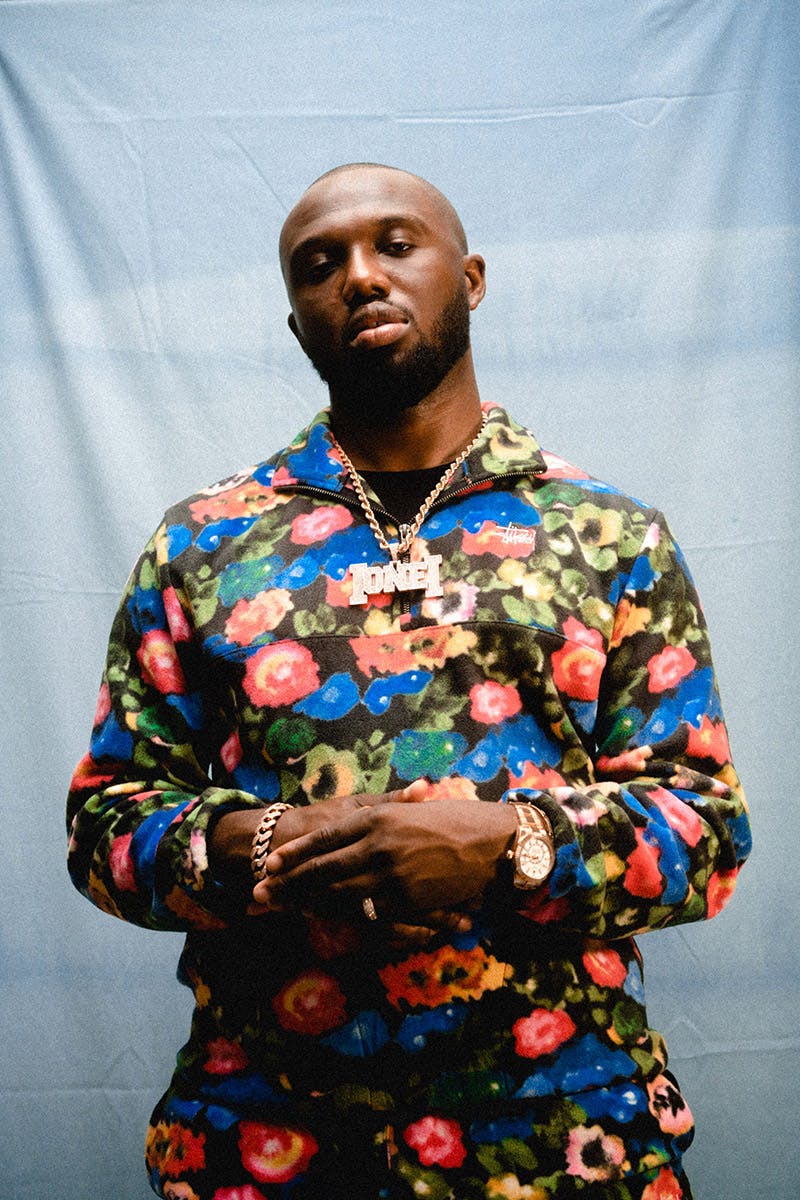 Out little estate is our world and if you don't go to see what's out there, how are you going to extend beyond that little world. That's why I feel like travelling is important, and learning to see things and meeting people and networking, that's all part of it. That's how it actually helped when I was taken out, I actually got to start that procedure.
How can you help people from your area to think beyond the things that are already in front of them?
You've got to help them open their minds. Take them out as well, that's what I do. I take them out, make them see things. I realised that's one of the biggest things that makes a change. Make people see things that are different to what they're seeing now. A lot of people are stuck in a routine and they're stuck in a nasty routine, day to day stuff, they don't really know no different, they're stuck in their way of thinking. Whereas if you take them out, and you make them see something that they actually haven't seen before, they're not hearing about it, they're actually seeing it, then they want to make that change for themselves. I feel like that's what helps with the youth.
Obviously there have been people come before you from Tottenham, including Skepta who appears on "Back To Basics." Was that an important collaboration for you?
Yeah, I feel like it was a long time coming. Skepta is a legend innit. When I was growing up I used to hear a lot about Skepta but he was gone, we don't really see him. We just know that he's doing good in music and he's out there doing well. So it was almost like, those were the kind of guys we want to be like. It was a good feeling to be in the same room and be on the same song like that.
Do you think it's good for people Tottenham to see two generations of successful artists together on one track?
Yeah, definitely man. It's motivation. The people that I used to be around everyday, they're seeing what's going on now and that motivates them. And obviously it continues on, it's a long road. And I've got people that have also come out working with me that's motivating other people. It's just like a cycle, more people motivating more and more people, and the dream is that one day everyone will be motivated and we're all just doing positive stuff - that will break the bad cycle.
Is it important to you to highlight the fact that there are more roles in this than just the rapper, you have your team with you as well who are all having success in their various positions?
When I was coming up in music I always used to tell my peers that we need more people to come up, we need more musicians because when you have one musician come up it's not just the musician that's coming up, they're bringing a load of people with them by default. You've got managers, tour managers, you've just got to find something that you want to do and make yourself useful. It quadruples the success basically, you've got more opportunities and everyone can inspire each other together as a collective. When you reach that level as a collective, there's no ceiling to how far you can go.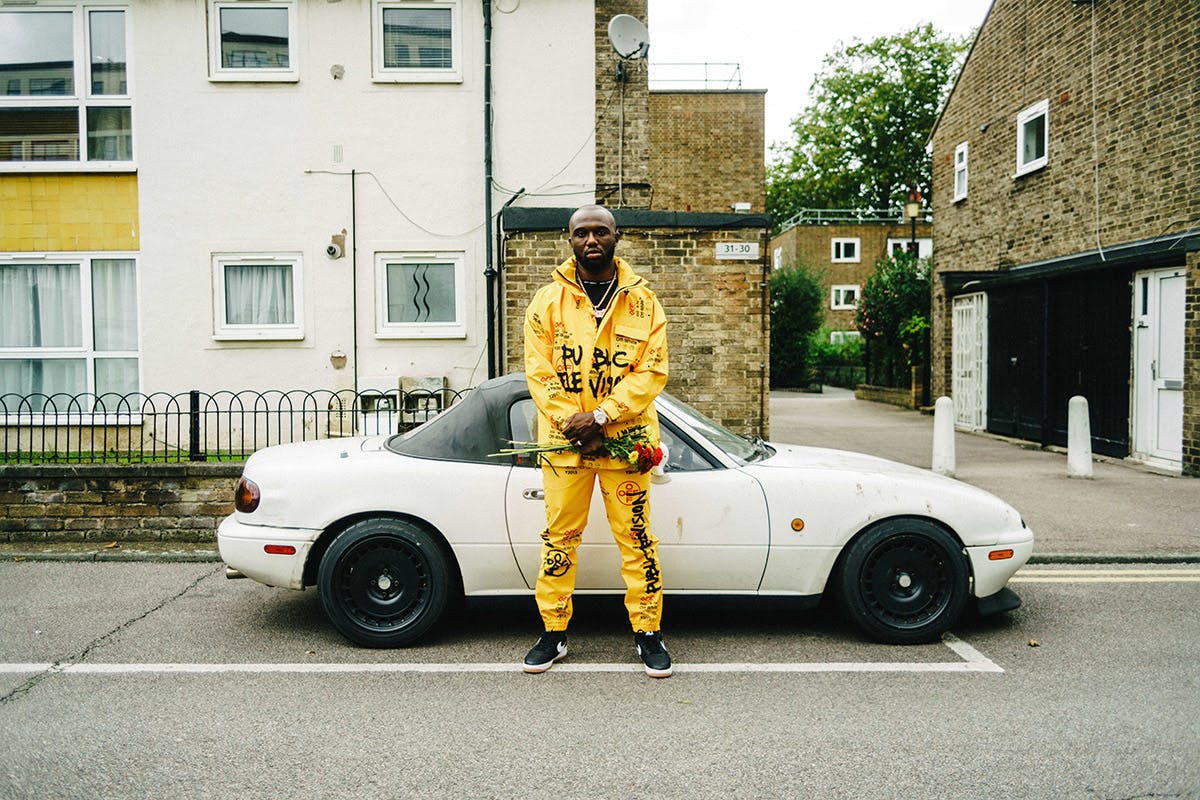 What's been the most difficult thing you've had to overcome to get to where you are now?
It's a long list you know! You know when you're coming up from certain backgrounds and that, there's a lot going on. Not everyone thinks the same. Not everyone thinks positive. We've got a lot of challenges, a lot of distraction. I feel like it's easier for it not to work than to work, when you're coming from a particular background. So there's a lot of challenges. People want to bring you down, people don't want you to win.
How do you overcome it?
Dunno! I dunno still. It's energy, when you've got that right energy, nothing can stop you.
What are you most proud of about what you've achieved so far?
Just the progression. A lot of the stuff that's going on now, I used to daydream about it when I was a bit younger. So every now and then I have a little reality check, like 'Rah, I'm living here. I'm doing this. I'm buying this.' So that feeling or progression is what's most valuable to me.
And lastly, what does success look like to you?
I think there's no limit to success. We keep going man, there's never enough. The sky and more is the limit. I don't really see myself as successful. It's just building blocks, one step at a time. We just aim to take it a step further each time.
Headie One will embark on a headline UK tour later this month. Find out more info here.