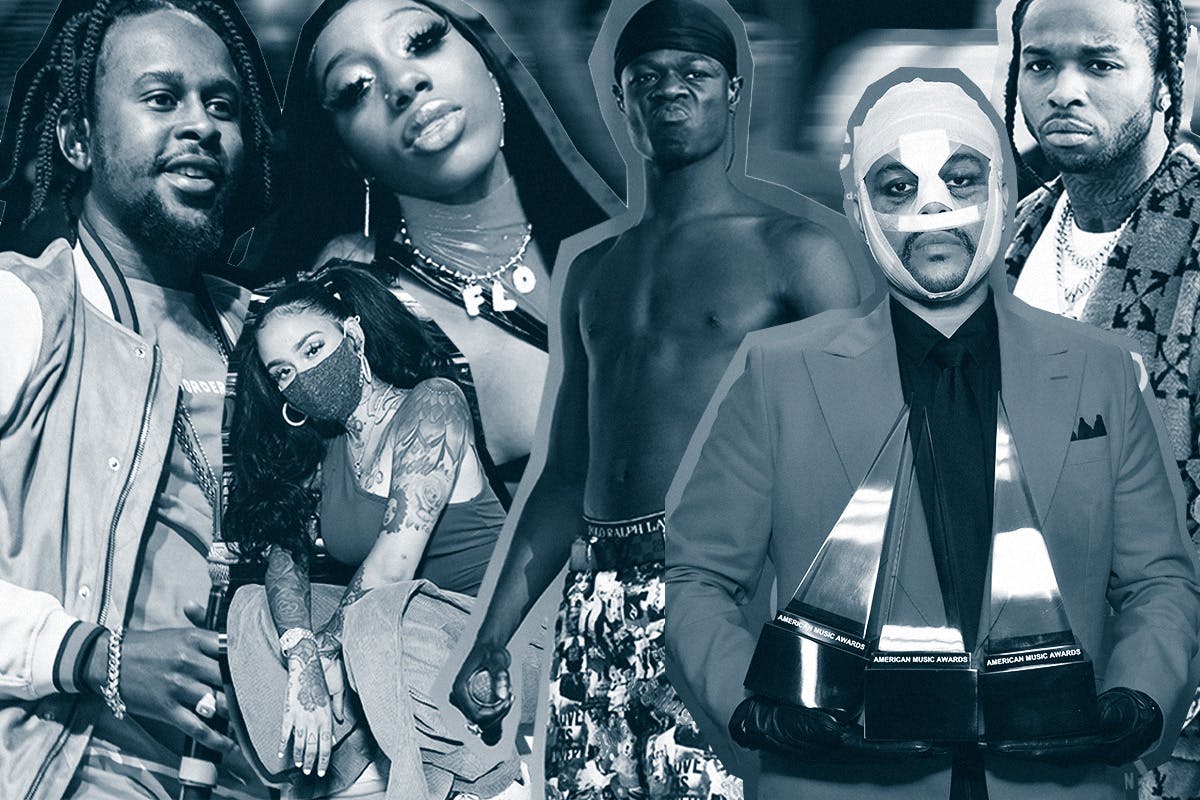 We all lost something in 2020, whether it was time, loved ones, or security. In music, we lost legendary artists, nightlife, and live shows – the very pillars of a beloved industry. Yet, as the music industry threatened to falter and fans stuck inside were too busy seeking solace to save it, musicians gave us art that helped us power through.
Below we round up our biggest music highlights from a year in which there were frankly too many to count. 2020 sucked but these 20 records got us through it.
The 20 Best Albums of 2020
20. Gunna, WUNNA
Gunna has been one of our Atlanta favorites for years now and this year he delivered his cleanest work yet. In many ways, WUNNA is almost anthropological with raps about how he shops, travels, hangs out with his famous friends, purchases his latest girlfriend liposuction, and can't decide on what color Audemars Piguet he should wear. Delivered over 18 pristine beats and with crisp flows and melodies back to back, Gunna showed up and showed out.
19. Mac Miller, Circles
Closure. That's what Circles offered Mac Miller fans. A fitting epilogue to the life of an aspirational artist, cut too short. The posthumous album, completed by his collaborator Jon Brion, is a wonderful and sad addition to Mac's discography. Circles diverges from much of Miller's earlier work in that there are barely any raps, instead, he hopefully croons alongside live arrangements. The rapper-producer is comfortable in his skin, no longer out to prove to naysayers he could out-rap them. It's only appropriate that Mac Miller's final musical act be one of growth.
18. Dvsn, A Muse In Her Feelings
Few have voices as striking as Daniel Daley and even fewer can create atmospheric soundscapes like producer Nineteen85. Yet somehow with this arsenal the Canadian R&B duo never managed to live up to their potential – like many acts tied to Drake's OVO empire. A Muse In Her Feelings makes an expansive entrance into what has been teased. Features from the likes of Buju Banton, Future, Snoh Aalegra, and Summer Walker add to songs with infinite replay value, with each track seamlessly flowing into the next. Dvsn definitely got us in our feelings with this one.
17. RIMON, I Shine, U Shine
The Amsterdam-based singer-songwriter has earned a rapport for delivering steady R&B dreamscapes and still – for some explicable reason to me – hasn't blown to the magnitude which her artistry deserves. At times sensual ("The Morning"), introspective ("never learned how to cope"), and optimistic ("Got My Back" featuring Denzel Curry), I Shine, U Shine is a quick six-track tour of broken romances, big dreams, and growth told through the hopeful and soulful gaze of RIMON.
16. Kid Cudi, Man on The Moon III: The Chosen
A pioneer of openness and vulnerability, Kid Cudi blazed the trail for sad boys in rap that the likes of Drake and Childish Gambino can be grateful for. At this point, his MOTM series is hip hop cannon. Man on The Moon III: The Chosen is a cinematic conclusion (supposedly) to the world Cudi created, which has become a crucial soundtrack for many people going through it. There are moments of transcendence coupled with Cudi's signature (and therapeutic) humming, which make this an album that will go far beyond 2020.
15. Flo Milli, Ho, why is you here?
As 2020 got increasingly confusing, did you ever ask yourself the question: Ho, why is you here? Flo Milli's first mixtape of the same name offers you the answer. In her well-timed debut, the 20-year-old rapper gives us a lesson on nimble shit-talking and effortless self-approval in a year when we needed it the most. Flo Milli chooses snappy, bass-heavy beats to fire off her brash verses, in a record that is punchy from start to finish.
14. Pop Smoke, Shoot For The Stars Aim For The Moon
Everyone wanted to be on that final Pop Smoke album and it feels like everyone was. Executive producer 50 Cent's ambitions often didn't leave space for Pop. Features from Quavo, Lil Baby, DaBaby, Lil Tjay, Tyga, Burna Boy, and countless more made this feel like a posthumous compilation album rather than the Pop Smoke project we wanted. But for its crowded guest list, Shoot For The Stars Aim For The Moon has just as many moments of brilliance. Yeah, we didn't get a well-paced sequential album, but we got bangers that will last us a lifetime and serve the eternal legacy of Pop Smoke.
13. Tems, For Broken Ears
The Nigerian singer-songwriter has a voice like warm butter and pens love songs that resemble diary entries. With For Broken Ears, her first EP, Tems crafts the skeleton for a longevous career. She kicks off the project with "Interference"– which I think is hands down the best music intro of 2020 – and blends the warmth of R&B with contemporary Afrobeats across the six remaining tracks. Perfect for blaring over speakers for those post-breakup blues, rages, and "I-can-do-so-much-better" moods.
12. Jay Electronica, A Written Testimony
After years of waiting and mounting hype, this year Jay Electronica finally delivered his fantastic debut album. A Written Testimony is a mystical, distinctive work that lives up to all the lore surrounding the rapper. In just under 40 minutes, Electronica erects monuments to Allah, testifies to Black power, and explores grief – JAY-Z is at his side the whole time. It's been a long wait for Jay Electronica to deliver what was promised, but we couldn't think of a better time for him to make his grand and wise return.
11. Lil Uzi Vert, Eternal Atake
We all knew Lil Uzi Vert had the makings of a rockstar, we knew he's the voice of a generation, an unbridled innovator. So when his third album Eternal Atake entered label purgatory many of us attached our expectations of the curious artist to this mythical project. The expectations were otherworldly. And somehow, Uzi met those expectations. Foot on the gas, Uzi speeds through new-age hip-hop trends, his eccentric lifestyle, and spaced-out samples, however, when he lets up he gives us moments of insight and vulnerability, culminating in timeless tracks like "Urgency." For Lil Uzi Vert Hip-hop is limitless.
10. Brent Faiyaz, Fuck The World
Brent Faiyaz can do no wrong in my eyes idc. Fuck The World is just another reason why I'll never go a day without listening to the Maryland crooner. In this album, Faiyaz is at his best, pairing Future-esque toxicity with a heartbreakingly soulful voice in a way that is fundamentally at odds yet merges beautifully. Not only that, but he gives us the most caption-worthy one-liners – "I'd probably be dead if I was basic" and "If you ain't nasty don't at me" are just a few.
9. Damso, QALF
If this were an English-language album, trust that it would make everyone's top 10. However, the Belgian rapper insulates himself in the Champion's League of French rap. Even if his lyrical prowess can't be unlocked, trust that his flows, melodies, and production say enough. Perfectly paced and masterfully told, Damso understands the art of the album more than most of his contemporaries (French-speaking or not). Do yourself a favor and listen to QALF if you haven't already.
8. Popcaan, FIXTAPE
When Popcaan dropped FIXTAPE he laid the blueprint for dancehall artists who have been struggling to achieve crossover success while also keeping their diehard dancehall fans happy. Grimey Soundcloud dancehall or mainstream Drake-approved tunes? Popcaan did both. From slow-wine ballads to big party tunes, Popcaan defends his place at the forefront of the genre.
7. Headie One & Fred Again.., GANG
This project doesn't get enough credit. Day one Headie One fans will crucify me for this, but I will say it anyway: GANG was better than EDNA. If this is musical blasphemy I don't care. Headie and Fred is that beautiful confluence of artist and producer that only happens every few years. In sublime 22 minutes of storytelling, we stumble upon the drill rapper at his most vulnerable (he was serving a prison sentence when the tape dropped), and only Fred Again..'s production could take the armor off so exceptionally.
6. Kehlani, It Was Good Until It Wasn't
If 2020 was a person, it would have "It Was Good Until It Wasn't" written on its gravestone. With that ominous phrase, Kehlani brought fourth her sophomore studio album, an ace R&B showcase. Through her candid songwriting, the singer explores the forces that make and break romance. Released alongside a host of quarantine-style music videos, Kehlani, aka Hyphy Williams – her directorial alias – took the creative reigns during our unprecedented virtual times. From singing to writing, performing, and directing, It Was Good Until It Wasn't channels all Kehlani's skills into sterling R&B.
5. Wizkid, Made In Lagos
Wizkid has nailed the balance of living up to his cross-over potential and remaining authentically African. Made In Lagos condenses that formula into 14 infectious songs. The album is a love letter to his hometown, Lagos, the Mecca of Afrobeats, and he reunites with some of the genre's most meaningful players including Burna Boy, Tems, and star producer Juls. Danceable beats, pidgin English, and lush saxophone interpolate on what can only be described as a homecoming.
4. The Weeknd, After Hours
I'm one of those music snobs who stopped listening to the Weeknd after 2012's Trilogy. That changed in March when he dropped After Hours. The album catches up on the years that have passed since the then-Toronto-based singer made his melodic ventures into the spotlight. His hedonistic quest for superstardom finally realized, the album turns The Weeknd into a self-loathing villain and its cinematic narrative is the most satisfying collision of R&B and pop.
3. Pop Smoke, Meet the Woo 2
(Yes, this list includes two Pop Smoke albums, get with it.) Few people shook up this year in music more than the late drill rapper. Less than two weeks before his tragic death, Pop Smoke released Meet the Woo 2 and showcased his endless potential. In his wake, every song off this album has become an anthem to legions of fans and a painful reminder that he was only just getting started.
2. Amaarae, THE ANGEL YOU DON'T KNOW
This year, an army of African artists woke us up to the long-held truth that Africa is setting the global tempo for pop music – with Amaarae at the forefront. The Ghanaian artist's debut album bears the Afro-fusion influences of Nigeria's free-spirited alté scene, as well as the grittiness of southern rap, sultry R&B, and gloss of radio pop. THE ANGEL YOU DON'T KNOW is as cunning as it is successful. This is definitely just the beginning of a rockstar in the making.
1. J Hus, Big Conspiracy
It feels eons ago that J Hus' sophomore album dropped before the pandemic hit. Then, I was convinced I had just heard the best album of the year. Almost a year later, I'm still convinced. Fusing road rap, bouncy Afropop, and reggae, Big Conspiracy is smooth, precise, and entirely brilliant. J Hus has carved out a unique niche in music and this album sees him occupy it fully as a masterful performer and storyteller. But fundamentally Big Conspiracy is about survival. It sketches out the personal turmoil of being a child of African immigrants in Britain and making your home in a place you don't feel you belong.