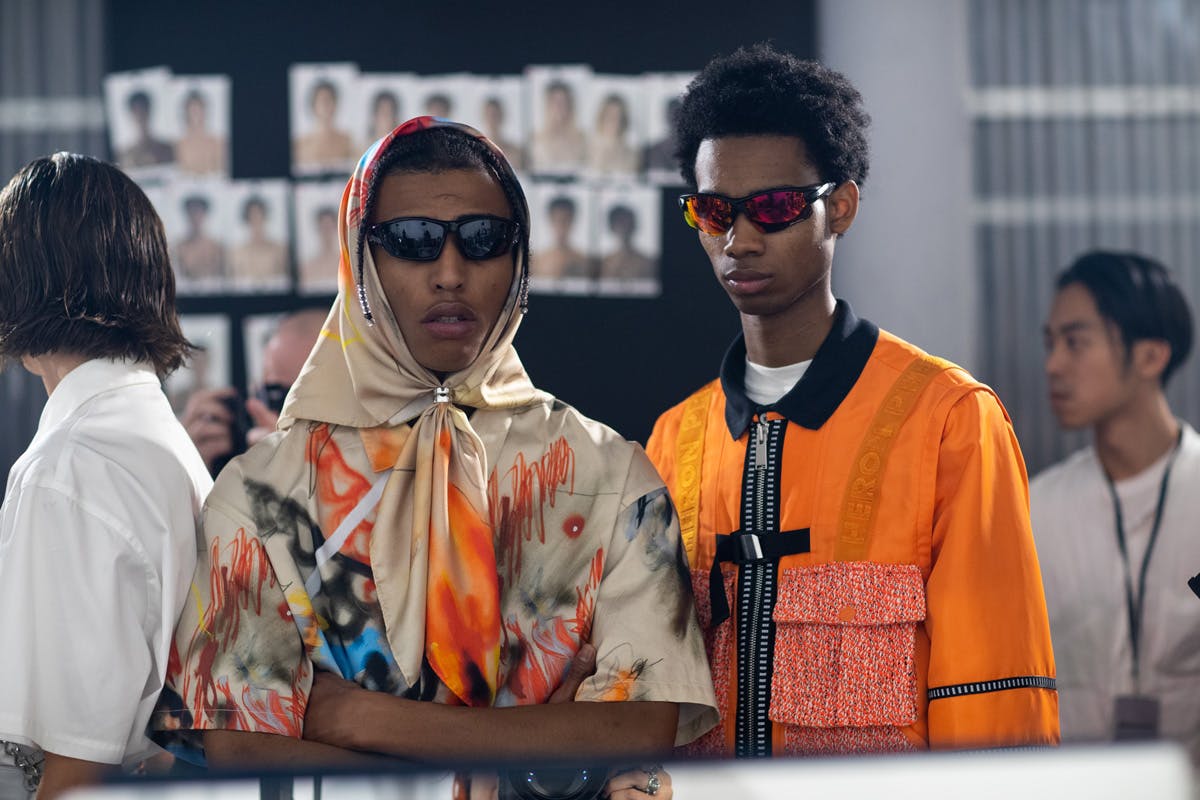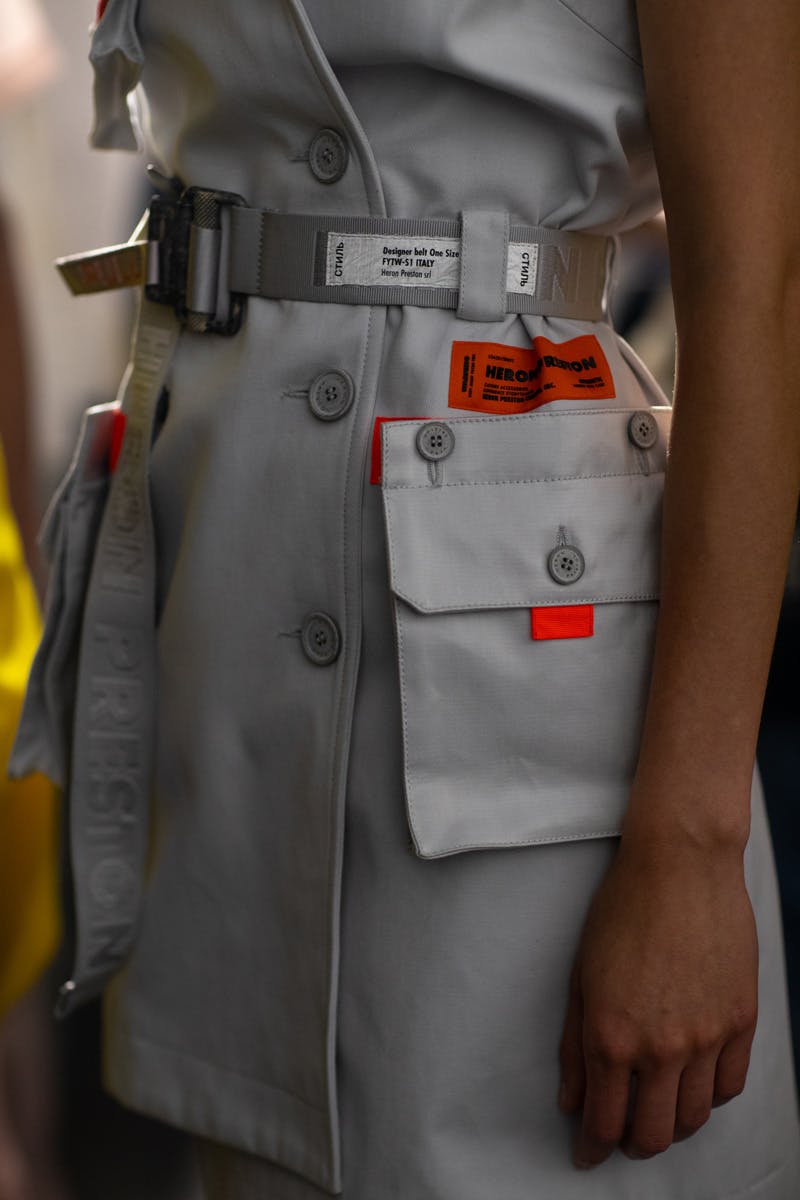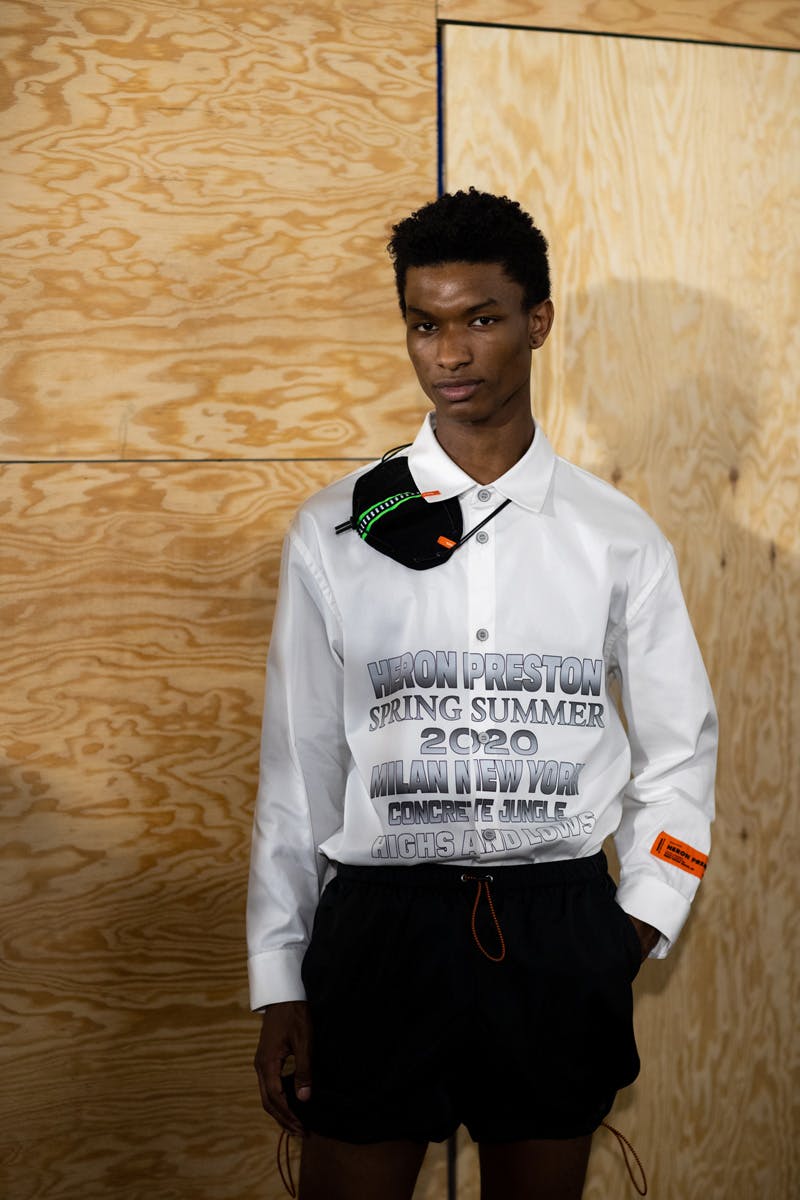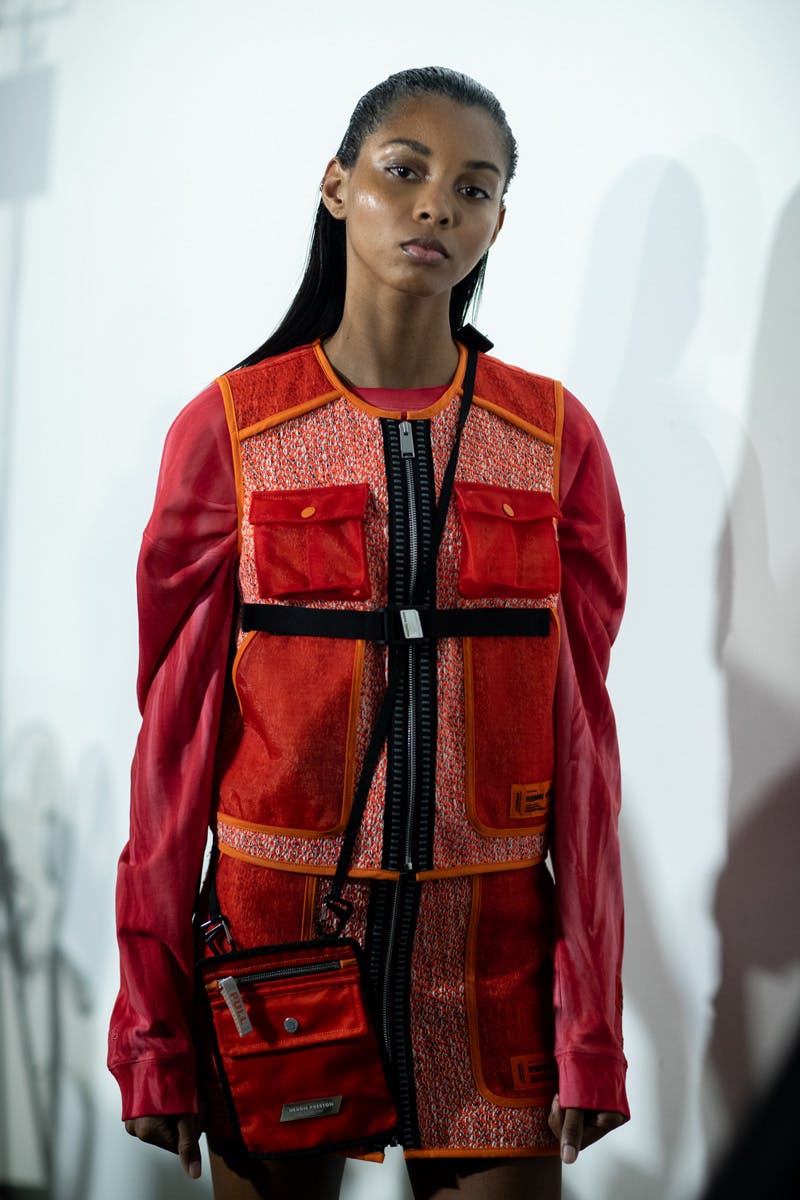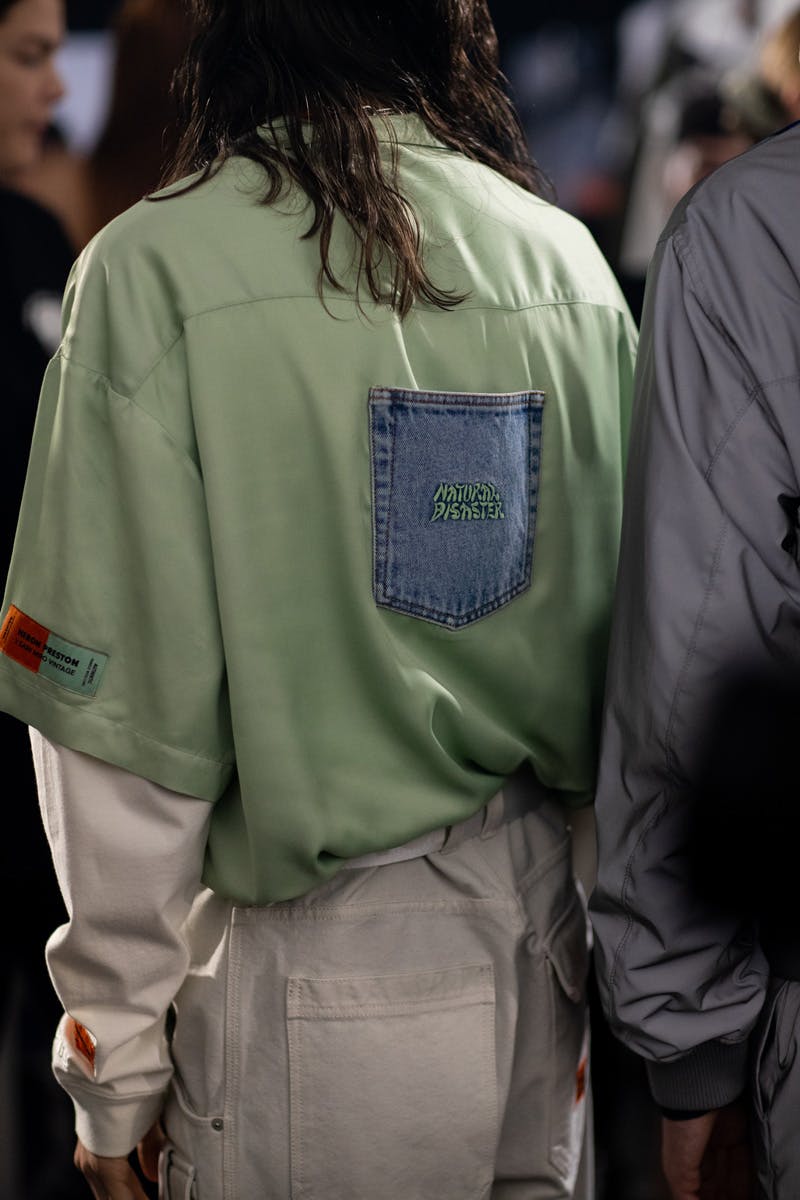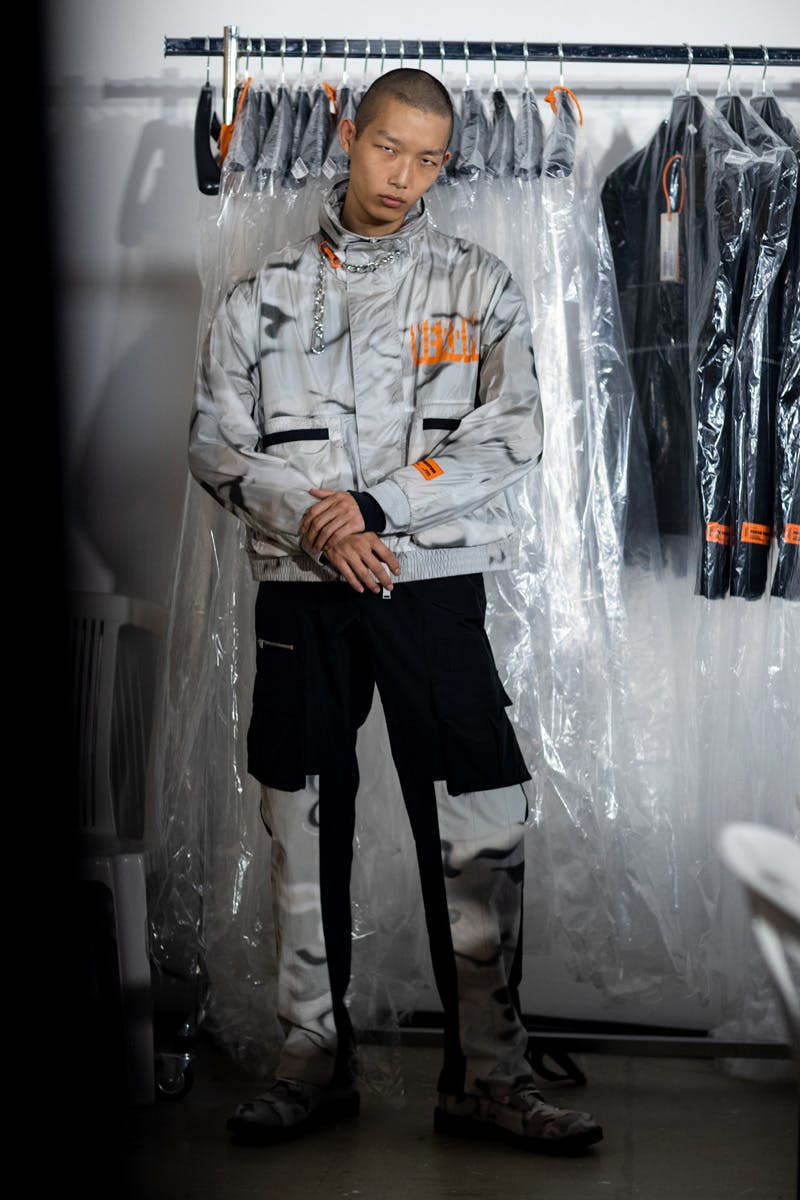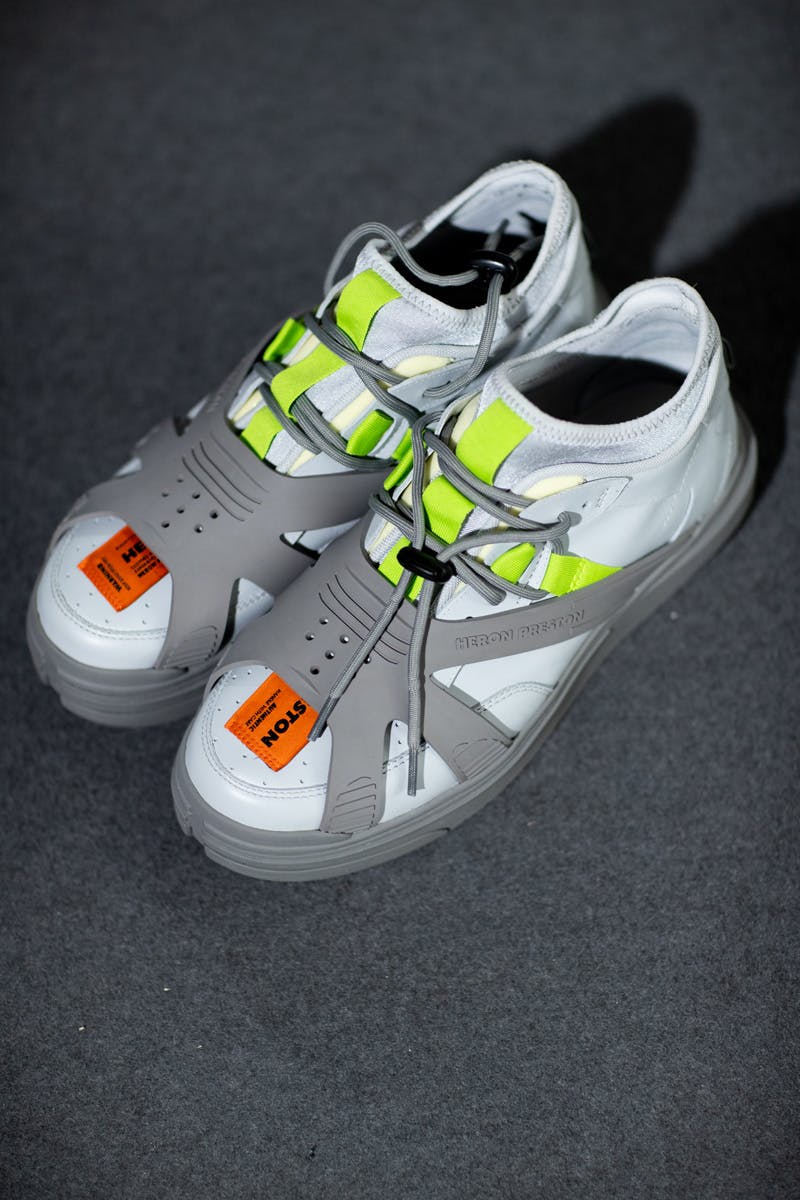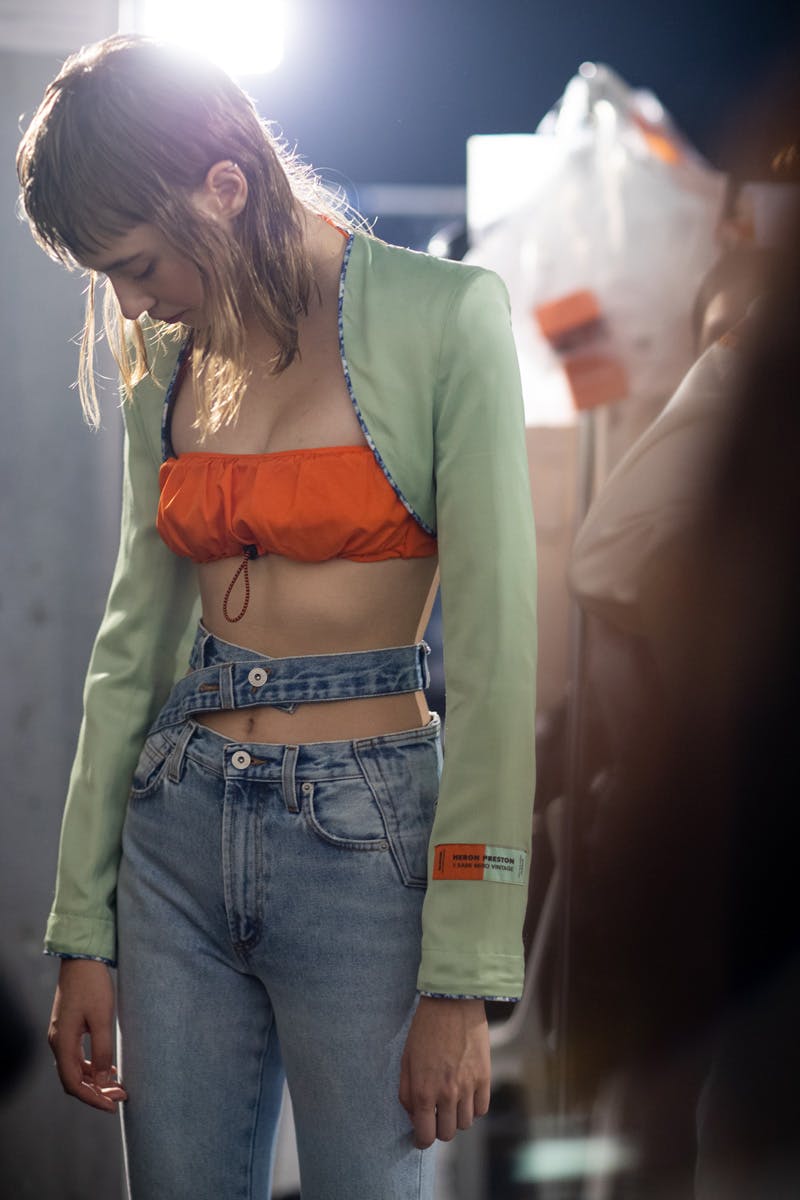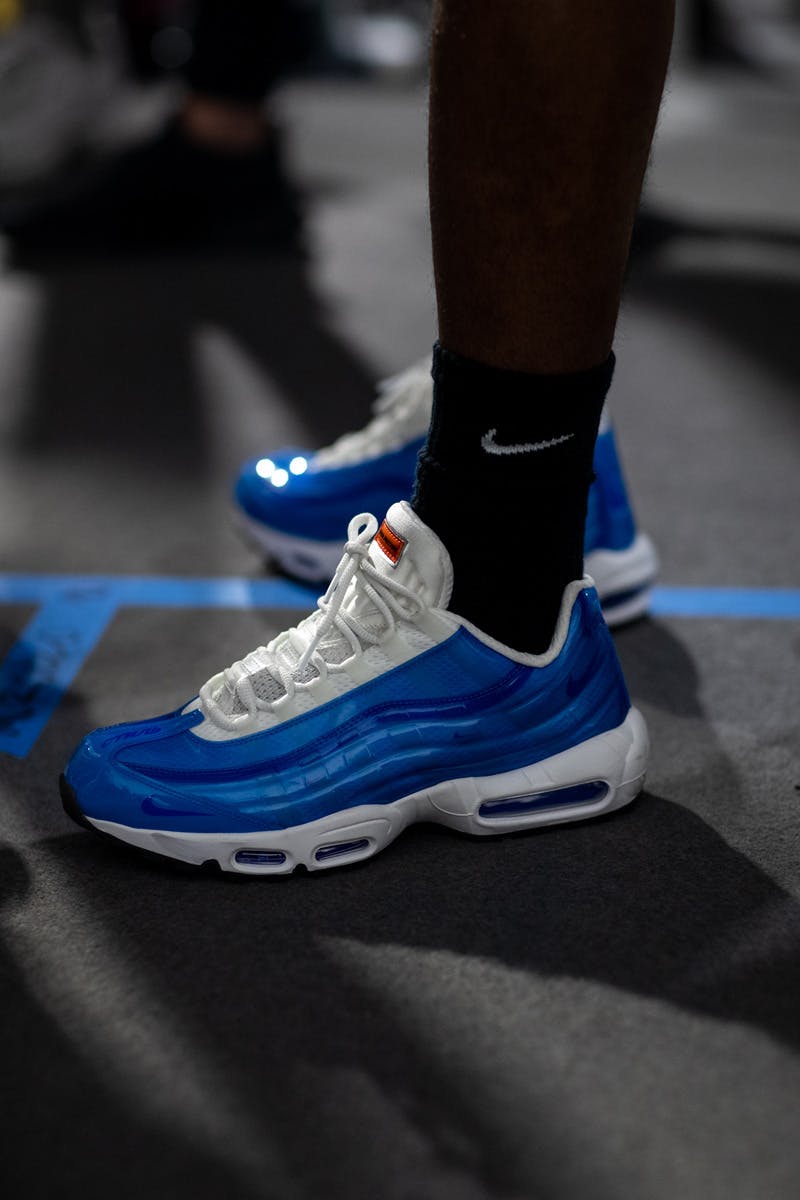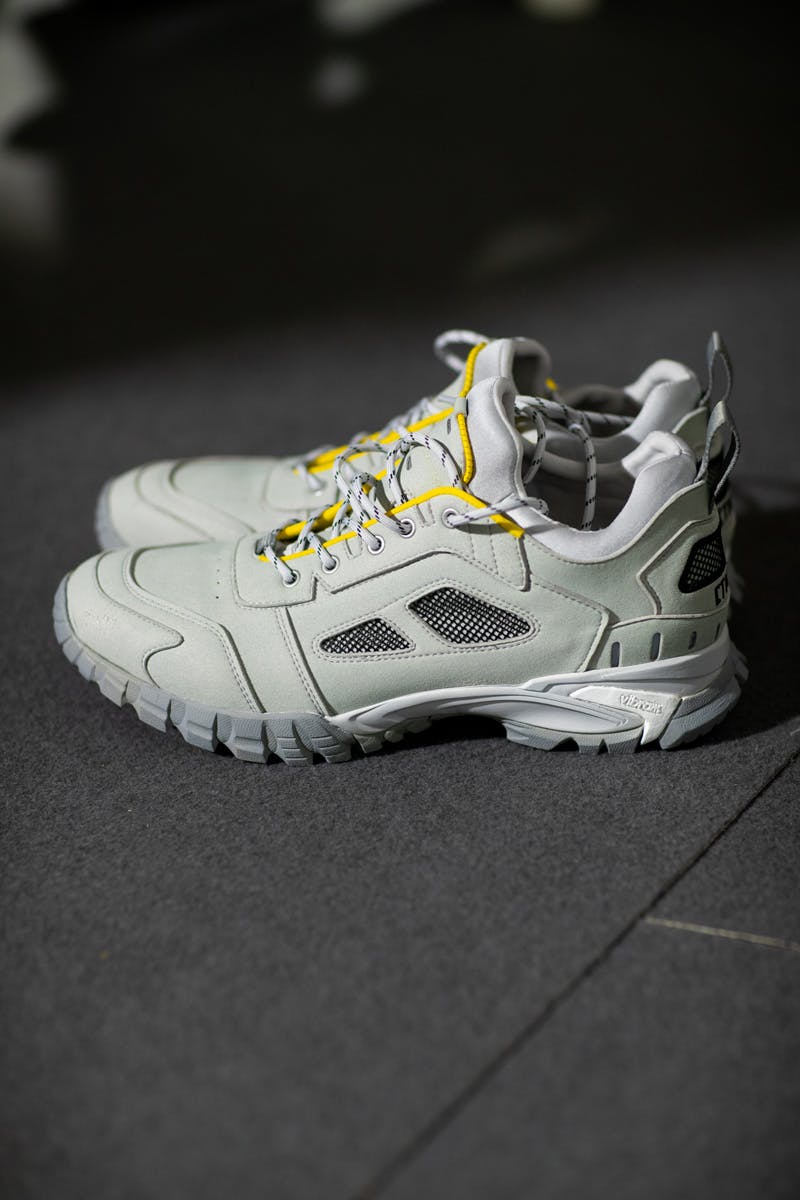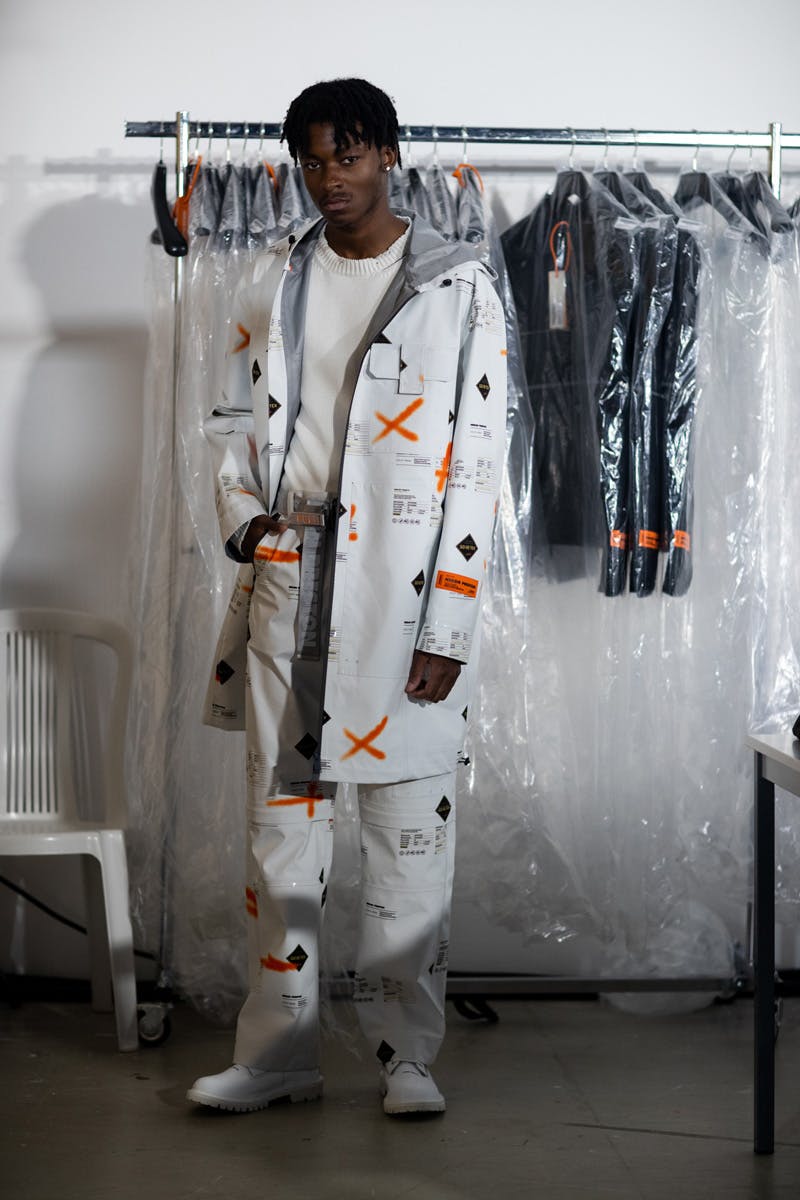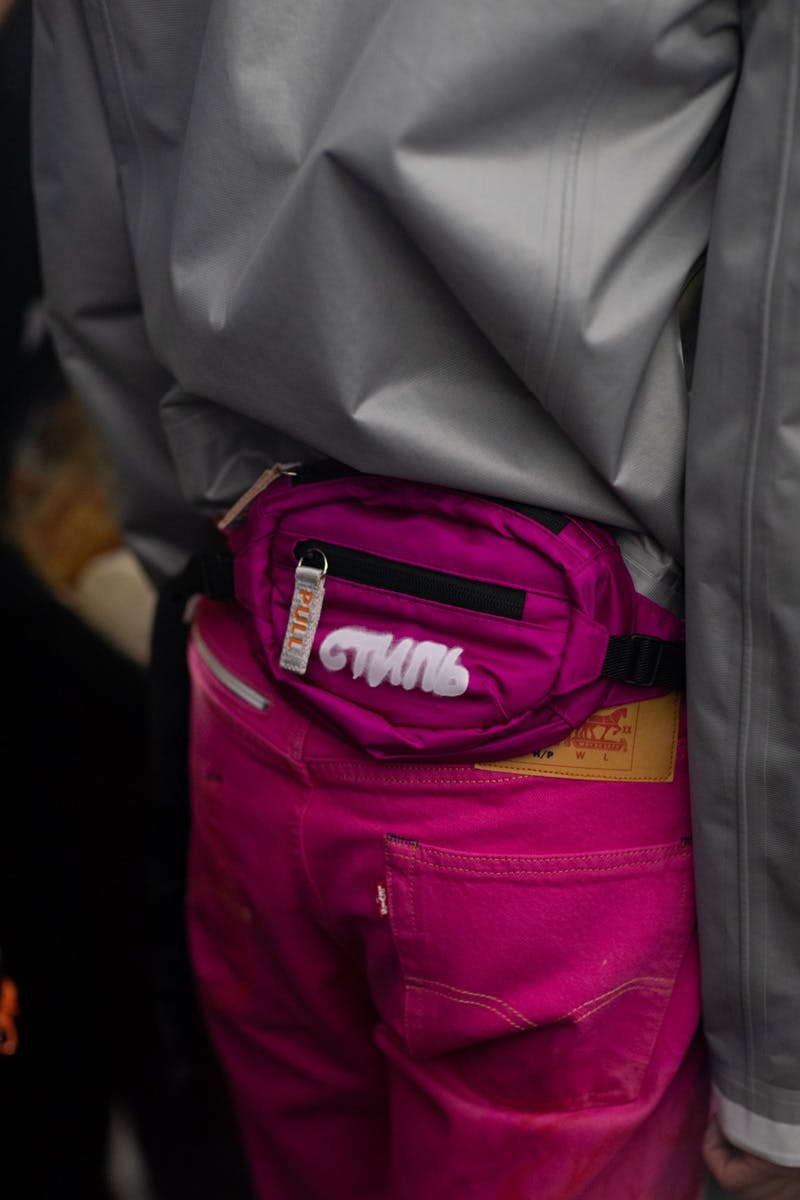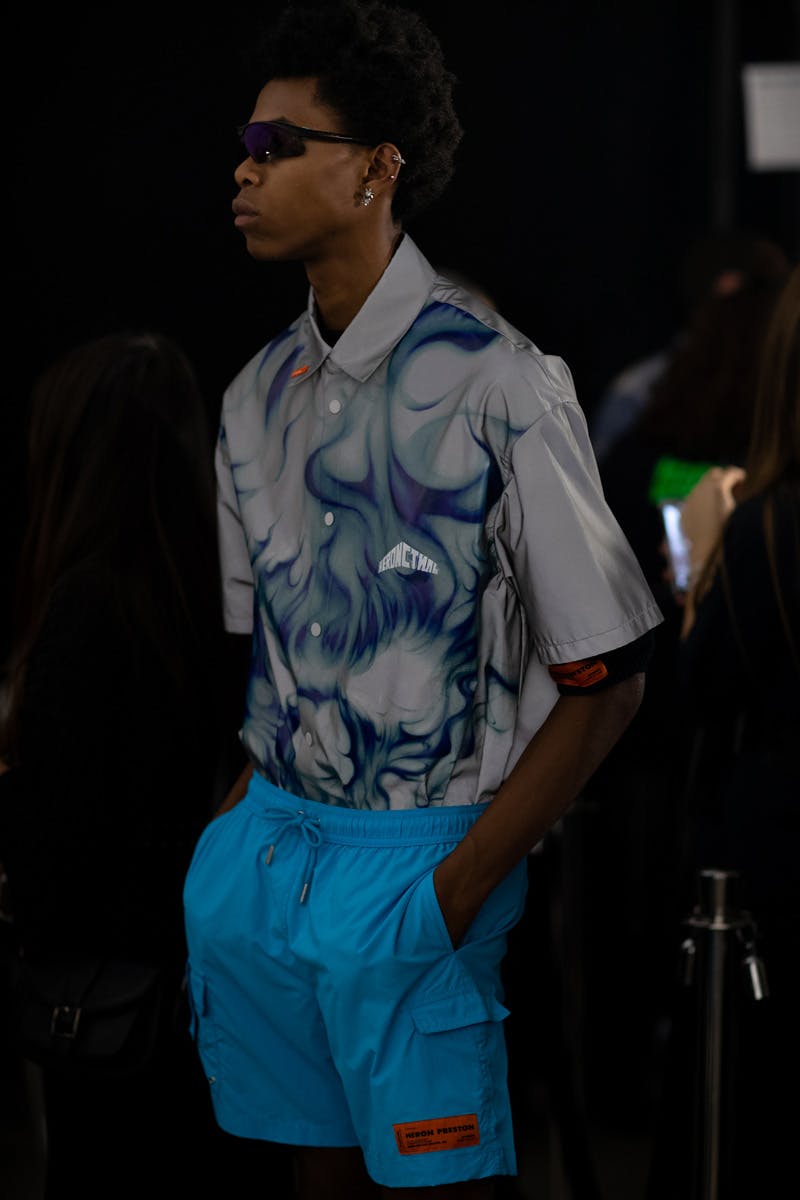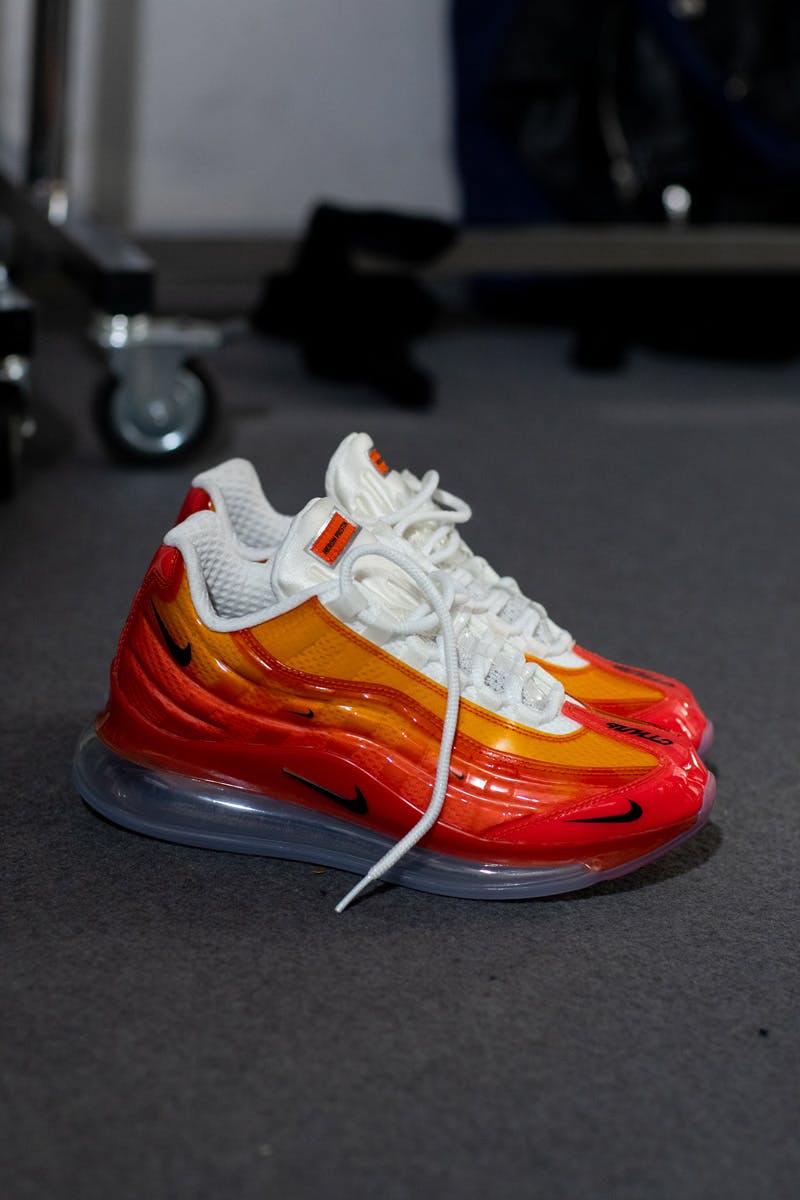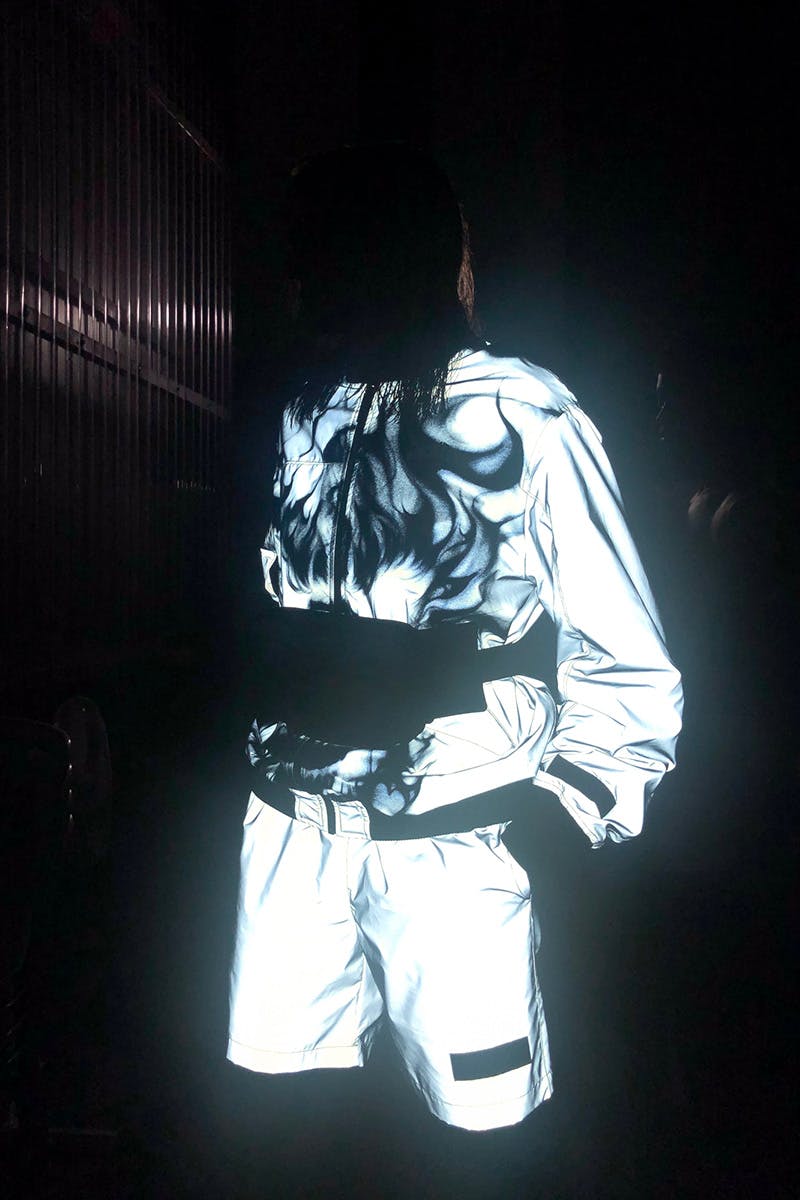 For his Spring/Summer 2020 collection — and second Paris Fashion Week runway show — Heron Preston taps two decades' worth of New York experiences into clothing that represents his idealized version of the city. Titled "Concrete Jungle," the collection builds on the high-vis workwear and casual sportswear that has been the foundation of his eponymous label, expanding into tailoring and more feminine pieces that still radiate with his signature touch.
In some ways, Preston's progression can easily be seen in pieces like the construction-inspired garments elevated with intricate bouclé tweed fabrics contrasted with the nylons and bright taping of traditional workwear.
"I wanted to reflect on my life in New York. I've almost lived there nearly 20 years, and I just thought about bringing this vibe home and reflecting on the city," says Preston backstage.
The show opened with the booming "IGOR'S THEME" by Tyler, The Creator, segueing into a playlist that included Chloé's "The Dawn" and Soho's "Hot Music," running the gamut of the rich sonic landscape that has come to characterize New York over the years.
To add an extra degree of NY flavor, Preston partnered with Instagram documentarian Nicolas Heller, aka @newyorknico, on a video highlighting the kind of city details bona fide New Yorkers would recognize—wading frog toys on display at Canal Street, the only tourist merch that matters (a vulgar T-shirt with a gun on it that boldly declares "Welcome to New York, duck motherfucker!"), and the unofficial costumed characters like Spider-Man that still roam Times Square.
"These are dress codes for the streets, big city life. I had the opportunity to play 'Dipset Anthem' on a runway, so it's really pushing and just having fun," adds Preston. There are also a few collaborations and callbacks to Preston's previous partnerships.
Certain looks featured his recent Air Max 720/95 sneaker released for Air Max Day, and he once again teams up with Dattner Architects, the firm responsible for designing the NYC salt shed where Preston showed his "UNIFORM" capsule collection with the city's sanitation department three years ago.
He also hinted at a new collaboration with Levi's and a few collaborative GORE-TEX pieces too. But of all the collabs, the ones featuring the work of artist Robert Nava have a bit more of a sentimental value to Preston. Not only is Nava one of his favorite artists, but one of the first art pieces Preston bought is by him.
Of course, this celebration of the concrete jungle comes full circle as Preston thinks about his own come-up. He reminisces about one of his first designs, a reimagined "THUG LIFE" T-shirt with his name on it printed on American Apparel blanks. It still amazes him how far he's come, and what's more important now is the role he plays as an inspiration to the next generation of kids who will continue to make terms like "streetwear" even more obsolete.
"Man, I'm a part of pushing kids who just start off making tee shirts," says Preston. "So that's what's really exciting for me—to be part of that story."