Co-founder of the arts and crafts movement, William Morris once stated, "Have nothing in your houses that you do not know to be useful or believe to be beautiful." Generally, any design is either useful or beautiful, and occasionally both, but in the world of capital-F fashion, there is a tendency to favor aesthetic objects over functional ones.
Lately, hiking, mountaineering, climbing, and outdoor-centric styles have found a place in the streetwear zeitgeist. Side bags, performance Oakley shades, Patagonia shorts, and Salomon hiking shoes are all gaining clout and credibility because of the function they provide. Hiking and trail footwear is designed to be utilitarian, which is why this footwear trend is so refreshing in so many ways. It's always nice to know that what you're wearing serves an actual purpose if you need it to.
Brand manager Luke Matthews of size? largely agrees. "We've seen various different trail-inspired products over the past few months at size?, with styles such as the Nike Humara and the FILA Trailblazer," he says. "People gravitate towards them as ultimately they're built for a purpose. They have a function factored into the overall design."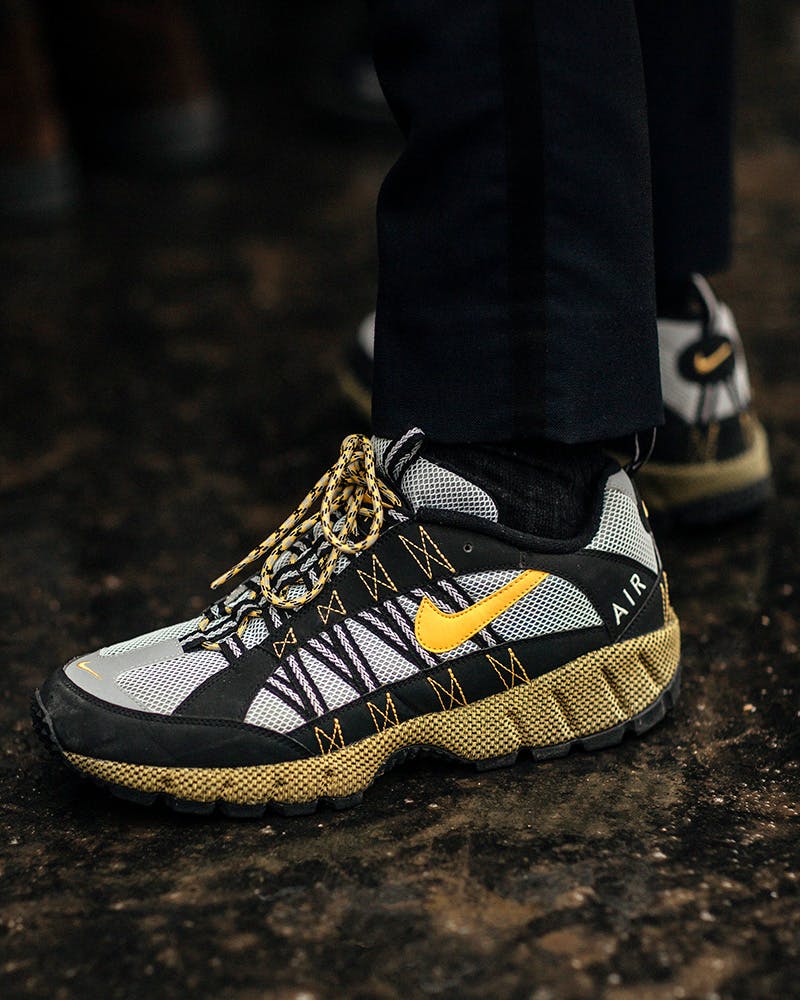 On the brand side of things, Stuart Wells, adidas Outdoor's global brand marketing director, tells us, "The popularity of the outdoor aesthetic speaks to being 'real' in an unpredictable world — function over form and, particularly, protection from uncertainty. We're driven to make sure that our shoes are always delivering uncompromising performance and have a visual attitude."
Silhouettes such as the Nike Flyknit Racer and adidas Running Ultra Boost caused a massive shift in sneaker culture. This shift aligned with the rise of athleisure, a trend that popularized workout gear beyond the gym-going crowd. It also helped that the aforementioned shoes are way more comfortable than flat-footed Keds or Chuck Taylors.
Now, with the steady climb of trail gear, there are tons of examples to point to, from Pharrell Williams and adidas Originals' NMD Hu Trail, which blends hiking inspiration with a street style edge but might not stand up to mountain conditions, to the recent The Broken Arm x Salomon XT-4 collaboration, which is an unadulterated performance shoe with the addition of a sweet colorway. Nike even picked this summer as the occasion to reintroduce throwback hiking models from the ACG (All Conditions Gear) range, including the Dog Mountain and Air Revaderchi.
Jean-Philippe Lalonde, Salomon's lifestyle footwear program manager, explains how the brand's products are built to withstand the harshest conditions: "Functionality is the rational appeal of this category. Trail running shoes are designed to meet the following requirements: durability to prevent wear from abrasion because of rough terrain; lightweight to accompany the runner in races that sometimes go beyond 100 miles; waterproofness for rapidly changing terrain and weather conditions; and adaptive insulation for journeys ranging from snowy mountain caps to desert-like valleys. These solutions are easily applicable to everyday needs in the urban environment."
Of course, these functional products have been on the market for some time, but sneakerheads and fashionistas had no reason to take notice before, with the exception of the Japanese market, where technical styles from Mizuno and sandal brand Keen have been cult favorites for decades. But now, new technology, exciting collaborations, and a fresh view of product marketing are favorably positioning hiking styles for the global market.
"For the last couple of seasons we've brought together the demands of performance outdoor athletes and enthusiasts on the one hand, with the hunger for street aesthetics from urban consumers through strategic collaborations with brands such as KITH and White Mountaineering, which both dropped recently," says Wells.
Herbert Hofmann, creative director of Berlin retailer Voo Store, offers a seller's perspective on the phenomenon. "Salomon started on it early and realized the possibility for a new market," he says. "Prada Linea Rossa and Lanvin have always taken inspiration from outdoor designs and functionality, but now many brands such as Balenciaga and ALYX are generating a new focus on the shapes and soles. Hopefully Nike ACG gets a part of that hype, too. It would be well deserved. Also, The North Face's Back to Berkeley boot could be interesting again for winter."
The increased interest among tastemakers for hiking products could also tie into the wider trend for all things wellness. As Wells of adidas puts it, "We did some recent consumer research in the US and Europe that completely confirms that sneakerheads, especially those from bigger cities, have an increasing interest in the outdoors. As 'weekend warriors,' they use hiking as a means to escape the busy streets, the noise, the clutter of the city."
Lalonde concurs, telling us, "City dwellers are also starting to trade late nights at the bar for early mornings in the mountain."
John Tuazon, senior buyer at Livestock Canada, feels the utilitarian trend is only logical. "We think that performance has always been at the forefront for sneaker fanatics," he says, "whether it's SBs, basketball shoes, runners, or trail shoes, every piece should serve a purpose. Sneakers aren't meant to sit in a closet forever. They're meant to be worn, so they better be comfortable and have some quality behind them if we're going to spend time and money trying to get them."
Looks like it's time to hit that dusty trail.
To stay updated on everything happening in the sneaker world, follow @Highsnobietysneakers on Instagram, check our sneaker release date calendar, and subscribe to our sneaker chatbot on Facebook to receive lightning quick updates to your inbox.