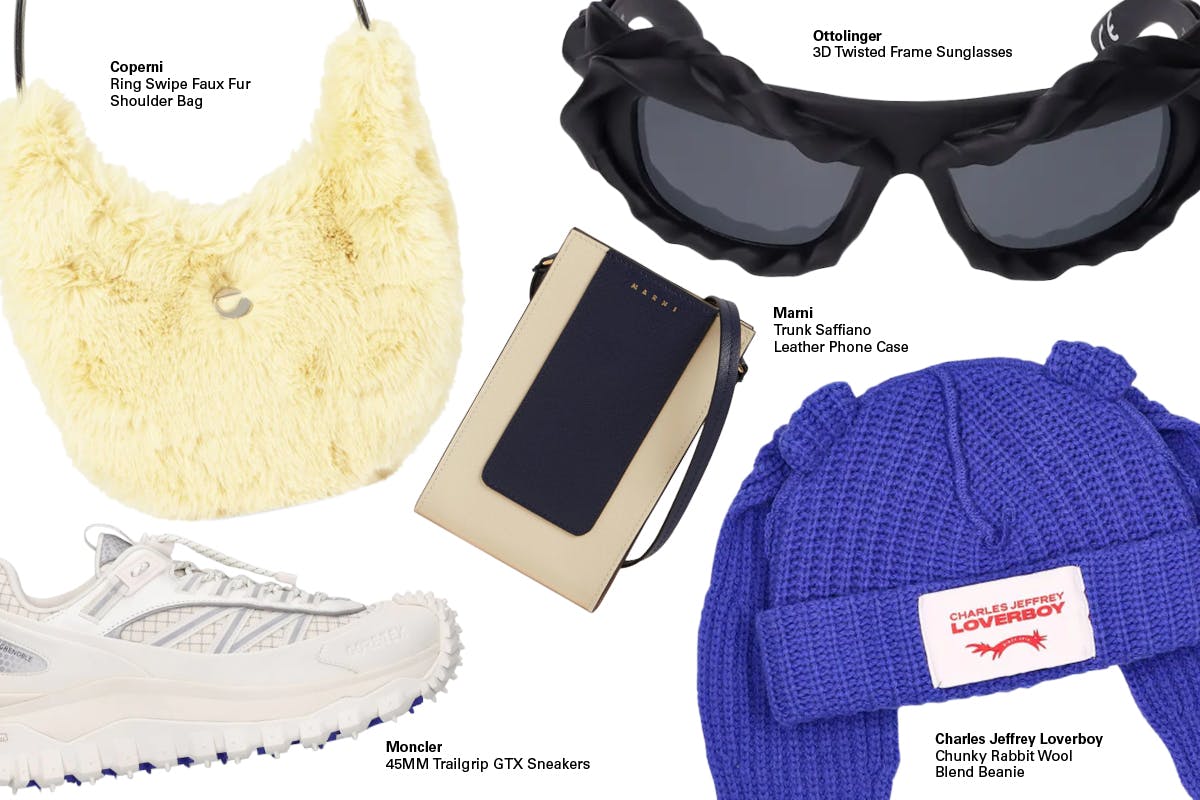 No gift should be gendered. But when tasked with suggesting gift ideas for this well-searched term, we dipped into the womenswear aisles of some of the internet's greatest online fashion stores to bring you pieces that they (or, to be honest, anyone) will love.
So, whether you're on the search for holiday gifts for a girlfriend, mother, sister, grandma, best friend, or anyone in between, look to the selections below for a nudge in the right direction.
Keep scrolling to shop the best holiday gifts for her.
Muubaa Reversible Faux Shearling Coat
A big (faux) shearling coat for Christmas? you just won the holiday season, my friend.
Acne Studios Trail Sneakers
Acne Studios' Trail Sneakers have been around for several seasons now, but they're yet to lose their charm. Even the simple colorways like this one are still doing it for us.
Palm Angels Star Sweater
'Tis the season for bold knitwear, tra la la la la la la la la la.
C.P. Company DD Shell Down Jacket
C.P. Company's jackets aren't just for the fellas. The DD Shell Down Jacket is such a popular design because of its versatility & that's what makes it such a good gift for her, too. This Port Royal Red colorway is a head-turner.
Palm Angels Track Bomber Jacket
Palm Angels' tracksuits are undeniable highlights in every collection. They're the bedrock that the brand relies on, and for good reason. This turquoise colorway will bring a pop of color been if the weather isn't cooperating.
The North Face 1996 Retro Nuptse Short Jacket
And when the weather isn't cooperating, here's the answer. Come to think of it, this would pair really well with the Palm Angels tracksuit top, so maybe they should come as a two-part gift.
MLB Yankees Beanie
The evergreen Yankees logo never ceases to amaze us. It's a lesson in great branding.
Moncler Minuit Sunglasses
Moncler's sunglasses are infused with the kind of formidable utility that can only be learned on the slopes. The Minuit Sunglasses, though, balance this performance-level effectiveness with style in a Candy Pink finish.
L:A BRUKET Bastu Scented Candle
Candles are a guaranteed win during the holiday season. They're a central part of winter coziness, and they have the power to give a room an instant lift. L:A BRUKET has been top of our candles table for a while now and with scents like Bastu, which blends cedar wood and pine tar with a hint of fresh birch leaves, its going nowhere soon.
Jacquemus Plush Gloves
The fact that these Jacquemus gloves are at all useful over the winter season is entirely secondary to the plush, hairy, hot-pink finish.
Ottolinger 3D Twisted Frame Sunglasses
Sunglasses in winter is a serious style power move, and this pair of twisted frames from Ottolinger is the most powerful of power moves.
Charles Jeffrey Loverboy Rabbit Beanie
Cute but effective. Charles Jeffrey Loverboy's Rabbit Beanie is probably our favorite hat of the season.
Bottega Veneta Intrecciato Wallet
Bottega Veneta's Intrecciato weave is a pillar of the modern fashion scene. Here, the weave is made from high-quality white leather to give this wallet a signature finish.
Want to keep browsing? Head to the Highsnobiety Shop for more products that we love. Highsnobiety has affiliate marketing partnerships, which means we may receive a commission from your purchase.