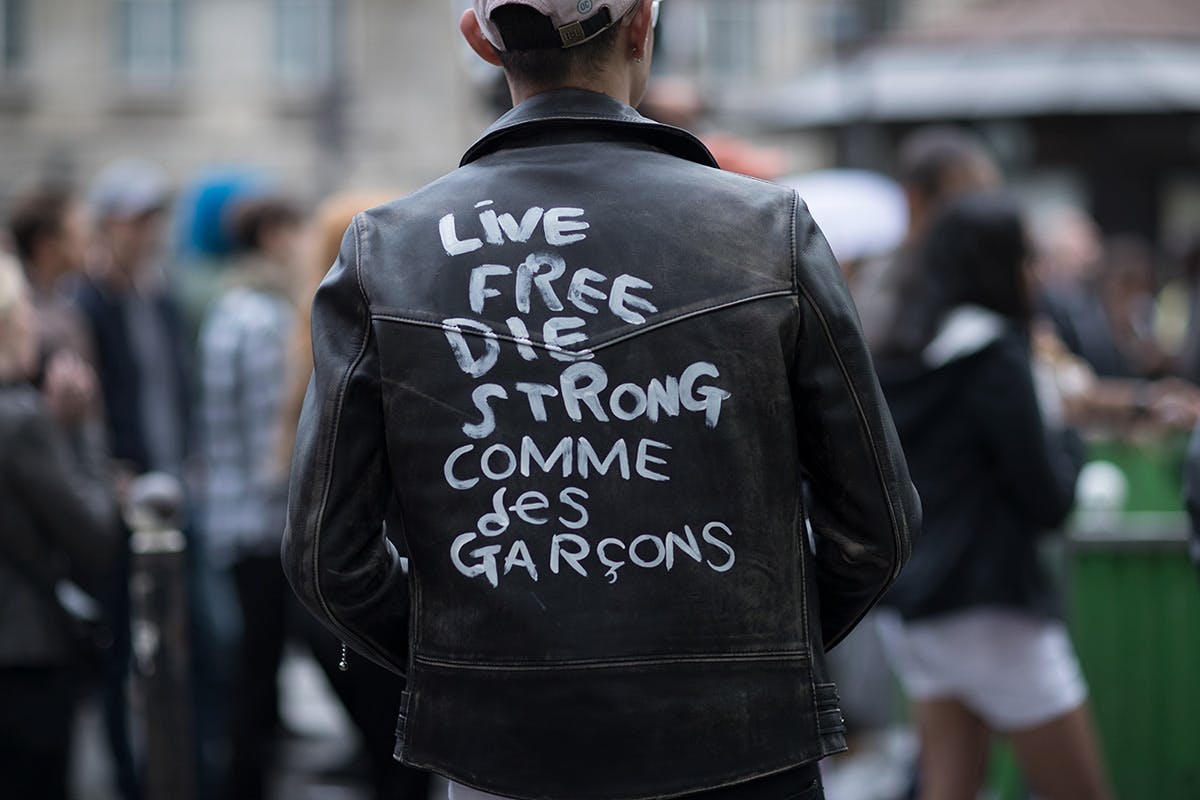 After decades of speculation and refusal to comment, the truth behind one of fashion's longest standing mysteries is revealed — exclusively to Highsnobiety.
Rei Kawakubo, founding mother and chief designer of COMME des GARÇONS, shrouds herself in mystery. It's a cloak, to be worn much like one of her own avant-garde creations. One that inspires intrigue, even if you're not quite sure you entirely "get it."
Notoriously press-shy, the Japanese designer has, more often than not in her 36-year career, let her abstract designs speak for themselves. Her collections present complex narratives and commentaries far beyond what her husband, translator and business partner, Adrian Joffe, could hope to articulate in an allotted interview hour. In part, that is what makes COMME des GARÇONS so special: it is unrepentantly aloof, and yet simultaneously alluring.
Founded back in 1969, both Kawakubo's designs and business acumen have redefined how we perceive contemporary fashion. The blurring of gender norms was a trait that appeared in CdG collections long before androgynous fashion became the zeitgeist. Similarly, COMME's series of Guerrilla Stores – which ran from 2004 until 2008, starting in Berlin and ending in Glasgow – was arguably the catalyst behind the now-ubiquitous "pop-up store" concept. Today, the company is worth in excess of $200 million, all achieved while retaining a creative integrity and zeal that's perhaps unsurpassed in the current corporate landscape.
But how did this Japanese creative juggernaut come to have such a French-sounding name? It was not, as some commentators have suggested, playing off preconceptions about snooty Parisian couture, hoping to glean a semblance of gravitas by virtue of association. Anyone who has given Kawakubo's work even a cursory glance can see it is utterly rooted in originality and has zero interest in hanging off the coattails of others. No, in actual fact the name is borrowed from a song recorded seven years prior to COMME's inception, written by French recording artist Francoise Hardy.
The title of the song, "Tous les garçons et les filles," translates directly to "All the boys and girls," and appeared on Hardy's untitled debut EP. This melancholic tale of a woman who has never managed to find love, yet constantly finds herself surrounded by amorous couples, includes the line, "Comme les garçons et les filles de mon âge," which fashion-fans of a certain age have long-suspected was the genesis of the brand's name. "Tous les garçons et les filles" went on to sell 500,000 copies in France that year, before later being re-recorded in English, Italian and German for the benefit of international audiences. 19 years later, Kawakubo would exhibit her first ever COMME des GARÇONS collection in Paris, little over 10 miles from where the song was penned.
We reached out to COMME des GARÇONS asking if they could confirm whether it was, in fact, Hardy's 1960s hit that inspired the brand's name. The very same morning, the label's press office confirmed, via their CEO Adrian Joffe, that it was indeed true. And, just like that, a mystery that has lain unconfirmed for decades was dispelled once and for all, adding yet another charming eccentricity to this most resoundingly individual imprint.
Long may it continue to surprise us.
Words by Calum Gordon for Highsnobiety.com 
Check out the brand's most recent collaboration with Supreme here.