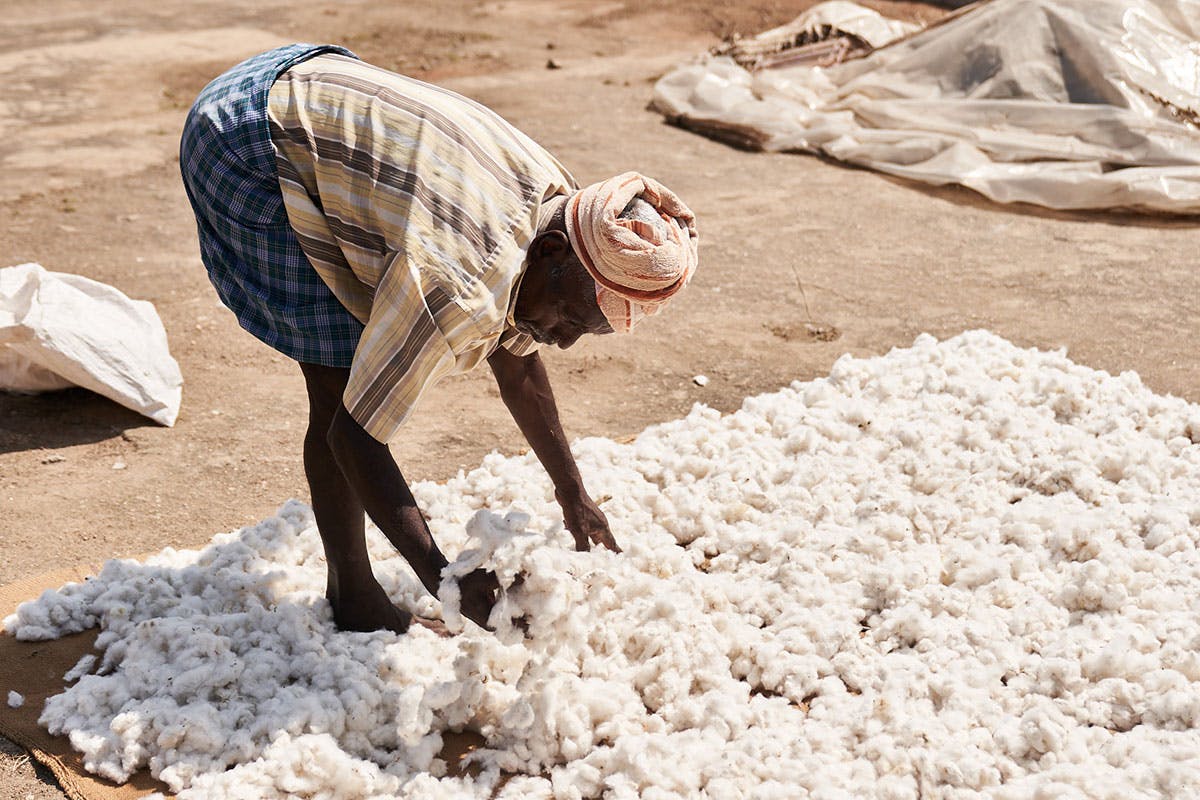 On November 26, 2020, approximately 250 million people in India united for a historic strike. The reason? A series of three new agricultural laws that could prove devastating to the livelihood and existence of local farmers, and hold the potential to make the global trade of cotton even more embroiled in devastating labor practices than it is already.
The laws were passed in September by Prime Minister Narendra Modi's government. They privatize the crop market and deregulate pricing, meaning that companies are able to undercut family businesses and push them out of the market, in turn contributing to crippling worker debt and a suicide rate among Indian farmers that is already devastatingly high. ⁠Peaceful protests calling for repeal have been occurring ever since the laws were passed, often resulting in police brutality featuring tear gas, water cannons, and batons.
In India's previous system, crop prices were decided through government-regulated markets called Mandis. It was at these markets where a crop's Minimum Support Price (MSP) was decided, a practice in place to protect farmers from pricing fluctuations. The MSP was given for any crop that the government considers profitable, usually based on recommendations from the Commission for Agricultural Costs and Prices (CACP) and taking into account overheads (seeds, fertilizers, fuel, the value of unpaid family labor, rent, land interest, machinery costs etc). There are over 25 different crop types listed on the CACP, and two of them are cotton.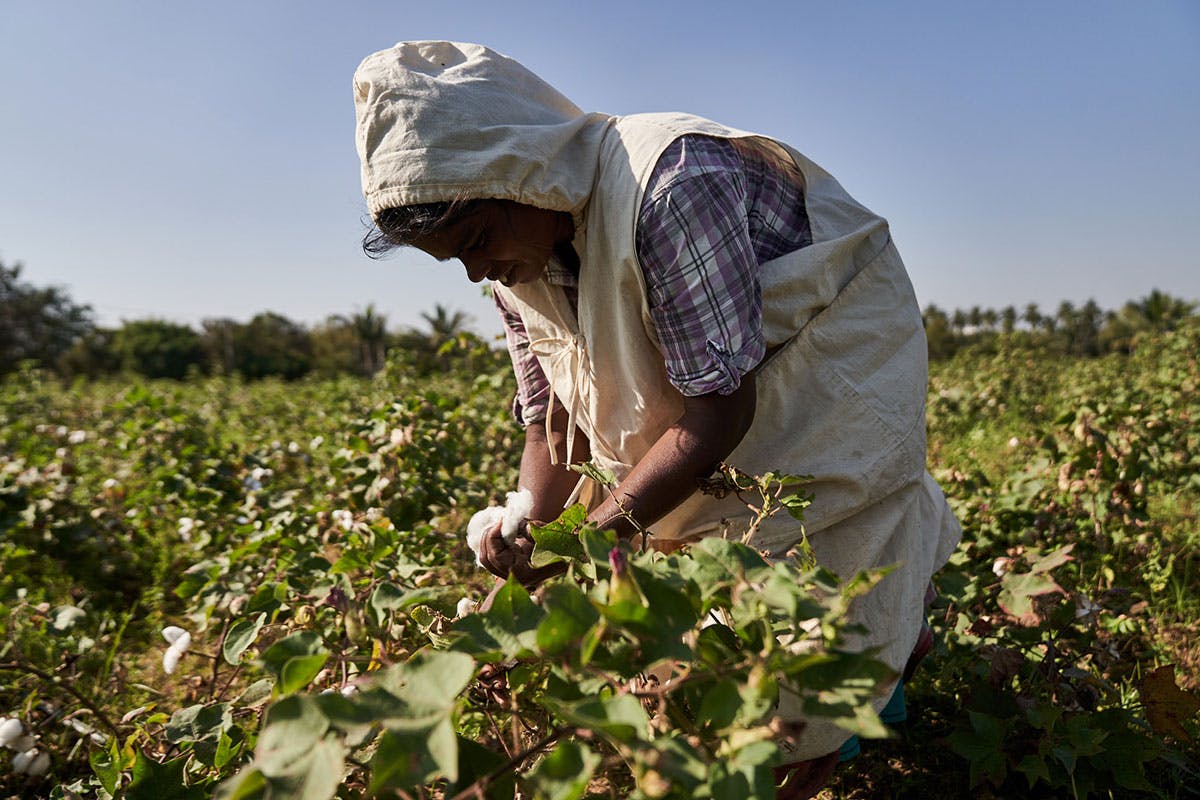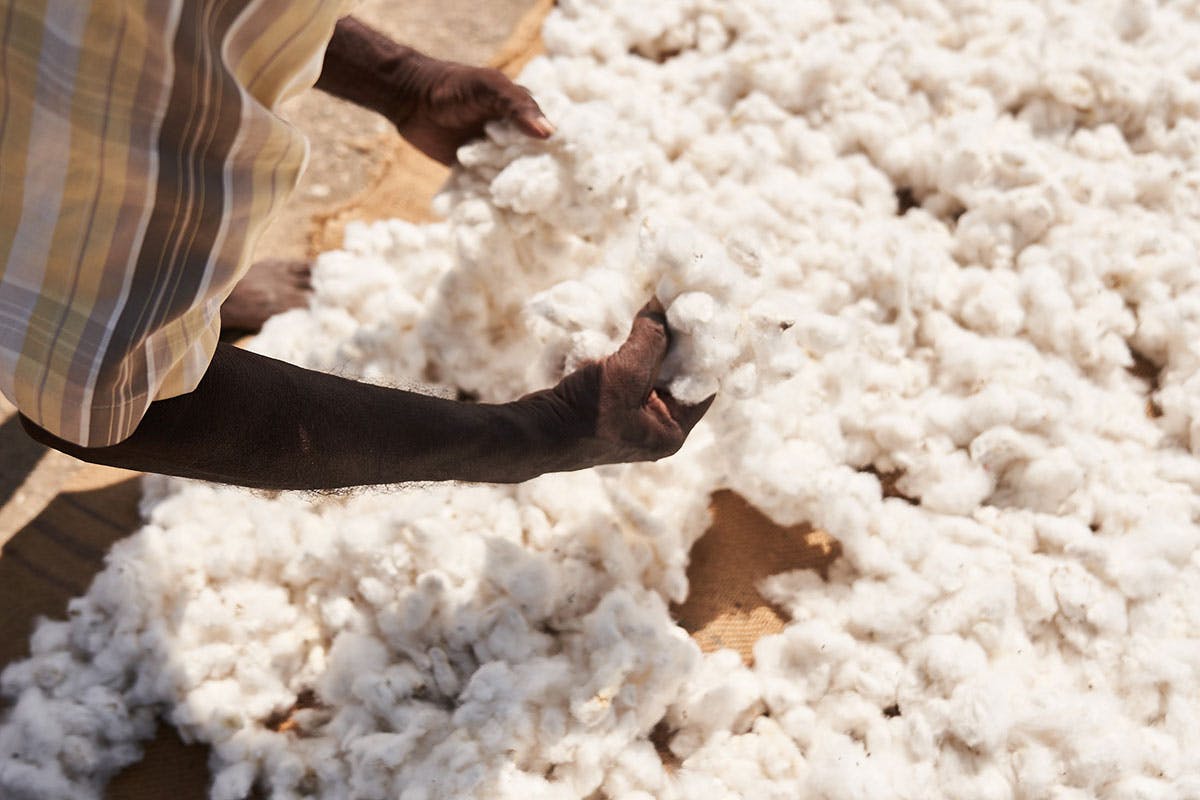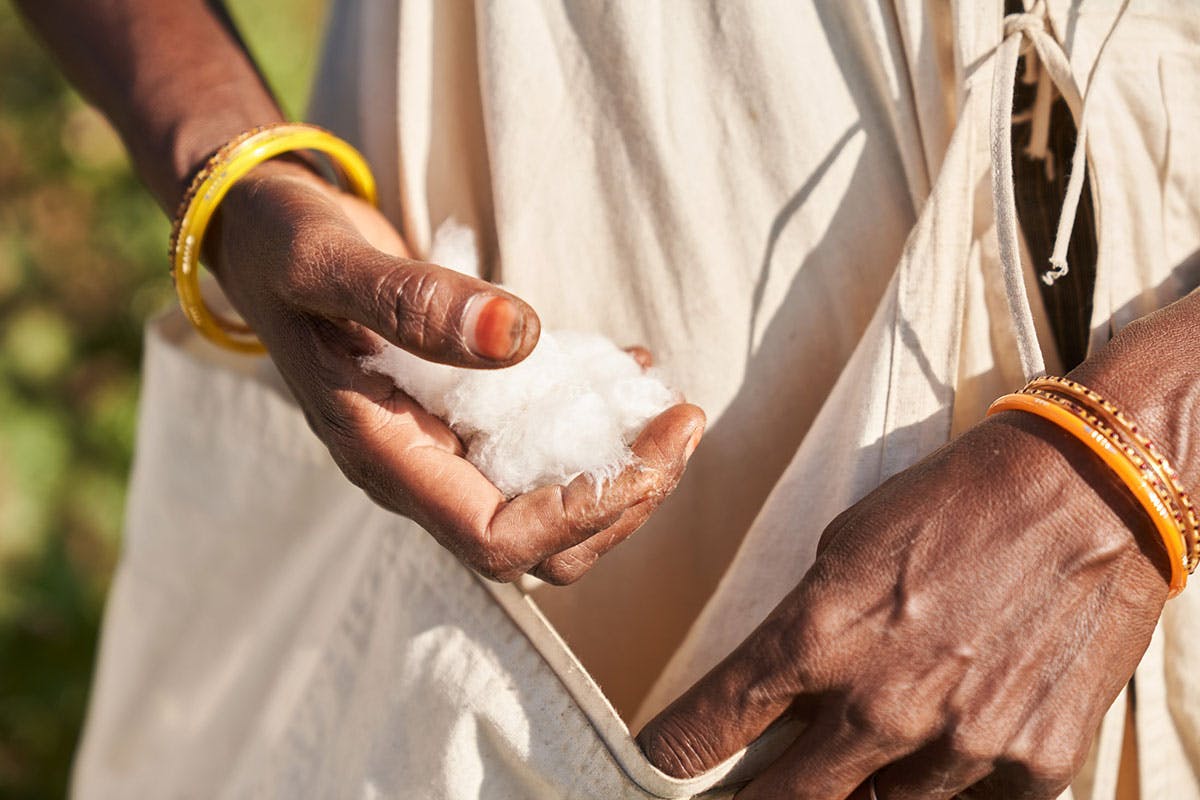 "India has one of the highest production rates of cotton on the farm side of things," says Nishanth Chopra, who founded the womenswear label Oshadi in 2015. Chopra's brand is more of a collective, one with a "seed-to-sow" perspective and a fully traceable supply chain that (as we discuss later) should become the template for the global fashion industry. When I ask him how the farmer's protests could connect to the production of cotton, he explains, "the same farmer who is farming rice, sugarcane and a lot of those crops is probably rotating it with cotton. So if those crops are affected, cotton gets affected as well. It's intertwined."
Harjinder Singh is one such farmer. He told The New York Times recently that he traveled 600 miles from Gujarat, where he farms wheat and cotton, to New Delhi to join the protests. "I've got 100 acres there," he said, "and now I've turned it into barren land because of the government's rude policies."
The policies also criminalize residue burning, a ritual that involves taking a match to fields after harvest because cleaning a farm by hand is extremely labor-intensive and expensive. "They just light it up," Chopra explains, "so it burns overnight and next morning you have a clean field." That ritual is now a crime. Environmentally speaking "it's a good move, but it doesn't have a solid support system for the farmers to switch to. What are farmers going to do? They can't afford to go clean that stuff. They're helpless. Who's going to help them take all the harvest? Who's going to pay them for cleaning it? You only pay them to harvest cotton, you don't pay them to clean the fields. When someone's paying a price for something, it's not for cleaning, it's for the product. The government needs to bring in systems to actually make it practical. That's why all these issues are arising and there's so much protest."
His point about who really pays the price for product is one that should hit home for all of us, particularly given the alarming reports concerning fashion's connections to the forced cotton farming labor currently going on in China. A report by Washington's Center for Global Policy published last week found that over 570,000 people belonging to China's Uighur minority are being forced to work in Xinjiang cotton farms, which supply one-fifth of the world's cotton. As Business of Fashion put it, "20 percent of the world's cotton. Half a million modern slaves."
Policies and regimes such as these benefit from — or, arguably, can only operate thanks to — a total lack of transparency in the global textile industry supply chain. In the same article, BoF wrote of how luxury groups like Kering (Gucci, Saint Laurent, Balenciaga), Zara-owner Inditex, Nike, and Lacoste, are unable to confidently say that their brands do not use Xinjiang cotton. Overwhelmingly, the answer was "not that we know of." Largely, the reason for this is that brands rarely purchase raw materials or weave fabric (denim, canvas, etc) themselves. Cotton is traded in huge quantities "alongside commodities like cocoa and gold, a long way down the ladder from where fashion brands usually operate." What's more, "supply chains are constantly changing as product specifications evolve, and as opportunities to source components at the best price jump around the globe."
This price jump, aka quest for the cheapest deal, brings us back to India's farmer protests, and the incredible work Chopra's Oshadi brand is doing to eliminate the exploitative murky middle ground.
"India is one of the highest polluting countries in the world," Chopra continued, "and it's because of residue burning and things like that." (Per Bloomberg, two-thirds of the world's most polluted cities are in India.) He grew up in Tamil Nadu, "one of the biggest textile hubs in India. Every 13th person here has cancer. It has one of the highest infertility rates in India."
So, he set out to start a brand that taps into traditional Indian farming techniques as a way to do his part to enact change. He spent time in remote villages and forests to learn artisanal practices and then partnered with local communities as a way to create and include. He linked with weavers, dyers, and block printers to produce his collections. Then he opened his own farm and partnered with the farmers, rather than issuing a contract. "We realized that ancient Indian agriculture can solve all these problems. By doing it ourselves we can make sure that agriculture imitates the forest. It becomes more economical for farmers. It becomes better environmentally and socially."
His farm is rooted in regenerative agriculture, a practice that is good for the plants, the soil, the organisms in the soil, farmers, and the consumer. In layman's terms, regenerative agriculture intends to replenish and strengthen the soil to wield a healthier outcome for everyone involved. Rather than cultivate field upon field of one specific crop, this system implements crop diversity so the soil is nutrient-rich and thus plays into the earth's natural cycle of soil trading carbon with the atmosphere. Soil needs carbon to store water and feed plants; excess carbon in the atmosphere is the cause of global warming, rising sea levels, and extreme changes in the weather. Modern farming practices make this worse as they leave massive areas of land stripped, barren, and burnt, meaning soil can't effectively absorb carbon.
His collective "follows the laws of farming that are more permanent," says Chopra, "that restore the local ecosystem while also ensuring a premium price for the farmers we work with."
Oshadi could be seen as a label that continuously questions and then problem solves. "We experimented with so many materials like Tencel, hemp, linen, and organic cotton. Then we realized organic cotton is not really organic cotton (cotton without pesticides). If you go to any mill in India, you'd be able to find tons and tons of organic cotton any given time of the year, even now. How do they have tons of it in stock? In Corona times, half of the farms are down, yet you still get the same amount of cotton everywhere." His conclusion? "There's no real organic cotton in the market."
When I ask him to expand on that point, he gives the following example. "Let's say you [apply to get an organic cotton] certificate. Most of the information has to be entered by the client that is requesting that certification. It makes absolutely no sense. Think about it. If you ask me, 'how am I as a human being?' I would, of course, not tell you the things that are wrong about me, but that's exactly what all the certifications are doing. They want you to self-audit. It doesn't work that way in India. People cut corners all the time. You want a GOTS (Global Organic Textile Standard) certificate? You can just buy it."
It goes hand-in-hand with Chopra's nature that he's thinking about a solution for this, too. He suggests that the government makes a technological system through which every company must run its entire supply chain. Anything less than that would be marked as a criminal offense. "Leaving dyes and chemicals on farmland? You're killing the soil and in turn, you're killing yourself — you eat that stuff and you wear that stuff. It's like a crime, you see? It's a slow poison.
"But people never classify it as a crime. People just think it's okay, they just ignore it. Humans have this biased look. They look at their own child in a different way than the way they look at a neighbor's child. I think the individualistic mindset is what's driving all these things. Like, 'I want to be first. I want to be myself. This is my company and I want it to succeed. I want to make billions. I want to do those things and it's me, me, me.' They just don't realize that their lives are so intertwined with each other.
"If someone is having a great life in the US, in New York, and buying 100 shirts every month, they don't know that 10 farmers are working on the farm in the scorching heat. People have just no relation. No one knows. They don't know what's behind these things. I think that's why people end up being ignored and biased. They don't have the information."