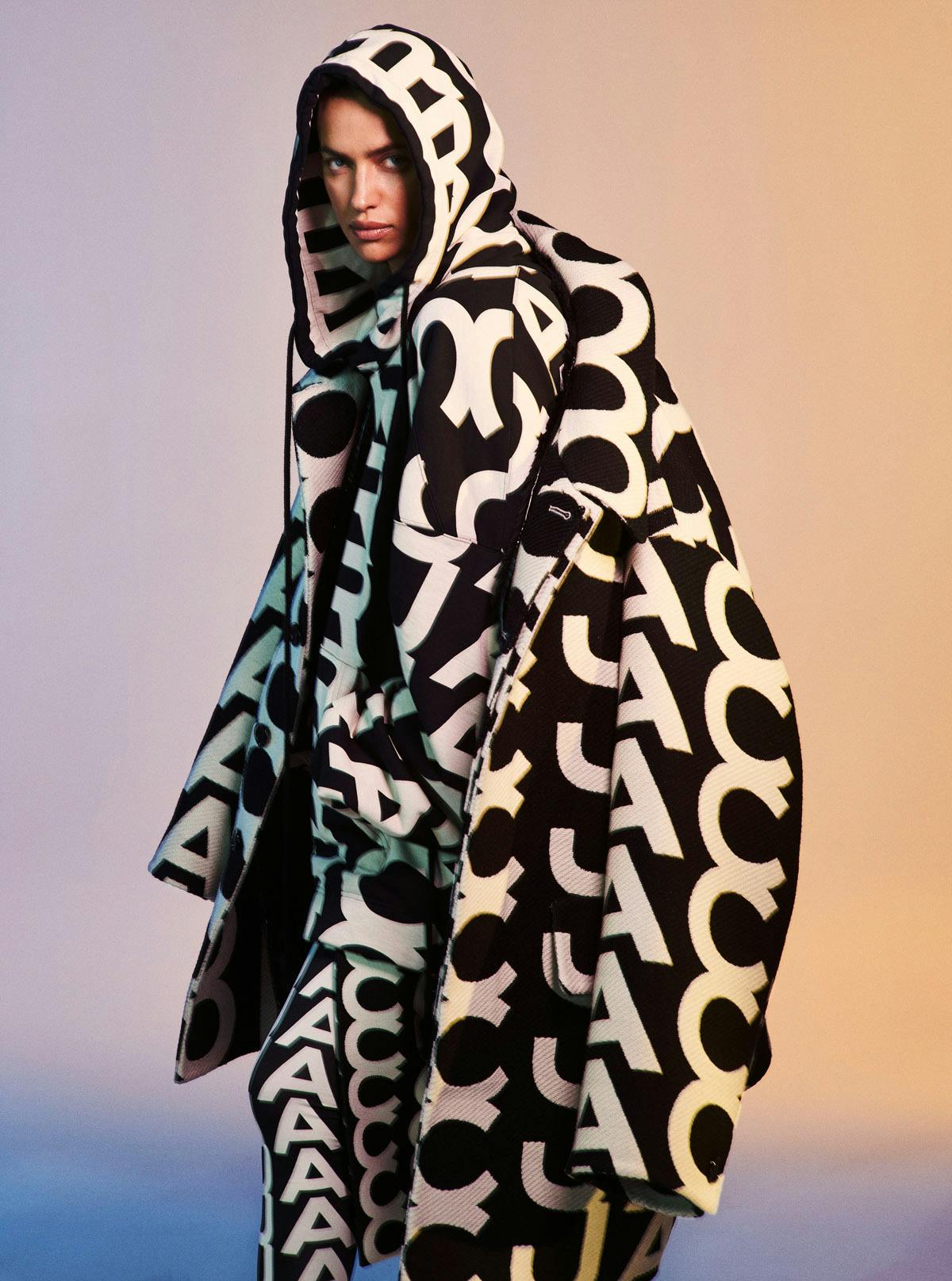 With this week's FRONTPAGE, we are thrilled to announce HIGHStyle, our new print magazine available from retailers around the world and our online store. In this devastatingly glamorous interview, our cover star Irina Shayk is the embodiment of a fashion icon.
The standard celebrity response to the relentless pursuit of the paparazzi is, at worst, smoldering rage, and at best, casual indifference. But Irina Shayk has a happier approach. Each morning, as she gets ready to take her 4-year-old daughter, Lea (whose dad is actor Bradley Cooper) to school, she plays dress up. "You can't leave your house with dirty nails and dirty hair — even though I really want to sometimes," she says. "But during lockdown, we had no red carpets. I was like, 'I've got to make school runs fun.'"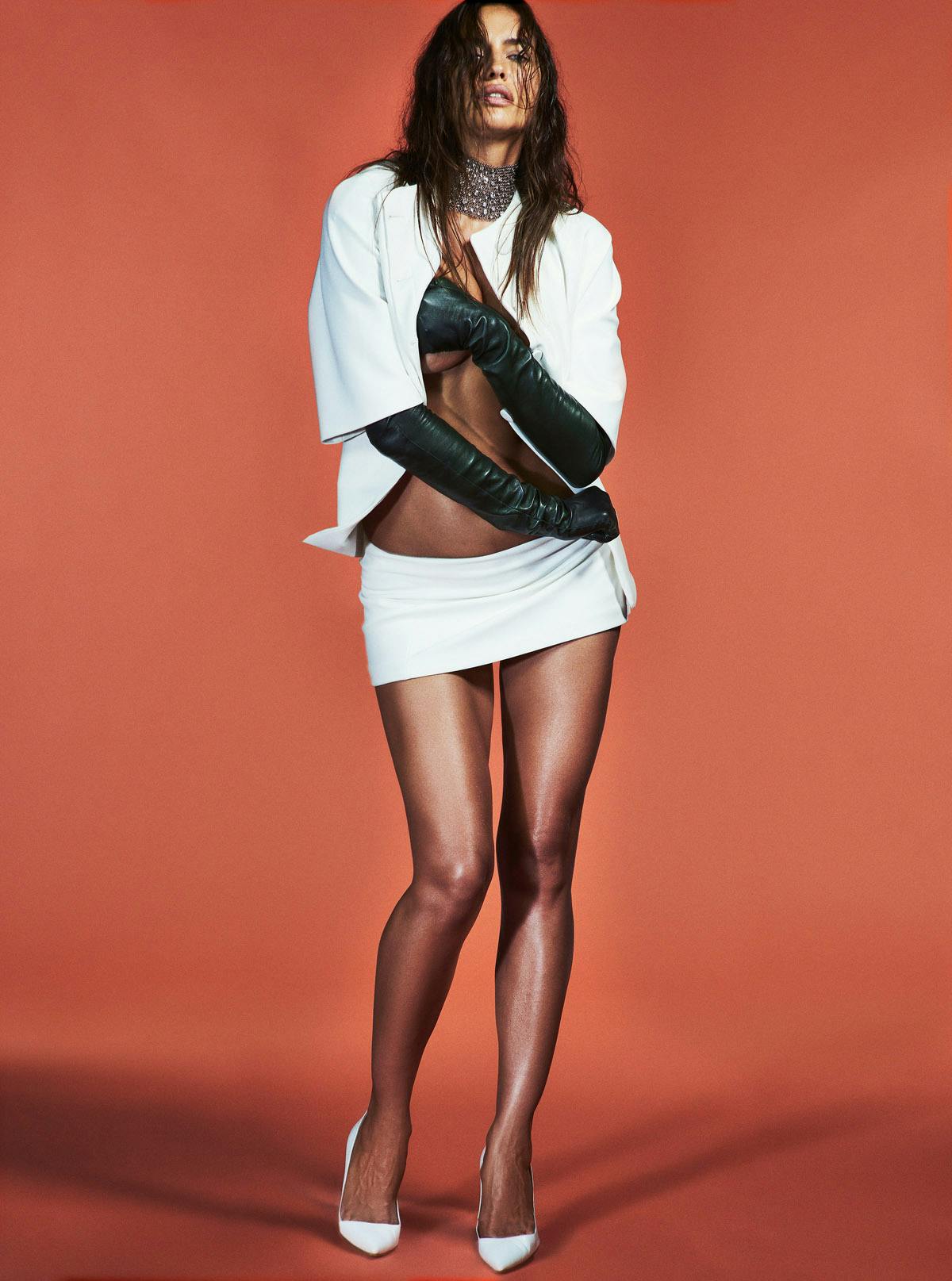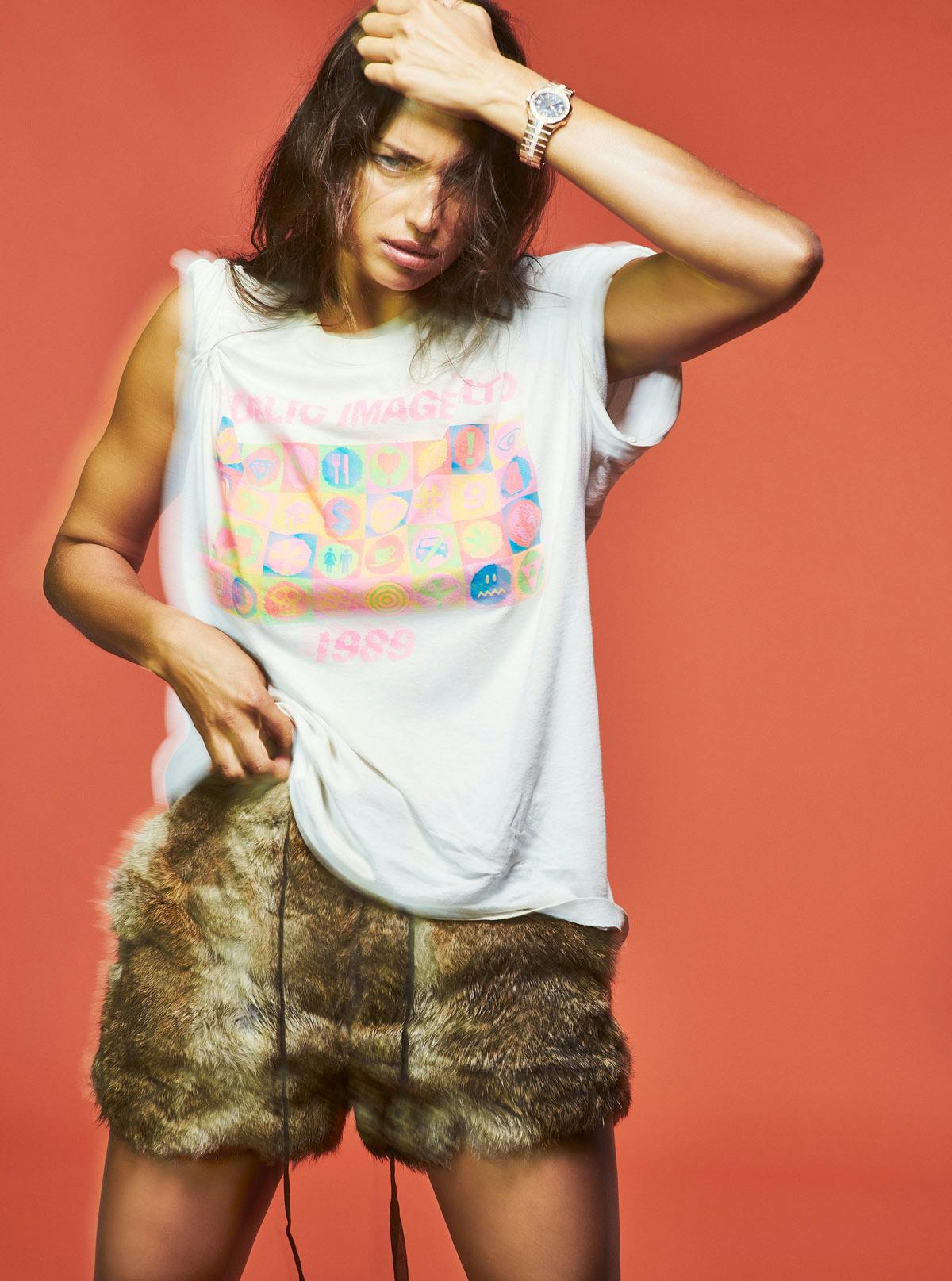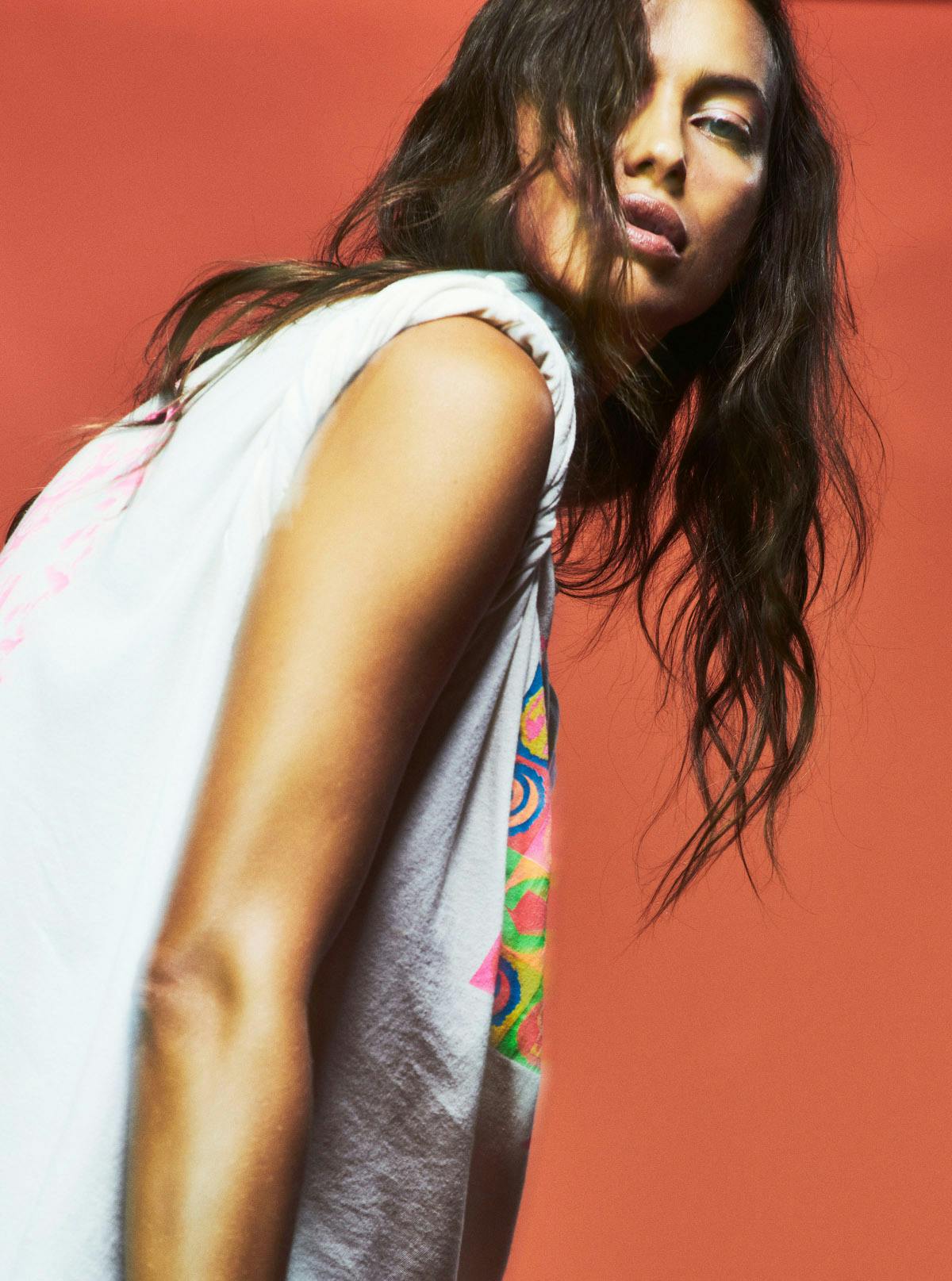 The photographers have been extra-feverish lately, as rumors swirl that she is Kanye West's first post-Kardashian girlfriend (more on that later). But that's just meant more opportunities to show off; in a Pepto pink men's suit, or a purple-and-yellow plaid Vivienne Westwood jacket and skirt, or a faux fur-hooded coat the color of Big Bird. "Sometimes my daughter is scared — she sees the paparazzi from miles away. She's a KGB baby," Shayk says. "We had to explain to her, like, 'They're just doing their job. By selling pictures, they make their living. You don't have to be scared.'"
Shayk, after all, knows how this fame game works, and has been making proverbial beets into borscht since her childhood in Russia, one that was filled with rougher stuff than what gossip columns dish out. Today, her remarkable rise has brought her to the Highsnobiety office in downtown Manhattan, where she is being fitted for this cover shoot, her skin deep brown from a highly Instagrammed trip to the Bahamas, her light eyes popping like emeralds. As she settles in, she kicks off one Burberry sandal to get comfortable on the couch, futzing with a gold anklet around her foot, and tells her origin story — an almost impossible journey from Yemanzhelinsk to here.
Shayk — now 35 and casual cool in a bright red crop top, with an icy diamond cross hanging from her neck — grew up in a humble village near the border of Kazakhstan. Her father, a coal miner, died when she was 14, and her mother, a kindergarten teacher, was left to support her and her sister, Tatiana, alone. "We didn't even have diapers. You had a cloth that you wash by hand — we had no washer and no dryer. I remember in the early 1990s when we had to survive the winter, my mom would be like, 'Don't tell people that we have nothing to eat.' She's a very proud woman," Shayk says. "It taught me to be tough, how to take 'no' and turn it into 'yes.'"
Shayk was discovered by a model scout in the slightly bigger city of Chelyabinsk (where her sister was attending beauty school), and brought to Paris before she was 20, barely knowing a word of French or English. "I'd never held a fashion magazine in my life," she says. "I never knew modeling was a real job." She was housed in an apartment with four other girls, given €50 per week as pocket money (barely enough to survive on), and sent the first money she made home to Russia so her mom could buy a sofa. She ate bowls of plain rice when there weren't better options and jumped the turnstiles of the Paris Metro to get to castings, hoping she wouldn't be noticed by the police. "It was no Facebook, no Instagram. You had to go to different young photographers, get your test pictures. The agency would give you a map, okay? A physical map," she says. "I still remember it now. There was one studio — it was a nightmare to get there. You arrive and they look at your book, and then they're like, 'Okay, thank you. Bye.'"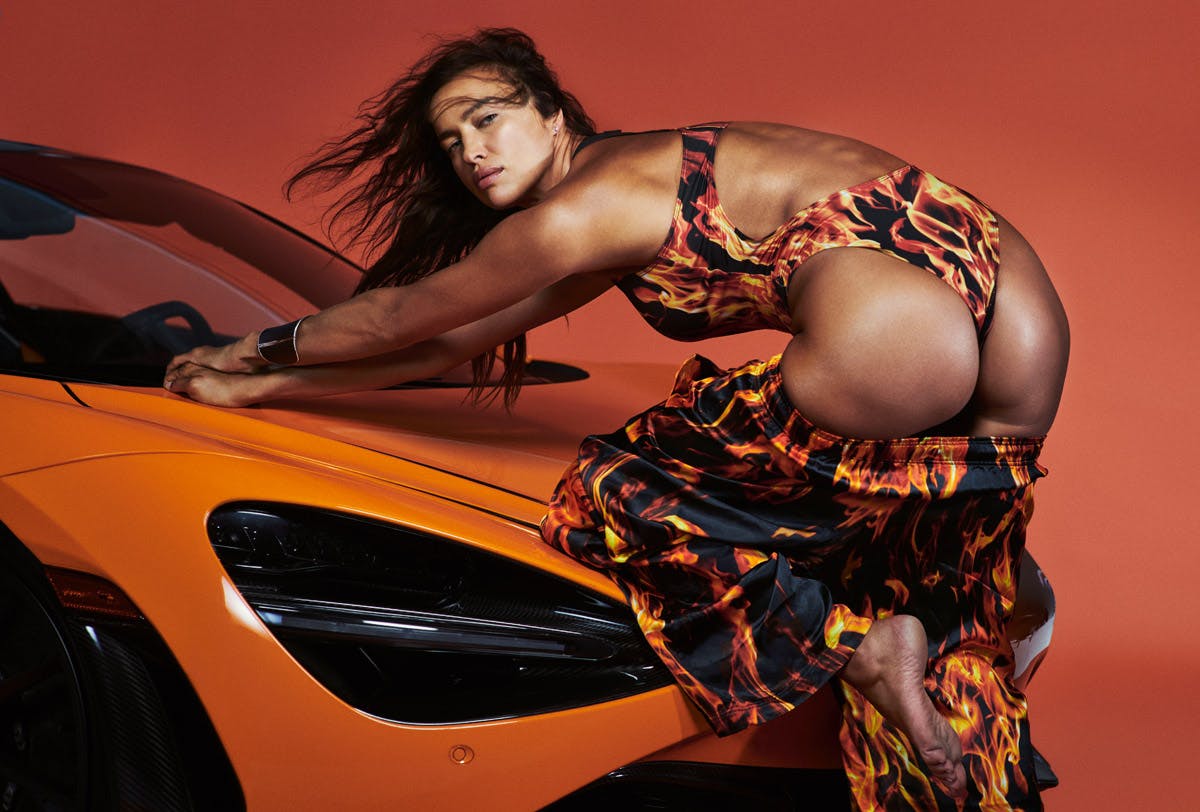 Highsnobiety / Heji Shin / Bodysuit, and Pants VETEMENTS Earrings TIFFANY & CO. Cuff Bracelet CHOPARD
A different manager saw potential in her, though, and uprooted her again, this time to New York, sending her to a casting in 2007 for what would become her big break: the Sports Illustrated Swimsuit issue. "I only had one swimsuit — pink and floral. It was double-sided and so used and abused, it was floppy," she remembers. "I was like, 'Oh my God, how am I going to go to this casting with this shitty-ass, tacky swimsuit?'"
Within a week, chintzy suit or not, she was booked. And within a few years, she was on the cover, photographed in Hawaii with a lion's mane of wavy, shiny Little Mermaid hair in a teeny tiny bikini. At that time, the swimsuit issue cover was enough of a pop cultural milestone that she was invited on Late Night with David Letterman in 2011 to announce it. "I barely spoke English. Before I went on, they said to me, 'You know, Dave can be very tricky.' I didn't even know who David Letterman was!" she says. "I thought, 'Okay, I'm going to go on and take over. I'm not going to let him get me.'"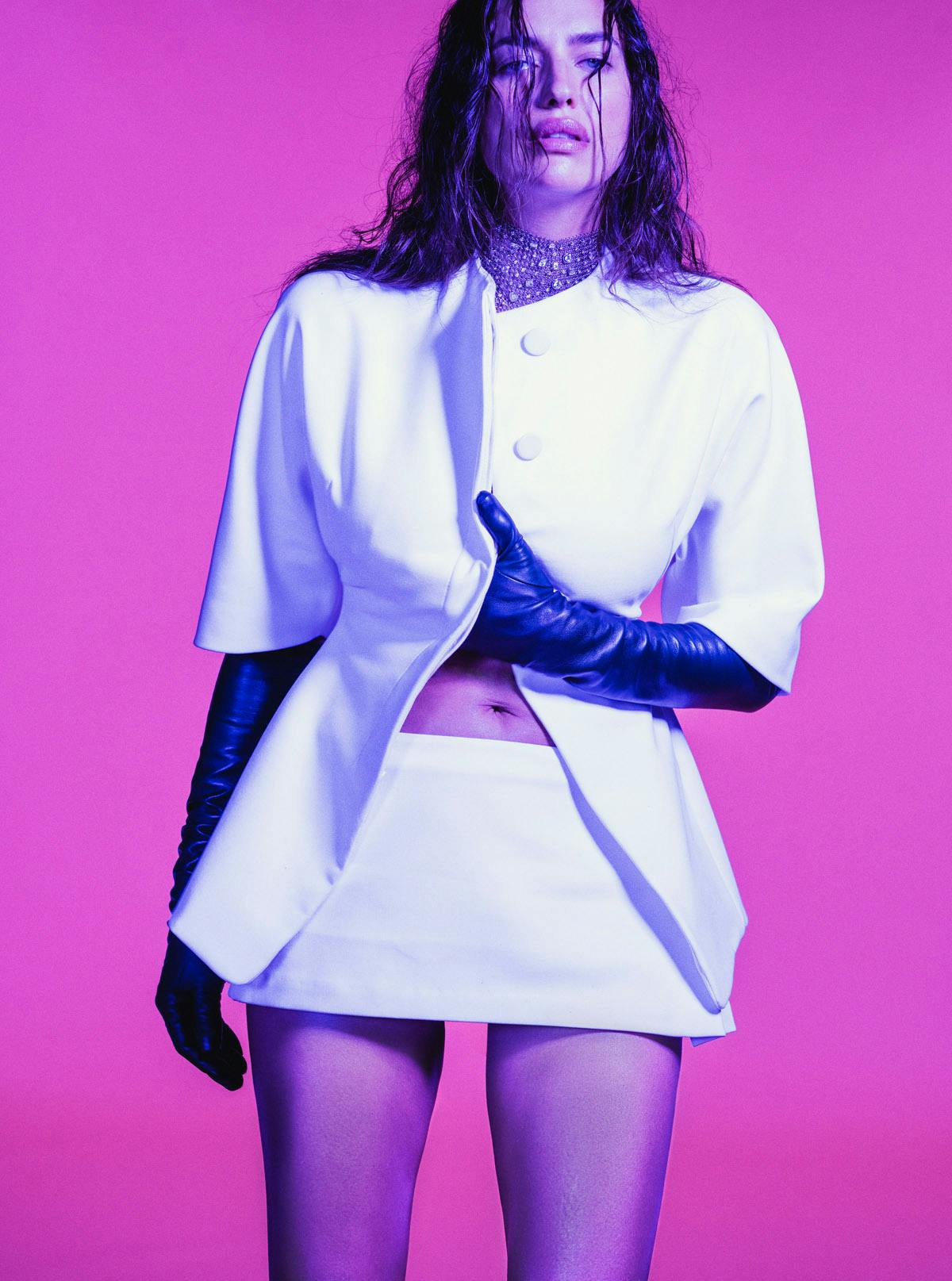 In the wake of charming Letterman and fronting Sports Illustrated, Shayk blossomed on the more commercial, mainstream side of the industry, featured in the Glamours and Cosmopolitans, fast fashion ad campaigns, and (notably, considering current relationship rumors) the music video for Kanye West's "Power." But she also had one eye on the more rarefied space of high fashion. She was noticing a shift in the industry and wanted to shift with it. As social justice movements grew through the 2010s and #MeToo began to send shockwaves through the culture, the glossy sex appeal embodied by Sports Illustrated and Victoria's Secret was beginning to feel stale and problematic. Media was turning toward something rawer, realer, even political, and so were brands. Just this year, Victoria's Secret ditched their famous glamazon Angels for LGBTQ+ activist and soccer player Megan Rapinoe as a spokesperson, and the 2021 Sports Illustrated Swimsuit issue cover girls — Naomi Osaka, Megan Thee Stallion, and trans model Leyna Bloom — are women of great professional and personal accomplishment, with much to say about feminism, mental health, gender identity, everything.
Shayk could've been left behind; an emblem of a simpler, more superficial time, something like the 21st-century modeling equivalent of the silent film actresses who couldn't cut it in talkies. "Nobody wants an empty vessel. Now you have to bring more than just beauty," Shayk says. "Everyone is fed up with perfect." She worked to deepen her image, even though she wasn't, at first, the ideal fit — literally — for the cooler brands. Physical attributes that made her right for swimwear shoots weren't always appreciated by luxury designers. "Usually, you see models on the slimmer side. I had an agency that said, 'You're never going to work if you don't lose 15 pounds,'" she says. "I have boobs and a butt. When I was doing the Marc Jacobs show, Marc came for a fitting, I pointed at my boobs and butt, and said, 'These are how I bought my West Village apartment.'"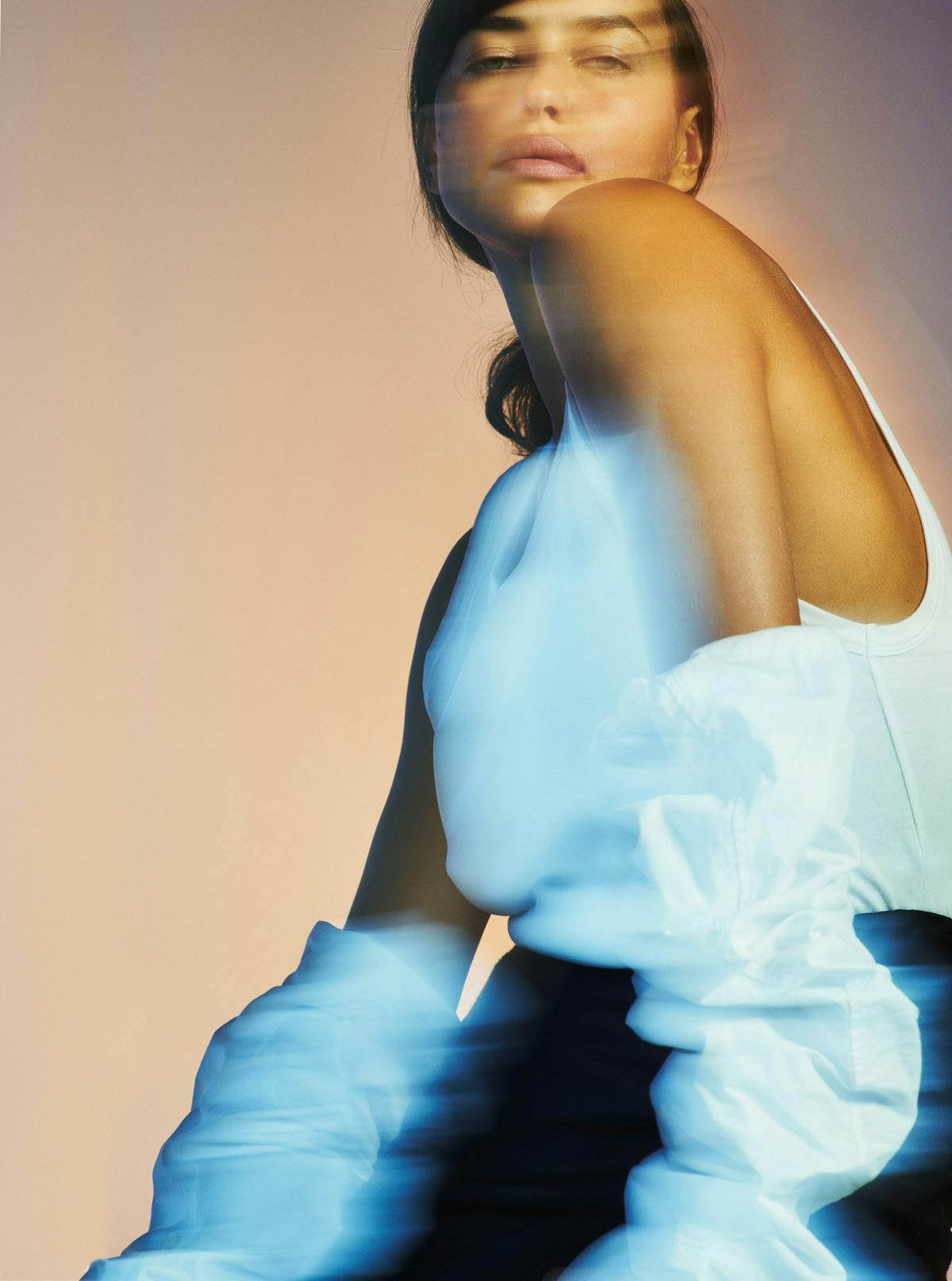 Aided by big-time stylist friends like Carlyne Cerf de Dudzeele and Carine Roitfeld, and a close relationship with designer Riccardo Tisci, the tiny bikinis were gradually replaced by full runway looks, the cover of Sports Illustrated swapped for Vogue Italia. "It was hard to break through to the fashion side, but I just went picture by picture by picture," she says. "It's like building a house. You need a little base." Shayk also became a draw for her personal life, getting hired as a personality in her own right. In 2015, she began to date actor Bradley Cooper, eventually having her child with him in 2017. Their breakup in 2019 made her a fixture in the tabloids and, if not a household name, at least a known one. But even though her dating history is part of her appeal, she also seems to understand that a dash of mystique can only make her even more intriguing, and has remained famously mum about her romantic life, crediting her Russian roots for her discretion. "My grandma was a secret agent in WWII," she says. "I think private life should be private. Irina is KGB-style."
That brings us to Kanye, whom she is currently rumored to be dating. The two have been photographed together in Provence, France, and it seems like every hour there are new developments about their relationship in the press, all attributed to anonymous sources. Shayk is, characteristically, a closed book on that topic, though she doesn't deny the rumors outright. "Tomorrow there is going to be a rumor that I'm dating my doorman, okay? Then after tomorrow, it's going to be someone else," she says. "Look, there's always something there, and I'm just keeping it to myself."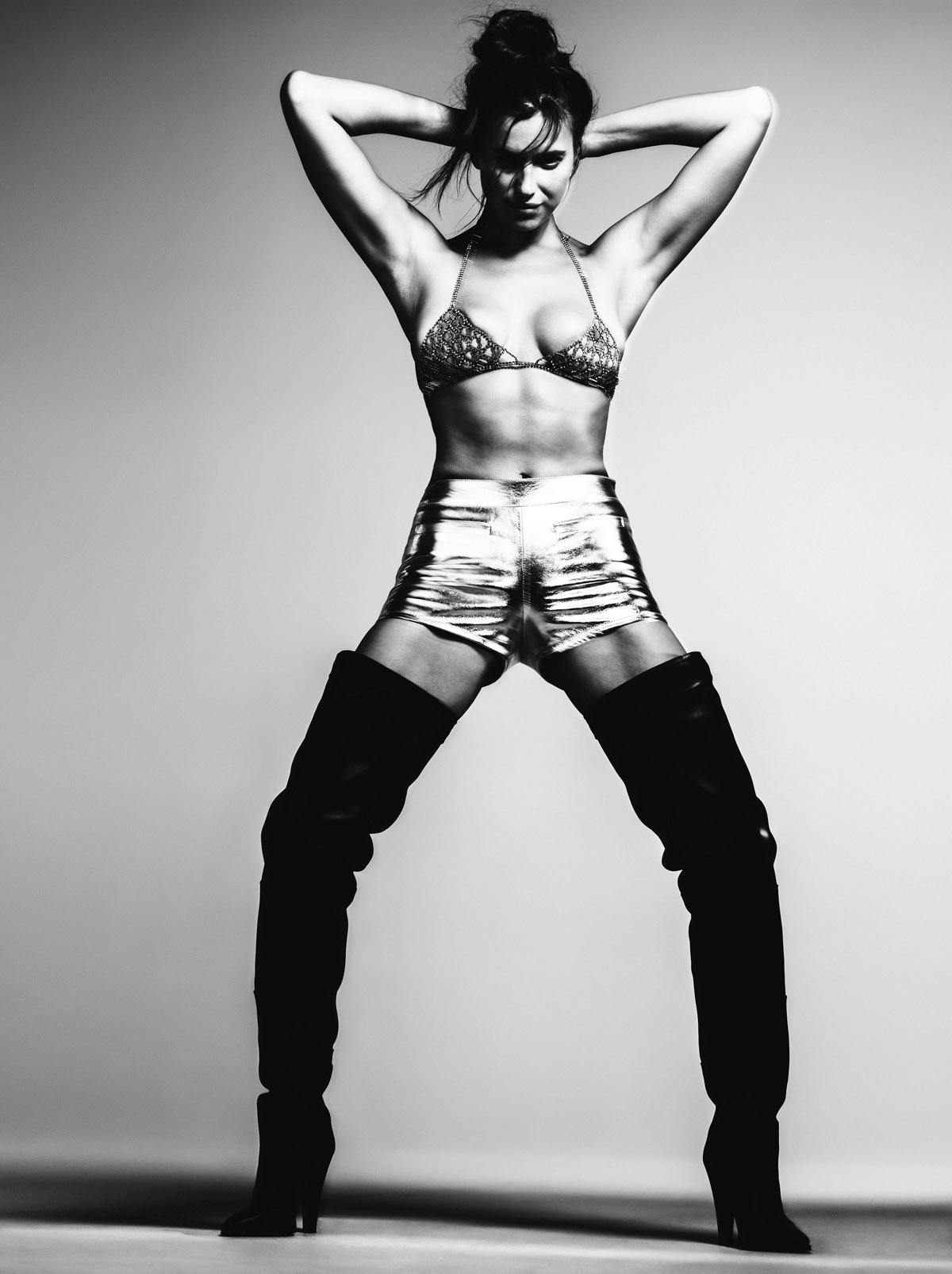 She's slightly more open about past relationships. She and her ex Cooper live a couple blocks away from each other in the West Village, remain friends, and share parenting responsibilities. "He's a full-on, hands-on dad — no nanny," she says. "Lea went on holiday with him for almost two weeks — I didn't call them once." She knows her daughter is being raised in immense privilege and won't receive the hard-knock Russian values that she now credits for her own strength. "Me and her father are very strict. When she finishes eating, she gets up from the table, takes her plate, says 'thank you.' Without 'please' or 'thank you' she's not getting anything," Shayk says. "It's hard, because she has so many toys. I had one doll, and I still have this doll. Blonde, blue eyes, big Russian doll. My grandma used to make clothes for her. And I always explain, 'Look, this is my doll. I had only one.' Or sometimes, 'You have this candy. I used to have candy only for Christmas.'"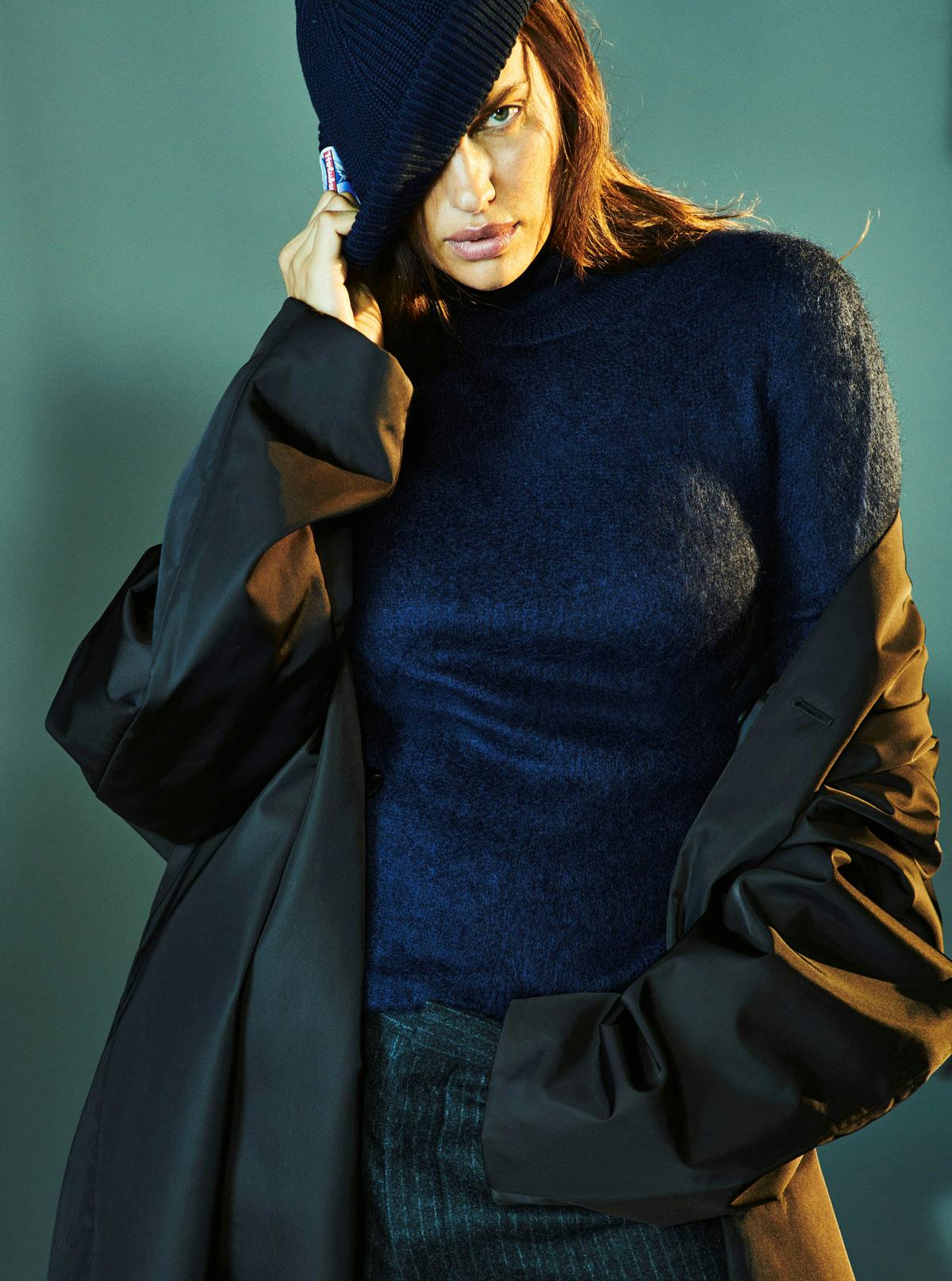 As for the future, Shayk says the plan is no plan — maybe a movie role if it's fun (she had a small part in the 2014 action film Hercules), maybe some kind of fashion brand of her own one day. During quarantine, she had an infrared sauna installed in her house and works out a few days a week with a trainer. Her mom, who she says keeps her humble and ego-free, came from Russia during lockdown to help with Lea. "It's important to keep the real people in your life," she says. "Fame — it's the same addiction as alcohol and sex. Old school people? They ground you."
She has been enjoying messing around in her closet, experimenting with more menswear-inspired outfits, egged on by Burberry designer and close friend Tisci. "He sent me men's shorts and a button up, saying, 'You have to wear this super baggy,'" she says. "You don't have to be squeezing into something tiny to feel sexy. You don't have to pull your stomach in." Her biggest vices, she says, are sunbathing and the occasional margarita on-the-rocks. "I never took drugs in my life," she says. "I never went through a party phase."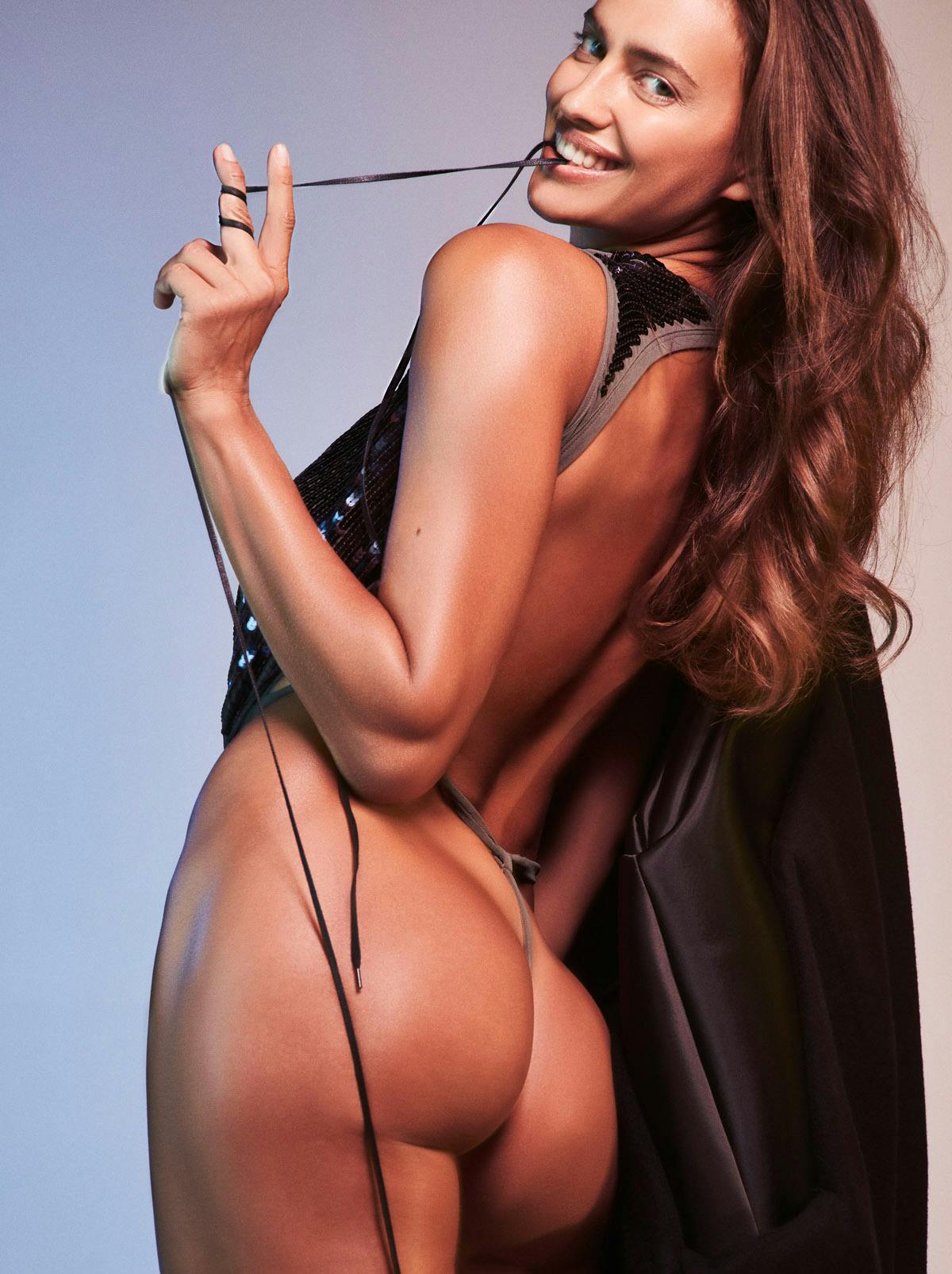 Overall, she's refreshingly — and, it appears, genuinely — unshakeable, never once wanting sympathy for the struggles she's overcome, never once taking the whole thing too seriously, always grateful for the successes and good fortune. "My grandma, she lived in a very tiny, small apartment in Russia. And every time you would be sad about something, you would call her and she would be so positive. You always wanted to move her to a bigger house, and she'd go, 'I'm just happy to go to the bathroom and open the faucet and have water,'" Shayk says. "Here in New York, I have it all."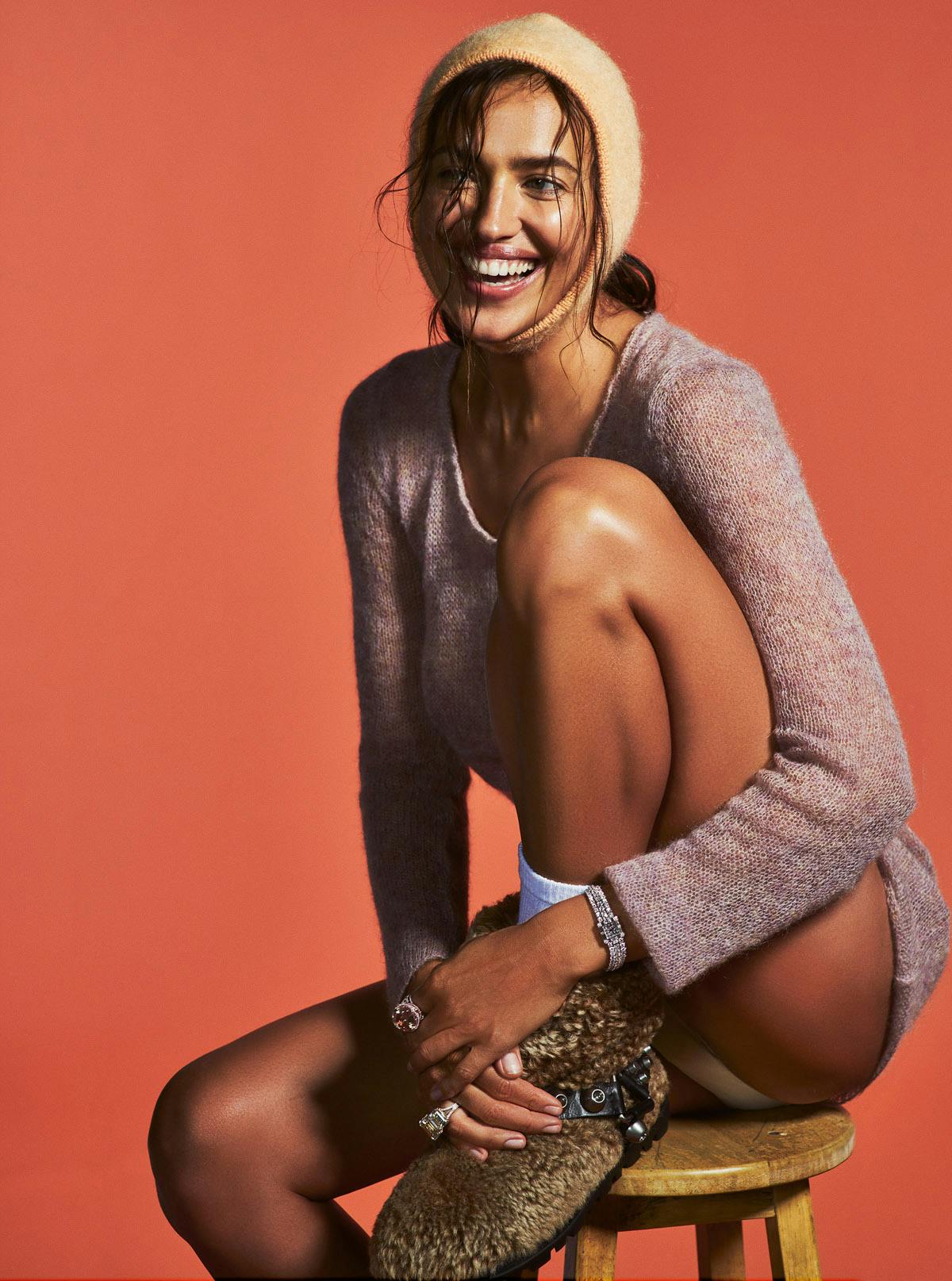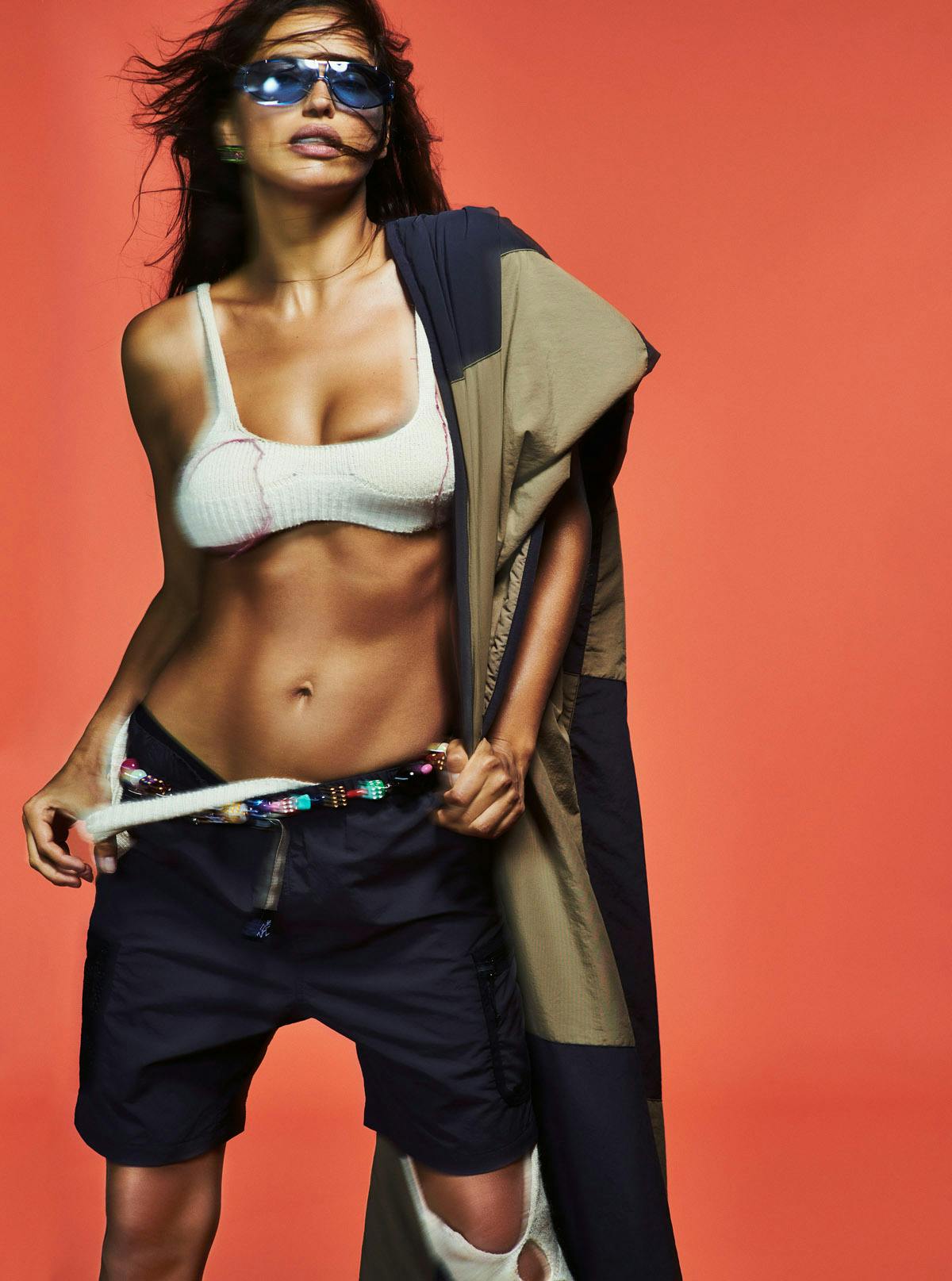 Shayk fills this nondescript conference room in downtown Manhattan with a hard-won sense of levity, the kind only people who have been truly tested possess, where every story, even the difficult ones, are told with a winking self-awareness. "I've never been drawn to being a model. My goal was to help my family," she says. "I'm 35 and I'm still looking okay. But at 45? We all age. It doesn't matter what I do for a living. Tomorrow? Maybe I'm not going to do it. In one year, maybe nobody will know me." Life, as Irina Shayk describes it 5,000 miles from where she began, is a lively game — one she's been really good at playing. "It's all about timing," she says, her bright eyes locked into focus. "And for me, this is my time."
Order HIGHStyle, a magazine by Highsnobiety, via our online store.