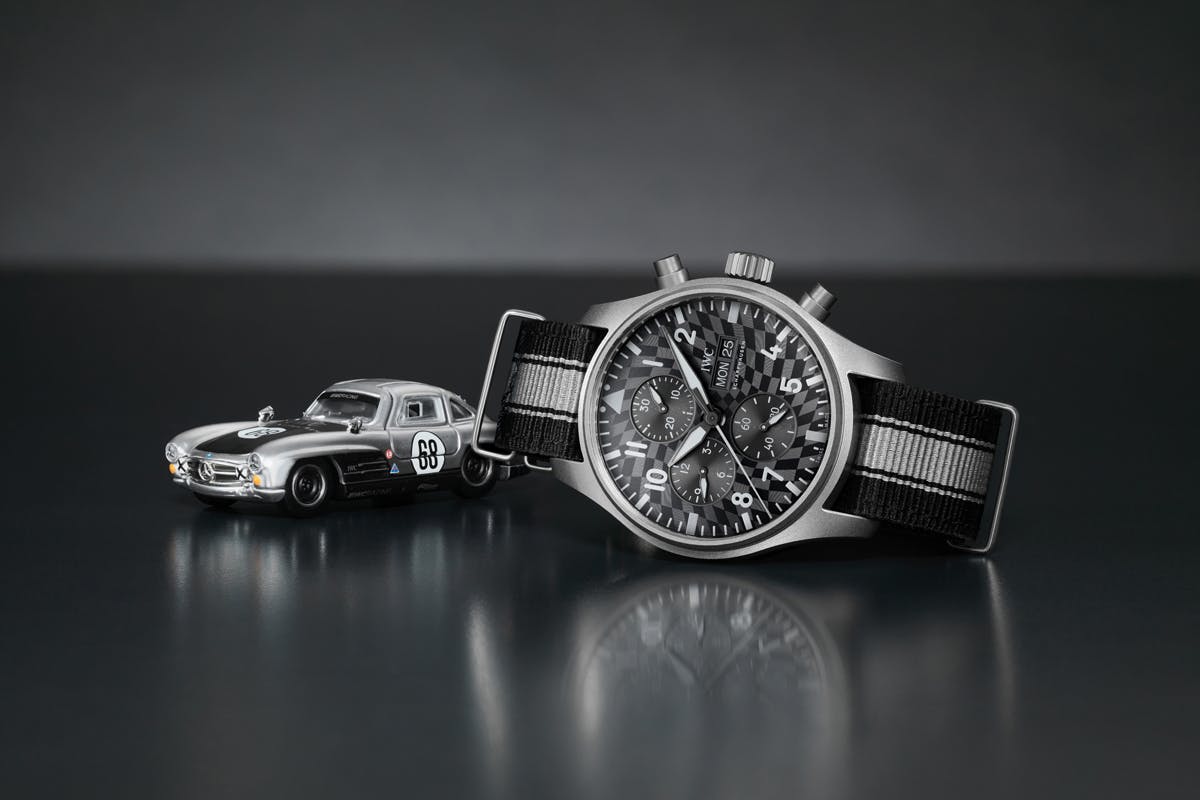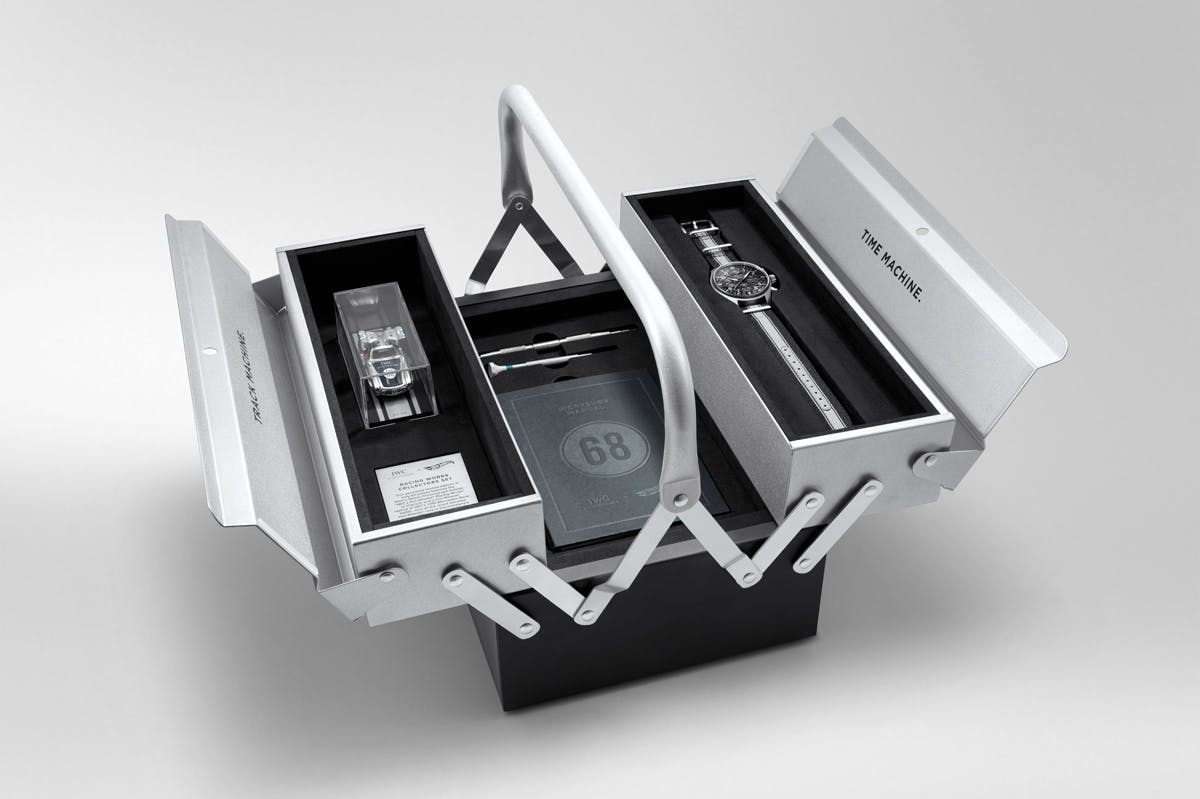 There are dream cars and then there are dream cars. For a lot of us, even a normal luxury car is pretty far out of reach, but for even the ultra-rich it's tough to acquire a Mercedes-Benz 300 SL, affectionately known as the "Gullwing." IWC Schaffhausen and Hot Wheels have come together for a collaborative drop that's pretty much the next best thing, comprising a limited edition watch and collectible car.
IWC and Mercedes go way back. The watchmaker and car company's AMG racing branch have long admired each others' appreciation for precision, officially partnering in 2013 when IWC became Mercedes-AMG's "Official Engineering Partner," released a few collaborative watches, and began working with team drivers like Lewis Hamilton.
Perhaps the clearest manifestation of their mutual respect is the IWC Racing team, which launched in 2017 and hosts occasional driving exhibitions with a customized Mercedes-Benz Gullwing from 1955.
Most recently, racing legends David Coulthard and Bernd Schneider drove IWC's signature vehicle in 2019.
Often, these showcases align with the Goodwood Members' Meetings, so it's fitting that on the event's 78th anniversary, where the IWC Gullwing will again hit the track, IWC has announced a new partnership that brings its Gullwing to the people, sort of.
50 limited edition IWC x Hot Wheels "Racing Works" sets have been created for this occasion, a suitably small run for a ridiculously rare car.
A bespoke titanium case holds both the watch and toy car; the latter is a strikingly detailed 1:64 rendering of the IWC Racing car. Like the real deal, you probably aren't gonna wanna drive this thing around, it's a proper collector's item.
Funnily enough, the "68" on the car's side has double meaning. It's ostensibly a nod to IWC's founding date of 1868, but it just so happens that Hot Wheels was founded exactly 100 years later in 1968. Happy coincidence!
Then, there's the actual watch, a remixed edition of IWC's Pilot's Watch Chronograph Edition rendered in muted grey and black.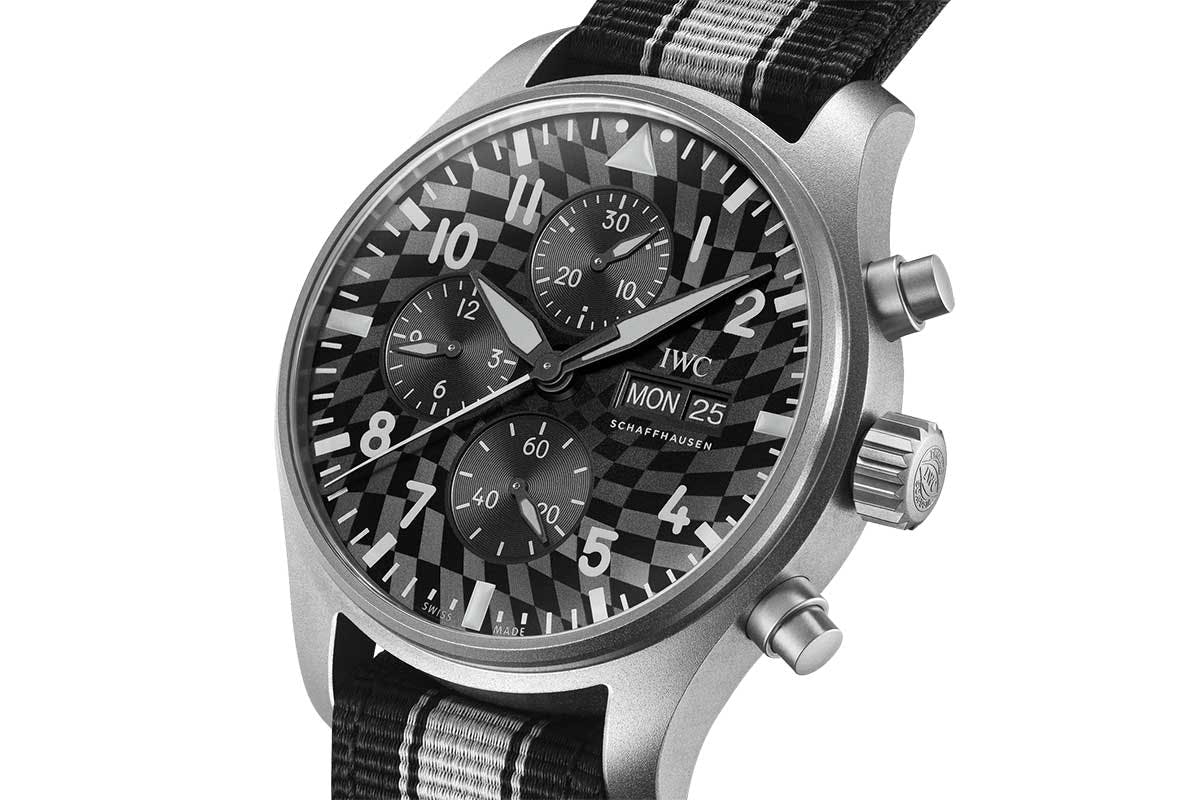 Thematic touches abound, from the laser-engraved checkered racing flag pattern on the face to the Hot Wheels logo engraved on the 9 o'clock side. On the rear, that stylized "68."
"It was a chance meeting with Hot Wheels designer Manson Cheung that kick-started our partnership," Christoph Grainger-Herr, CEO of IWC Schaffhausen, recalled.
"Our shared passion for automotive design and mechanical watches led to a meeting between the design teams of both brands at the Mattel Design Center in El Segundo. We instantly connected, speaking the same language of design, art, and engineering."
One edition of the collaborative IWC x Hot Wheels set is already available for auction on Bonhams' website, where the sale will benefit the education non-profit Two Bit Circus Foundation. The 49 other sets will be available later this month for $10,000 apiece.
That's one or two zeros less than a Gullwing would run you so kind of a steal, really.