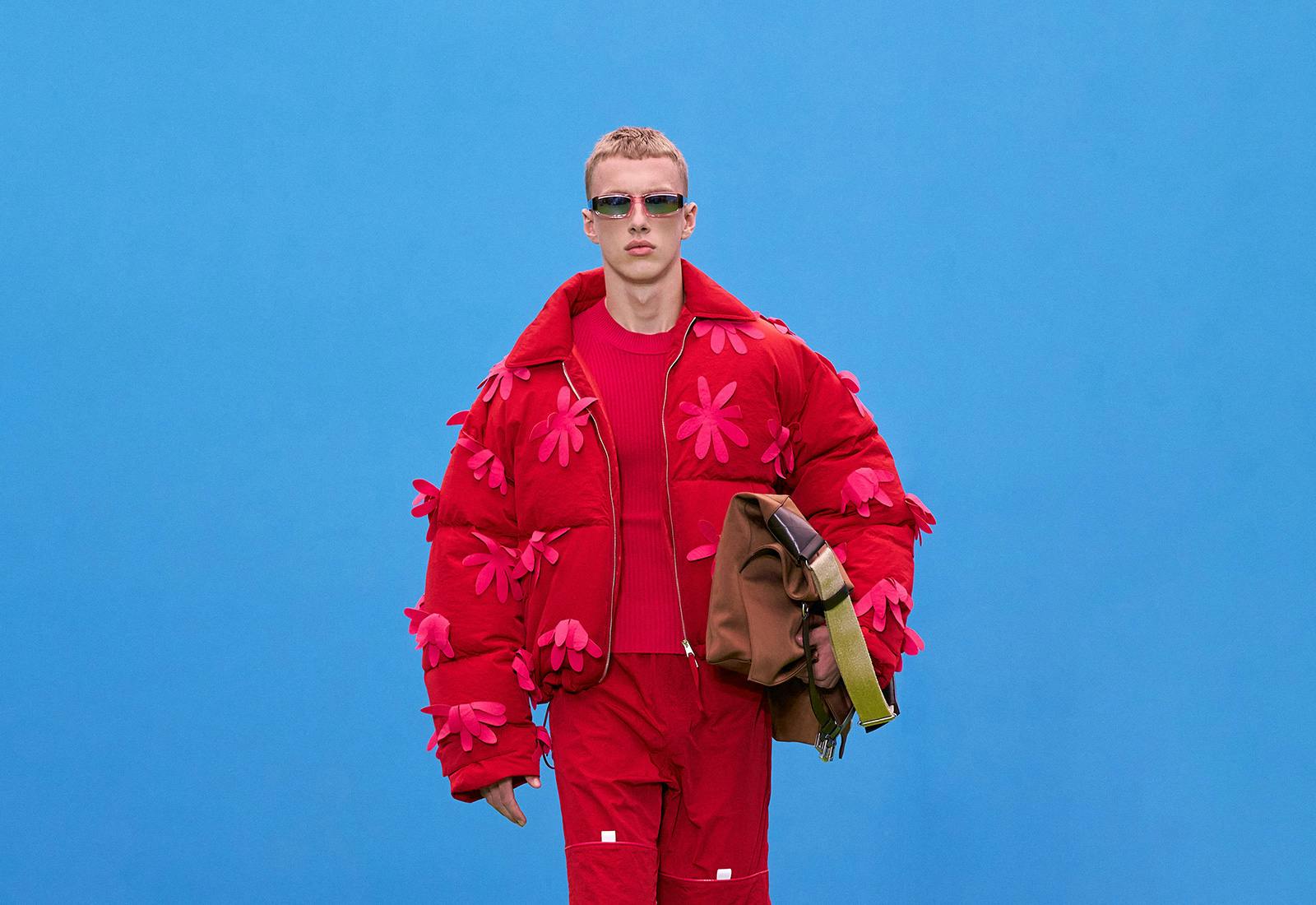 Jacquemus Fall/Winter 2021. Paris, France
Editor's Notes
Everybody loves Jacquemus. I love Jacquemus, your sister loves Jacquemus, so does your mother, your cousin, your frenemy colleague Nicki, and her best friend. We all love Jacquemus not because we've seen the French brand on influencers in the wild, on that one livestream in a lavender field or because it makes the tiniest handbags in the market, but because its founder Simon Jacquemus is one of us.
Simon grew up in a small town in the South of France, started his career in retail working at a Comme des Garçon shop in Paris, and started his label — named after his late mother's maiden name — with little formal training at the age of 20. He started making a name for himself after his friends and him staged mock fashion protests, dressed in the brand's early designs, outside the show venues where big luxury brands were staging their shows over fashion week. I remember seeing those images.
Jacquemus then crept into my life when my long-time girlfriend started her tradition of buying a single piece of each of his collections, starting in 2015 with a bright yellow and white cabana-striped mini dress from the brand's third collection that she bought on sale at Dover Street Market here in London. On it, a dried red wine spill — my fault — is still visible.
I've seen Jacquemus through her eyes since. How she feels pretty wearing the brand's almost-too-revealing white linen dresses on special occasions, how she feels confident running to work in an understated navy turtleneck that's become part of her daily uniform, and how she walks strong, sporting an ivory wool sleeveless top that makes her overheat in the summer. She doesn't mind, she's wearing Jacquemus.
I've later experienced some of these elements myself. After Jacquemus announced his debut men's collection at his women's show in February 2018, I've tried to (unsuccessfully) carry on the tradition. I now get it, wearing Jacquemus makes you feel like the long-awaited summer has arrived at last. You want to do anything other than sit inside when you wear Jacquemus.
The success of the brand, which remains independently-owned to this day, is that real people actually wear the designs of the LVMH Prize winner. Partly that's strategic, prices are slightly lower than most luxury brands, many pieces more easy to wear, and carry-over items between seasons make you feel included in the brand's ongoing story. Women get married in Jacquemus — ditching the old-fashioned requirement for overpriced dresses. Men, many of whom just don't connect with high fashion's inward looking over-the-top aesthetic, feel comfortable with Jacquemus spicing up their wardrobe. Other shoppers, of all sizes, who have long been alienated by the luxury fashion industry have found themselves a summer wardrobe at the brand.
The ease of it all Simon has transcended to his optimistic Instagram page that doubles as both his personal and business account, and where over 3.4 million followers see the creative director walk in sunflower fields, buy lemons at local markets, take you on a tour of his Paris atelier with his dog Toutou, dance, take a chance on the imaginary visions of upcoming creatives, sell flowers wrapped in surplus Jacquemus fabrics, share childhood photos, ride quad bikes, and celebrate love for his late mother, his nephews, his grandmother, and his partner Marco. Always personal, never overly strategic.
That's why so many, including myself, buy into Jacquemus. Always authentic, rarely a hard sell. We want to be part of the universe Simon is creating. A universe, which he today expanded with his latest Fall/Winter 2021 collection La Montagne, where an entourage of models in — at times overstyled — monochrome looks wore everything from cropped puffers, to brown shearling jackets, to hot pink sneakers. Some had isms of other designers like Charlotte Knowles, Prada and Heliot Emil. Others were perfectly his own. A selection of the collection was made directly available to purchase from the brand's website post-show.
A$AP Nast, Rosalia, Kendall Jenner, Bella Hadid, and Amine all flew to Paris to sit front row or walk in the show that was held under a giant blue and green covered globe that served as the show's setting. They too live their lives in Jacquemus, previously starring in the brand's campaigns over lockdown, walking its shows, and getting snapped by paparazzi wearing the brand while at brunch in LA. And just like that, the universe of Jacquemus, the man and the brand, have expanded again.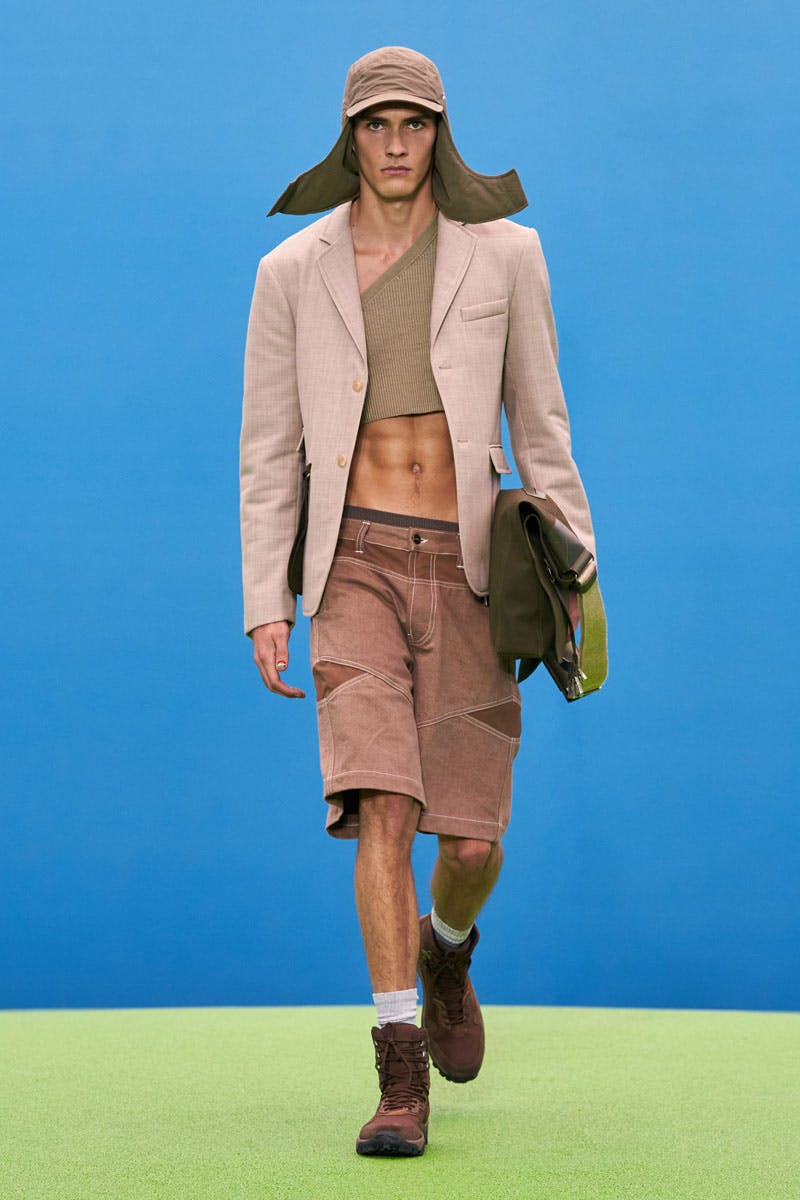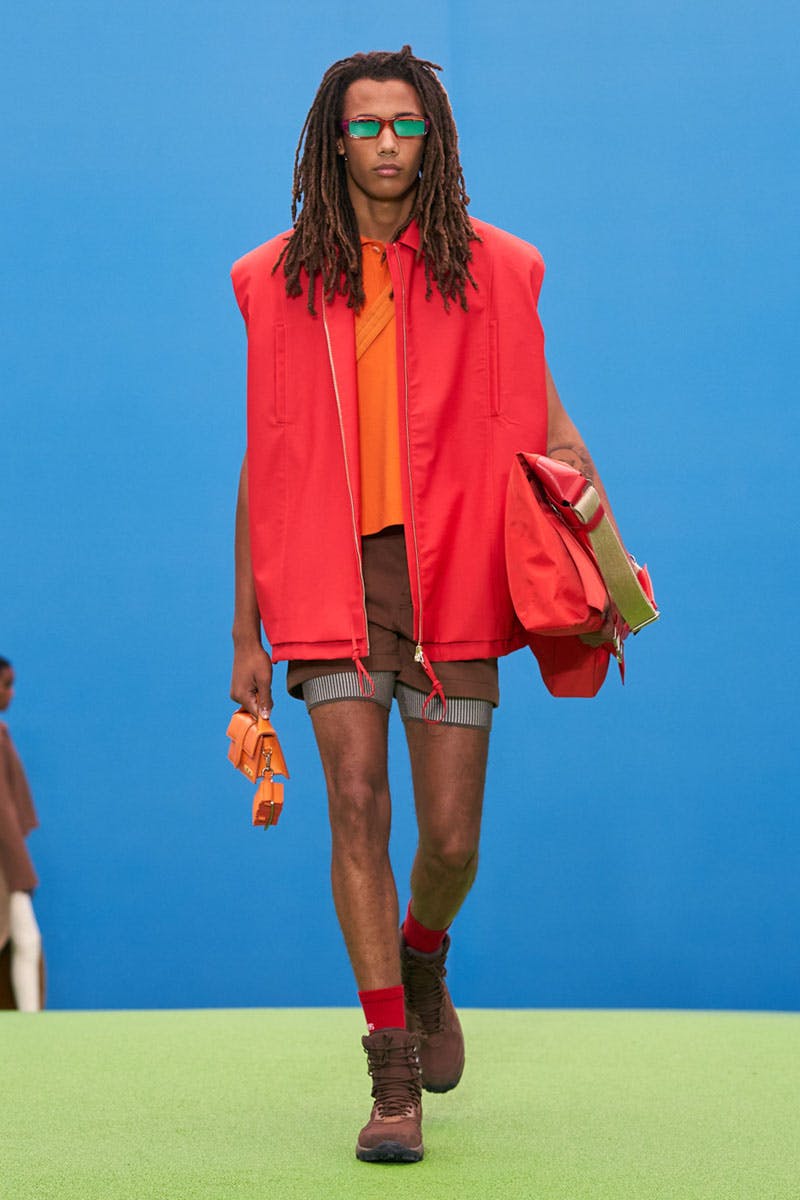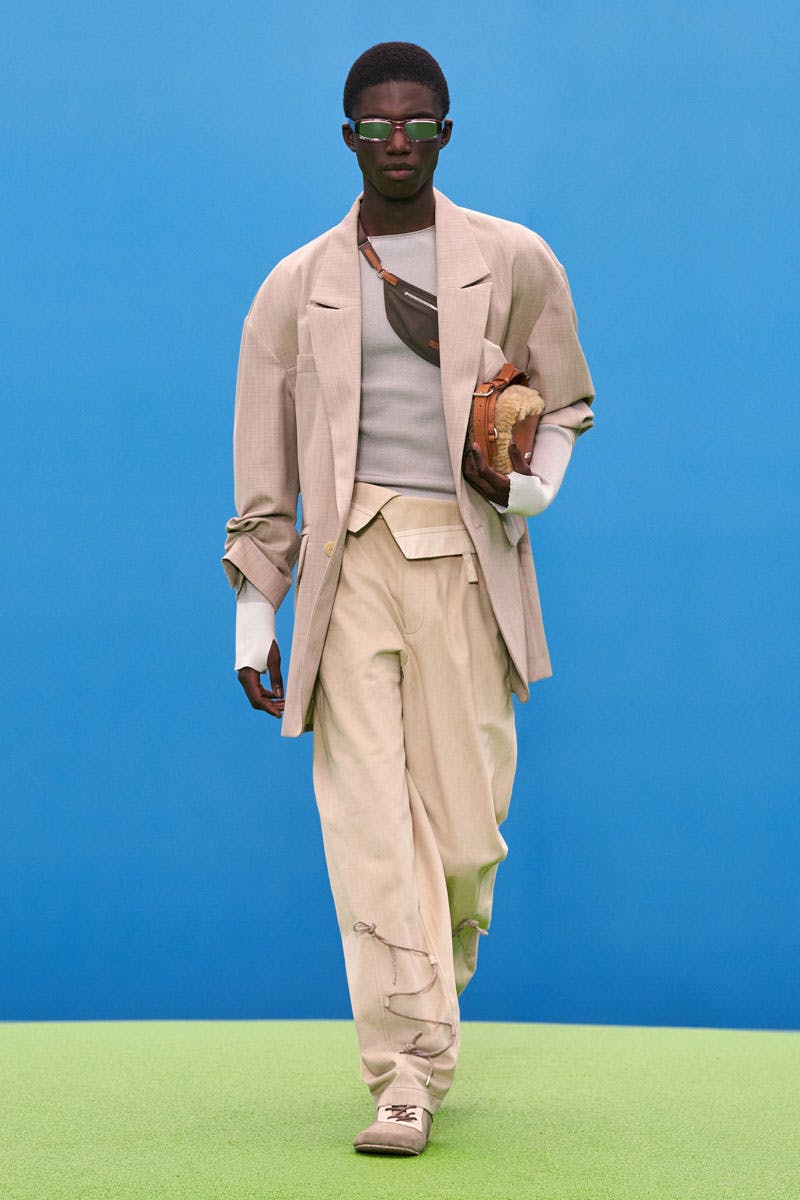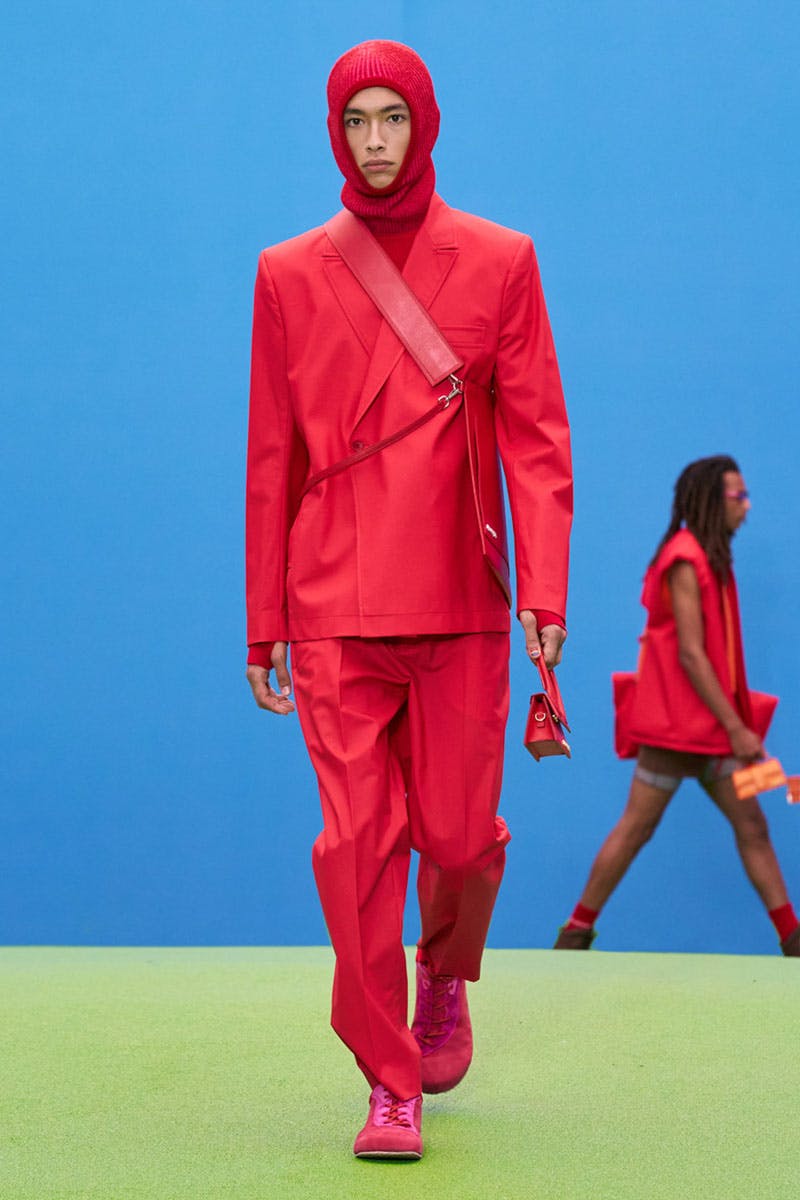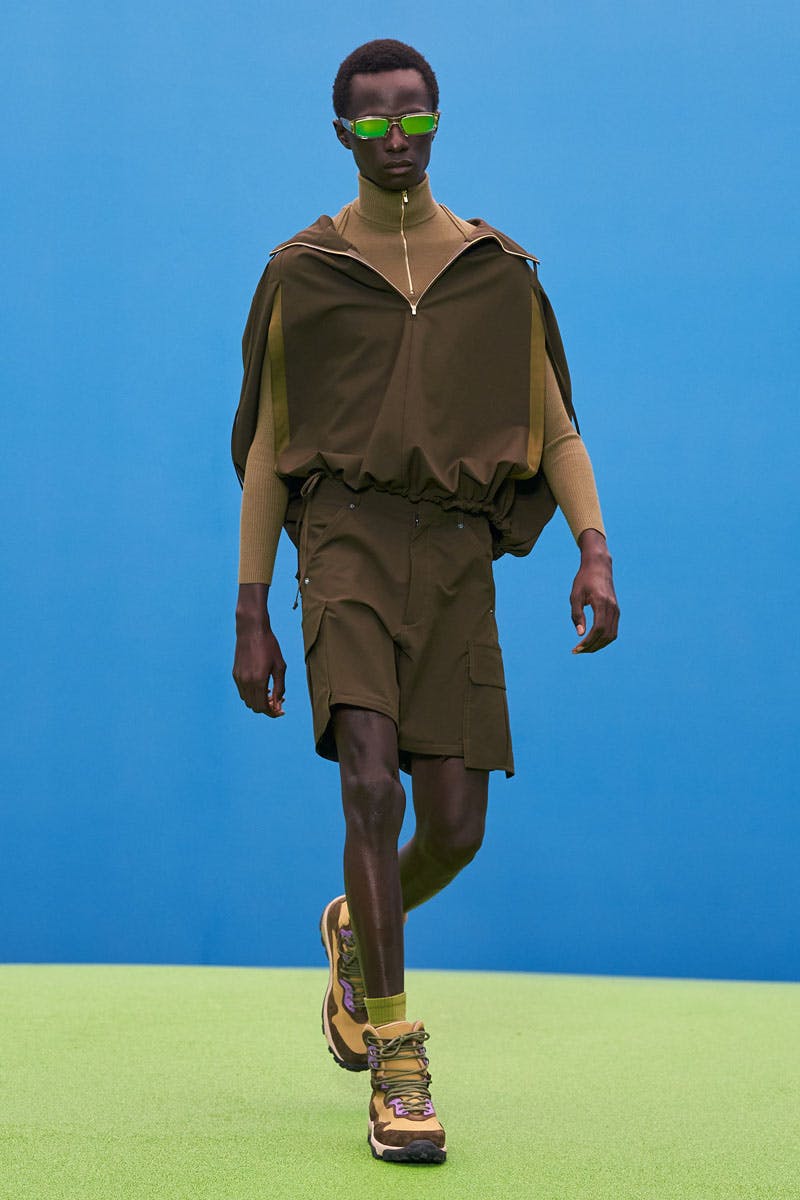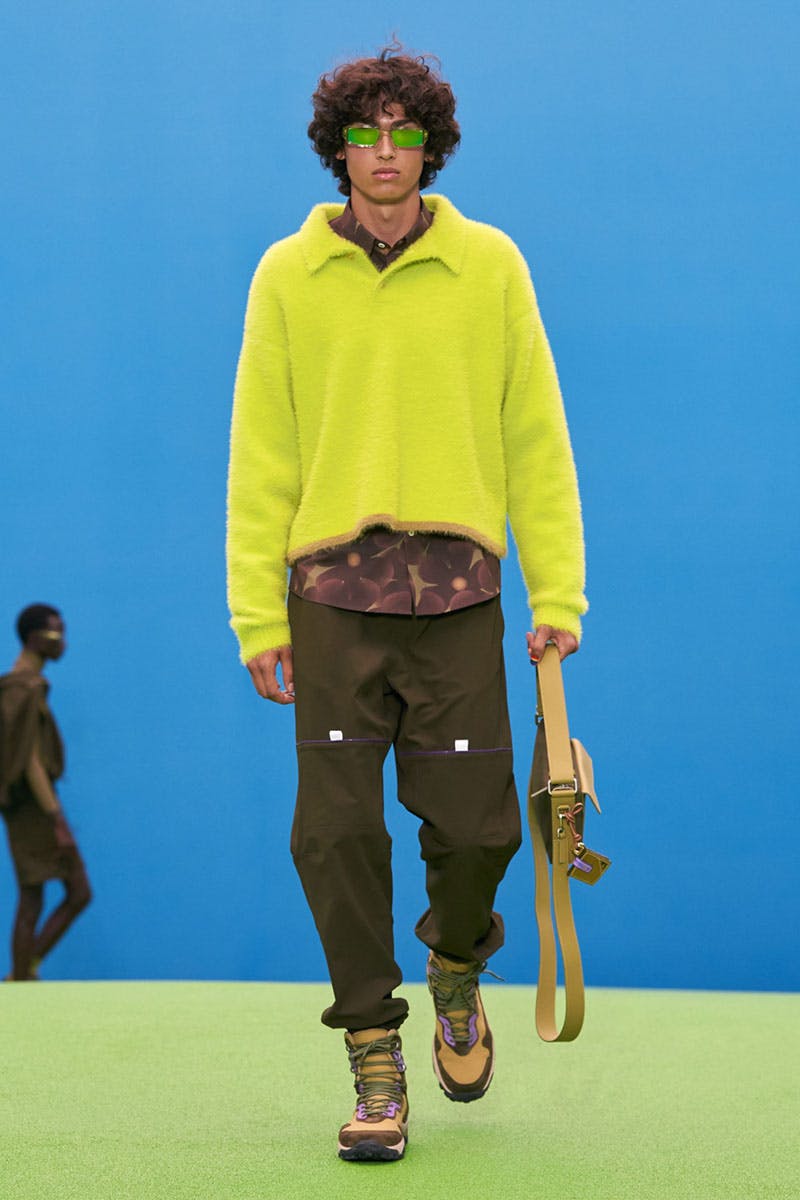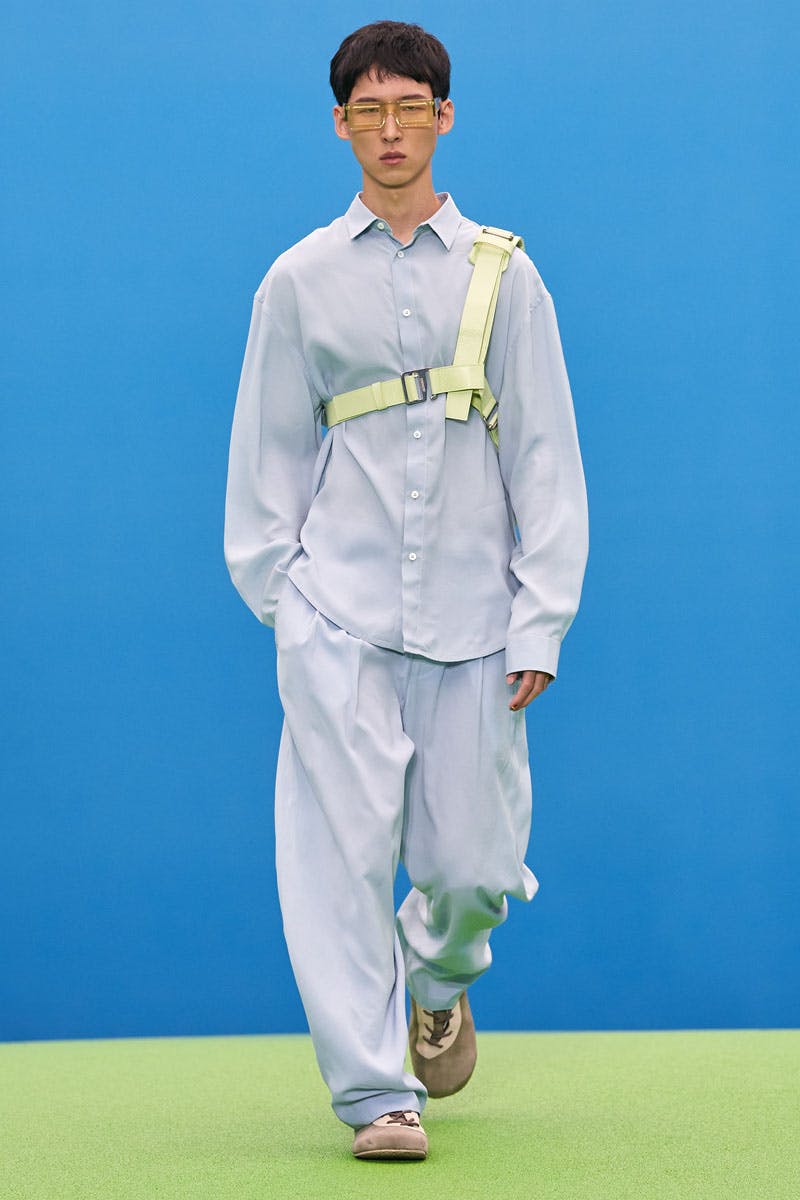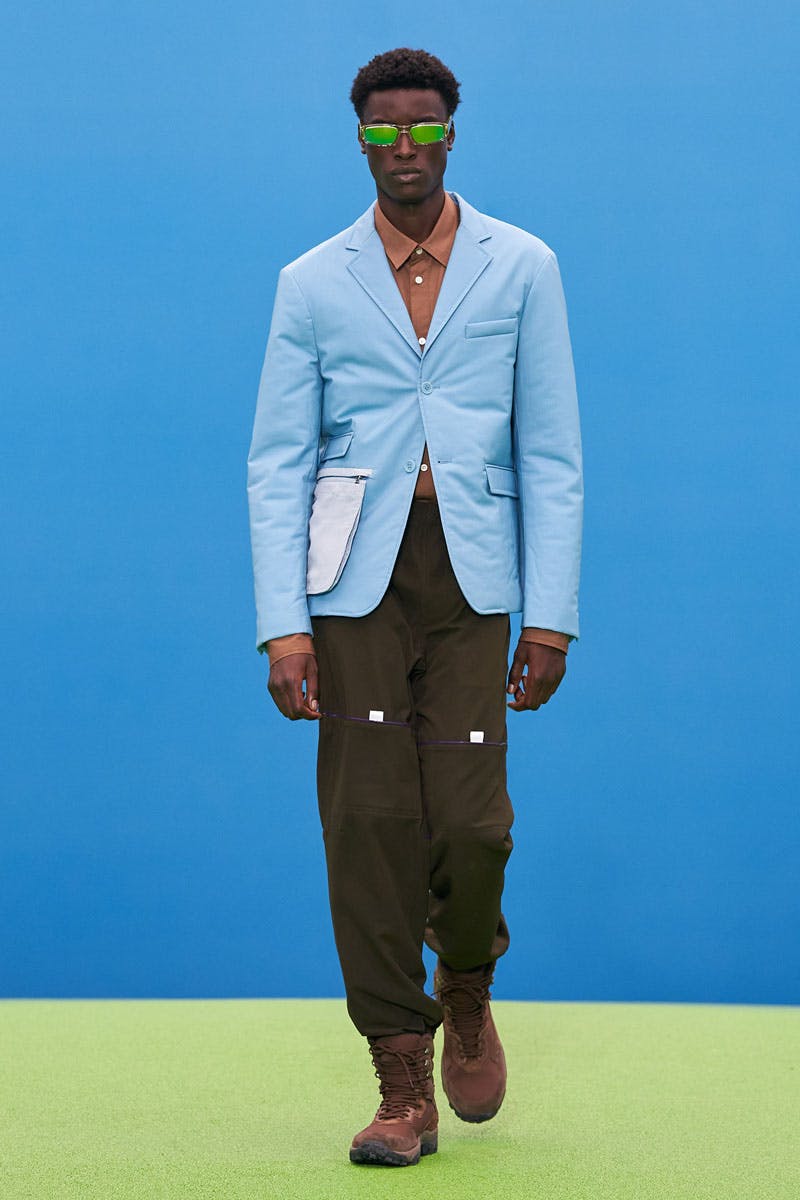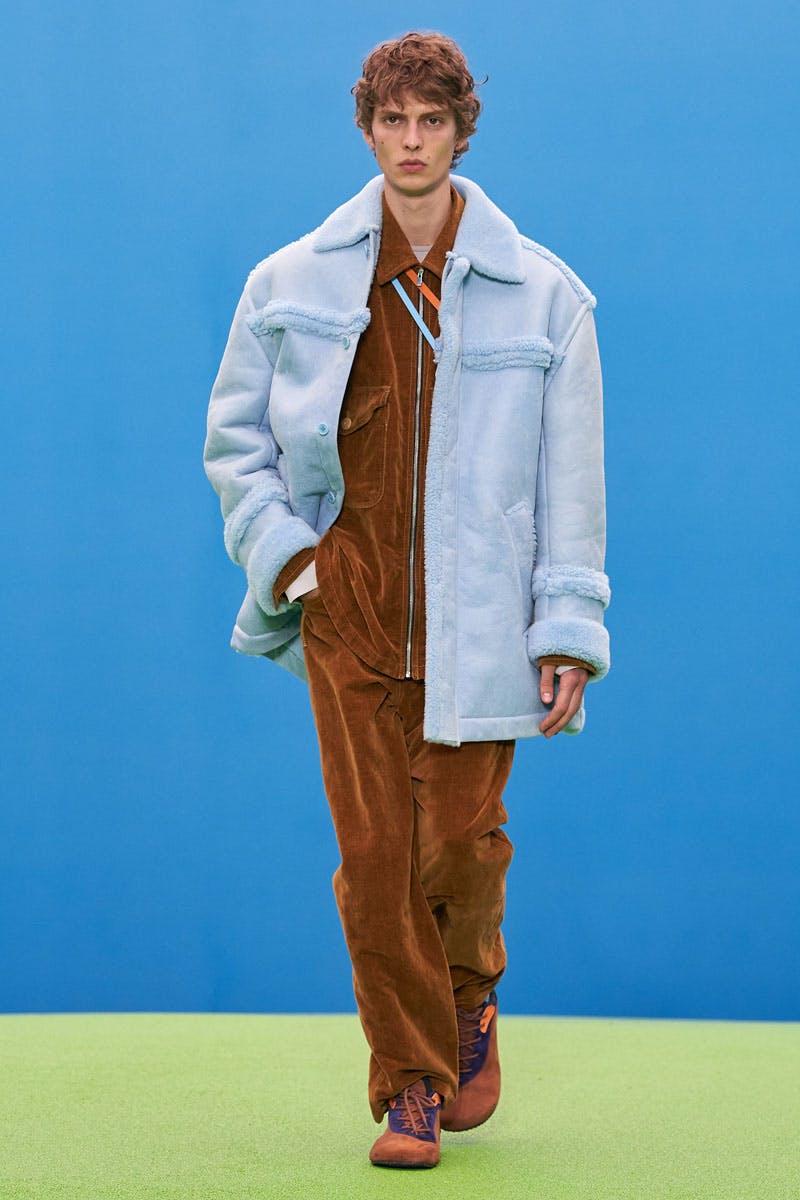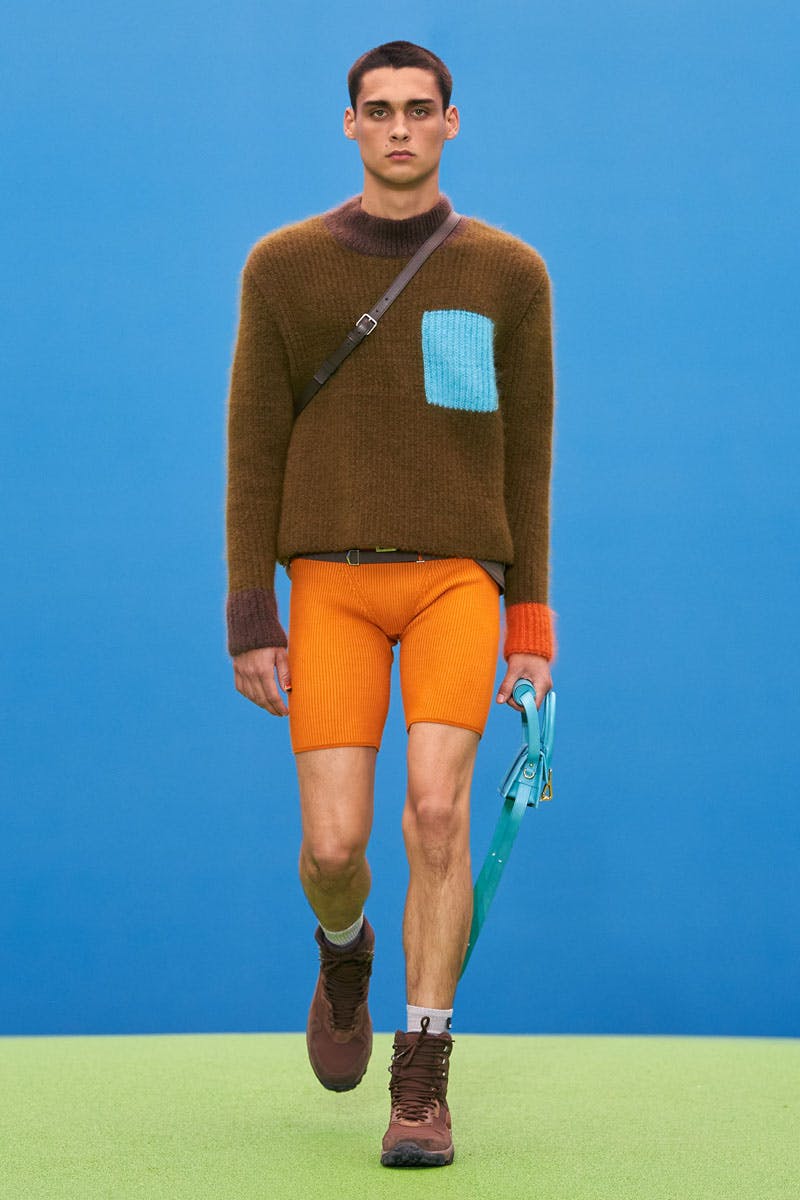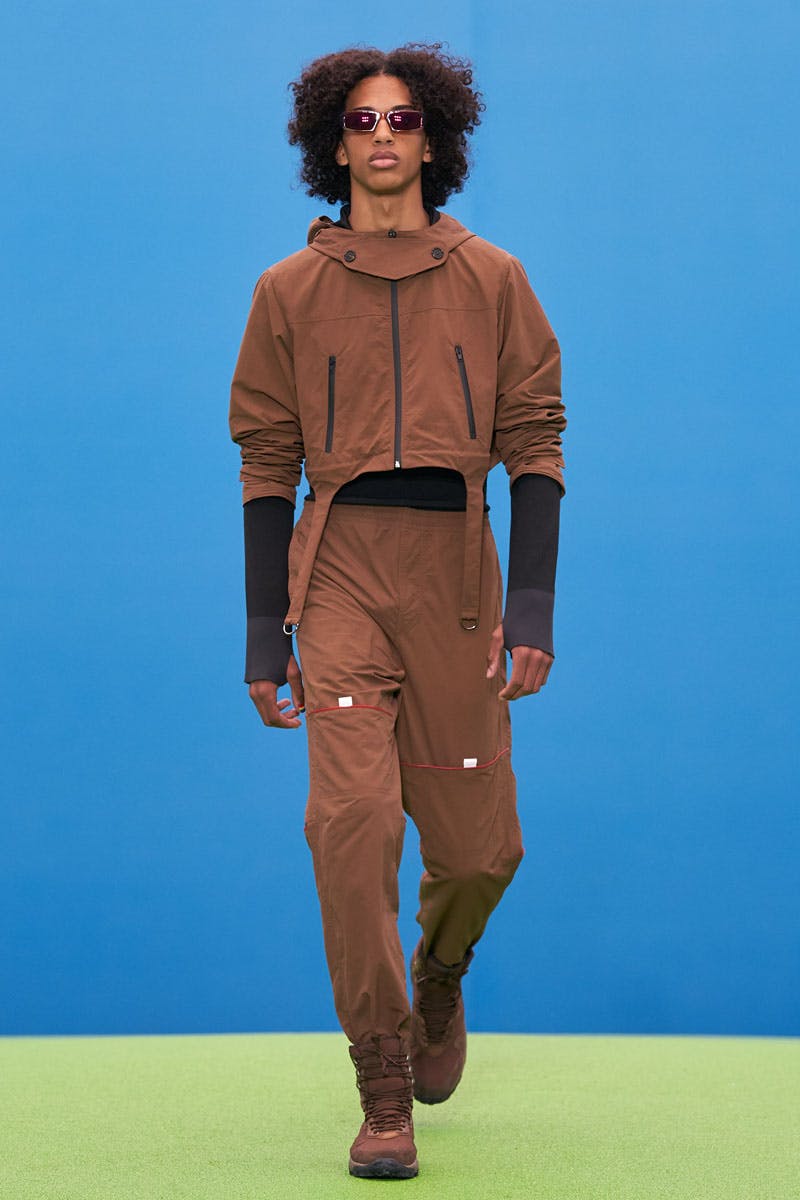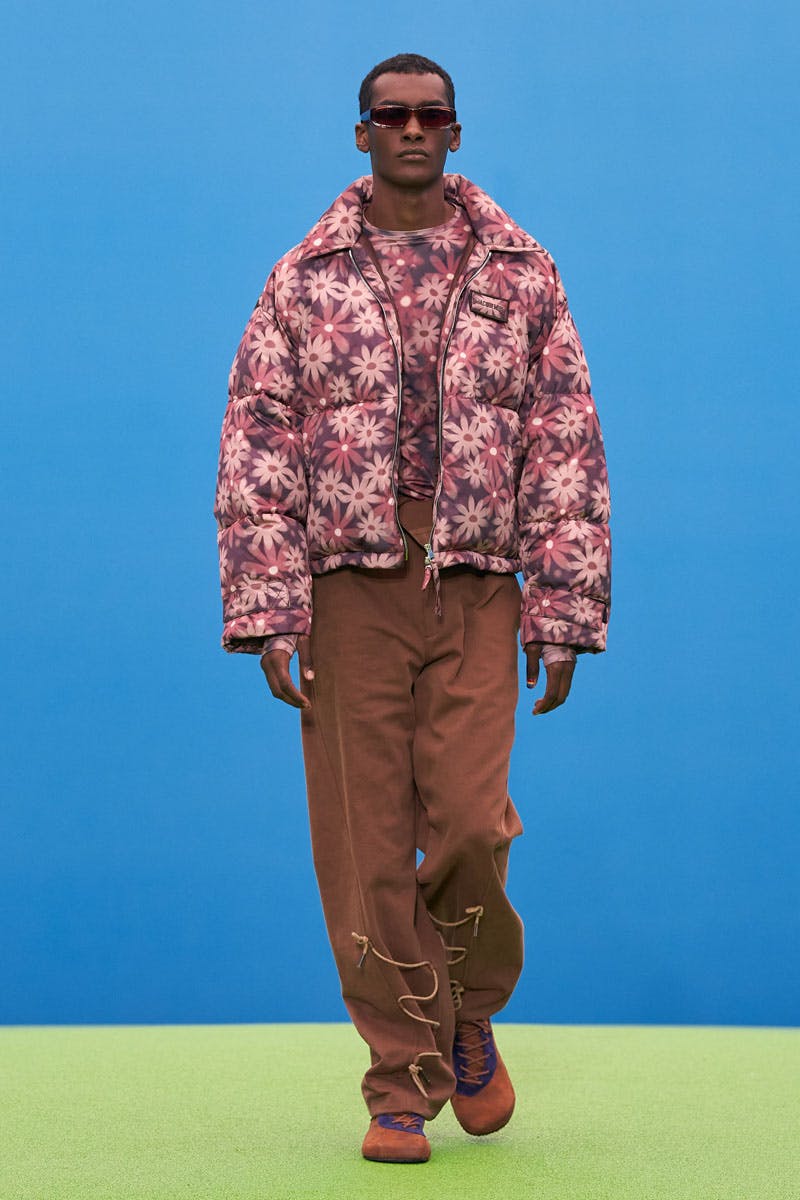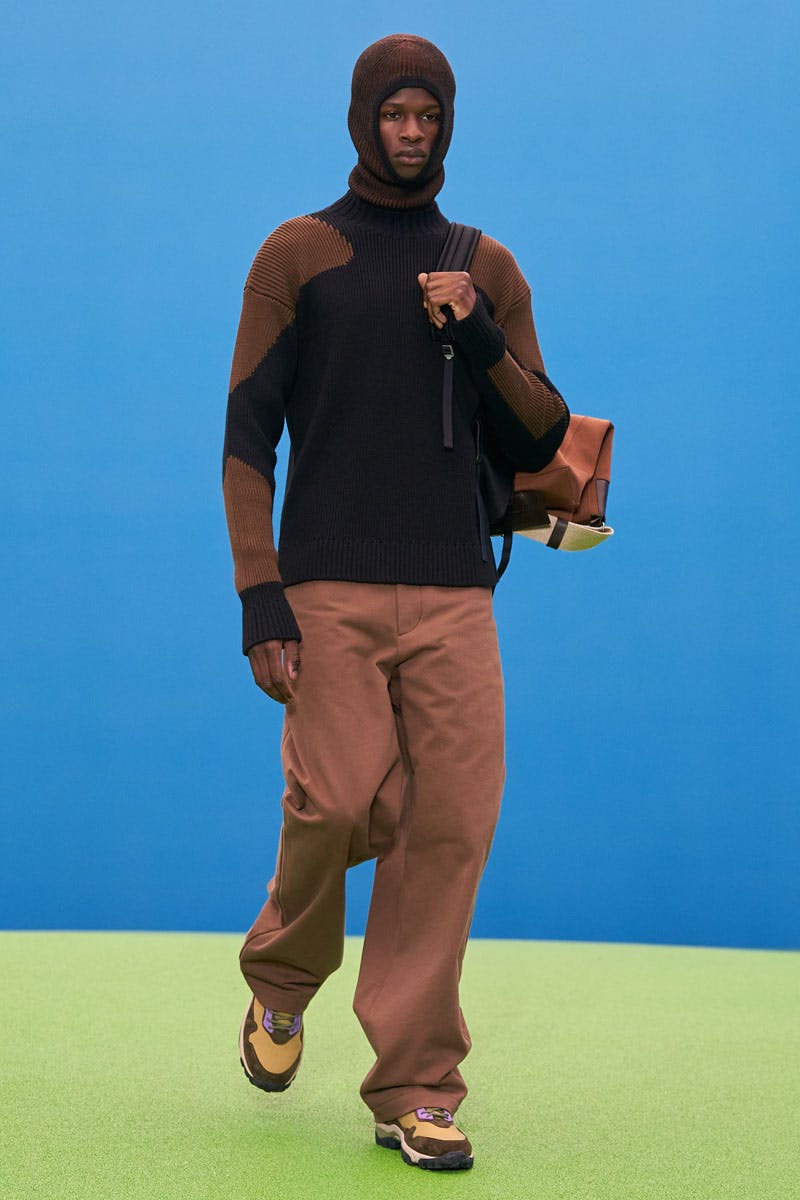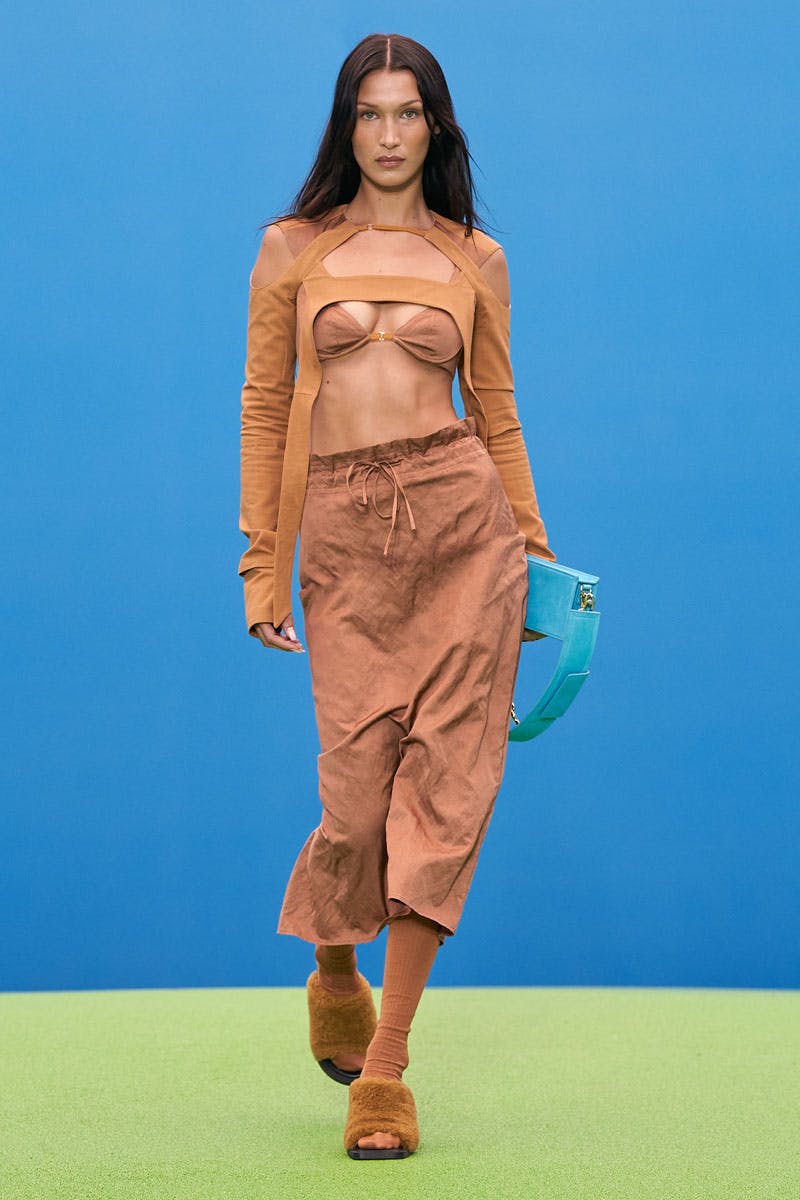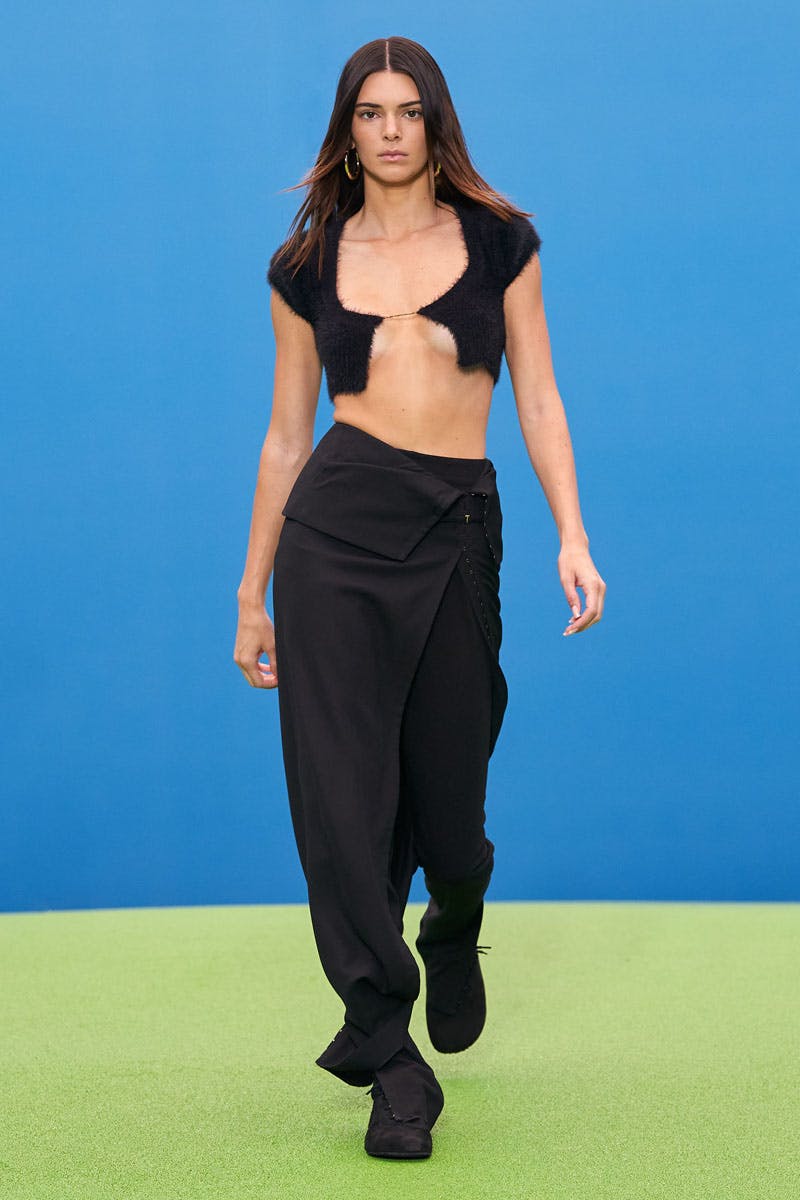 After such a particular year, I wanted to gather people inside and share a fashion moment together. I wanted to focus on the clothes, the silhouettes, the colours, the fabrics, the details, and the energy of the models.

Simon Jacquemus on Jacquemues FW21
Highsnobiety's Shopping List
The Can-You-See-Me-Now? Polo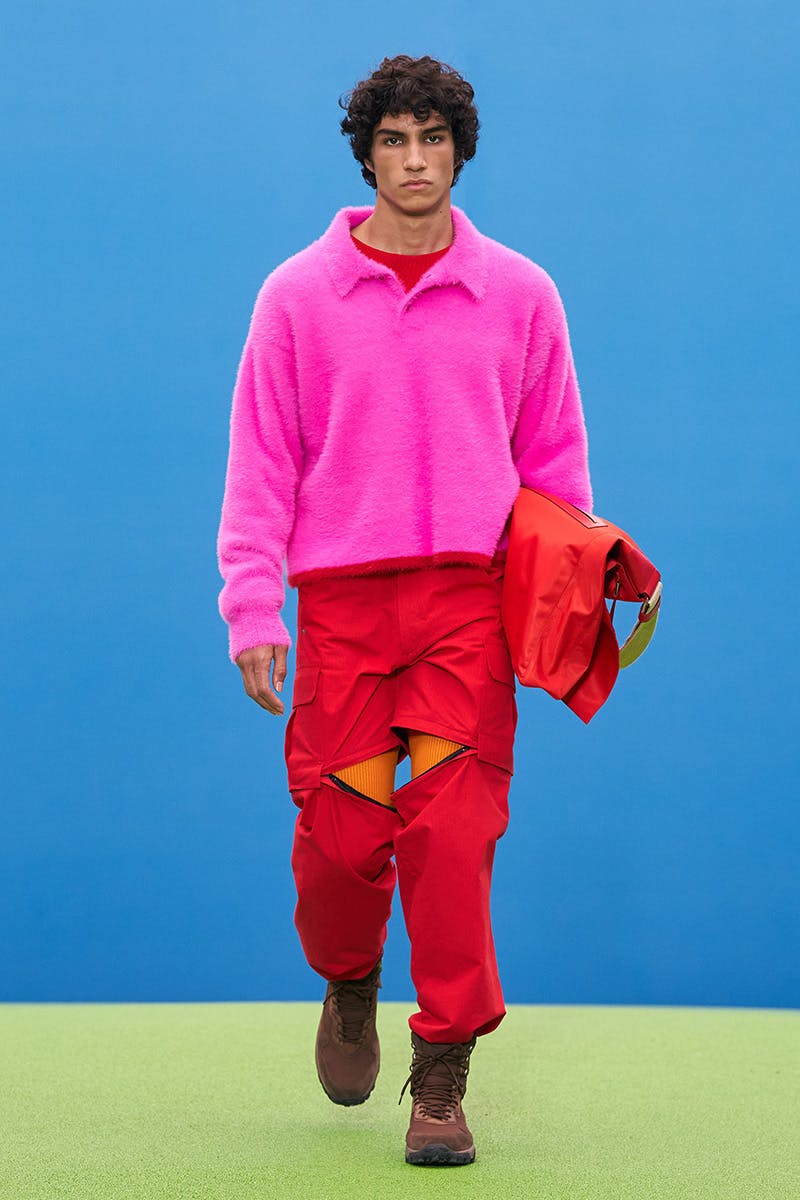 A brighter color doesn't exist. We like it.
Jill Kortleve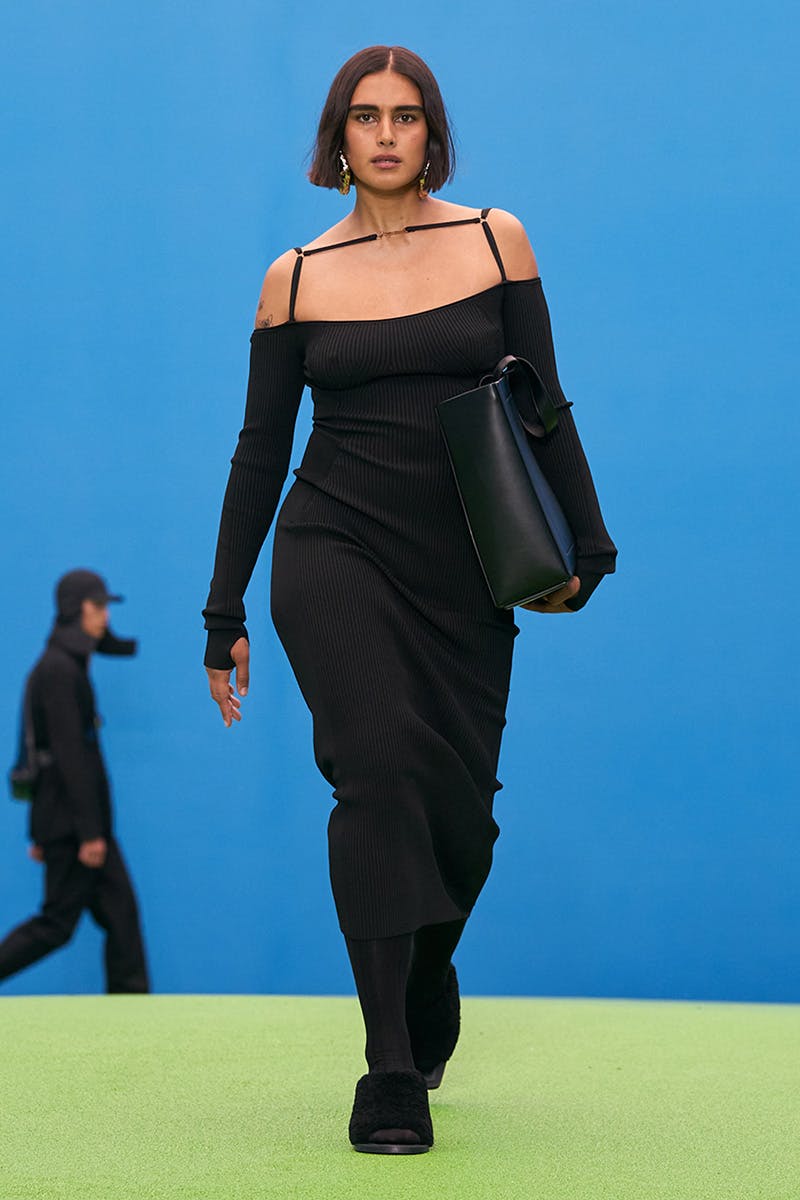 I think of Jacquemus, I think of Dutch model Jill Kortleve. The simplest yet best look of the show.
The brolette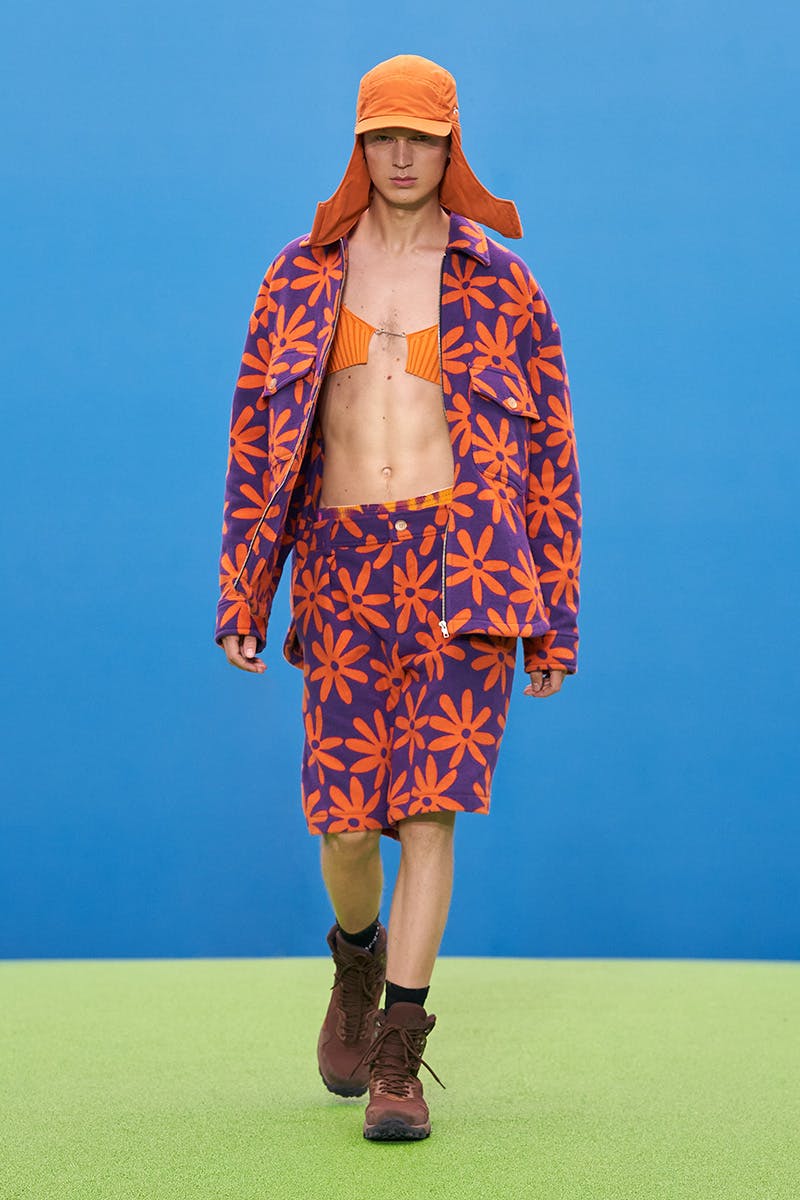 Jonas Glöer in an orange bralette marks the start of the fashion brolette? The bralette? The lette? Call it what you want, it's here to stay.
The puffer duffle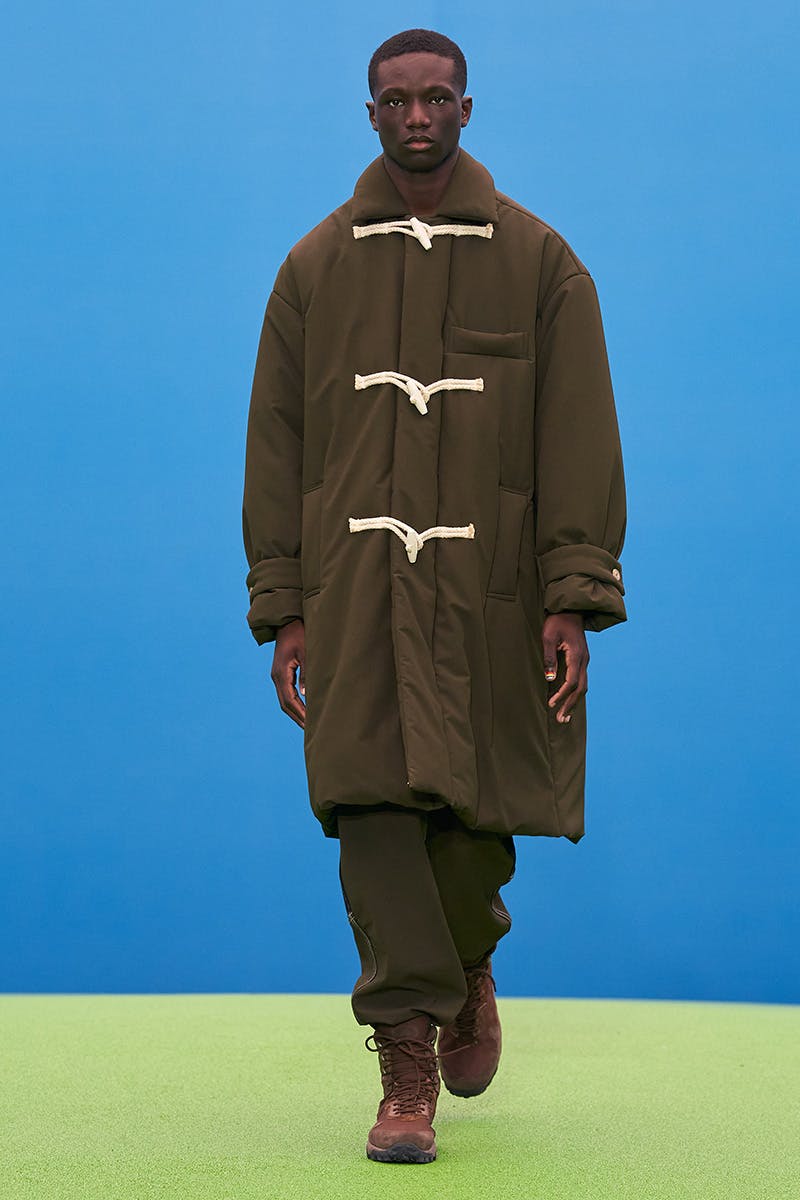 Doesn't really roll off the tongue does it? A traditional outerwear garment reimagined with a streetwear slant.
The Great Expectations Cardigan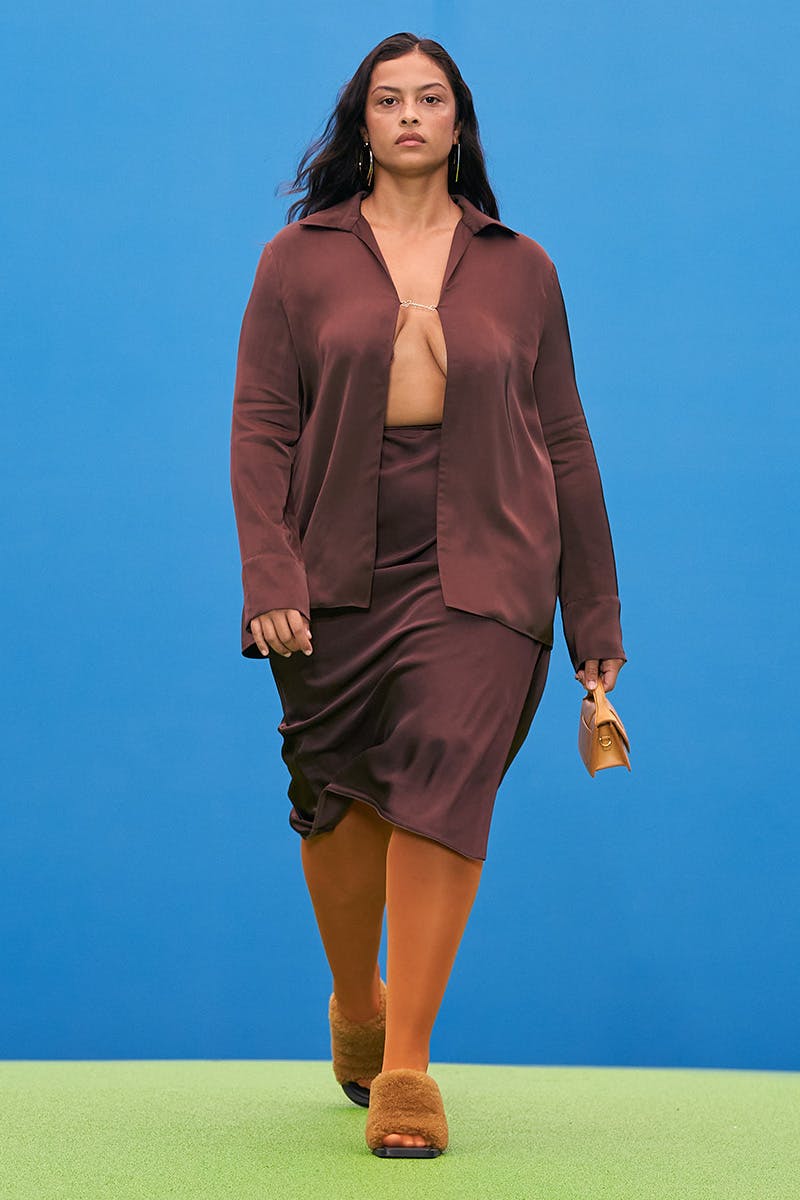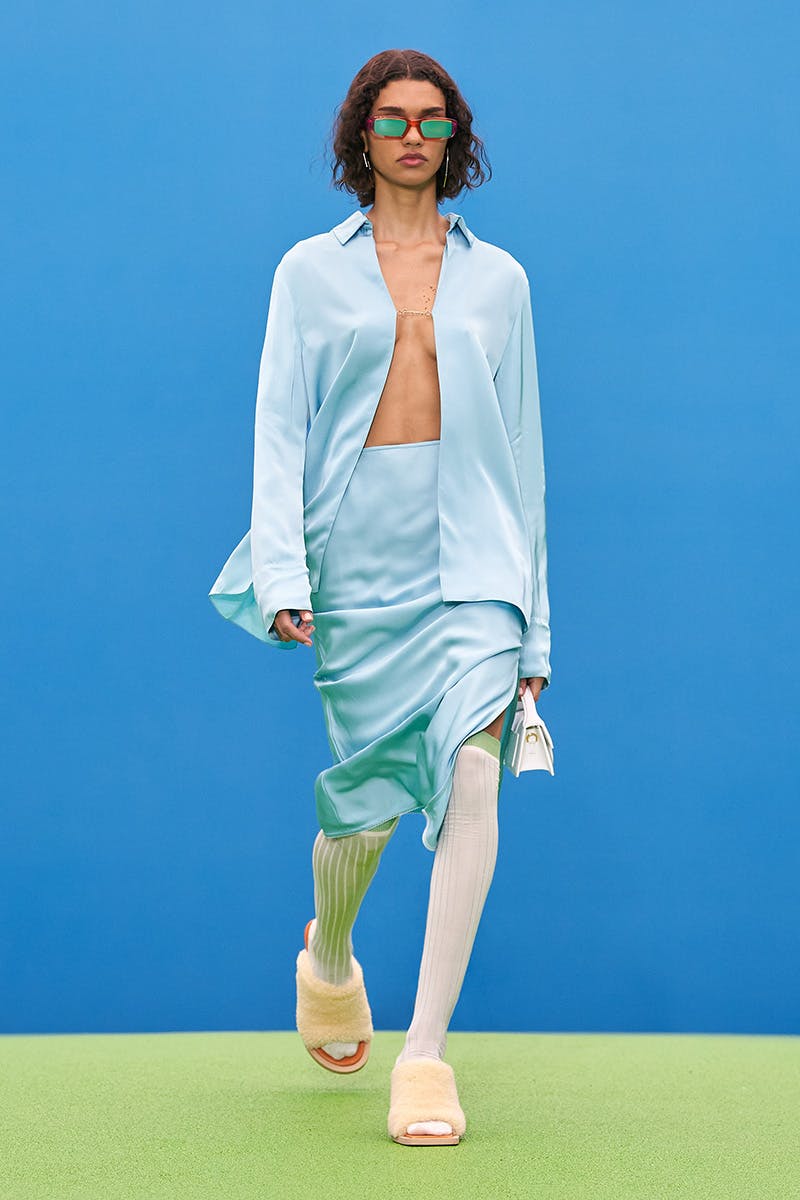 Look me straight in the eye and tell me this silk cardigan isn't inspired by the green Donna Karan cardigan Gwyneth Paltrow wears in the 1998 film 'Great Expectations'. Yeah, it's that one.