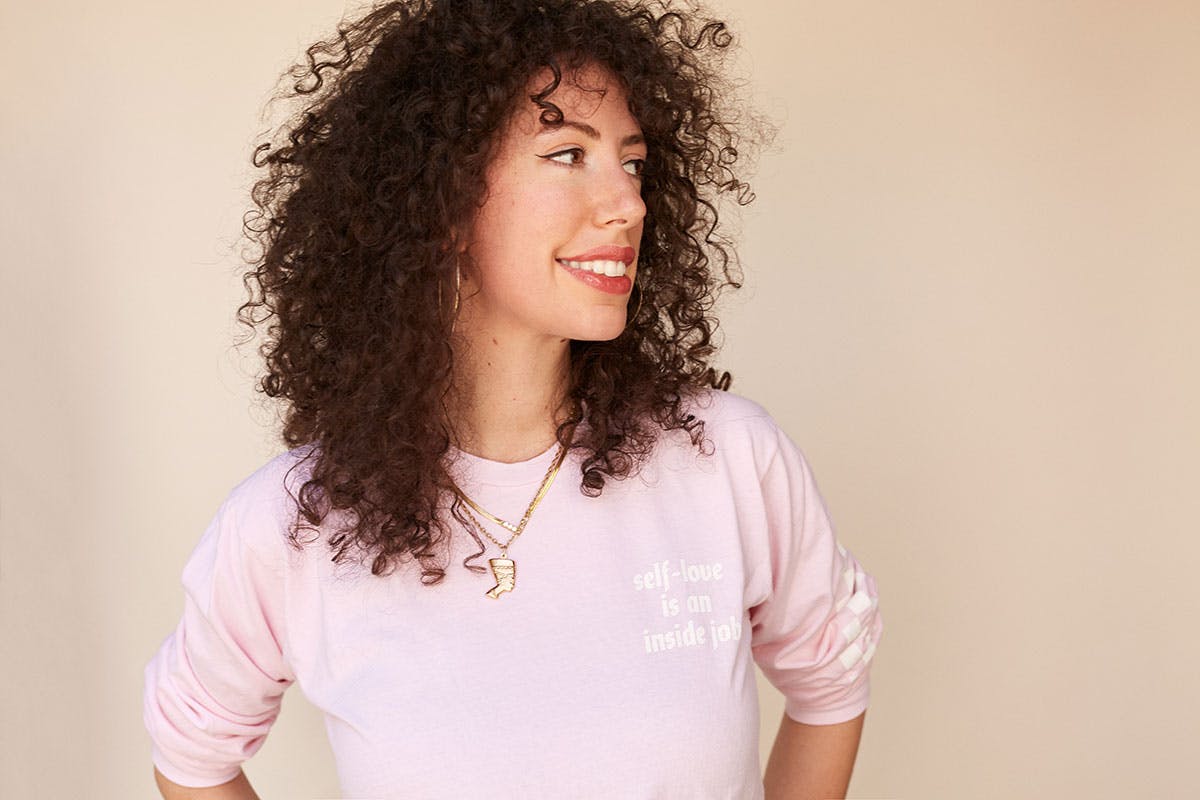 Life Coach is an advice column on how to be an even better version of yourself in every capacity. This week's special guest is Jerico Mandybur, an author, healer, and spirituality coach based in Los Angeles, California. Find out more about the process of the divination practice.
In the ongoing quest of misguided millennials searching for answers, more people are turning to tarot cards to understand the mysteries of the universe—and themselves. Jerico Mandybur fully understands the universal yearning. Even when she was working as the founding editorial director of Girlboss years ago, Mandybur was always exploring different ways to get deeper in touch with her higher self.
In addition to her many media titles over the years, she is a reiki healer, meditator, tarot reader, public speaker and legally ordained minister. (Mandybur also self-identifies as a "pantheist witch" and is currently the editorial director of Miss Grass.) Last year, Mandybur made an even bigger mark in the world when she published Neo Tarot: A Fresh Approach to Self-Care, Healing & Empowerment and Daily Oracle: Answers From Your Higher Self. Both books serve as resourceful tools for self-care, introspection, and empowerment.
At this point, Mandybur deserves to be referred to as a spirituality coach—her work in the field truly speaks for itself. We recently spoke to Mandybur to learn more about her relationship with tarot, how the practice has evolved, and why it's become such a staple in the new decade. Scroll down for the enlightening conversation.
What was your entry point into tarot?
I remember loving and looking through my dad's girlfriend's tarot deck when I was young. So I knew what it was and it was always around. But I was as scared of it as I was fascinated by it, same with everything metaphysical. I felt like I could identify my gifts in this area, but I was reticent to explore them except for here and there, because they frightened me. All through my late teens and twenties I had a tarot deck, but I rarely used it. It was under the bed, where it wouldn't spook me. Then from my late twenties, once all the religious superstition I was raised with washed off for good, I was looking for answers, comfort, and ways to help myself cope so I began learning tarot properly.
How has tarot impacted your personal and professional life?
Personally, it's been my greatest teacher and has been as important to my understanding as myself as therapy. Professionally, the fact that I'm a tarot reader and help people with this tool is still pretty mind blowing. It's given me permission to be completely myself and realise that I can actually survive in the world that way. I can be a writer, and a tarot reader, and a journalist and coach and blah blah. It doesn't have to only fit what I've seen. That's been incredibly empowering.
How have readings become a part of your routine? What is your usual process?
I always encourage people to build a relationship with their cards by pulling one every day, but I don't do that every day. I'll usually do something to do with tarot though. Either actually reading for myself, or else reading a book, article, etc. about them, meditating on them, relating them to situations in my life. That sort of thing.
How would you explain tarot to someone that is completely unfamiliar with it?
It's a deck of playing cards from the Middle Ages, full of archetypal figures and themes, that are used for divination as well as self-reflection and self-care.
You offered a new approach to the practice with Neo Tarot with a "radical, queer understanding" of the practice along with a more inclusive deck and a big focus on healing. Why did you think that was necessary?
All tarot readers and tarot authors come to the practice with their own subjective interpretations and life experiences. This is just mine. I'm a queer, ethnic Australian with radical politics and a lot of healing to do, so that's what came out. I believe that tarot is a gift and is evolving in constant dialogue with the world it inhabits, so like anything it should accurately reflect that world, so that it's a gift we can all actually make use of.
How do you think that practice has evolved over time? What predictions do you have regarding the practice for the new decade?
I think overall, tarot's become less about static prediction and more about personal advice. It's also become less of a communal activity and more of an individual, private practice. As much as I'd love to see it be a more shared practice, I think it'll probably continue down the solo path—albeit with a larger performative aspect on social media. Which is great for community building and accessibility, but doesn't necessarily encourage discipline and proficiency among readers. Like all self-development conversations, I'm excited by it's online democratisation but I also hope people, including myself, keep their wits about them when it comes to where they seek knowledge. There's no substitute for the library!
Why do you think people have recently shown a stronger interest in tarot cards?
People and especially Gen Y are burned out trying to keep up with the demands of a world they had no say in creating. There's a gap where spiritual and civic responsibility and public service used to be. People are traumatised to one degree or another by the injustices of the world. And social media, for better and for worse, has created a place for us to gather and both form and present our identities publicly. In this context, I think more people are discovering tarot via social media and are interested in its healing potential. I hope it's not too cynical to add that some might also be drawn in by the cultural cache of tarot. I think everyone has a pang of that to one extent or another these days, or why bother collecting and sharing decks? As more people show interest, more and more diverse decks are being created and shared. So it's easier than ever to find a deck that speaks directly to you.
On the flip side, what tends to turn people off to it? What are some of the misconceptions and judgments against it?
The biggest thing is the religious programming that, if you're in the West, you're probably effected by to one extent or another. The majority of people are spooked by the occult, even if it's just because of scary movies and wider pop culture. They don't understand it so they don't trust it. This distrust is also passed on socially too, via racially-motivated and classist/sexist stereotypes of fortune tellers who want to trick you for money or put a curse on you.
What would you recommend for someone who is new to tarot and eager to learn?
Practice everyday! Let learning the meanings of each card consume your life for a few years. Intuition is a huge factor, but so is foundational knowledge. If you think you've read too many tarot books, read 10 more! Fill journals with your notes. There is always, always more to learn.
Revisit Naomi Shimada's insightful hacks for your worst digital habits.