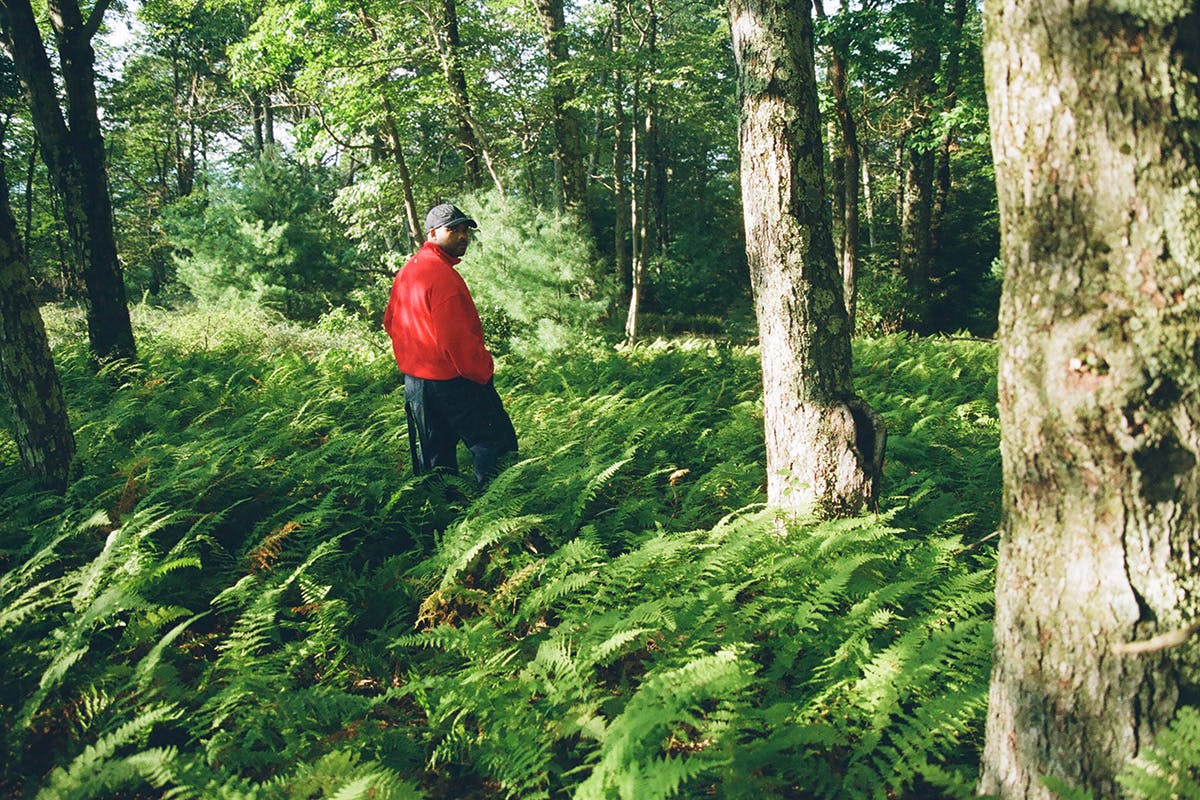 When it comes to '90s fashion, Jordan Page knows a thing or two. For the past several years, the retro style expert has carefully curated the popular Instagram account @veryadvanced, digging up archival images and telling the story behind them to his 18,000 followers. The feed is a trip. Something akin to a virtual museum that pays homage to the products and people that — in recent times especially — have come to inform the style zeitgeist.
The esotericism of Page's content is what sets it apart from similar accounts. Not all the celebrities flagged up could be described as immediate style icons. Sure, you'll find photos of MTV-generation favorites such as Madonna and Dennis Rodman, but in between there are shout-outs to Prada Luna Rossa-clad Italian sailors and, erm, former Newcastle United and Trinidad & Tobago goalkeeper Shaka Hislop. Sometimes the biggest trendsetters are hidden in plain sight — between the goalposts.
Page, like the streetwear archivists who came before him, always looks to shine a light on the lesser remembered. When it comes to his own collection, he eschews traditional collector's catnip like Ralph Lauren and The North Face, instead focusing on old-school mall brands. He likes what he likes, and invests in provenance rather than trends.
Keen to find out more about his tastes and background, we caught up with Page to discuss the history of his Instagram account and what he's currently up to.
How did you become involved in fashion?
I started my career at The FADER magazine in marketing. Being in touch with a lot of the editorial team there, I was able to express my personal passions. When I left The FADER, I was already collecting vintage, which was something a lot of my friends didn't know I did. By that time, I'd done it for years.
So the fashion editors at The FADER were like, "Oh, we didn't know you did this thing. We see that vintage is having this crazy resurgence right now, especially '90s stuff. Would you like to do some online editorials and style some shoots?" That's really how the ball got rolling.
I think I did my first online editorial with The FADER about two years ago. It snowballed into other opportunities, and now it's segwaying into an even bigger job that I can't even discuss at the moment!
Any clues?
It involves a high fashion brand. A very well known high fashion brand.
You've recently been working with Reebok. How did that relationship come about?
They had this idea for a campaign for the re-release of the Aztrek, a trail running shoe that originally released in, I think, 1993. Someone hit me up over the summer on Instagram to gauge my interest. They expressed to me that they want people who are knowledgeable and passionate about '90s fashion and culture to be involved and didn't want to take advantage of the trend that's going on, or has been going on for a while. I felt they were very genuine in their approach to me and honestly it was a real honor to be involved.
How long has your Instagram account been running?
Since about 2014?
I started it as a thing to show off pieces that I thrifted. I realized that there were a lot of people from certain companies and brands that were following me and using my photos and my thrifts as design references without reaching out to me or hitting me up — or hiring me to do work for them. So I changed the direction and instead started finding obscure, more rare photos, whether they were online or things that I scanned from magazines and photos I own, instead of my clothing archives.
At first it was your own clothing you were uploading?
Yeah, any memorabilia that I was thrifting and finding. I ended up deleting all of those photos because I was getting a little upset. Because people were hitting me up, they were like, "Hey, can I re-post some of these?" Then that same person would post something they made clearly referencing pieces from my archives. That leaves me completely exed out of the money making process. I want to make a living from my creativity and knowledge too. I'd rather someone hire me for design research than take photos of my vintage clothes from my Instagram. They're stealing a little bit of milk at a time when it's better to buy the cow. But not everyone is ethical and content theft is very difficult to monitor so I have to shrug most of it off.
I love how the photos you post are so eclectic. It has everything from football to tennis and even sailing. Where do you actually find the images?
I'm always searching. I live in NYC, so I'm always going to junk shops here or in the New England area. Whenever I travel for work I always take a day to go out and thrift. I'm on eBay quite a bit too. I have a lot of old issues of Interview, Vibe, i-D and The Source. A lot of music and fashion-based magazines from the late '80s to early 2000s. So that's where I find a lot of my content.
Do you have a '90s style icon you'd rank above all others? I love how on-point Goldie always is.
Goldie for sure. I've been a fan of his '90s fashions for a long time. This might surprise a lot of people, but Whoopi Goldberg.
Oh man, no way!
She had an amazing fashion sense. If you look at photos of her from, maybe, the mid '80s even, she was wearing stuff that was akin to Japanese streetwear in the '90s that the rest of North America is just now getting around to, like oversized blazers, suspenders, and trousers with sneakers. So Whoopi Goldberg. And, honestly, Dennis Rodman.
His style is crazy.
I loved his '90s fashions. He was like a gender-bending, risk-taking, off-the-wall kind of guy.
I recently wrote an article about tennis fashion and I think, in the '90s, Andre Agassi was a big one, mainly because of his Challenge Court line.
Some of those designs are so crazy. I'd love to see a reissue of that. People look at maybe '88 to '93, when he had the mullet and the wild colors. But my favorite Agassi is about '94 to, like, '98, when he shaved his head and was wearing the bandana and had these short-sleeve Nike button-downs on court.
You posted about Nike's now-defunct Aqua Gear line. Are there any others like that?
"They had a cycling line called Echelon. Of course, there was Aqua Gear. Those are the two I'm most familiar with. But there were many more diffusion lines."
What do you think of reissues like Nike's ACG line?
I like it quite a bit. I think they were listening to the hardcore ACG fans and took the line back to its roots. At least they did aesthetically. You see the mixing of hot and cold colors over neutrals, the very textured fabrics, the pockets. I think there are some things to fine-tune still, but I like the old-school ACG vibe with a more modern fit.
I remember reading through sneaker writer Gary Warnett's old blog and he was just obsessed with it.
He was just an endless well of knowledge and was always willing to share. Any question I ever had, he'd always get back to me and answer. I appreciated that about him. To this day, I don't know anyone who knows as much as he does or researched as hard as he did. He seemed very kind and was really someone I would've loved to meet in person to get to know. Gary is still a constant motivation.
I have to ask you about the Palace x Ralph Lauren collaboration. What were your thoughts when you saw it?
I think the house is divided on this one. A lot of people I know in and outside of the fashion industry didn't like it. I did. I thought there was a certain irony to the collaboration, an older American brand mixing with a younger British brand. History would tell us it's supposed to be the other way around.
Also, a lot of people said, "Why not Supreme?" but this is more exciting to me, Ralph Lauren is already heavily encoded in Supreme's DNA as they've referenced the Polo aesthetic quite a bit over the years so It's kind of like what's the point? Also Palace is a bit more editorial with their visuals than Supreme and really gave us something fun with the look book and video. It felt very organic and mutually beneficial."
Neither participant really needed the other in a desperate way and that was nice to recognize. I hope the partnership continues and I hope Palace takes on some Ralph Lauren diffusion lines, especially RLX. I think Palace x RLX would be a sick collab.
You have some incredible pieces, such as old Patagonia stuff. How did you find that?
Dude, honestly, that was the come-up of all come-ups in recent history for me. I was able to come across that stuff when I went home for a recent trip and I was floored. It was this lady who was giving it away for next to nothing. It's too small for me, but I had to take it.
What are some of your other favorite cops?
I'm from North Carolina, so I have a leather starter jacket that is from the Carolina Panthers' inaugural season that fits me perfectly that I absolutely love."
I have a knit — I got this from my friend Chad Senzel — a knit Abercrombie & Fitch sweater that has a tree on the front, "Abercrombie" across the bottom, and on the back it says "AF95." That signifies the year it was made, which was exactly what Ralph Lauren did with some of their knit sweaters. They would have "RL89," "RL91," whatever year the sweater was made on it.
I love '90s mall brands. I love J.Crew Sport, I love old Gap — one of my other pieces that I love is a corduroy Gap anorak. I don't know what season it's from — I think it's from before '95 — but it's beautiful. I love Structure. Structure's the brand that eventually turned into Express for men, which sucks, but they had amazing stuff in American malls in the '90s.
And you know, don't get me wrong, I love [Ralph Lauren's] Snow Beach — I've just never owned any of it. By the time I got around to thrifting, I think it was already too expensive for me to buy. So I just found value in things that reminded me of my childhood that I could have a personal connection with.
Because a lot of the brands that I like now are things I saw my older brother and cousins wear, you know? People I was watching on TV. I was a big fan of The Jamie Foxx Show, Martin, Fresh Prince. Anything I prize that highly, I have a personal connection with, that's it.
Is there a big vintage community for mall brands like Gap?
It's growing. I think people are just now starting to see the usefulness and coolness of it — because it's really good-quality stuff. But I don't think it'll ever be grail status. It was too mass produced.
Any resolutions for 2019?
Honestly, I don't know. Just to keep growing and doing the things that I love!
When you're finished reading, see the outcome of our 2018 Highsnobiety crowns here.