Within the world of product design, furniture was Julie Valuskova's first love, though it was far from her last. It was only the beginning of her creative journey, dating back to when she was young, watching her father upcycle street furniture. "I was that kid collecting toilet paper rolls and making a kaleidoscope out of it," she admits over an early morning Zoom call from her studio in Queens, New York.
Home for Valuskova was the Czech Republic until her family moved to the US when she was in grade school. Her parents recognized her natural gravitation towards anything creative, but when it came to higher education, her immigrant mentality led her to something she knew would score her a job in the future. She eventually made the decision to pursue a degree in Interior Architecture, later doing an additional year in Sculpture and achieving a double degree at the California State University in Chico.
Valuskova's entry into the accessories manufacturing space wasn't planned nor expected. It was purely her eagerness to gain experience in the creative space that landed her an internship at a bag and accessories factory. It's also where her curiosity and love for footwear began to blossom, and where she eventually became the head of Design & Development of Made in USA products for Chrome Industries.
After stints at KEEN, On Running, and Cole Haan, Valuskova found herself at Yeezy, where she took on the role as Senior Designer. And in June of this year, she moved to the Big Apple to become Aimé Leon Dore's first Senior Footwear Designer. Gaining the trust and support in such leading roles—especially at places like Yeezy and ALD—was hugely important, not only for Valuskova's personal career, but for the wider sneaker world.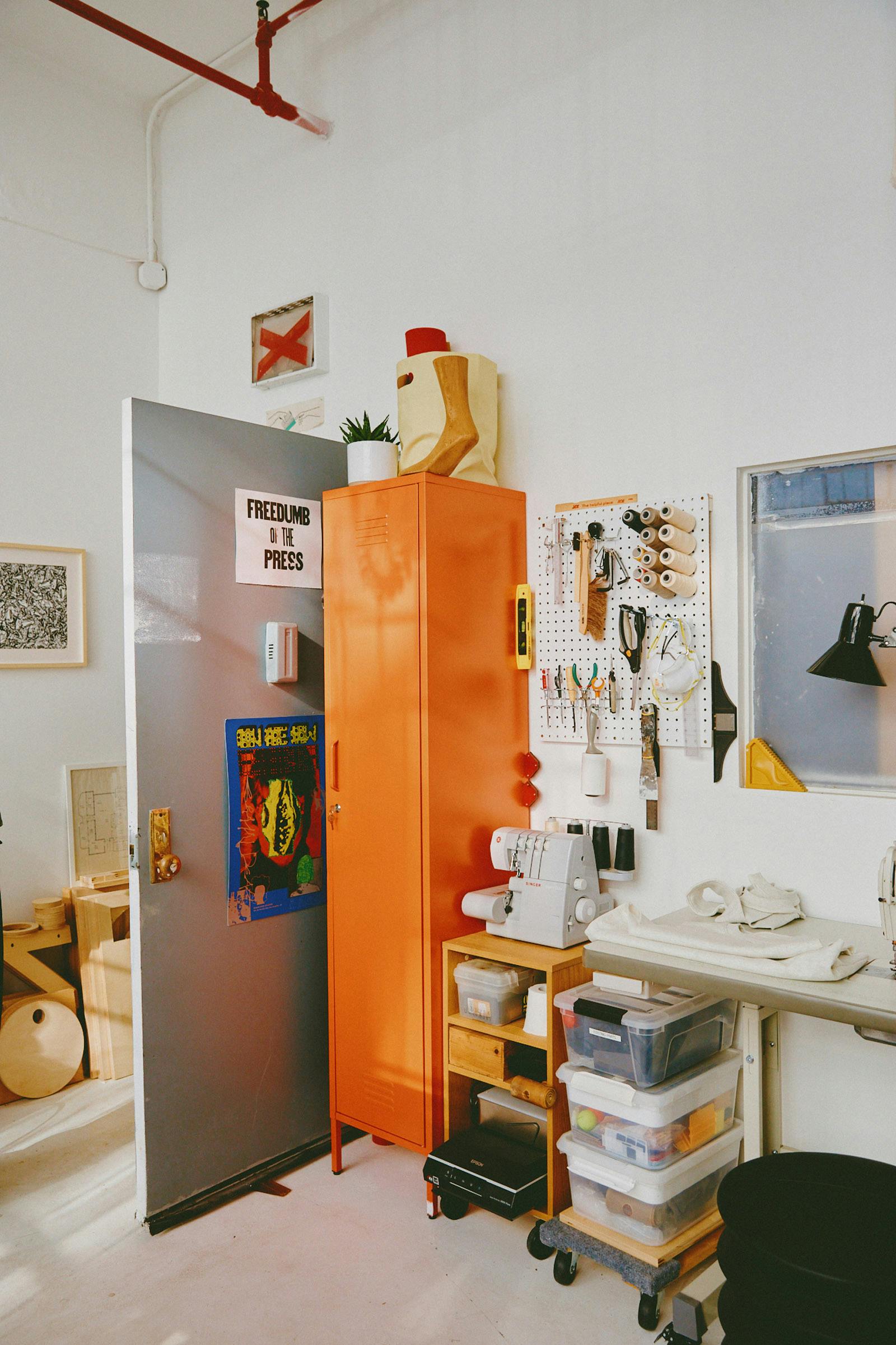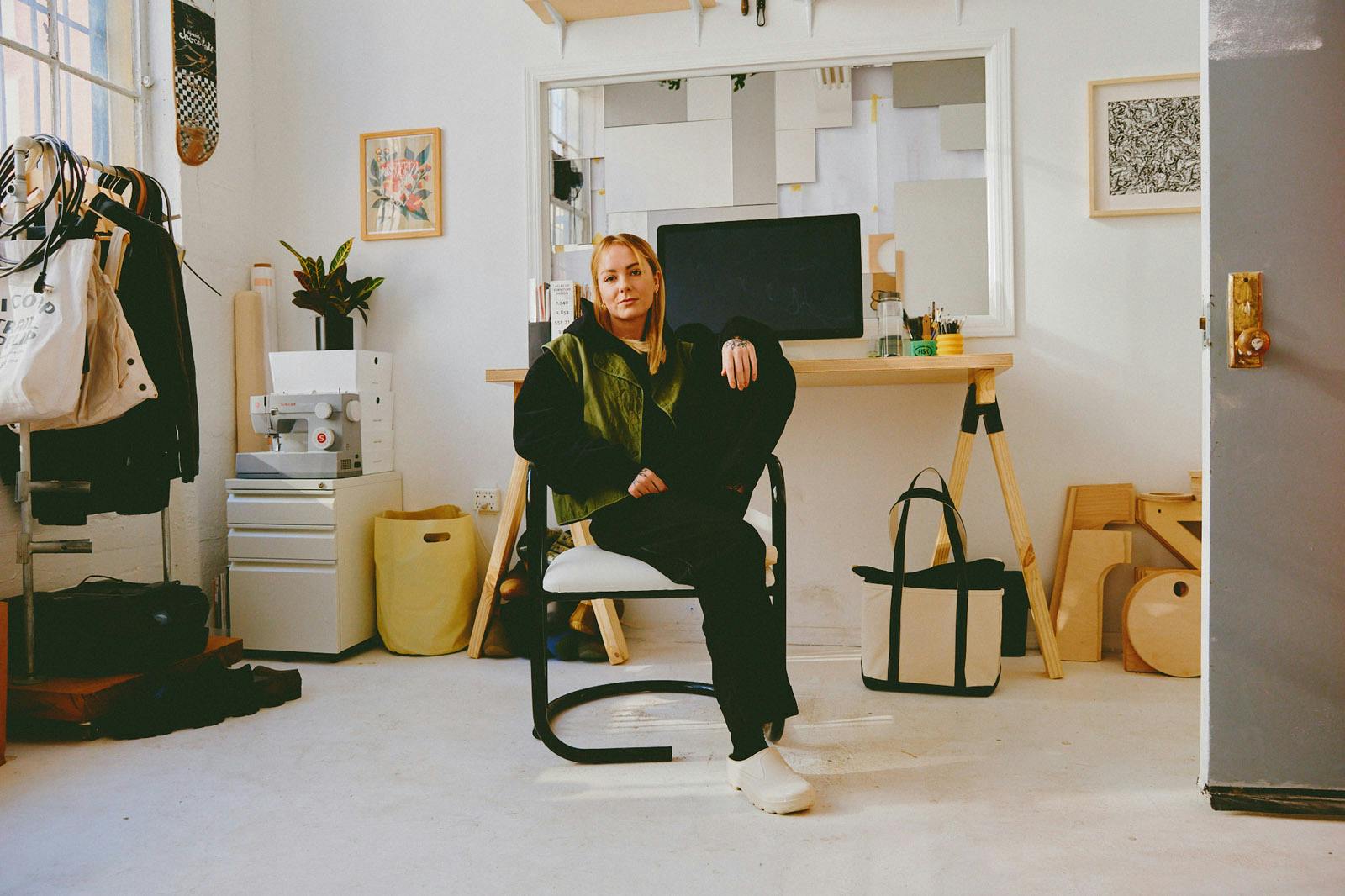 For women, navigating the heavily male sneaker space can escalate that imposter feeling. Women are still commonly positioned as second best in the sneaker industry, being appointed to roles in areas such as materials, color, and marketing, and rarely given the space to advance higher.
Valuskova explains why entering the industry was incredibly intimidating for her: "I don't draw with that sexy fast Copic marker. I wasn't taught that way, and I don't have that traditional industrial design background." But luckily for her, a non-footwear, non-industrial background has proven to be highly valuable.
As an intern, you were sucked into every aspect of accessory manufacturing in a factory straight away; how did that shape you?
Totally. It was a lot of hands-on experience. In the beginning I was learning how to sew, prototype, sample, and make patterns. Then about four months in, they let go of the person that had trained me for various reasons and were like, "Well, you can do everything she does, right?" I was in that "Fake it till you make it" phase so I was like, "Yeah, 30 years of experience, four months, absolutely." Meanwhile, I'm still in school. I would get to the factory at 5:30 in the morning and leave at 10:30 and then go to class the rest of the day and do that five days a week. I ended up having my hands on the entire backend of the process. It was really cool. A one in a million job to get in that area and I was super grateful I had done that.
What was it that drew you to footwear?
It's mini architecture for me. Working on 2D red lines and things like that of tooling. Because of that structural architecture feel, it is like in between architecture and sculpture for me. It was meant to be. It was the bridge that came together.
Heard many great things about Suzette Henry at Pensole Academy. What was it like being under her wing and learning more about CMF (color, materials, and finishes)?
Suzette and I hit it off right away. She's a queen obviously, and she was the most nurturing, kind, and easygoing person where we clicked right away and kind of ebbed and flowed. She was able, in such a short time, to communicate so much to me about the background of the industry. Her being the first CMF designer at Nike, she pioneered all of that. She's able to teach in a palatable, rudimentary way. I didn't realize what door I had even opened, but it was super insightful. I fell in love with the storytelling and creative direction element of it even more.
Having a background in Interior Architecture and Sculpture, how does this play into and inspire your approach to footwear design?
I draw a lot of inspiration from some of the artists that I've been following and studying for a long time, like Louise Bourgeois and Eva Hess. There are certain eras of time that I identify with that inspire me in an indirect way and help me transform that into a tangible concept. That's always been a hugely fun part for me and why I see myself in being in creative direction in the future. There's something really stimulating and soothing about taking more abstract references or ideas and translating them into a wearable concept.
As a female designer, how did you feel entering the sneaker industry?
Entering the sneaker industry felt like I was coming into a "boys club," where everyone around me was drawing sexy fast cars. I was out here drawing little tables, stools, and tiny buildings with a ballpoint pen. But slowly, over the years, I've truly felt the more that I've gotten to know this industry, it feels more and more welcoming and inclusive of not just gender, age, and everything, but style, background, and education level.
Designing at Yeezy, what was that like?
It nurtured me, and pushed me as a creative person. They say in Yeezy years, it's like dog years being there. I grew a lot. I developed as a creative person, and as a leader, and I really loved the team.
Through your various roles within the footwear industry, what have been the most standout projects for you?
One would be the Yeezy Knit Runner. It was my baby [from] beginning to end, especially the faded colorways. I was able to hand-paint and watercolor rough, abstract colorway ideas then translate them into Illustrator. Going through a process of how to develop that concept into something we can physically make, given the material, the silhouette and all the implications. Or getting 3D mini prints from the team and directly painting on [them]. These various avenues of abstraction to come to a commercial product is the most therapeutic thing. And having the freedom, the support, and the trust to do that was new for me.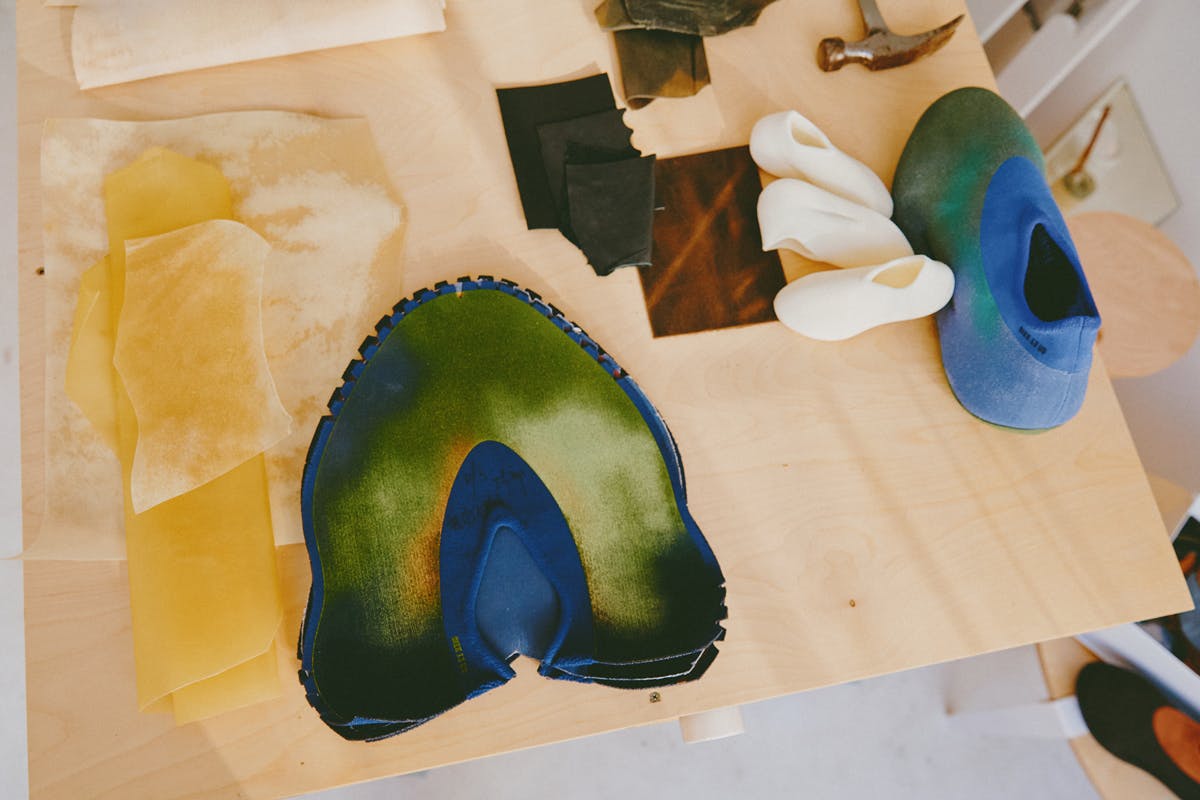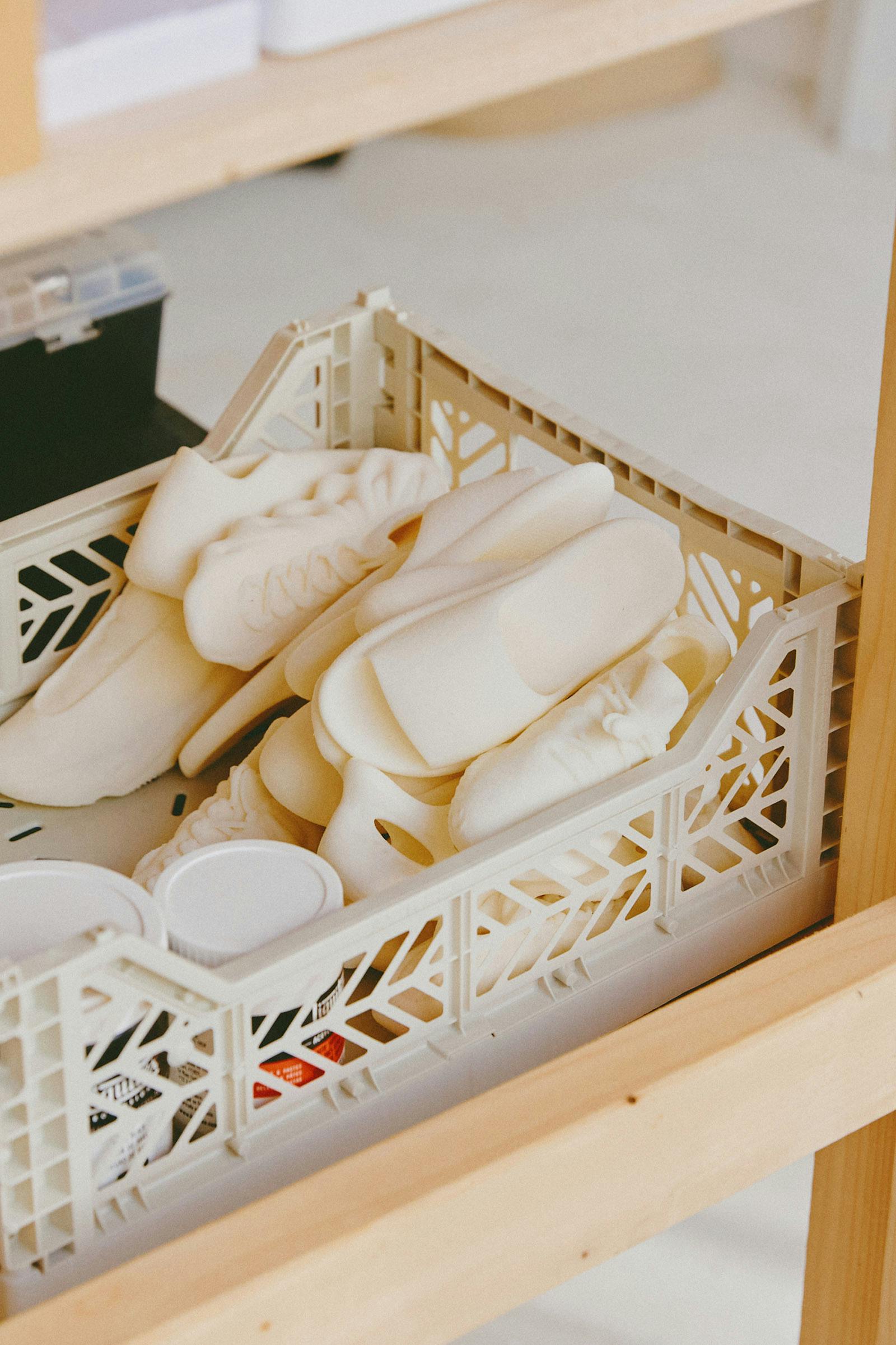 You are currently the Senior Footwear Designer at Aimé Leon Dore. It is like a match made in heaven?
I agree, I identify with brands like ALD so much because I am that immigrant kid that came over that got influenced by American hip-hop and certain American cultures. But at the same time kept with my Czech roots and very much identify as a European first. But somehow the two of those things just work.
Maybe footwear is my grounding place, but I'm now at a brand where it's not just about the product. It's really about community. It actually is. And the people that make up the community influence the product directly and influence why we do things that way we do. That's something I identify with strongly and confidently, and it makes me really proud.
What advice would you give to your past self?
Be really proud of the things that you make, whether you're sharing that on the internet or with the world or not, be proud of it and nurture that. Because even if it doesn't feel like it at the moment, it informs everything you do. It informs all of your growth. And that's a lesson I didn't learn until years later. I'm still referencing things from years and years ago that I was taught or that I followed. Or dumb projects that I started and never finished, that still did something for me and taught me that you can do it all. You really can! You just need to find the right support. And always be nice and respectful. Because you'll get that shit back, trust me.
Looking forward, what's next for you in your footwear design journey?
I have so much to look forward to. Where I am now is where footwear is just in its infancy stage. What I really want to do is get a "PhD in footwear." It's not just design, it's development, marketing, planning, merchandising, finance, copy—everything. And it all feeds into that need that I have of having my hand on everything and helping with the whole vision of not just "the now" of a silhouette. The whole vision of a project, and the responsibility in that challenge is super exciting. It's right where I want to be.