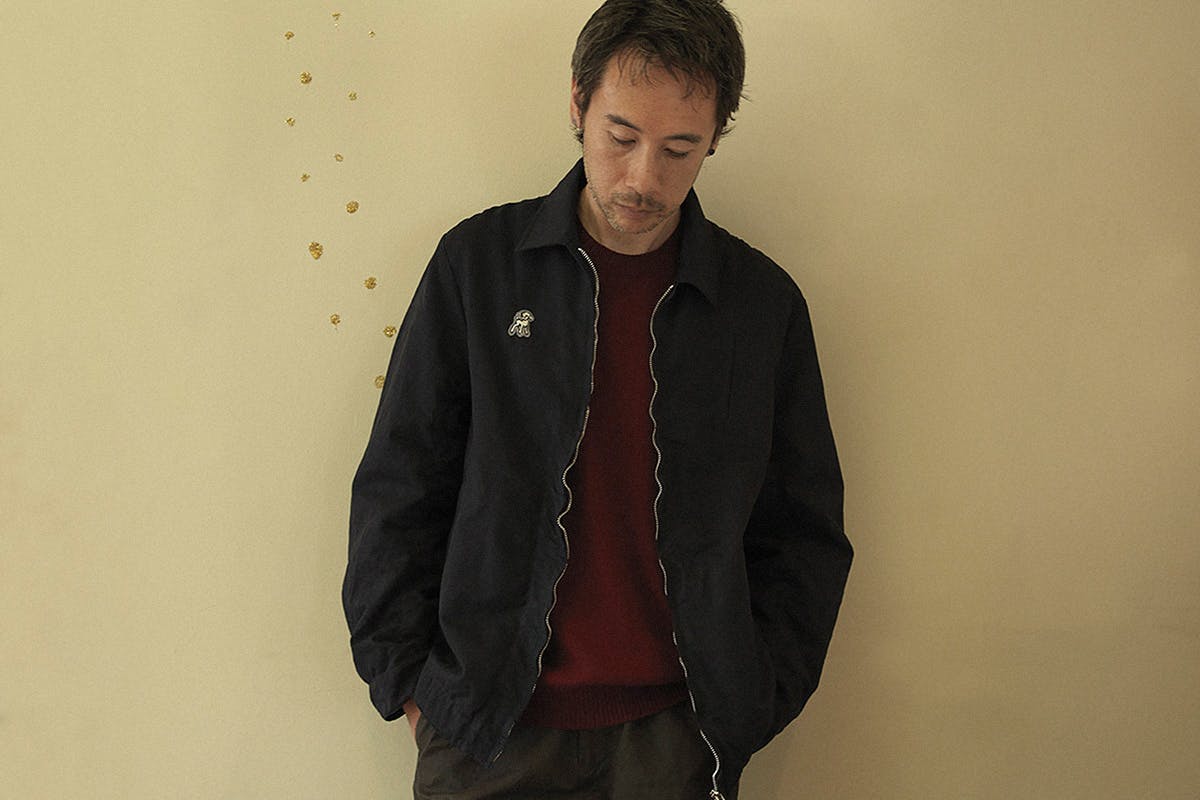 Origins examines some of the most iconic figures, brands, stores and neighborhoods in the Highsnobiety universe, breaking down how they left an unforgettable mark on street culture. This installment takes a deep dive into the punk fashion career of UNDERCOVER founder Jun Takahashi.
In the melting pot that is streetwear, certain designers and labels often lean on certain subcultures. Shawn Stussy, for example, started out in West Coast surf culture. Supreme's roots are in skateboarding. BAPE brought cartoonish Japanese aesthetics and a love of hip-hop. But when it comes to punk rock, you have to turn to Jun Takahashi and his label UNDERCOVER.
UNDERCOVER is driven by the motto "We make noise, not clothes." Takahashi translates the subversion and disruption of punk rock into fashion, like an heir of Malcolm McLaren and Vivienne Westwood, with his blend of bondage, gothic, baroque, and grotesque aesthetics embodying the spirit of rebellion in fashion.
The early days
It's no surprise Takahashi started out singing in punk tribute act the Tokyo Sex Pistols. His formative influence was Vivienne Westwood, who with Malcolm McLaren defined the look of the OG Sex Pistols in the '70s. After seeing a COMME des GARÇONS show in the late '80s, Takahashi decided to make his own foray into fashion, launching UNDERCOVER in 1990. Sk8thing, who went on to design for BAPE, Billionaire Boys Club, and Cav Empt, designed graphics for UNDERCOVER's Spring/Summer 2001 collection, and a few others over the years, with the majority of the designs done by Takahashi himself.
NOWHERE
Takahashi needed somewhere to sell his apparel, so he opened NOWHERE in Tokyo's Harajuku district with BAPE's NIGO in 1993. Over the years, NOWHERE became a vital base at the center of Japan's Ura-Harajuku (backstreet or hidden Harajuku) streetwear scene.
The store sold American memorabilia and vintage clothing, as well as items by its founders and their friends. Most notable among these was Takahashi's collaboration with fragment design's Hiroshi Fujiwara, Anarchy Forever Forever Anarchy, which was heavily influenced by punk designers such as Malcolm McLaren and Vivienne Westwood, and their London shop Seditionaries.
Meeting Rei Kawakubo and expansion overseas
In 1994, Takahashi presented his first women's runway show, which caught the attention of COMME des GARÇONS founder Rei Kawakubo. She bought an MA-1 bomber jacket from the collection and they struck up a friendship. Kawakubo became a key supporter of UNDERCOVER, eventually convincing Takahashi to present his work outside Tokyo. UNDERCOVER debuted in Paris in 2002, with Kawakubo using her connections to drum up interest in the label.
Since its European debut, UNDERCOVER has experienced gradual growth in North America and Europe. The high cost of importing goods from Japan meant UNDERCOVER rarely sold for the more accessible prices Takahashi could sell for in his home country, with the brand finding its place at high-end boutiques and remaining a relatively well-kept secret in Western markets.
Japanese streetwear collaborations
Fashion collaborations first thrived in early '90s Ura-Harajuku, with Takahashi working with virtually every big name in Japanese fashion and streetwear since the beginning, including fragment design, visvim, NEIGHBORHOOD, WTAPS, BAPE, Wacko Maria, BOUNTY HUNTER, Mad Hectic, and more. Takahashi was also one of the first to collaborate with two street artists who have become mainstays of streetwear and fashion: Futura and KAWS.
Grace dolls
For SS09, Takahashi unveiled his handmade Grace Dolls, strange human-sized anthropomorphic dolls made from ripped-up teddy bears with a single bicycle lamp for a face. Dollmaking has long been a passion of Takahashi's, and the Grace dolls, with their unnerving, grotesque combination of baroque aesthetics, DIY punk spirit, and sugar-sweet aura, in many ways encapsulate the entire philosophy of the UNDERCOVER brand.
UNDERCOVER x Supreme SS15
When these two streetwear heavyweights finally collaborated in early 2015, the end result didn't disappoint. Marked by the typically UNDERCOVER slogan "ANARCHY IS THE KEY," the collection combined the two brands' distinctive aesthetics across shirts, hoodies, bottoms, and accessories. Familiar UNDERCOVER tropes such as the use of classic works of art, punk styles including bondage pants, and a head-screwed Grace version of the brand's teddy bear graphic were present, with the latter even turned into a collectible cushion.
UNDERCOVER x Supreme FW16
Eighteen months later, Supreme and UNDERCOVER collaborated on a second capsule collection. Whereas the first was geared more toward traditional skate and punk styles, the next nodded to skinhead culture, offering Dr. Martens with all-over anarchy symbols, MA-1 bombers with backward "GENERATION FUCK YOU" text, and a wool overcoat with an anarchist "A" patch on the reverse.
Other graphics included an all-over print of 1562 painting The Fall of the Rebel Angels on a coach jacket and references to Akira Kurosawa's Seven Samurai. Accessories-wise, the collab offered Supreme-branded editions of UNDERCOVER's zip-up coin pouch and Gilapple light (see below).
UNDERCOVER x Supreme x Public Enemy SS18
For their latest joint collection, Supreme and UNDERCOVER roped in NYC hip-hop legends Public Enemy for a three-way collaboration. Mainstays such as puffers, hoodies, sweatpants, and button-ups were emblazoned with Public Enemy graphics including the artwork for 1990 album Fear of a Black Planet, the group's crosshairs logo, and a photo of Chuck D outside the White House. Rounded off with an all-over print Dr. Martens and a Public Enemy coin pouch, gold chain, and rug, the collection was the brands' most expansive, ambitious collaboration yet.
Homewares, Medicom Toy, and oddities
Like many of his contemporaries, Takahashi has expanded UNDERCOVER into homewares and lifestyle goods. Working with Japanese toy manufacturer Medicom Toy, he has created numerous collectible figurines and other oddities, the most famous being the Gilapple light, a lifelike apple replica fitted Grace-style with a bicycle lamp. Other noteworthy releases include the hamburger lamp, teddy bear figurines, reproductions of Takahashi's Grace dolls, and characters Underman and Pyranoid.
Chaos, balance, and duality
You've probably seen the words "Chaos" and "Balance" on UNDERCOVER pieces over the years, from T-shirts and footwear to luggage and accessories. Duality plays a large role in Takahashi's designs, as demonstrated by his penchant for meshing disparate or oppositional concepts in a single graphic.
Along these lines, UNDERCOVER's Hong Kong store has a large-scale reproduction of Joachim Patinir's 16th-century painting Landscape With Charon Crossing the Styx. In Greek mythology, Charon transports souls in a boat along the River Styx, where they must choose between heaven (on the left of the painting) or hell (on the right).
Music references
Music played a huge role in Ura-Harajuku, whether through NIGO's hip-hop obsession, Fujiwara's history as a DJ, or Takahiro Miyashita of NUMBER (N)INE and TAKAHIROMIYASHITATheSoloist's love of rock music. UNDERCOVER's punk roots have led it to take direct inspiration from many of Takahashi's favorite artists, with the brand's collections at various points referencing artists including Patti Smith, Joy Division, The Jesus & Mary Chain, Talking Heads, Television, David Bowie, Temples, and even jazz pianist Bill Evans.
UNDERCOVER RECORDS
Originally devised for the brand's SS06 collection, UNDERCOVER RECORDS is a fictional record label. In its first outing, the "label" was home to five imaginary krautrock bands, with Takahashi designing merch for each. He revived UNDERCOVER RECORDS in 2017, this time collaborating on merch for bona fide krautrock legends Can.
UNDERCOVER x fragment design x Nike Match Classic HF
Thanks to his longstanding relationship with Swoosh regular Fujiwara, Takahashi first connected with Nike in 2009. It was the start of a fruitful relationship. The first collaboration, a three-way project between UNDERCOVER, fragment design, and Nike, was a special edition of the Swoosh's Match Classic sneaker. Although the choice of one of Nike's more understated silhouettes might have seemed strange for a designer as unconventional as Takahashi, it was was only the beginning…
NikeLab Gyakusou
Takahashi is an avid runner. Every other day, he runs up to 10 miles around Tokyo's Yoyogi Park, eschewing the traditional clockwise running route in favor of an anti-clockwise run. This inspired him to found the Gyakusou ("running in reverse") International Running Association, and in 2010 he started working with Nike on a line of premium running gear including leggings, shorts, T-shirts, jackets, and footwear. Gyakusou has produced regular collections ever since and is one of Nike's longest-running collaborative lines.
NikeLab x UNDERCOVER SFB Jungle Dunk
Perhaps one of the more inspired creations to emerge from Takahashi's Nike partnership, 2017's SFB Jungle Dunk was a bizarre hybrid of three Swoosh models. A high-top Nike SB Dunk was decked out with a Huarache heel cage and the midsole and tooling of the rugged SFB Field Boot. Finished with a "CHAOS"/"BALANCE" hit on the heel and the jagged print pattern used on the 2009 Match Classic, the two-colorway release brought Takahashi's rip-it-up design language to Nike in classic style.
UNDERCOVER x Nike React Element 87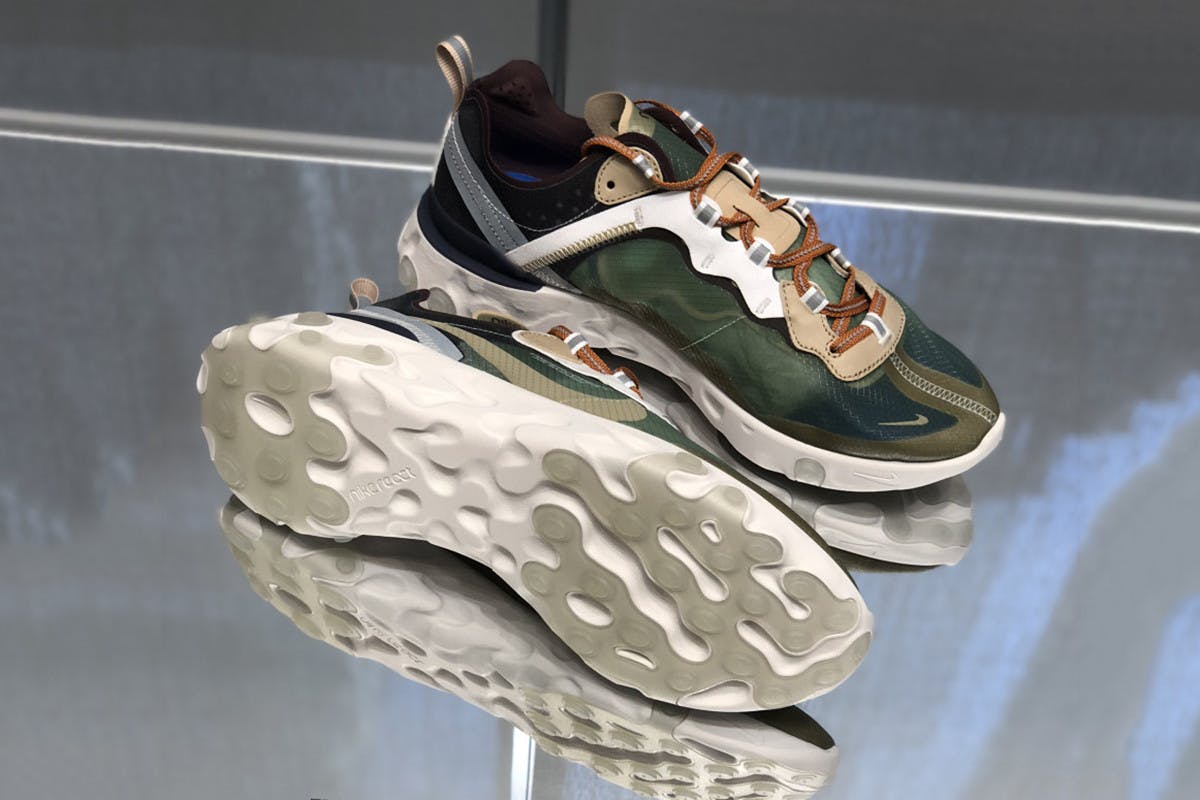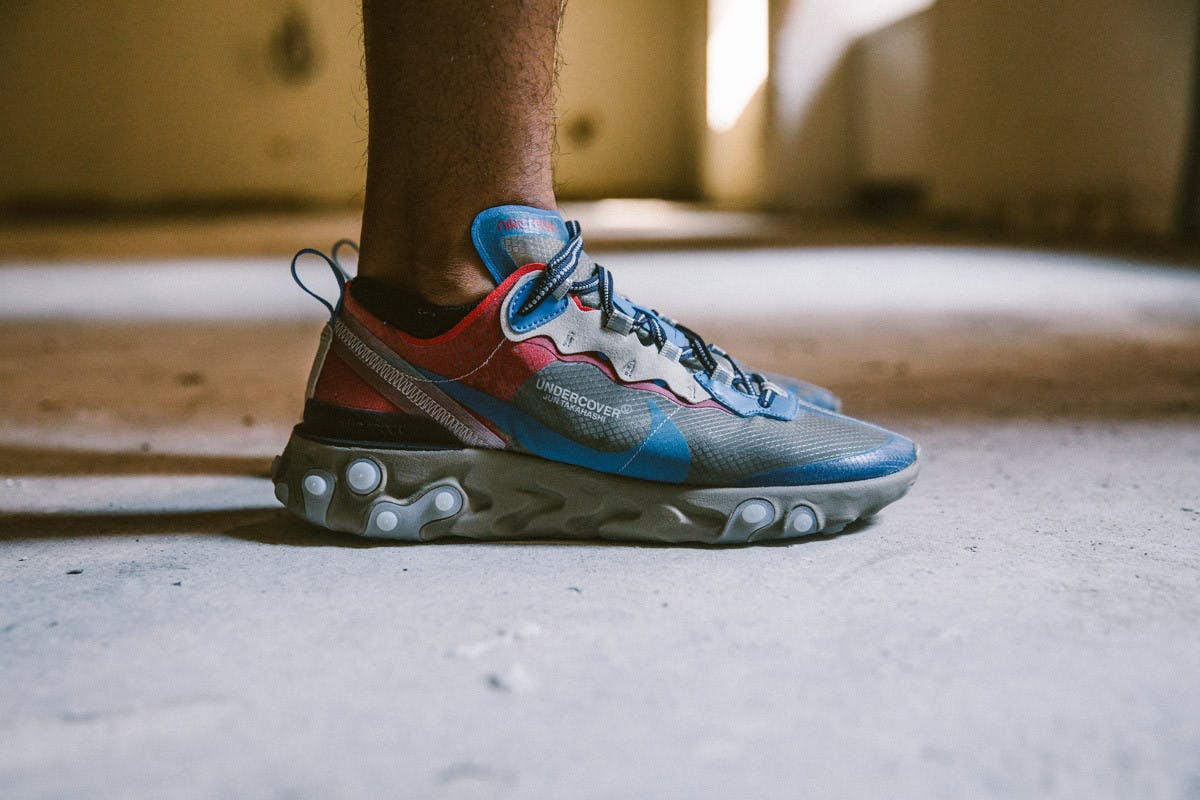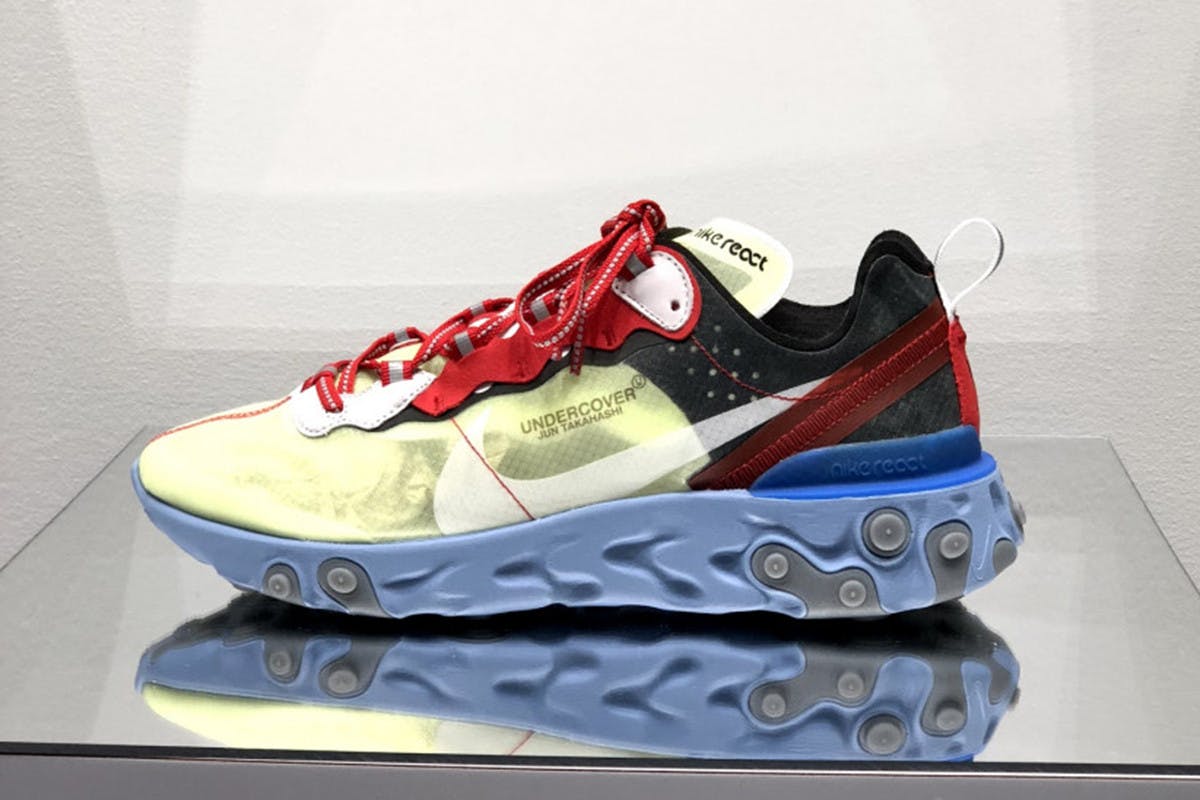 In 2018, UNDERCOVER and Nike expanded their collaborative horizons when the sportswear giant invited Takahashi to create four special editions of its new React Element 87 sneaker. Arriving on the feet of Stranger Things actor Sadie Sink at Paris Fashion Week FW18 before Nike had even shown off its own colorways, UNDERCOVER's take on the silhouette pushed the React Element 87's design to its furthest reaches, each colorway emphasizing the shoe's innovative design with striking colors and branded details.
Uniqlo x UNDERCOVER "UU"
One of Takahashi's dreams had been to create an UNDERCOVER children's line, but due to the label's limited production numbers and premium materials, it was difficult to make such an idea affordable. But from 2011 to 2012, his "UU" line with Japanese retail giant Uniqlo brought UNDERCOVER's distinctive aesthetic to the masses at affordable prices, including a children's line designed by Takahashi's wife Rico. "UU" was a hit in Japan and overseas, raising Takahashi's profile in the West beyond aficionados.
UNDERCOVER PRODUCTION
In September 2018, Takahashi expanded UNDERCOVER's scope with the launch of UNDERCOVER PRODUCTION, a creative agency designed to bring the designer's inimitable aesthetic to outside clients. Takahashi enlisted several of his longest-standing creative partners, with UNDERCOVER PRODUCTION offering services in visuals, graphic design, filmmaking, advertising, and event production — a culmination of everything the brand has mastered over 28 years. _
Plenty of fashion labels have explored the bond between style and music, but few designers have understood that connection quite like Takahashi. UNDERCOVER took the spirit of punk and translated it into something wearable. His work is more than just an aestheticized homage or late-'70s time capsule, it recontextualizes a subculture into something crisp, contemporary, and flawlessly stylish. Like a safety pin through a jacket lapel, Takahashi's dedication to punk's legacy connects him directly to Vivienne Westwood and everything she helped kick-start.