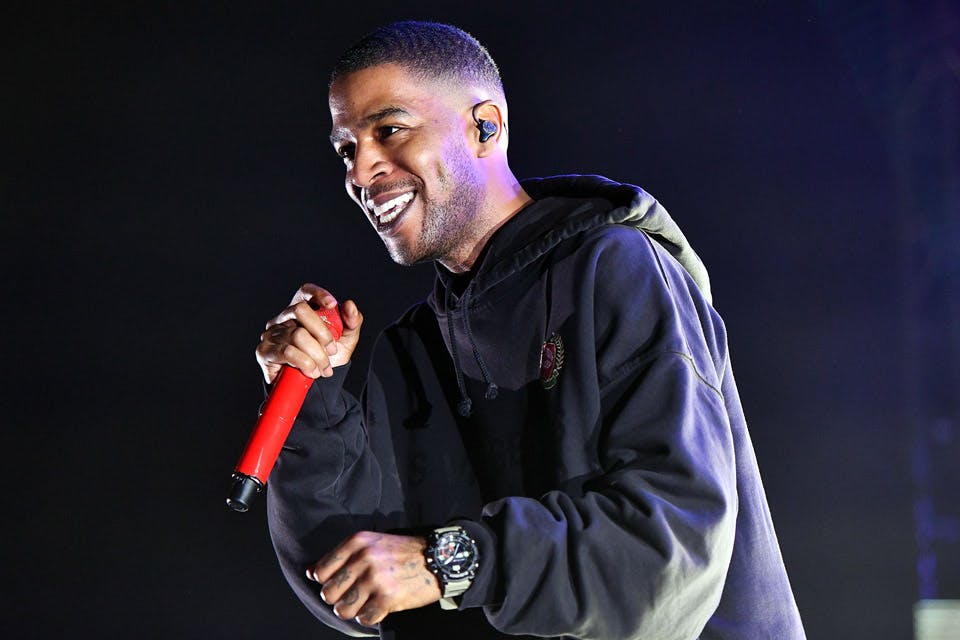 Following Kanye West's rapid-fire release album schedule led by Pusha-T, Kanye himself, Nas, and Teyana Taylor -- Kid Cudi made his triumphant return with Kids See Ghosts in June, and the recording artist is in the spotlight in a new cover story with Billboard, his first interview since the album's release.
The Cleveland rapper delves into a variety of topics, ranging from the creative projects he's currently working on, opening up about his legacy, life post-rehab after struggling with severe depression, anxiety, and "suicidal urges," along with what it was like to record an album in Wyoming and more.
Read a few takeaways from the interview below, and for the full coverage, head on over to Billboard.
On what he's doing these days to keep his head right and energy right.
"I'm just creating a lot, with more love in my heart for what I'm doing and for myself. Living a healthy life, keeping my family around and staying on a mission, which is making music that means something. I'm focusing on my art again and throwing myself back into it and wanting to write something with more of a positive outlook on things, because I've written the dark so well for so long. I wanted to bring the opposite of that, you know? I'm at a place where I was able to do that. It took me so long to get to that place, and I was really excited to write from that standpoint when I got there. Passion, Pain was more positive, but I wasn't necessarily living when I was writing it. Because I wrote that album before I went to rehab, then I came out and released it, I never really got a chance to write post-rehab, show the world where I'm at right now. That's what Kids See Ghosts was: to update the world on where I'm at."
On his partnership with Kanye West throughout his career, from the joy and tension, and if it's still progressing.
"I think me and Kanye are always going to make awesome sh*t together. We just have this chemistry that's undeniable, especially when we have to fight for it with each other. It's really easy for us. Kids See Ghosts did take us a little over a year-and-a-half to just get it tight and where we wanted it to be, but the actual songwriting process and putting the songs together wasn't really hard. Me and Ye, we click like that musically. But -- I was just talking about this with Jaden [Smith] today -- it was still the pressure of going toe-to-toe, line for line with Ye, and that was heavy for me. At first, when he mentioned he wanted to do the album, I didn't know how serious he was. But I was real serious about it. Months went by, and we just kept working on it and chiseling away at it. It was funny to us when people were talking about how the album was rushed or last-minute. I knew what it took. I was there the whole time."
On the difficulty of how some of samples on Kids See Ghosts had to be cleared, and how it added a new layer of rigor to the finished product, specifically the Louis Prima sample in "4th Dimension."
"And the "Cudi Montage" sample! That [sample of Kurt Cobain's posthumous song "Burn the Rain"] is the one I was the most worried about, but Courtney Love and Frances [Bean Cobain] were really cool and they cleared it, and I love them both for that. Courtney told me, 'I don't clear shit for just anybody,' and I was like, 'I know, I know,' and I was so thankful. Those songs took some real time and real work."
On his aim to take a different approach with every project, and the ways he cultivates that fearlessness.
"I have no fear, because I've been given a gift. I'm blessed. Every album is like I've been given a grant for some art school to make something. Anything I want. That's my dream. I approach every f*cking album like an art project, like I'm doing this for school or something, to get a grade. [But] it's really just for my fans, because I know that they get off on that sh*t. They like when I try new stuff. That's what it has always been about. All my albums have explored so many different sounds from day one. Sonically, we've always been, or tried to be, a step ahead of everything that's out there."
On how he managed to do the things he feared.
"I don't live in fear like that. I'm just not that type of individual. I moved away from home at a very young age. A lot of motherf*ckers never leave home, get the f*cking strength to pack up their shit and head out to the unknown. That's why I like to say I'm the chosen. It's kind of like a funny thing, but I [do] feel like I've been chosen. When I look back at my journey, it's like everything happened for a reason... It was my destiny."
On finishing Kids See Ghosts out in Wyoming, and his favorite parts of the process.
"It was like camp, like a super camp where all the f*cking creatives go to create. We ate together. We laughed together. Chilled. It was really cool to be around Nas. That was the illest. We'd be chilling in the room, and then Nas would leave and we'd be like, 'That's f*cking Nas.' We'd be asking him questions about coming up in Queens, did he know Biggie, all these questions. I had a ball out there, man. Kanye had his family around. He had his dad there. And we knew what songs we wanted to use. We had "Reborn." We had "4th Dimension." We just took our time fine-tuning the process."
On if Kids See Ghosts was always intended to be seven songs only.
"It was always seven. There are some songs that we didn't use that I'm hopeful we can put out later. But the plan is to do more Kids See Ghosts albums."
On detailing his struggles on a Facebook post, the response it got, and if he walked away after putting it up.
"I put it up, and I walked away. A couple of hours later, I saw that it was all over the news. Then I got really scared. I didn't read any articles about it at first. I didn't know how people were responding. I was asking Dennis [Cummings, his current manager] what the response was, and then I checked it a couple of days later and saw that the response was all love and support, and it really touched me. I was in a really bad place, and at the time, I felt like I was letting a lot of people down. It was really hard for me to even write that letter, but I needed to be honest with the kids. I needed to. I couldn't live a lie. I couldn't pretend to be happy."
On if the fight has gotten easier, and if he found enough joy to eclipse the idea that he's fighting at all. Also, coming to the realization that he's "good."
"I have so much joy that I don't feel like I'm fighting anymore... It was this year, around my birthday [in late January]. I'm the best I've ever been in my life. I realized I was genuinely happy, and there's nothing really going on in particular. Just being 34, to be still doing what I love. Taking care of my responsibilities, and my daughter's good and my family's good."
On future projects in the works.
"Creating is making me happy again. I've been working on this TV show secretly for four years. I'm [in early development] on a pilot and getting it right. Monkeypaw Productions is [in talks to] produce it -- Jordan Peele's company. I've got this little collaboration I'm doing with A.P.C. that's coming out soon. I definitely know myself better than I ever have."
On his legacy and influence to other artists, and people in general.
"It was my intention to inspire, to change things. I wanted to infect the game with my energy and my beliefs on how to create music. My rules. I didn't know how many people would catch on, but I knew the right people would. The thinkers. It's 2018, [and] we're talking about music I made 10 years ago. That's wild. I've influenced people, and it makes me feel good about the stuff that I've done. I don't think about sales. I'm in a good place creatively, and it's a beautiful thing to know that there's people still out there that want to listen to what I've got to say. I've never really thought about my legacy too much. But things are going to get a lot more trippy, and I'm into that. I like where we're headed."
Up next, read our exclusive op-ed, examining 'Kids See Ghosts' saying far more on mental illness than current emo rap.