We thought the day might never come. Lil Uzi Vert's mission to bestow the gift of his second album Eternal Atake upon us was a turbulent one. It looked as though it might end up going the way of rap's mythical never-delivered titles; Detox, Act II and the Wu-Tang album that was sold to Martin Shkreli.
Since the release of his debut album Luv Is Rage 2 in 2017, the Outer Space-via-Philadelphia artist has been caught up in label issues, leading to a series of false starts and delays: the legendary status of Eternal Atake began to reach a point where its release seemed improbable, and the chance of it living up to the hype, near impossible.
We should have had more faith. After revealing the latest release date, March 13, Uzi dropped the Backstreet Boys-interpolating "That Way" last Sunday. He spent much of Tuesday deliberating over artwork options with his fans on Twitter, and shared a teaser trailer for the album - which sees Uzi reborn by a Plutonian cult - before surprising everyone with the long-anticipated album on Friday.
It didn't disappoint. Through three acts across alternate dimensions, Eternal Atake introduces us to Uzi's new personas: Baby Pluto, an extraterrestrial presence who opens the album with dense braggadocios raps, and the orange-haired and more sensitive Renji who ventures into a realm referred to as Dark World. Lil Uzi Vert emerges triumphant for the album's final act, as he fights to unleash the album to the world.
Like all mythology, there is a lot of wisdom to be gained from Eternal Atake, so here are a handful of early lessons to be absorbed from the first round of processing the album.
DRIVE THE WHIP LIKE IT'S STOLEN
Uzi loves talking about his cars. Before we're even a verse into Eternal Atake, we've heard about a two-door Maybach and a Brabus Mercedes-Benz G Wagon that Baby Pluto is preparing to ride into battle. The references to expensive vehicles continue: he cops a Lamborghini truck before realizing he doesn't have anywhere to park it on "Silly Watch," and hotboxes a Bentley Mulsanne while trying to get over an ex on "Chrome Heart Tags."
While most treat prized automobiles with pride and care, Uzi lives life fast with no consideration for consequences. Uzi mentions three times across Eternal Atake that he drives his cars like they're stolen, and this care-free attitude also manifests into his outlook on sneakers, admitting he's been "Treatin' these Diors like it's just old Vans," on "Venetia." He sums up this mindset most clearly on "P2" when he says, "Yes my life just feel like one long day, I just live in the moment."
THERE WAS LIFE BEFORE THE INTERNET
"You Better Move" catches Uzi feeling nostalgic. The beat samples Microsoft's Space Cadet 3D Pinball, which he remembers "was before I had internet," before diving into verses that reference early 2000s kids TV shows Zoom and Blue's Clues. It boasts the most bizarre burns of recent memory: he challenges his opps to a Yu-Gi-Oh duel before revealing that they'll be taking an L due to his rare Blue-Eyes White Dragon card, and he sprinkles on some sass announcing "I'm an iPod man, you more like a Zune." The nail in the coffin comes when he compares his Versace drawers to his rivals' Fruit of the Looms. If you're ever feeling anxious or overwhelmed by our hyperconnected society, then allow "You Better Move" to transport you back to simpler times.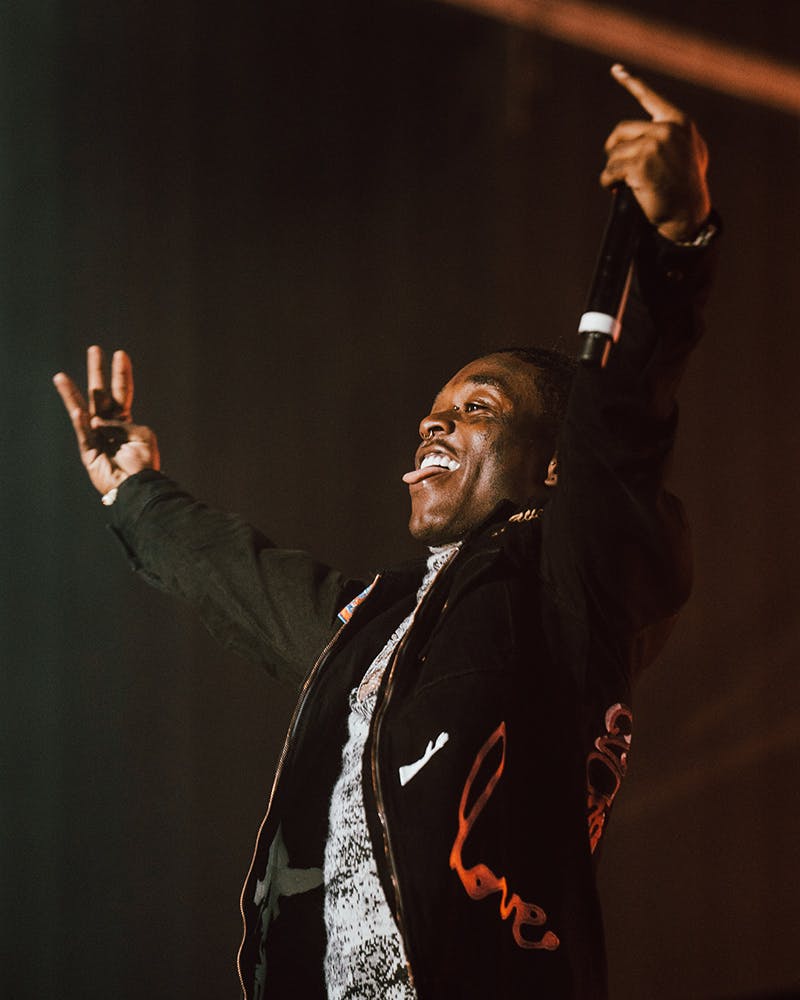 DRESS TO IMPRESS
"Every outfit, yeah, I gotta get the pic off," admits Uzi on "Homecoming." Over the past year, he's mastered the art of the fit pic. Outfits are broken down into galleries that show off every detail of the days ensemble. He went as far as to tell GQ recently that: "Honestly, in my heart, I think I do this better than music. 'Cause the music shit is effortless. I actually take my time with this." To understand the man, you must also understand his wardrobe, so it's unsurprising that Eternal Atake is covered in style tips.
A self-described shopping addict, Uzi reels off an extensive list of brands and designers throughout the 18 tracks: Patek Philippe, Chrome Hearts, Versace, Ricardo Tisci, Balmain, Rick Owens, Cartier, Rolex, Louis Vuitton, Richard Mille, Comme Des Garçons, Chanel, Raf Simons, Elliot Avianne, Christian Dior, Prada, Vetements, Margiela, Gucci, VLONE, Off-White, Virgil Abloh, and Jeremy Scott. On any given day you might see him wearing Balenciaga down to his socks and his undies, but you'll never catch him wearing "bummy Crocs."
MAKE SURE YOUR JEANS AREN'T TOO RESTRICTIVE
Dancing is fundamental to Uzi. "Futsal Shuffle 2020" was built around his nifty footwork routine, and he throws down an impressive windmill in the accompanying video. But while "Celebration Station" channels some serious Dance Dance Revolution vibes, he complains at the start of the track that his French jeans are too restrictive for him to really be able to go off - although he still has his iconic shoulder move in the arsenal, "I can feel that shit in my shoulder."
While he warns us on "You Better Move" that "When I hit my dance, got unlimited moves," his pants do seem to be holding him back at times. On "Prices," he proclaims himself "Gangster, but my jeans too tight," and on "Lo Mein" he boasts about the racks he's double-stuffed into his Louis Vuitton pockets - which can't be helping the matter. It's a sacrifice Uzi is willing to make in favor of a fire fit – but if you choose to follow his lead, please remember to plan appropriately before hitting the dance floor.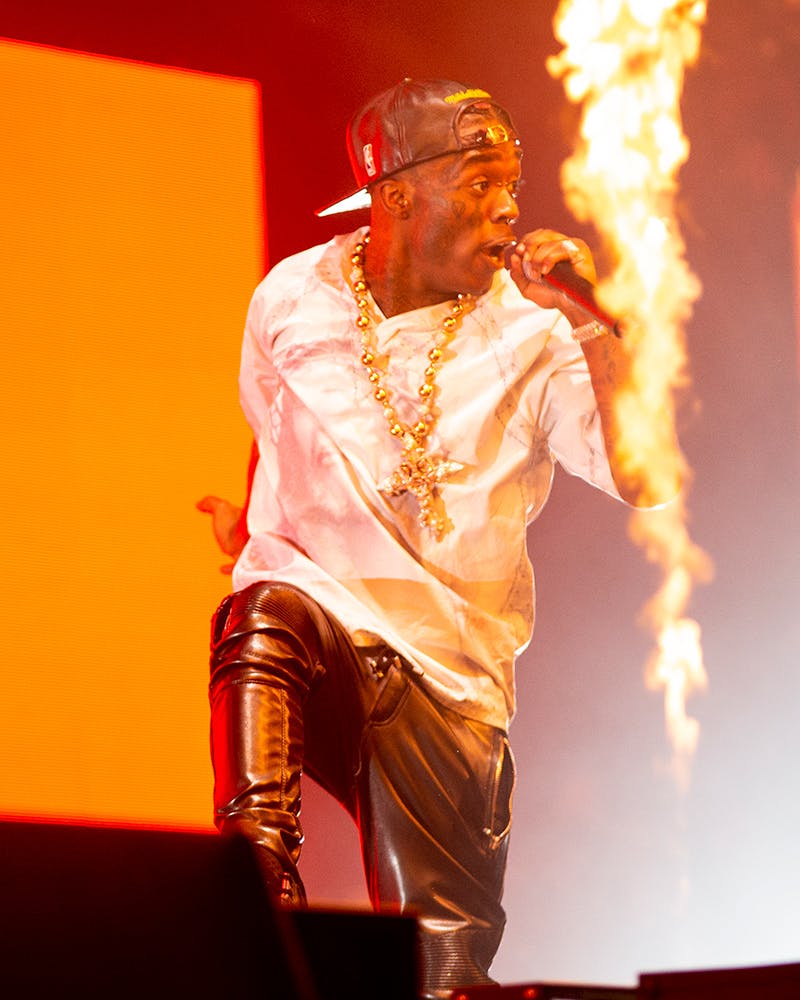 CONNECTION > SEX
At the end of last year Uzi shared on Twitter that he has been celibate since late 2018, and told his followers in February that "When you are Celibate your thoughts are just clear and pure I Feel AMAZING." Although Eternal Atake is full of sex references, it's a clear distraction for Uzi. "I don't wanna have sex I just wanna connect," he wrote in January, a few days after his initial revelation.
On opener "Baby Pluto" he seems to be struggling with abstinence, declaring "I ain't fuck a bitch in so long I'd do it in a Honda Accord." However the Renji section of the album - which runs from "I'm Sorry" and to "Bust Me" - reveals more about his disconnect. "I'm Sorry" sees him apologizing to a fan for a sexual encounter that led to miscommunication: "I'm sorry if my words messed with your head," he sings before reminding himself, "That's why you can't fuck with fans." "Celebration Station" points to commitment issues, "Everytime in my mind I focus / She give me head, hypnosis / Talkin' 'bout the love can't hold me." And the sublime Chief Keef-produced "Chrome Heart Tags" sees him seeking distraction after a break up.
While it's clear his musical personas are still working through some issues, Uzi is looking for that true connection with another being and is prepared to give up sex if it takes him closer to his higher purpose.
BE GENEROUS WITH YOUR WEALTH
For the love interests on Eternal Atake, Uzi has no problem loosening the purse strings – in fact it's more a question of which one, as it was reported recently that he's acquired a collection of over 200 purses and bags in the past year. The album is littered with examples of his generosity: in the album's opening couplet he buys one girl a Patek Philippe watch, he replaces a Fashion Nova wardrobe with Vetements on "Silly Watch," and covers rent on "Bust Me," telling his grantee "Save your money, bitch, that's money well spent."
It's not just the women in Uzi's life that are benefitting either. On "Baby Pluto" he reveals that he's looking after his guys who've found themselves in legal trouble: "I had to get all my niggas off bond, I had to get 'em off holding." Judging by the success Uzi has been enjoying lately, he seems like proof that "Give, and it shall be given unto you."
DON'T BE AFRAID TO ATTEMPT THE IMPOSSIBLE
Nobody could have predicted the success of Uzi's "XO Tour Llif3". The track - recorded while touring with The Weeknd - was uploaded to SoundCloud along with three other tracks, until it quickly began gaining traction among fans and was released officially a month later, becoming a bona fide hit and going seven times Platinum in the US.
Since sequels are rarely ever as good, it's testament to Uzi's confidence that he'd even take up the mantle of returning to such a genre-defining track. And yet, at the conclusion of Eternal Atake we find "P2" – the "XO Tour Llif3" sequel that we never knew we needed. While it's unlikely to share the global impact of the original, it's a great full-circle moment to close his most ambitious body of work, and one that seems to be going down well with his fans.
BE YOURSELF
Nobody else is like Uzi, just like nobody else is like you. The biggest lesson that we're taking from Eternal Atake is that it's cool to just be yourself. Here's a kid from Philly making a three act sci-fi album told from multiple personalities, while learning breakdance moves, abstaining from sex, wearing sassy designer drip and interpolating the Backstreet Boys. "I live my life like a cartoon," Uzi declares on "You Better Move." And it serves as a reminder of how we should all be living our lives: full, fast, loud, and present, unashamed to be different, following our curiosities, embracing our passions and (metaphorically) driving our whips like they're stolen.