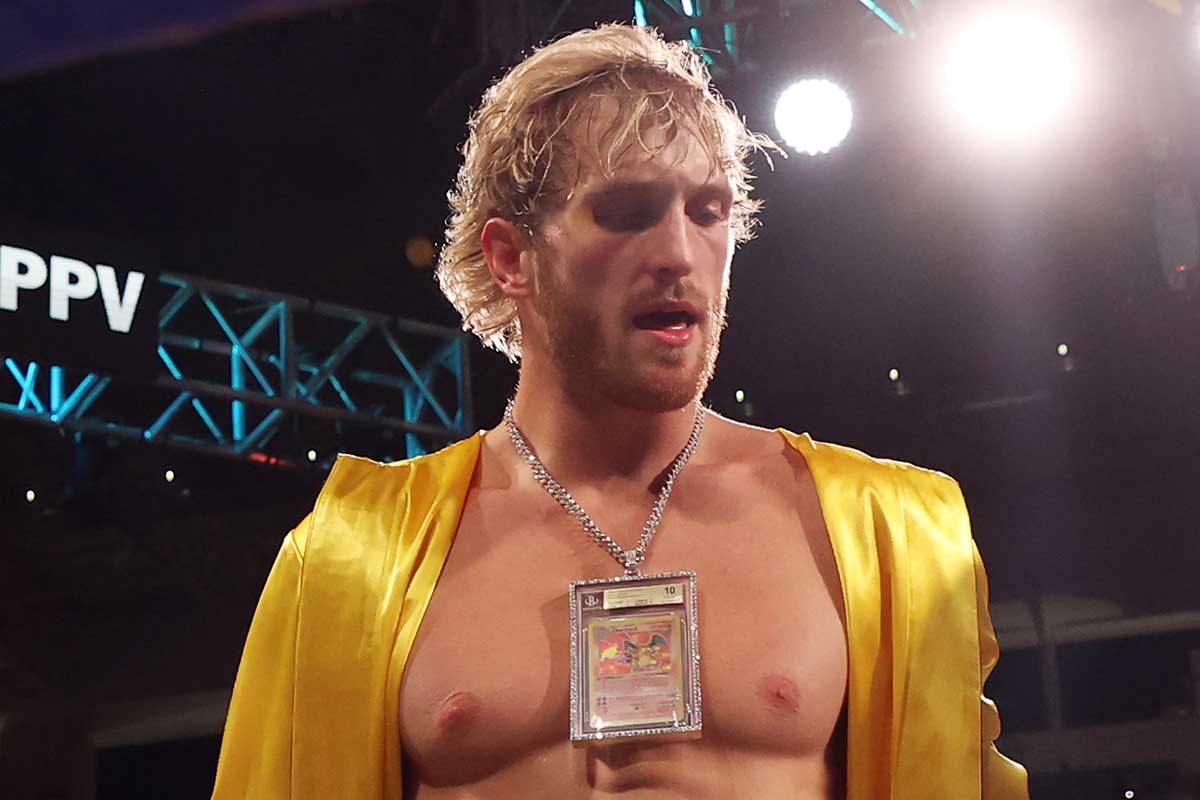 Breaking news — Logan Paul is a clown. Beyond his irritating social media presence and pay-per-view boxing bouts, the perpetual attention-seeker enjoys typically douche-y financial hobbies (no wonder he's a big NFT guy), which is how he got into Pokémon cards.
Now, I don't care if you're an OG Pokéfreak who played Red and Blue on your GameBoy (not even Color) in the '90s, if you've been collecting cards for decades, or if you just got into the franchise, it's all gravy.
It's just that enjoying any element of culture through a purely financial route sucks. By squeezing out any possible conceit of personality for the sake of maximizing profit, you lose personality; hence why blue-chip avatar-centric NFTs are all ugly and embarrassing — their only value is in the money they make their owners.
Paul, of course, doesn't just collect tacky NFTs. He's also a connoisseur of Pokémon TCG cards, a fairly young and highly profitable market that started gaining lots of eyeballs around the early days of the COVID-19 pandemic, causing secondhand prices to surge as shortages shrink the number of available boxes.
Memorably, Paul was fleeced out of a couple million dollars for some fake Pokémon cards he bought earlier this year, a nice counterpoint to the fake Richard Mille that his equally uncool brother Jake bought in 2021.
But you can't keep a good himbo down.
Logan has re-entered the chat with an even lamer purchase: a $5m Pokémon card that he made into a necklace for his WWE debut (as if the WWE wasn't problematic enough as is).
So, yeah, Paul is in the WWE and I don't care because we're talking Pokémon cards.
Paul confirmed on his Twitter that he traveled to Dubai to purchase the card — a Pikachu Illustrator graded to be perfect by the authenticators at the PSA — and then had it set in a "$80k diamond pendant."
Then, Paul brought in Guinness World Records to give him an award for the "most expensive Pokémon trading card sold at a private sale," which is a meaningless title that he had the award company bestow upon himself because when you're rich, nothing matters.
It's not clear if Paul asked GWR to give him the prize through conventional application methods (which costs up to $5 and takes at least 12 weeks to process) or if he ponied up $1k to expedite the new record process, which ought to be pennies for him, really.
In an attempt to justify his purchase, Paul explains that the Pikachu Illustrator that he bought is the rarest of all the Pokémon TCG cards, with only 39 ever manufactured, his being the only one rated a 10/10.
However, the Pokémon experts at PokéBeach helpfully poke some holes in his story.
For one, the Pikachu Illustrator is indeed extremely rare — only 24 are actually known to exist from that initial run created for winners of a 1998 contest — and one recently just sold for $900k earlier this year, becoming the most valuable Pokémon card ever sold until Paul's purchase.
$900k to $5m is a massive and pointless jump, though there's a (dumb) reason behind Paul's pointless purchase.
His justification is that the Pikachu Illustrator that he bought is the only one that's graded a 10/10 by the PSA.
As PokéBeach explains, however, the card that Paul bought was actually well-known in the Pokémon TCG community as a certified 9/10, having been owned by several collectors and picking up a small scrape in the corner over time.
Paul had a solution for this, one that's — quite frankly — extra whack.
Paul traded the card's owner his own PSA 9 Pikachu Illustrator (estimated value: $1.2m) plus $4m (the "the cost of the pristine Grade 10 Pikachu Illustrator card," according to Guinness itself).
Thus, Paul artificially bumped up the value of his newly purchased Pikachu Illustrator by coughing up several million bucks, changing its value to a 10/10 through the power of wealth alone.
Paul has a history of wearing pricey Pokémon cards around his neck for some reason, including the above $150k first edition Charizard card he fashioned into a different piece of jewelry.
It's on the level of stuff you ought to expect from the guy who filmed corpses inside Japan's "suicide forest," I guess.
Now that we've gotten to the point where these kinds collectibles are stripped of any meaningful value (if there was any to begin with) and used as sign of all-too-conspicuous consumption for the sake of impressing simpletons whose jaws drop at dollar signs, the heat death of the universe doesn't seem all that bad.
Shop our favorite products