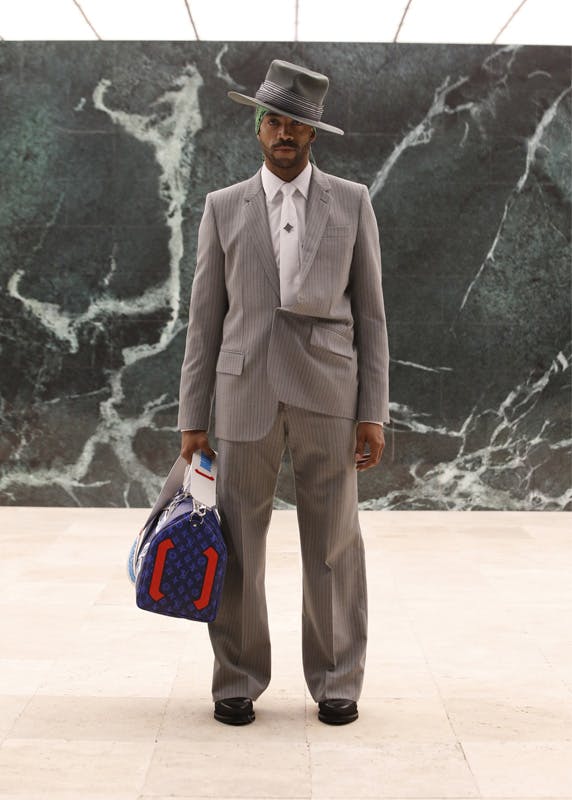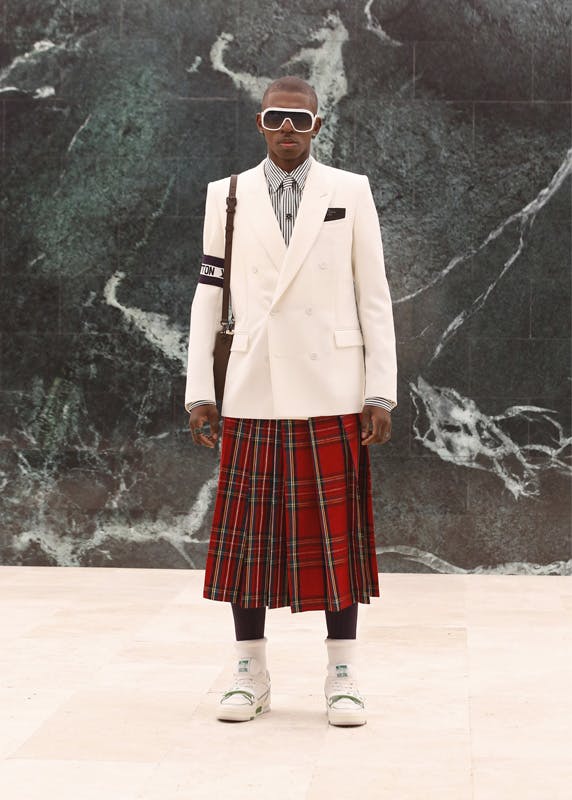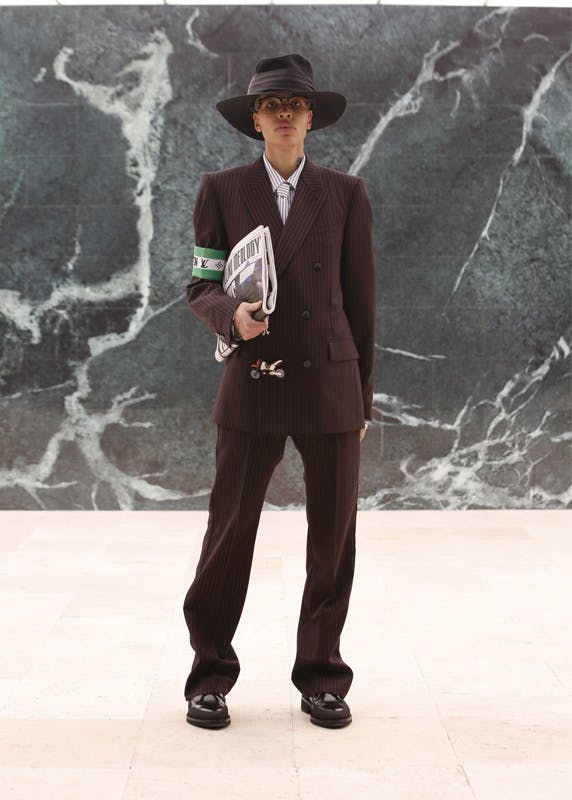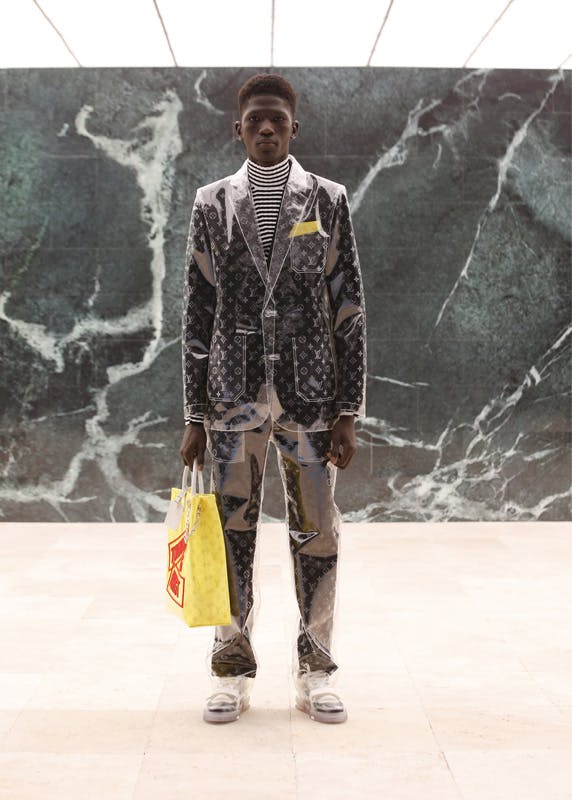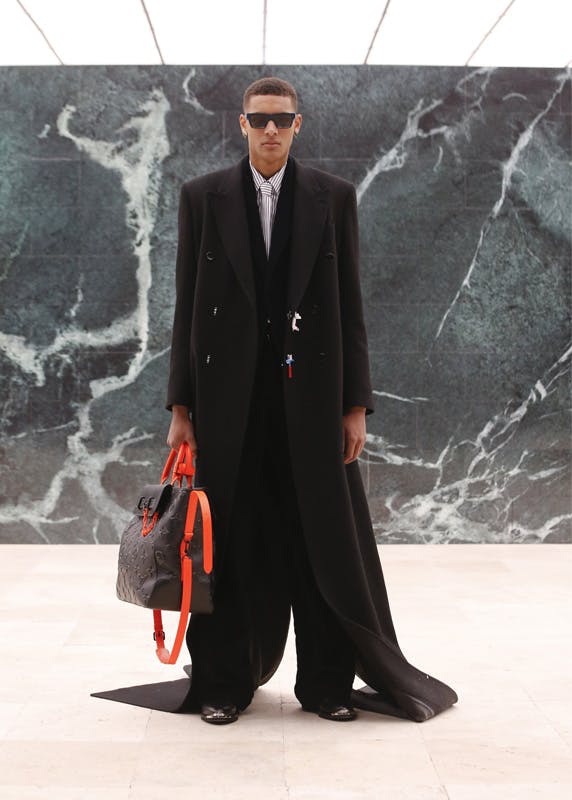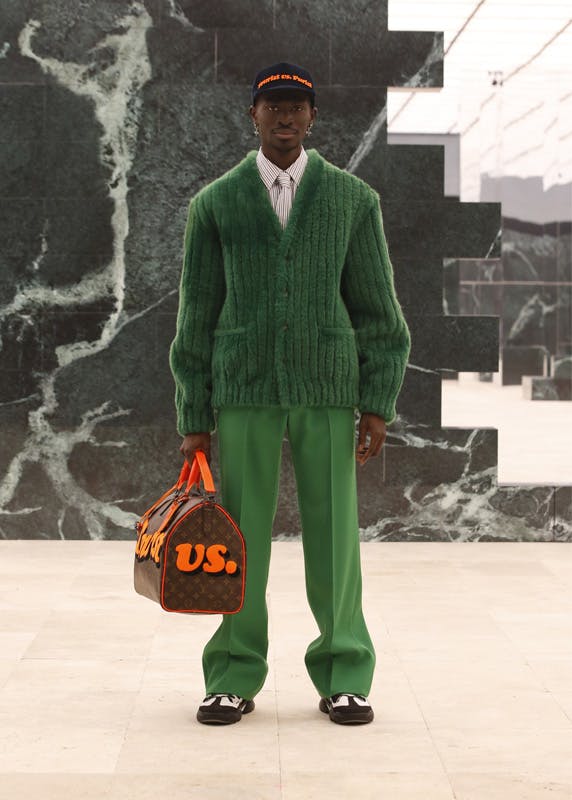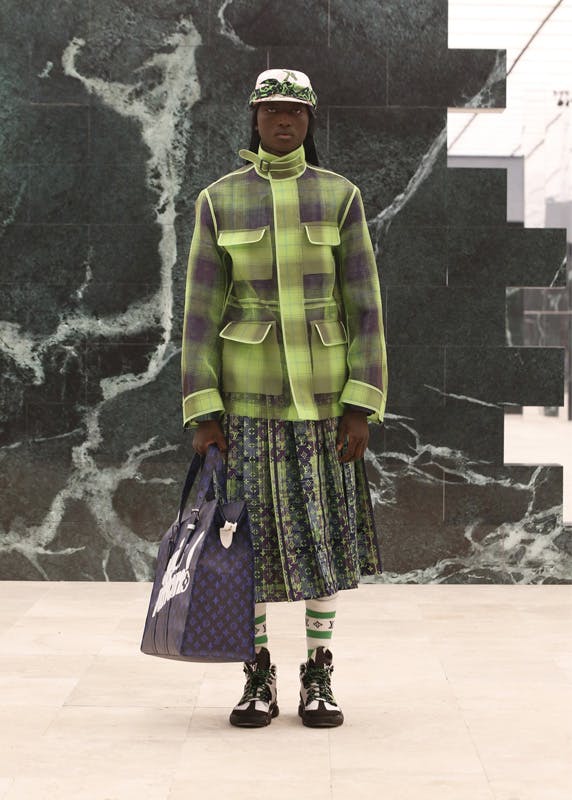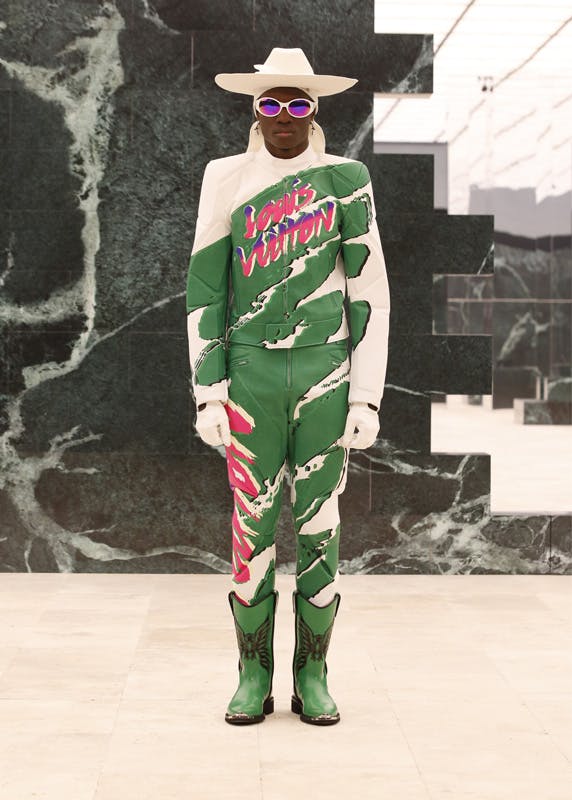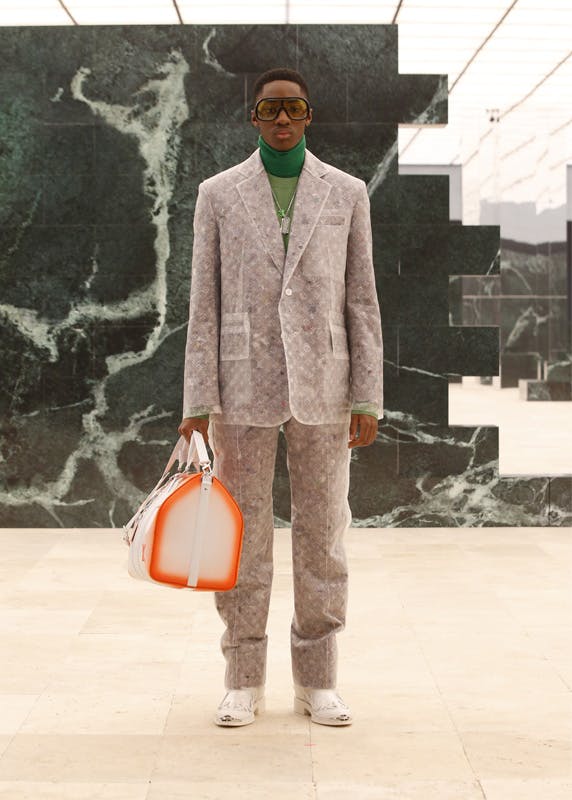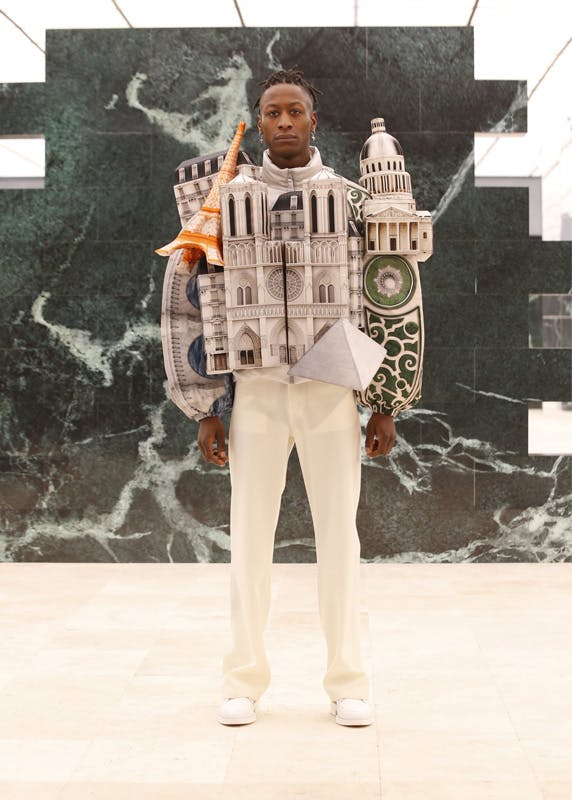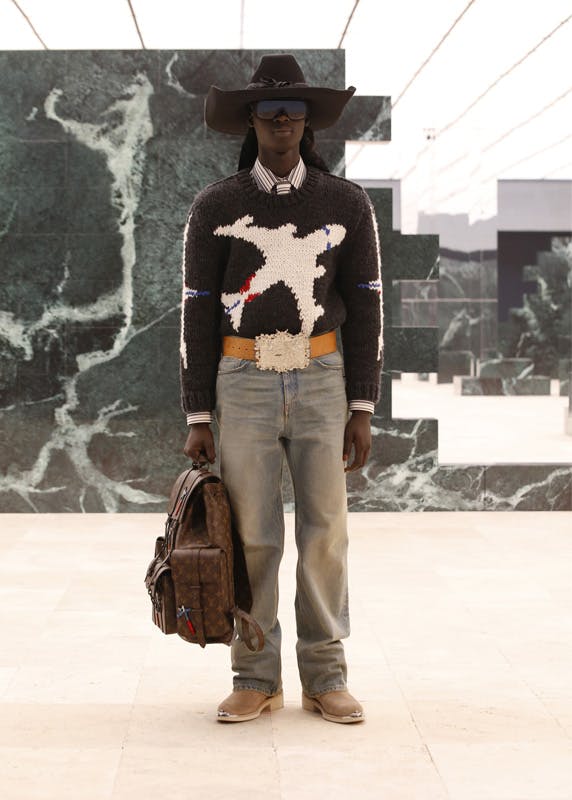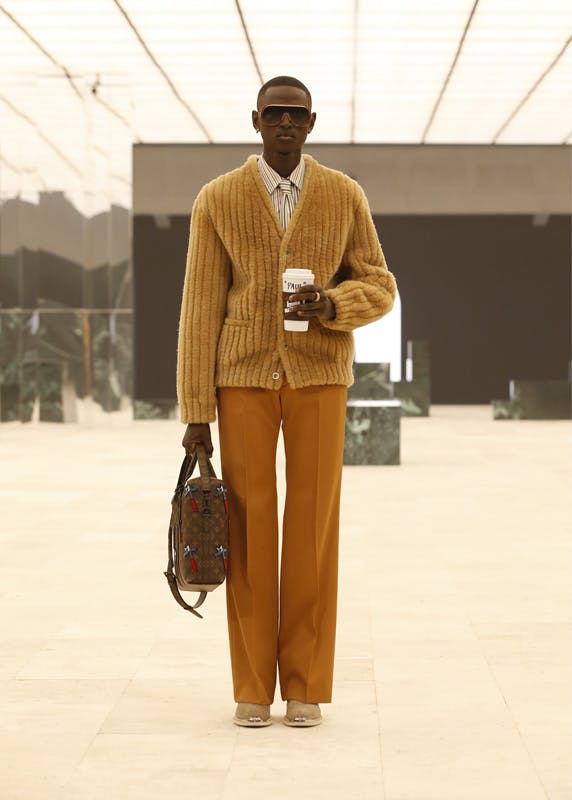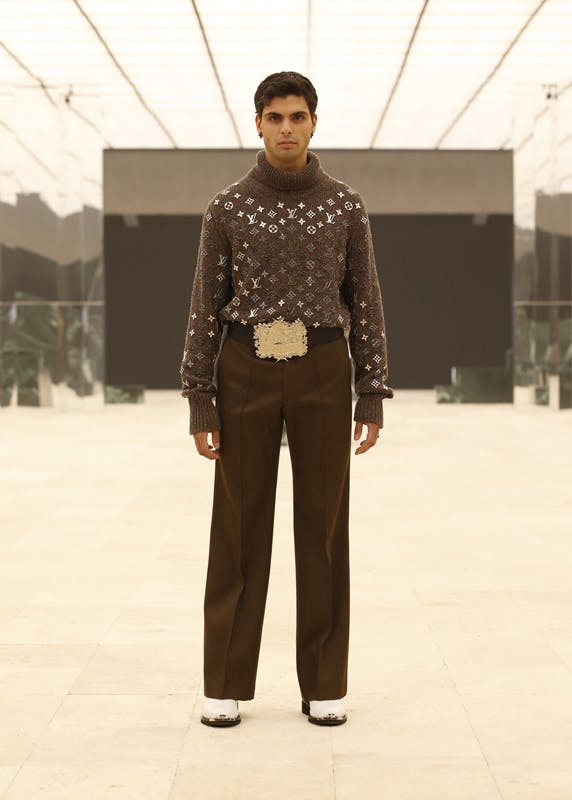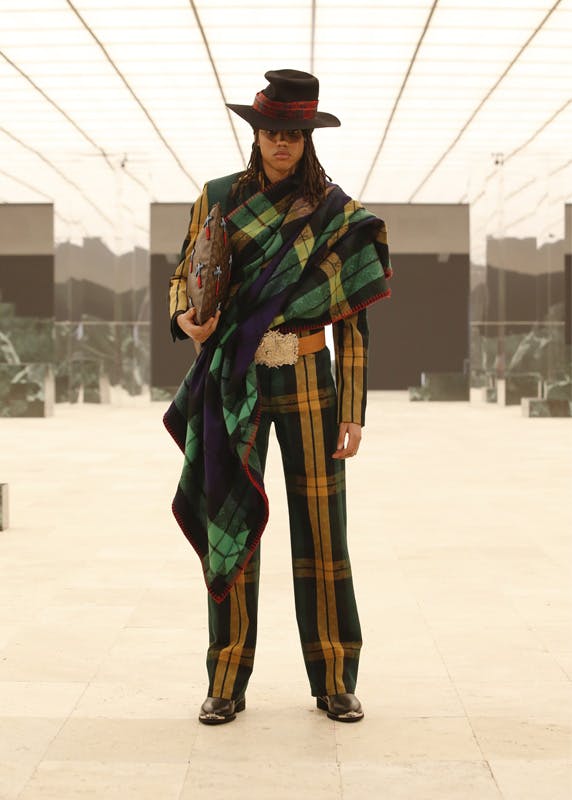 After forays in Shanghai and Tokyo, Louis Vuitton was back on home turf for Paris Fashion Week Fall/Winter 2021. Men's artistic director Virgil Abloh explored the brand's core by tapping into travel, the one thing we've all been missing recently, and something he knows a thing or two about.
First, a mood was set. American rapper and poet Saul Williams gave a mountainside recital examining what it means to be Black in a white space, an allusion to Stranger in the Village, James Baldwin's seminal essay about his time in Switzerland. Dressed in an elegant black coat, pinstripe shirt, and a lustrous silver briefcase, Williams takes the digital audience into a marbled jade runway space where, aptly, the majority Black cast begin to filter through in the latest pieces.
Louis Vuitton's official notes describe the collection as an investigation of archetypes, notably "the artist", "the salesman", "the architect", and "the drifter". Each of these personas (all hats Abloh has worn) are exaggerated to the most luxurious jet-set lifestyle imaginable, complete with LV leather coffee cups, tchotchke-like airplane fastenings, and monogrammed silver luggage.
Abloh enlisted conceptual artist Lawrence Weiner to devise aphorisms for the collection. These include  "YOU CAN TELL A BOOK BY ITS COVER" and "THE SAME PLACE AT THE SAME TIME," which appears on holdall bags, belts, and straps. As Abloh's archetypes reclined on Mies van der Rohe and Lilly Reich's famed Barcelona Chairs, a reading from poet Kai-Isiah Jamal echoed around the space before Yasiin Bey, AKA Mos Def, performed in a delectable green/purple monogram coat and suit with green cowboy boots. The show's styling was a standout, and yet another example of Ib Kamara's midas touch.
Despite being pre-recorded, Abloh had no trouble generating the hype usually associated with Paris Fashion Week's live shows. Seeding brand ambassadors BTS with the invite (monogrammed toy planes, if you were wondering) reportedly led to Louis Vuitton tracking the highest amount of Twitter engagement ever experienced by the brand.
So, if travel is the fantasy for Fall/Winter 2021, here's what we're packing for the trip. Meanwhile, check out the new collection's film here.
Long Bois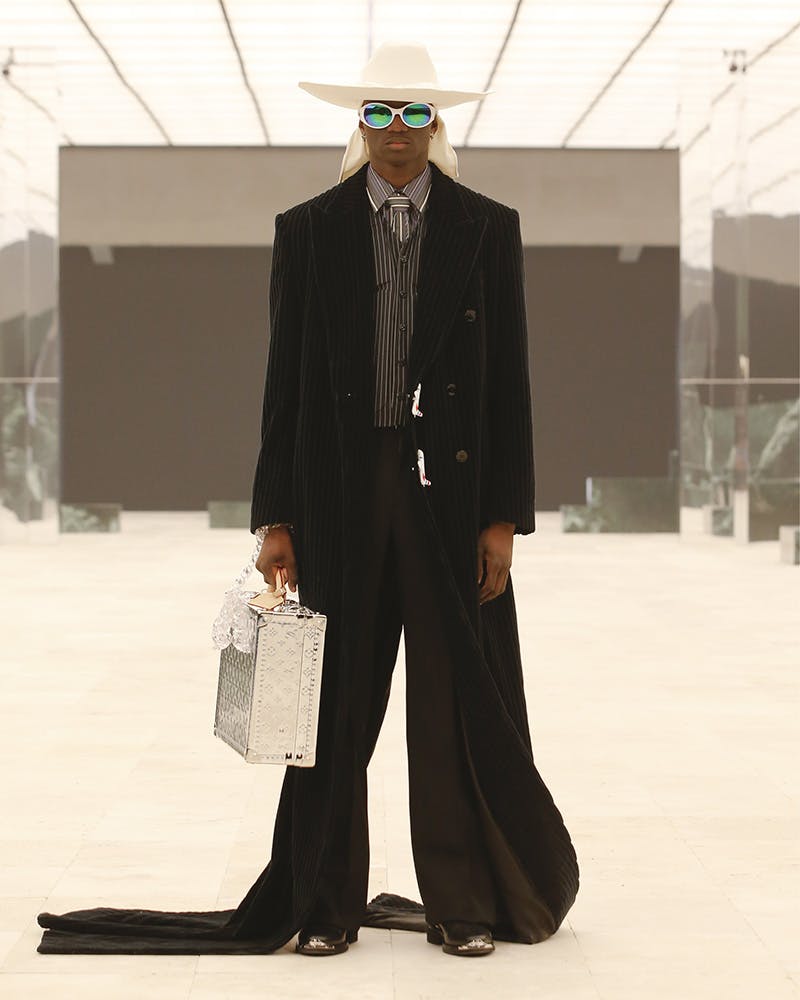 These are not outfits; these are feature-length movies. Just look at how long they are! The denim version is a lot to take in, and these wide-brimmed hats aren't doing anything to balance out the ostentatiousness, but maybe that's the point here.
Re-usable LV Cups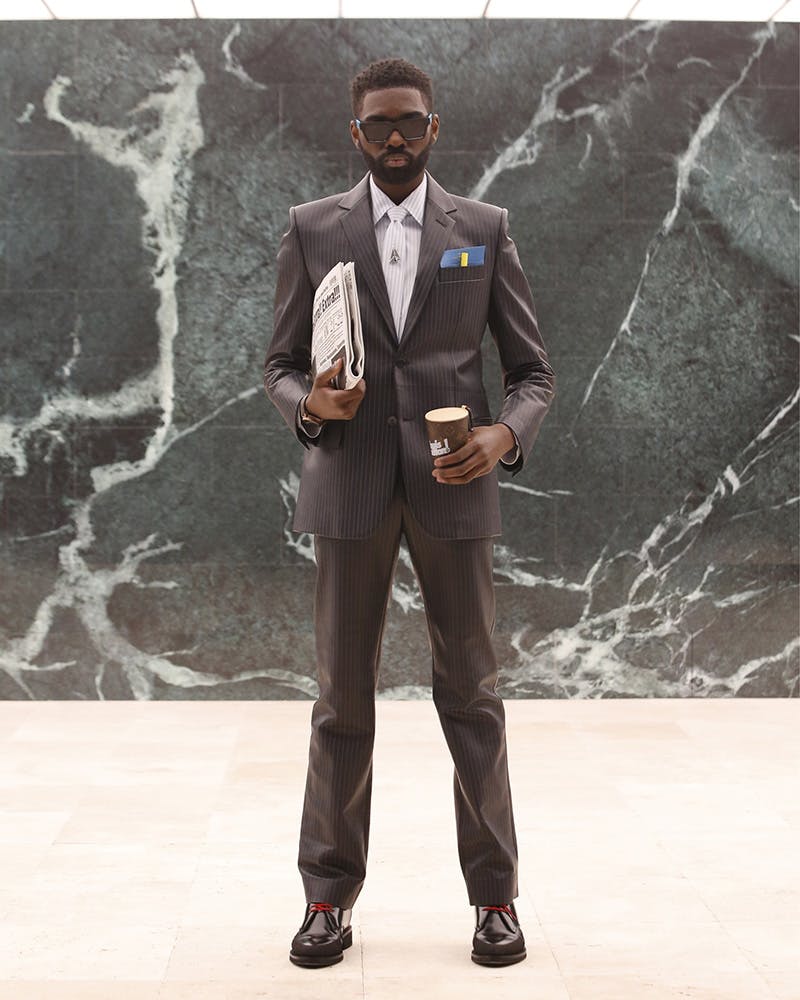 We truly miss the feeling of power-walking through a busy city sidewalk with a cup of coffee in hand.
Skirts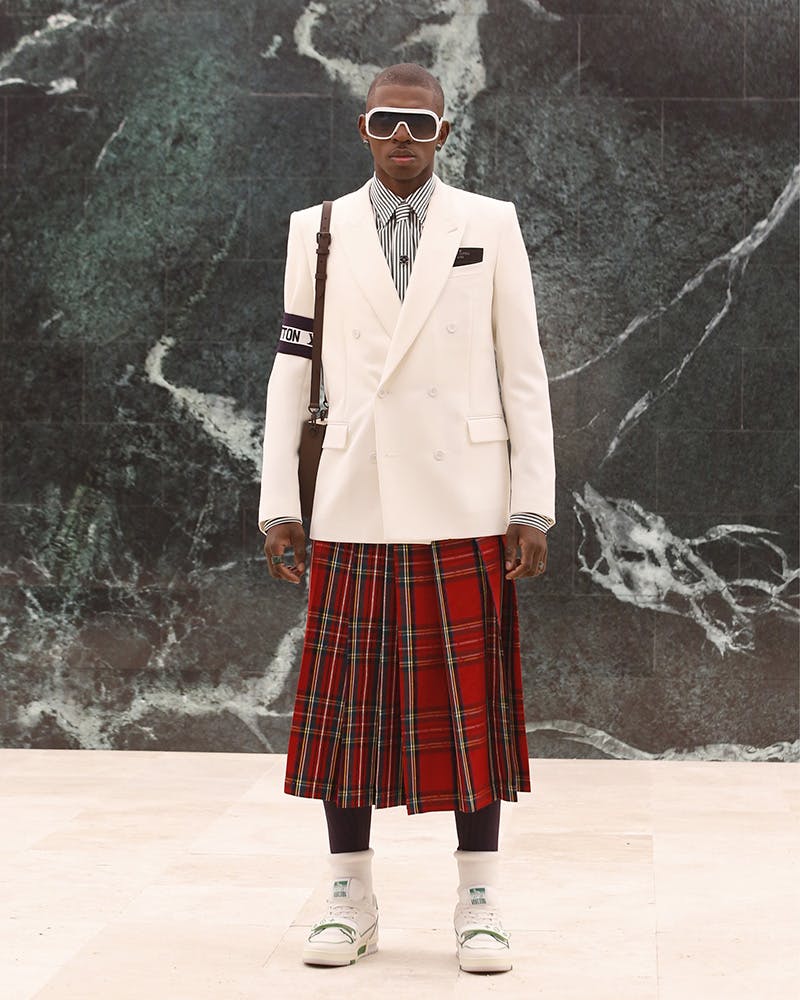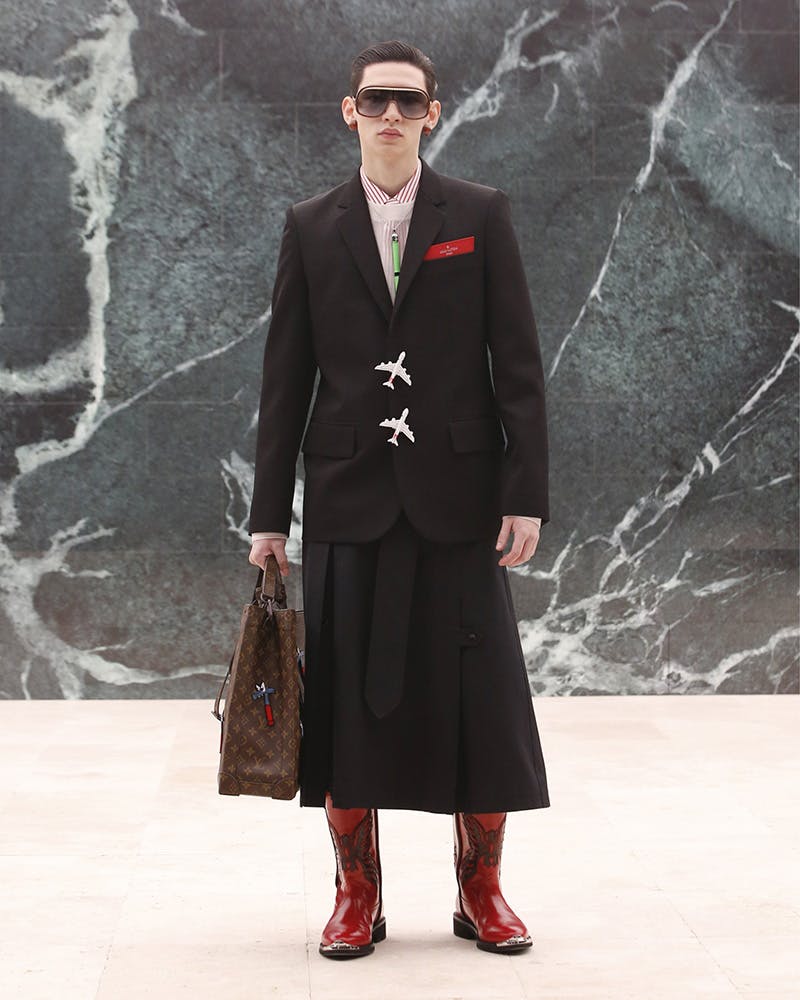 Skirts were everywhere for FW21, and it didn't even feel like a gender gimmick. However, if we're going to wear Louis Vuitton skirts with our menswear in 2021, we need to give credit where credit is due to Jaden Smith.
Metal-capped Boots
Sneakers? No, we're flying with metal-capped cowboy boots and matching luggage now. Kind of annoying to remove at security, though.
Inflatable Cities
Serve up some low key date night looks for the one who says she's always wanted to go to New York.