Highsnobiety / Bryan Luna
Under the Radar is Highsnobiety's celebration of upcoming talent. Each week, we're spotlighting a rising artist who is bringing something new to the world of music and is capturing our hearts and minds (and ears). This week, we're featuring Mahalia, a Londoner at the forefront of her city's R&B scene while simultaneously questioning its genre-trappings and labels.
For the past three years, Mahalia Burkmar has been labeled as one of the most promising faces on this new wave of R&B in the UK. It's a title that the singer-songwriter shares with peers like Jorja Smith, Mabel McVey, and JONES, all women who happen to be young, light-skinned, and black. But there's something about that specific categorization that doesn't quite sit right with Mahalia. She constantly finds herself compared to these other artists even though all of them have a distinct sound that breaks some of the traditional R&B standards. In a way, it's more embarrassing than flattering.
"Me and Jorja Smith get compared daily and I'm just like 'I don't get it.' She doesn't get it either," says Mahalia. "We were on tour at the start of this year and we were just laughing about it because we were like 'I don't understand how people are doing that.' People have always been doing that, they're always going to do it, and it's just about us staying true to ourselves."
Don't get Mahalia wrong – she has been an admirer of R&B music since she was young, but the thought of being pigeon-holed as that type of sensation doesn't quite fit. Not only is it restricting, but it sets Mahalia up for failure if she doesn't live up to people's expectations of what R&B should sound and look like. The last thing that she wants is to be a disappointment to her fans and followers.
"I think that's why it gets to me, because in my mind I'm like, 'The reason why I don't want you to call me R&B is because I don't want you to be let down when I don't put out an R&B track,'" she says over the phone. "It's such a conversation at the moment between artists. I just want to get out of the place where we see an artist's face and we see their gender and we see their color and so that decides their genre. That really baffles me. I get comments all that time that I'm just another little light skin R&B singer and I'm like 'Whhhat.' I don't know how to respond to that."
Mahalia defines her personal aesthetic as "psycho acoustic," a nod to the "rootsy and homegrown" side that comes from her background as a guitarist and keyboardist paired with her musical upbringing on soul music from the gospel of Billie Holiday, Aretha Franklin, Angie Stein, Jill Scott, and Mahalia Jackson. Being introduced to this world from a woman's perspective instilled a sense of strength within her that she credits as the main inspiration for motivating her to do whatever she wants.
"When I was super young, I always knew I was destined to branch out," she says with a wide smile.
Mahalia's parents were both musicians, so it was a natural progression for her to facilitate an interest in the arts growing up within a creative household in England. The same can be said for her siblings as well – Mahalia's oldest brother is a dancer and choreographer and her other brother is an actor, spoken-word artist and MC. One of Mahalia's earliest memories that comes to mind is from when she was sitting in the front row of the audience watching her parents perform on stage. She must have been four or five years old and she recalls an older man approaching her parents after the show and complimenting her ability to sing every single word.
"It's really funny 'cause I always remembered being sat there and knowing every single syllable, chord, and movement that my mum would do," she adds. "I would copy her. I think that was such a monumental moment for me and where I knew that I wanted to play live shows."
Combine all of that with the Leicester twang in her voice and there's no way Mahalia could possibly be defined by a single, stand-alone genre. That said, she does feel humbled to be associated with the category – a few days after our initial interview takes place, Mahalia calls me to express her gratefulness to those that would give her such a high compliment. For Mahalia, it's been extremely important to "try and keep a sense of individuality" in an industry that often forces artists to compromise themselves.
"I want to be true to myself and at the same time mean what I say," she says. "I'm quite awkward at that and I'm not that amazing at always knowing what I want to say."
Mahalia describes her hometown as sweet and small, but weirdly riddled with limitations that the community often overlooks like how "most people are born in Leicester, work in Leicester, live in Leicester, get married in Leicester, have their babies in Leicester, and then die in Leicester." She goes on to explain how Leicester is a relatively diverse place. Although it was integrated, it felt segregated at the same time which wasn't always easy for someone biracial like her.
"That was hard because I had the best of both worlds. My mum's black and my dad's white, and kids totally didn't get that," she says. "Most of my mixed friends in Leicester had a white mum and a black dad, so it was this constant fight between 'Why's your hair like that?'"
Seeing as to how Mahalia wanted no part in the equation and refused to repeat the cycle, she had to get out. This is part of the reason why she moved to Birmingham at the age of 14 without hesitation. It was here that she experienced culture shock for the first time, but it didn't feel uncomfortable because of the worldly point of view that her parents instilled her in. She adds, "I think that's how it is in life, you change places and then you're dealing with a different feeling of loneliness, a different struggle inside yourself, and all that kind of stuff."
You could also say that Mahalia is a spiritual person, but maybe that's just the way that a "proper" Taurean woman is programmed. She admits that she's "super, super stubborn" unless it's with the right person, but she's also incredibly loyal. She's very sensitive to energy and even allows one of her best friends to do reiki on her. It should also be noted that Mahalia's mom actively engages with rune stones, a tool of divination to predict the future.
"I don't want you to tell me how to work on it," she says. "I wanna see what I can do to make myself feel better."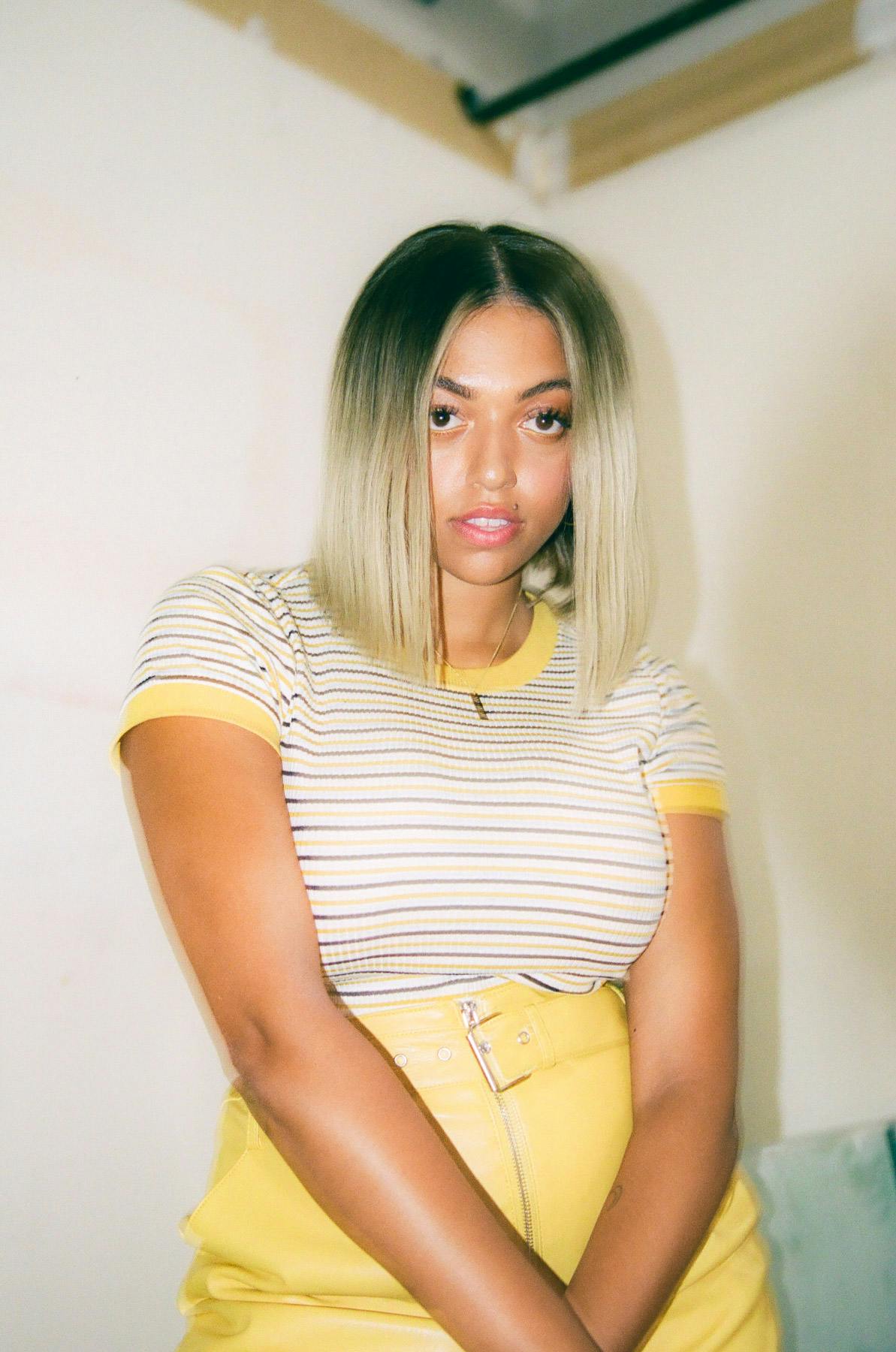 During our chat at the Highsnobiety office, Mahalia tells me about her life-changing experience with a psychic that she randomly met on a street in New York. She had been feeling on edge lately, and before the woman even started the palm reading, she pointed out Mahalia's recent loss of an appetite, something ridiculously random that only her closest companions could possibly know about but too specific to make up. The woman went on to reveal some interesting things about where Mahalia was at in her career and after recommending that she remove all the negative energy in her life, Mahalia decided to get a tattoo of a waning crescent.
"I'm at a point now where I'm really trying to make a conscious decision to not give too much of myself away, professionally and personally," she says. "And also know that not everybody's there to do good for you."
This mindset is something that can be felt on Mahalia's most recent EP titled Seasons. The project contains five tracks that detail her take on the different stages within a recent relationship from her past. Apparently, her mother always described the many stages of life as seasons, and it's something that has stuck with Mahalia into adulthood.
The EP starts with "One Night Only," a song about asserting that you're not a one night stand, followed by "Honeymoon," which is pretty self-explanatory. The tide starts to shift on "Surprise Me," where Mahalia draws attention to getting that terrible feeling in your gut that someone isn't right for you. "Good Reason" is about coming to terms with the fact that the relationship isn't going to work out, but having the willingness to stay anyway. The EP finally ends on an enlightened note with "That's OK" as Mahalia arrives at the conclusion that it's in her best interest to part ways for good.
"Love has no language so for me, why would you not talk about that?" she says. "People keep asking me why I'm only talking about love at the minute, and I'm just like 'That's the season I'm in.'"
For the past seven years, Mahalia has been working toward a professional music career and it's finally happening right now in front of her. In addition to performing on the stage of international festivals like Afropunk, she recently swerved into the fashion and beauty space as well by becoming the face of campaigns for brands like Revlon and Reebook. Although it's certainly a strange transition, Mahalia is fully invested in making it all work.
"It feels so good to be busy, happy and moving forward," she says. "That's such a nice feeling. I've been waiting for it, so I'm just taking every interview and every gig and every glass of wine as it comes."
Check out the previous edition of our Under the Radar series with Murkage Dave.