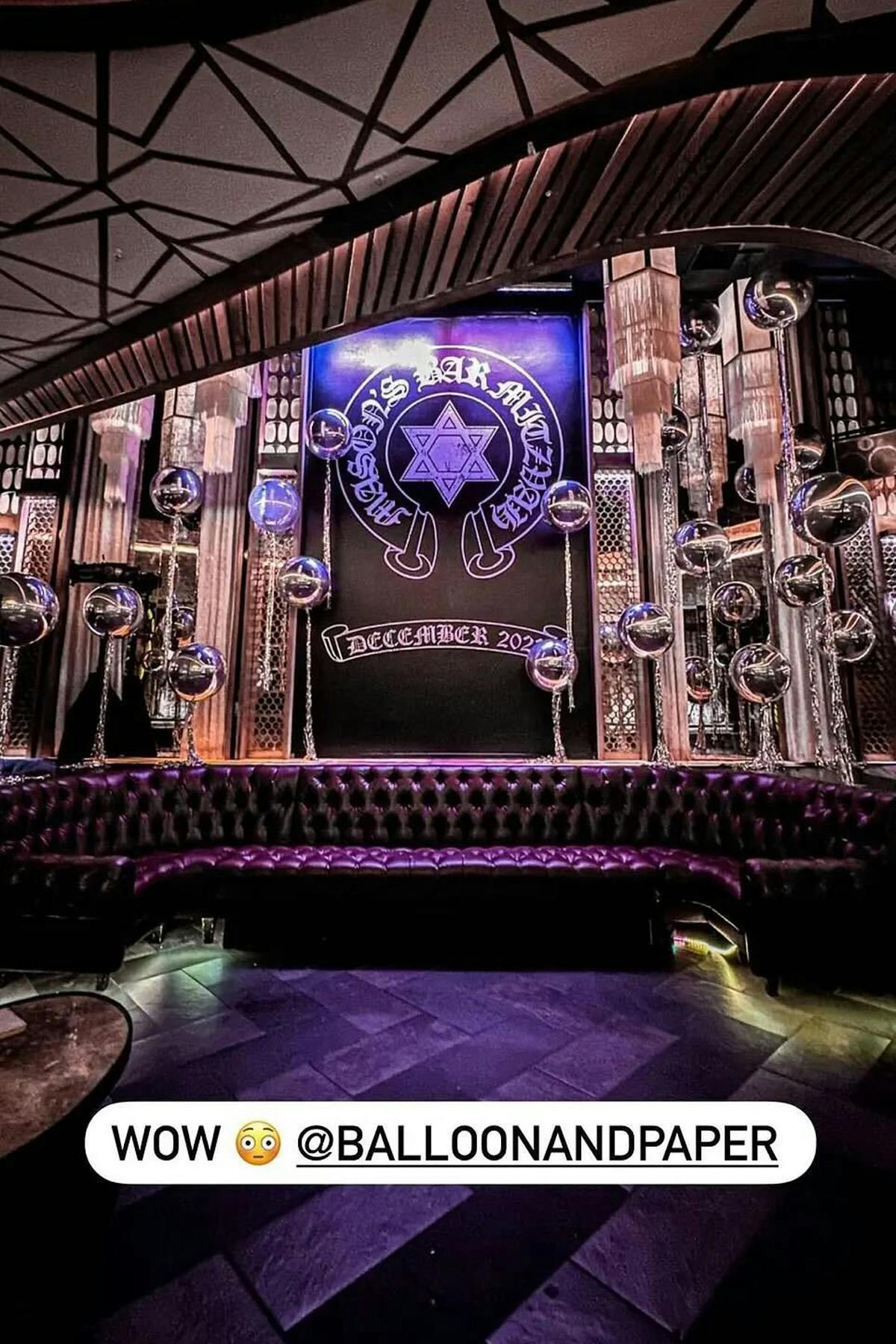 Kourtney Kardashian and Scott Disick bestowed upon their son, Mason, a privilege far greater than any nepo baby could dream up. That privilege is a Chrome Hearts-themed Bat Mitzvah.
After reading his Torah portion, the junior Disick fêted becoming a man at Offsunset, a Los Angeles nightclub frequented by the likes of Kaia Gerber and Kid Cudi. There, guests were accosted by various Chrome Hearts-inspired decorations, including a rendition of the brand's famed horseshoe logo reading "MASON'S BAR MITZVAH" in gothic script.
Silver balloons, a black cake iced with a bastardization of Chrome Hearts' logo, and a Raising Cane's food truck rounded out the festivities.
Of course, the entire Kardashian clan got in on the fun. Abiding by the party's all-black dress code (Chrome Hearts doesn't do color), Kim, Kendall, and Kris showed up looking like a YASSSified funeral procession.
This might just be a "me" thing, but Mason's Bar Mitzvah photos immediately made me wonder: was this an official Chrome Hearts collab?
After all, Scott is often photographed wearing the brand — the 39-year-old even took ex-girlfriend Amelia Gray Hamlin, 20 at the time, on a shopping spree at the Chrome Hearts boutique in Miami.
The brand quickly responded to my inquiry: "This was not in collaboration with Chrome Hearts," a representative said, confirming that the label was not involved in a 13-year-old's birthday party.
Chrome Hearts co-sign or not, it was a particularly lavish celebration in a long line of ultra-expensive Hollywood Bar Mitzvahs. From one Jew to another: Mazel, Mason!